We've recapped the best looks from the 2019 Emmy Awards so you can use this inspiration to plan your own black tie look for your next gala, wedding or holiday party... Come into one of our 30+ locations for the help of a personal Stylist, buy your tuxedo online or rent your tuxedo online, Friar Tux has lots of options for any shopping preference!
Classic Tux Colors with a Modern Twist
Let's face it, classic will never be boring. There is something about a simple chic black or white tuxedo that just screams A-lister! Yet, what we love about these leading gentlemen is how they took their classic colored tuxedos and modernized them with the fit and/or accessories. Milo Ventimiglia took his classic ivory/pewter look in a velvet fabric, creating the modern twist. Dyllon Burnside paired his simple tuxedo look with a black shirt for a chic monochromatic look. Antoni Porowski took the an ivory coat and black pants style and but went for a less common double-breasted coat style. While Tom Kaulitz went more bold and paired his black tuxedo with a deep purple shirt for some subtle contrast and pop. Notice the biggest thing in common between all these looks are the tailoring and the perfectly measured no break pants. A no break is when the pant barely skims the tom of the shoe or hangs just above it, creating a smooth line from the waist down. This is a big way to modernize any look.
Check out all our neutral colored tuxedos here!
Photo Credit (from left to right): Matt Baron . Kathy Hutchins . Kathy Hutchins . Featureflash Photo Agency / Shutterstock.com
Blue Hue Luxury
Blue suits and tuxedos will never ever, and we mean NEVER EVER go out of style. It has been a staple since the beginning of time! Okay, maybe not the beginning of time but definitely since tuxedo fashions deviated from just black. Blue is a symbol of luxury, royalty, and confidence- and these men prove that exact point. Jason Bateman won his award in this chic deep navy tuxedo with a slight shine to the fabric and a peak lapel. Terrence Howard took his 2019 Emmy's look to another level with a slightly bolder color, a patterned vest, and a cravat style necktie (fancy word for satin scarf thing around his neck). While Seth Meyers kept it simple, tailored, and classy (per usual) in midnight blue shawl lapel tuxedo with traditional black tie accessories.
Check out all our navy suits/tuxedos here!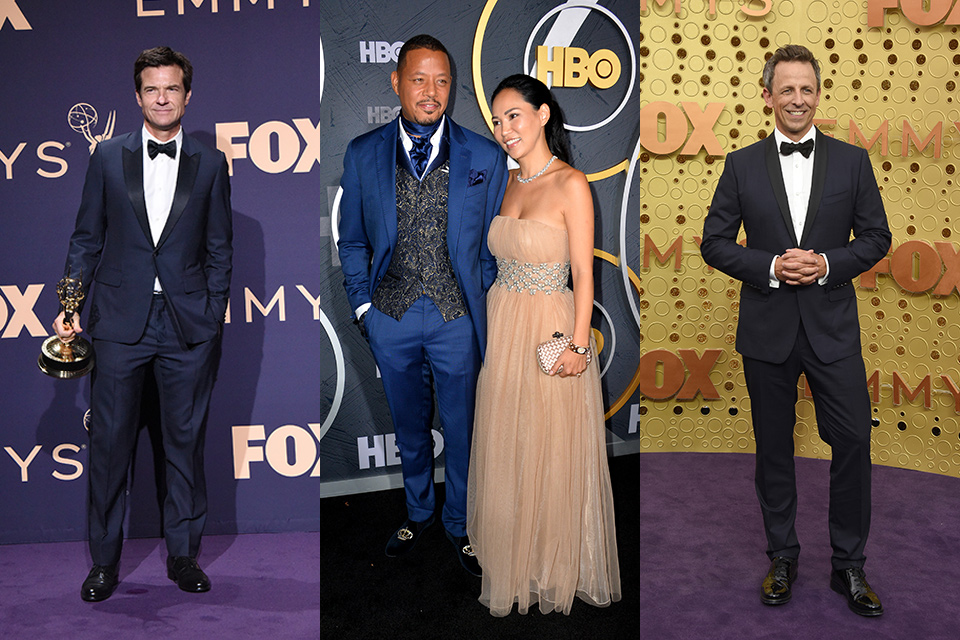 Photo Credit (from left to right): Kathy Hutchins . Featureflash Photo Agency . John Photography / Shutterstock.com
Classic Black Tie Taste, Chic Style
Can we just talk about how much we love this father/son duo at the Emmy Awards 2019? These who sporting the chicest styles was everything we wanted to see at the 2019 Emmy Awards! Eugene Levy sported a tried and true classic navy blue suit (and if you read the sentences right before this you already know is a look that is NEVER EVER going out of style) with a fun velvet bow tie. His son and costar, Daniel Levy dawned a look that we are still obsessing over: a chocolate brown double breasted tuxedo! This look was modern, new, yet fit like a dream- making it still traditional and classic. Bravo Levys, Bravo!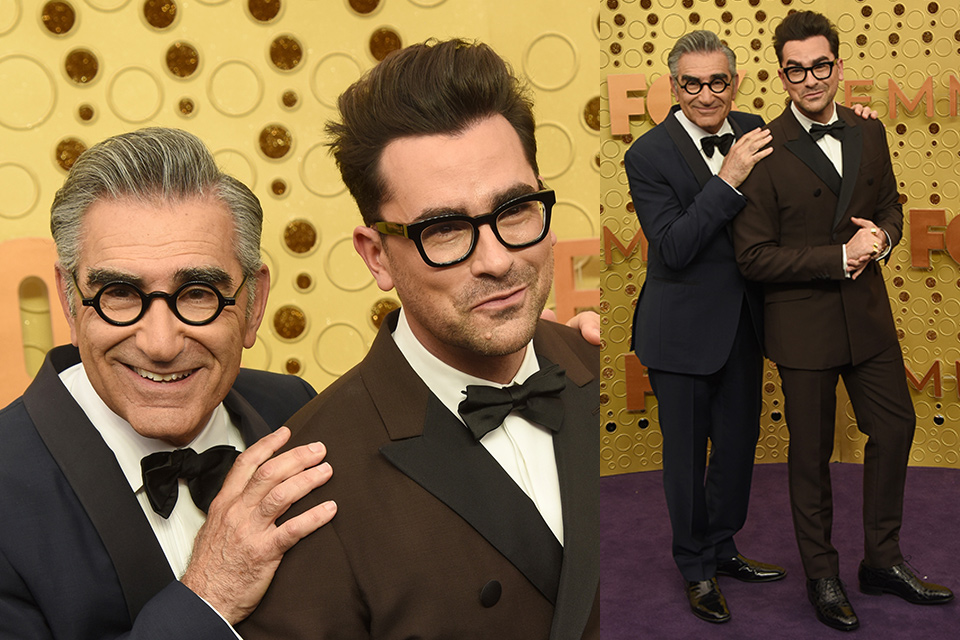 Photo Credit (both images): Kathy Hutchins / Shutterstock.com
Browns + Golds, the Neutrals of 2020
Oh, what is this? More sweet gold and brown toned tuxedos? Why yes, yes it is thank you for noticing. We are predicting that gold and brown toned suits and tuxedos are going to be getting some action in 2020 and this award kick off proved just that. This color can be done in more yellow gold tones, to patterns, to deeper copper feels no matter how you wear it- trust us, no one is going to be able to take their eyes off you. Nikolaj Coster-Waldau wore a satin finished embossed gold coat, which he paired with a shinier black tuxedo pant and bow tie. Anthony Anderson wore the color in a more 60s inspired tone, with a fun pattern on it. The tailoring of his look took it over the edge in the coolness factor. While Kendrick Sampson brought out a new color we have not seen before, his bronze velvet coat made us stop in our tracks! He paired is uber cool look with simple black accessories.
Check out all our patterned and fun styles here!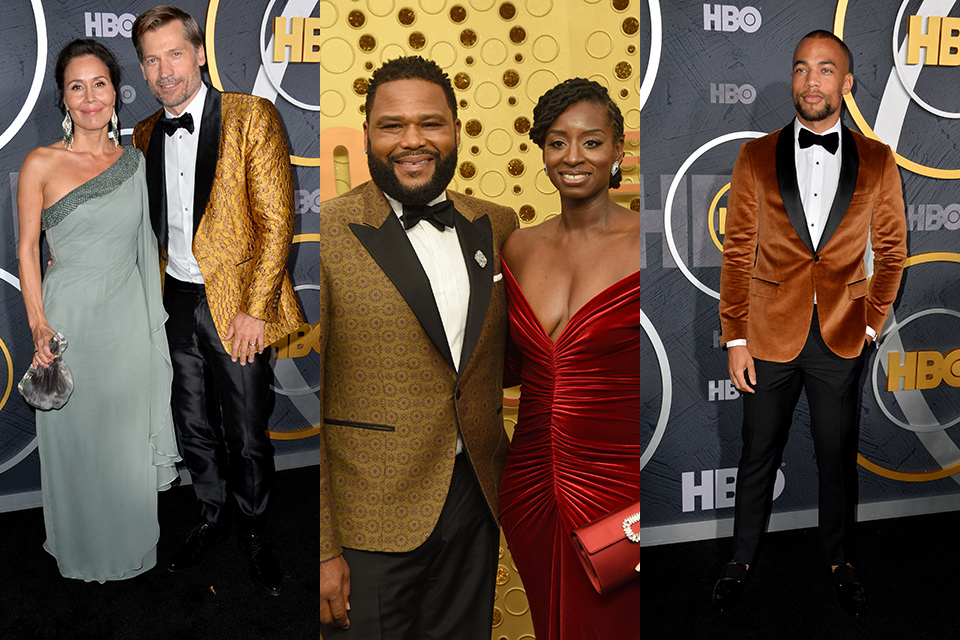 Photo Credit (from left to right): Featureflash Photo Agency . Kathy Hutchins . Featureflash Photo Agency / Shutterstock.com
Purple Power
Is purple becoming the new bold tuxedo color of choice? It just might be if the Emmys had anything to say about it! Lucas Adams wore is purple look in a brighter color with a more mauve undertone to it and self lapel (expert way of saying the jacket and lapel are made out of the same fabric), this look certainly poped against the red carpet. William Jackson Harper wore his look in a deep almost wine color that fit him like a dream, and let us not forget the simple white pocket square that rounded up the entire look. The smallest of details go a long way folks! Courtney B Vance paired his plum colored tuxedo with a black unbuttoned shirt, allowing the shine of his lapel do all the accessorizing for him.
Check out our purple tuxedo here!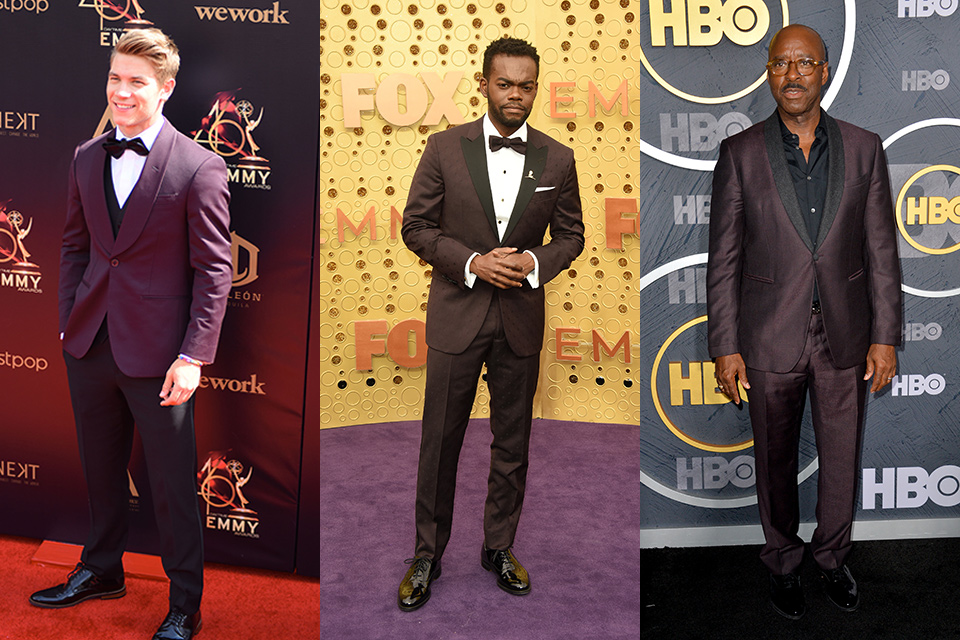 Photo Credit (from left to right): Michael Mattes . Kathy Hutchins . Featureflash Photo Agency / Shutterstock.com
Colorful Craze
Colorful tuxedo colors have been gaining more and more popularity lately and we could not be more stoked about it! Now if your a person who is not going to run out and but an all pink velvet tuxedo like Jason Mamoa at last Oscars, we totally understand- but that does not mean you have to be afraid of color! Take these leading men for example, and you will see how to do bold color choices toned down (yet totally still full of pure chicness). Mahershala Ali wore a deep green suit with a pale green shirt. This look is modern and just plane cool, with out being to bright in color. Sterling K Brown wore a bold red tuxedo with a black pair of pants and shirt. Now we know what you are thinking next, shouldn't Asante Blackk's outfit be under the blue category? Well, yes and kinda. Yes, because it is obviously blue- but the color is so bold and fun we decided it was in a level all its own! This young star is definitely going to be one to keep an eye on for both his talent and style! This bold color was paired with a black shirt and a fun tailored tuxedo pant in the same blue as the coat.
Check out all of our colorful options here!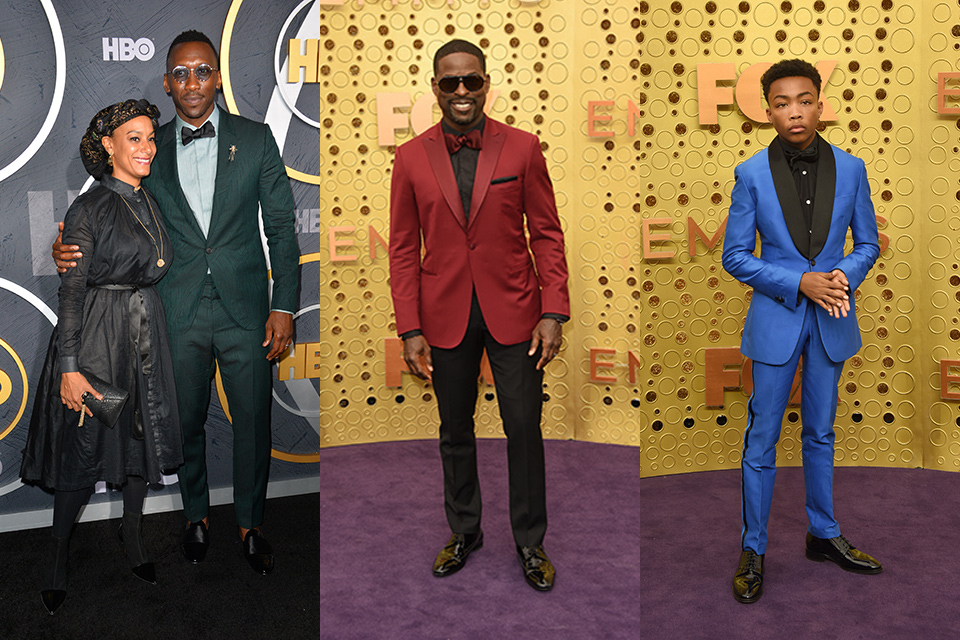 Photo Credit (from left to right): Featureflash Photo Agency . Kathy Hutchins . Kathy Hutchins/ Shutterstock.com
Best Dressed Ensemble
Now the show has ended, and yes we are still crying over here, but their fashion will never die! Each and every one of the cast members in this amazing show brought their A-game to this year's final award season for the Game of Thrones show. Remember folks: when you play the Game of Thrones you either win, or....no or actually you just win and wear amazing outfits doing so.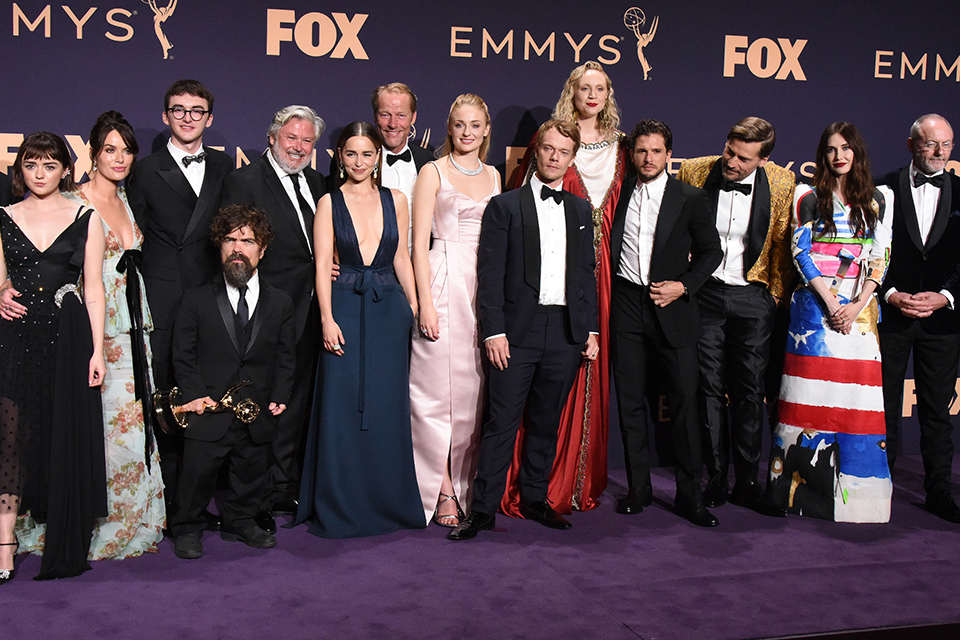 Photo Credit: Kathy Hutchins / Shutterstock.com