Welcome to the Friar Tux Instagram Live Series, where every month we will be diving into the most brought up topics and questions in our industry.  Join us as our VP of Sales, Eric Acuña, discusses this month's topic: My Groomsmen Live in Different States.  How Does That Work?  Here are some of our top questions our couples have on this topic...
Join us on Friday April 9th at 11:00am PST on Instagram
Q:  My groomsmen live all over, including some are in several states.  Do they all have to go into the same store?
A: Nope!  When booking your wedding with Friar Tux, we try to make things as organized and simple as possible for you.  When you choose your styles with one of our talented and certified Stylists, they will enter the information into our special management system.  Once in our system, your groomsmen can go into any location nearest them and get measured in the exact attire you picked out.  For your out-of-town friends, they will just need to submit their measurements online at friartux.com/wedding-parties or they can call our amazing customer service team for help.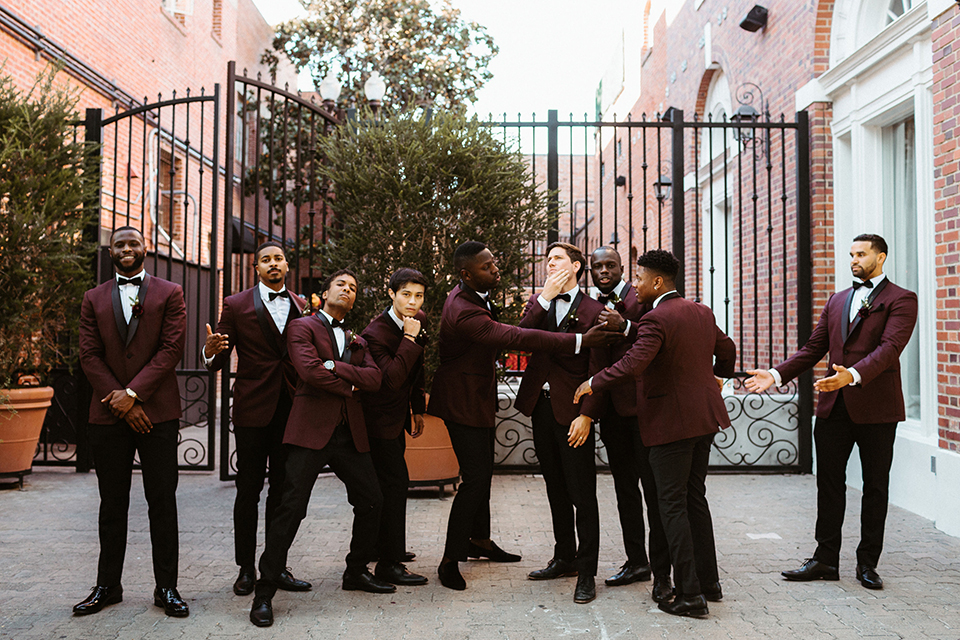 Photography Credit: The Hendrys | Style: Burgundy Shawl Lapel Tuxedo
Q:  For my out-of-town groomsmen, do they get to try on the suit/tux before the wedding?
A: Great question, yes.  There are 2 options. If they choose, they can have the items shipped to their home 10 days before the wedding date.  If something needed to be tweaked or exchanged, we can easily ship them new garments, or they can pick up those garments when they get into town.  The other option they have, is to try on all the garments in one of our stores once they come into town for the wedding.  Many times groomsmen will fly in a few days before the big day, during those days they can pick up at a location they choose in advance and do a final fitting with one of our Stylists.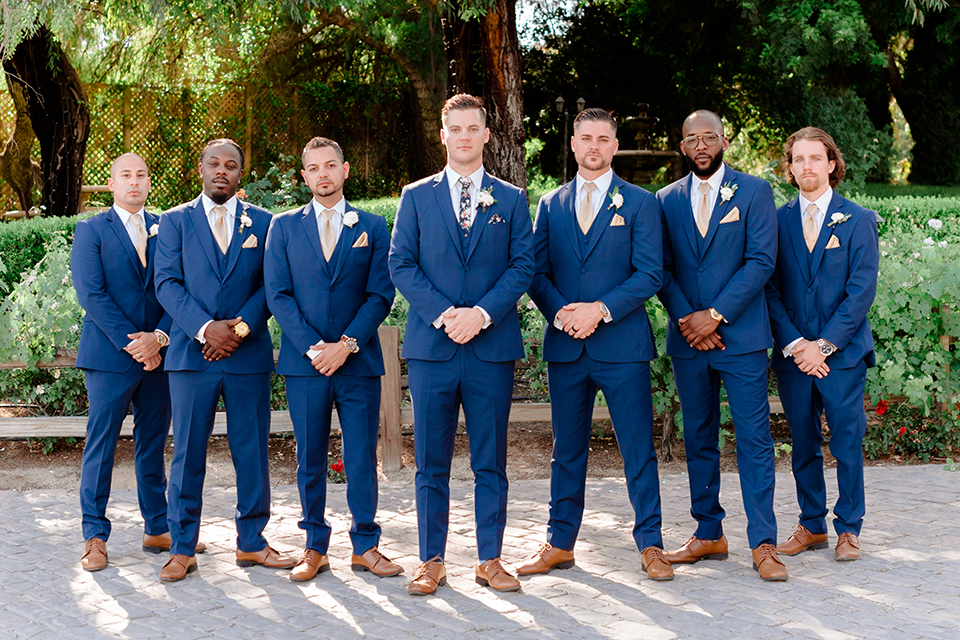 Photography Credit: Charissa Magno Photography | Style: Cobalt Notch Lapel Suit
Q:  What is the best way to keep our groomsmen organized? 
A: At Friar Tux we understand that planning a wedding, no matter how large or intimate, can be stressful at times.  All the details, planning, and cross-checking can become a bit much.  That is why we have our easy-to-use Management Page.  When you register with us, you get a special page that you can check at any time on our site.  This page features the styles you selected, pricing, which party members have submitted measurements, who still needs to be measured, and who has submitted payments, all on one easy-to-use page.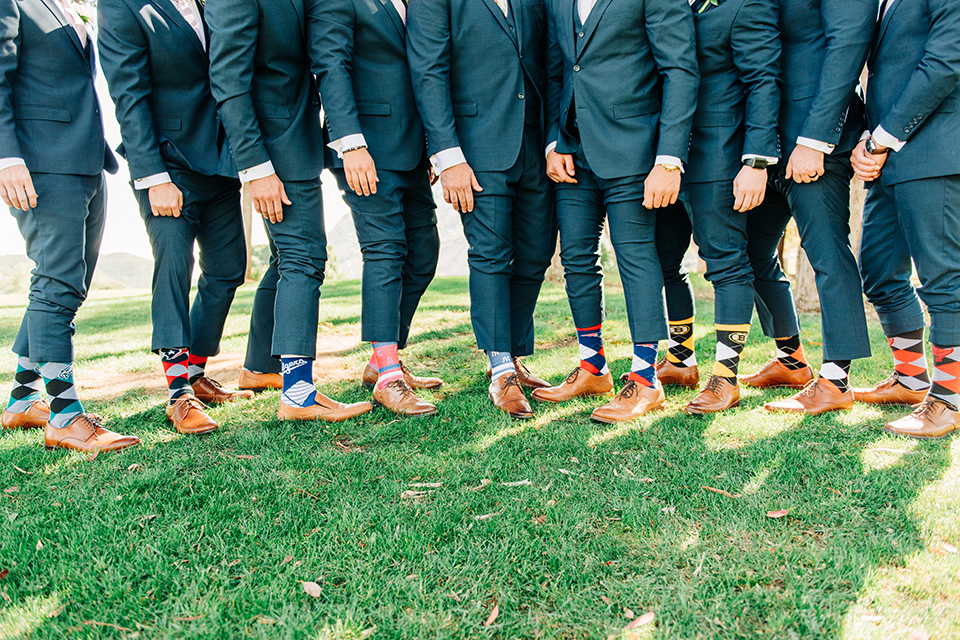 Photography Credit: Stevie Dee Photography | Style: Blue Slim Fit Suit
We will cover submitting online measurements, in-store fittings, ways to return rentals after your wedding celebration and more during our Instagram Live event with Eric Acuña on Friday April 9th at 11:00am PST.  Have more questions?  We would be happy to answer them during the Q&A portion of our event, just ask your question in the comment box during the live show and we will make sure to answer it at the end.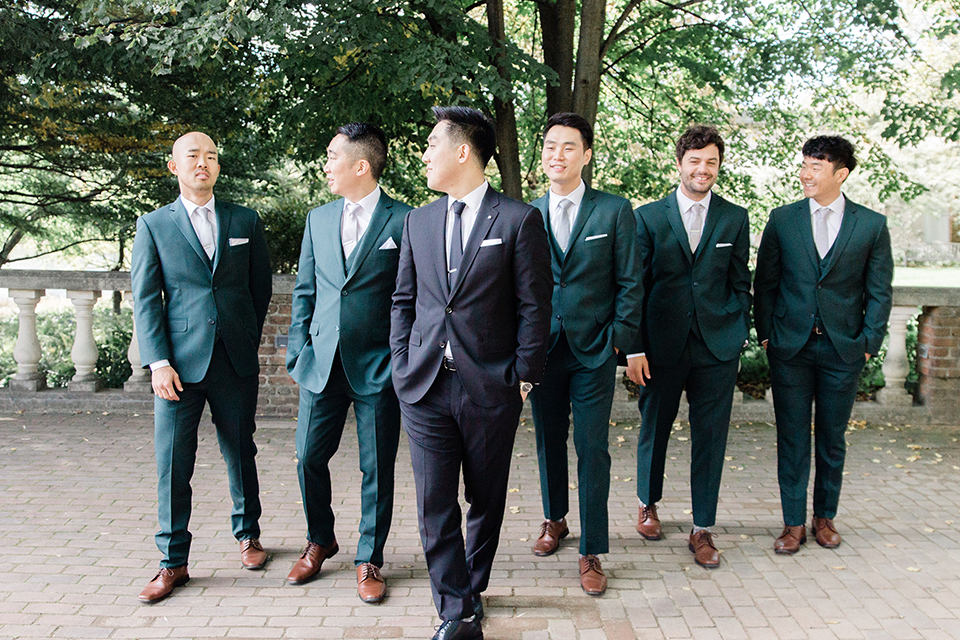 Photography Credit: Grey Garden Creative  | Style: Groom in a for purchase Black Notch Lapel Suit + Groomsmen in rental Green Notch Lapel Suit
Can't make it at 11:00am PST on Friday?  No worries, be sure to catch our recap later that day.  Please feel free to reach out on social media or at [email protected] where our customer service team will be happy to assist you.