Venue: The Huntington Beach Pier for engagement photos + Monarch Beach Resort for the wedding
Photography: Trever Hoehne
Menswear Style: Black Velvet Tuxedo with a black bow tie
It is no secret here at Friar Tux, we love LOVE! And it is safe to say we fell in love with this couple immediately! It was a normal day of looking at Instagram when we saw a mesmerizing image: engagement images with a BMX bike and love that seemed to transcend out of the image itself! Talk about a showstopper. We quickly got in touch with the amazing woman who tagged us, Cathleen, to get the inside scoop behind the photo. (Get your tissues handy, because we have already cried 100 times from the amazing story)
Friar Tux: How did you both meet?
Cathleen: Gabe and I are an old fashioned "modern" love story. We first met last year when I was walking my doggies, Ricky and Lucy, at the beach. Gabe is a pro BMX rider and practices his freestyle each morning down by the Huntington Beach pier. We very slowly became friends. First with a smile which eventually turned into a wave hello when we would see each other. The 'hello' waves soon turned into goodbye waves as well. He would wait for me to look over as I was leaving, and he would give me the sweetest wave goodbye. His way of saying "I'm going to miss you". So romantic. After six months of doing that, it finally led to us talking and finding out each other's names. When he told me his name was Gabe I asked him if it was "Gabriel" and he said yes. I knew right then that God had sent me an angel. He became such a great "beach" friend. I would walk my dogs each morning and he would ask me 100 questions about my life. He was so consistent, sincere, and thoughtful. The best kind of friend. After another six months I ran into Gabe at the beach during the sunset. We were smack in the middle of COVID quarantine here in California. That is the night that changed everything. Seeing him practicing his BMX tricks as the sun was setting over the ocean almost made me cry. He was beautiful. He felt the same way about me. A couple days later he contacted me through social media. We quickly realized we were madly in love. All this time it was right there in front of us.
Friar Tux: How did he pop the big question?
Cathleen: Just weeks later after falling in love, Gabe took me on a surprise vacation to Santa Barbara, my favorite place since I had lived there as a child. As we drove up the coast he said "let's visit your favorite childhood beach you told me about." So, we pulled over and strolled around. Next thing I know I feel a tug on my t-shirt, I turn around and there's Gabe down on one knee with tears in his eyes. He proposed right there at my favorite spot in the world in front of everyone…but it was if everything around us disappeared. It was perfect.
(Readers, we told you this love story needed to be read with tissues handy….don't say we didn't warn you.)
Friar Tux: What made you go with the Rockstar BMX theme for your engagement photos?
Cathleen: We knew right away that we would be doing things our own special way. Everything fell into place. We were so fortunate because celebrity photographer Trever Hoehne offered to do amazing engagement photos for us. It was clear from the start that we definitely needed to take our photos right back in the exact place we met and fell in love, the beach parking lot. It was so natural to recreate it all by doing a BMX inspired photo shoot. Gabe has been a pro BMX rider since he was 19, with thousands of live shows and tv/movie appearances. So, we found the perfect edgy velvet tuxedo jacket at Friar Tux and gave him a Rockstar vibe with the fun accessories and socks from Friar Tux as well.
(Awe, thanks for the shout out Cathleen!)
Friar Tux: Tell us more about your wedding during the time of COVID.
Cathleen: My attitude the entire time was let's just have fun! We chose a private venue (the hotel suite) because everything was still shut down for the pandemic (July 25th, 2020). We decided to "have a party with a wedding in it". It took all the pressure of a traditional wedding off of us. Three days after the engagement photo we had a surprise elopement "speakeasy" wedding at Monarch Beach Resort. We booked the 3200 sq ft Presidential Penthouse Suite and invited a close group of friends and family. We even required a secret password phrase at the door of "Send Me An Angel" Lol. Due to Covid restrictions we kept it small and intimate. It was amazing. Everyone dressed in Gatsby inspired black and gold attire. We again rented an amazing 1920's inspired suit complete with vest and suspenders for Gabe from HB Friar Tux. We added our BMX touch with a BMX bow tie, cuff links, and pocket square. We were married out on the huge balcony at sunset. Gabe's longtime friend, comedian BJ Lange, came down from LA and performed the ceremony. So gorgeous. Then Gabe gave a surprise BMX show in the middle of the Penthouse living room. So fun! Our wedding was named "the Raddest wedding in history" by the RAD movie site (the most iconic 80's BMX movie of all time).
Friar Tux: What advice do you have for other couple out there planning a wedding today.
Cathleen: My advice would be to be authentic and true to yourself. It's your day and it's all about the two of you being together. Do what the two of you want to do. You won't regret it!
Well, there you have it folks! A true romantic modern day fairytale love story….with rad bikes and style (also, can we just quickly mention how cute the names of Cathleen's doggos are? Ricky and Lucy)! It is truly an honor to have been able to chat with this stunning bride about everything, from the first meetings, the engagement, and then the wedding. We wish Cathleen and Gabriel all the happiness and love in the world and thank you both for letting us brag about you for a little while!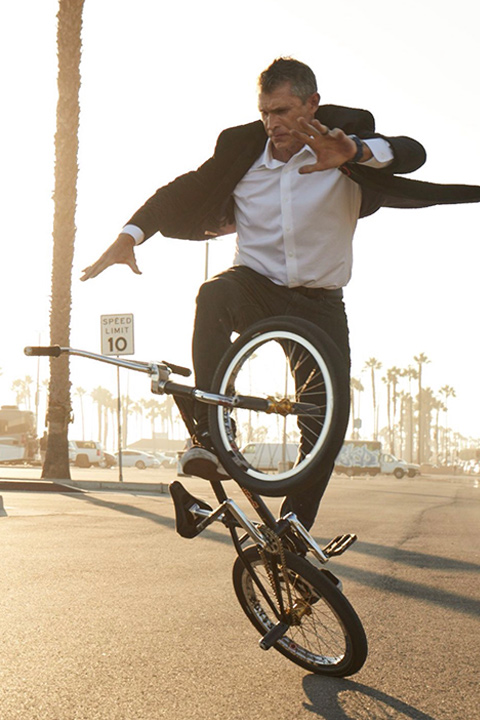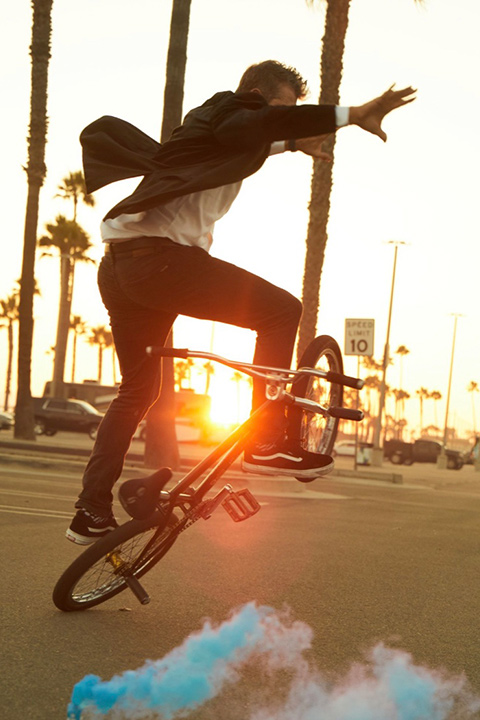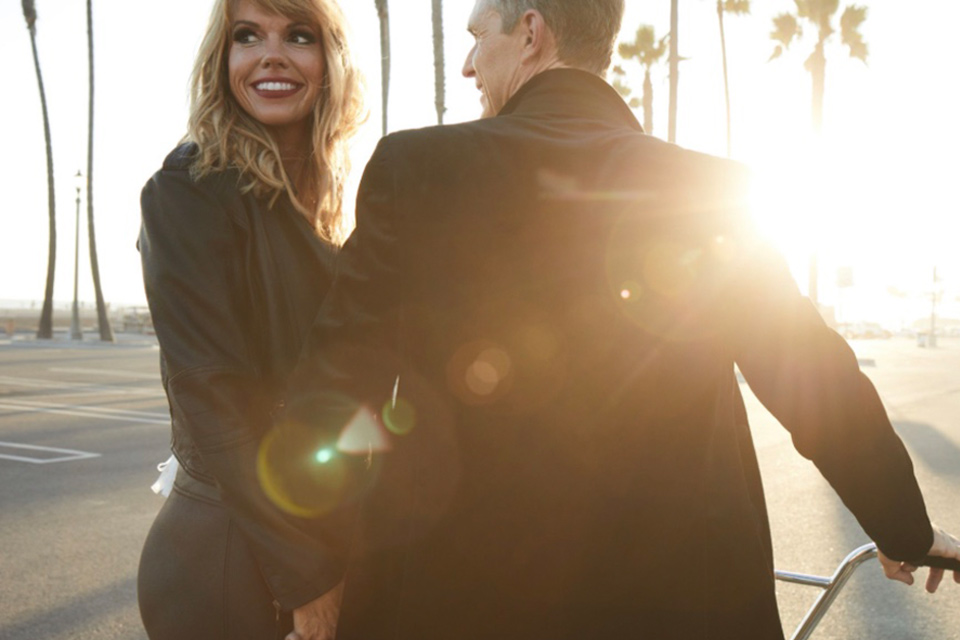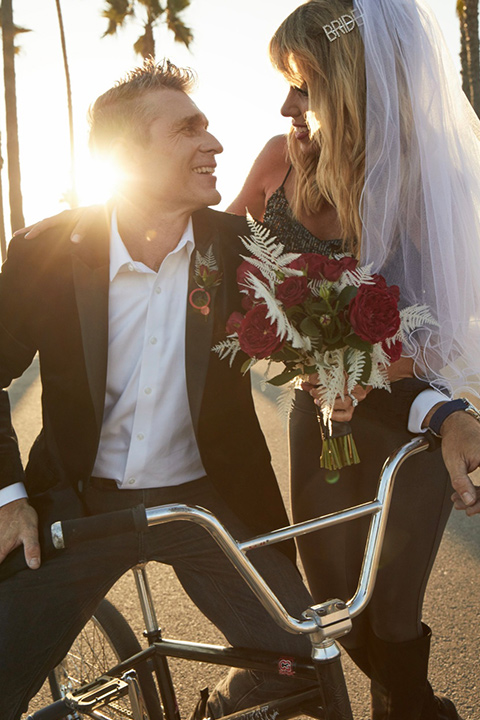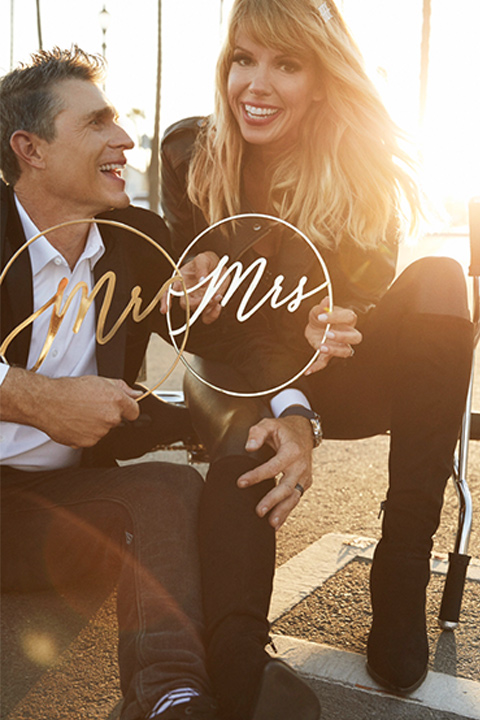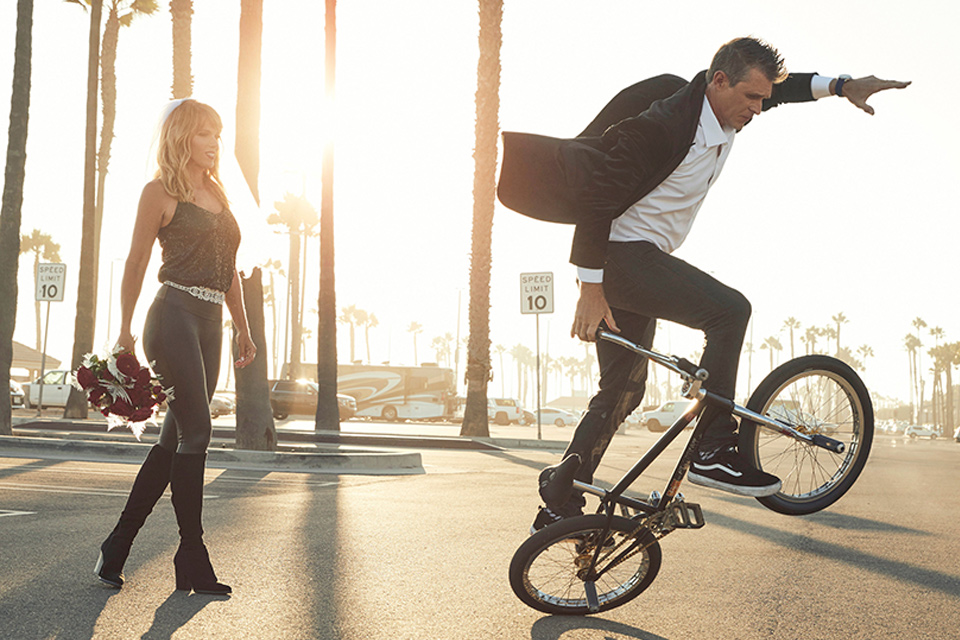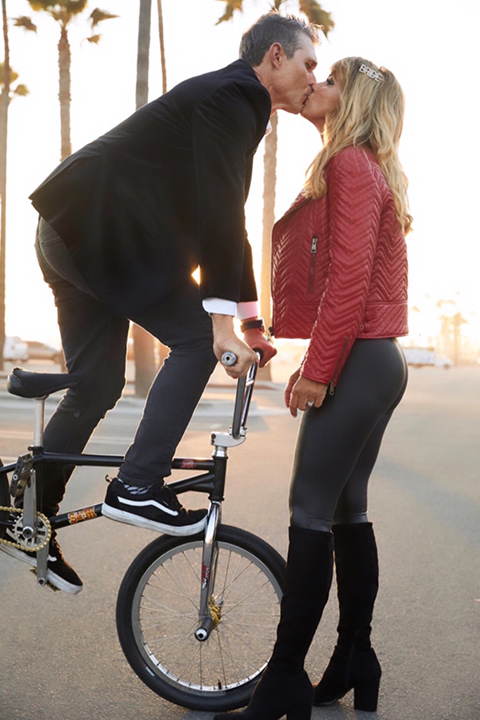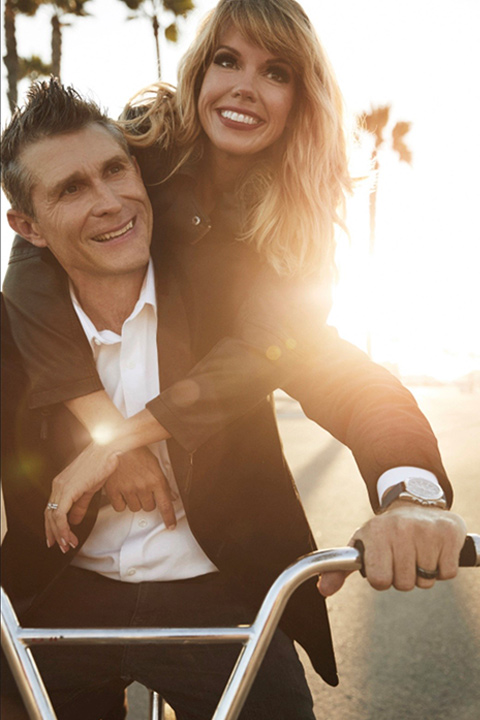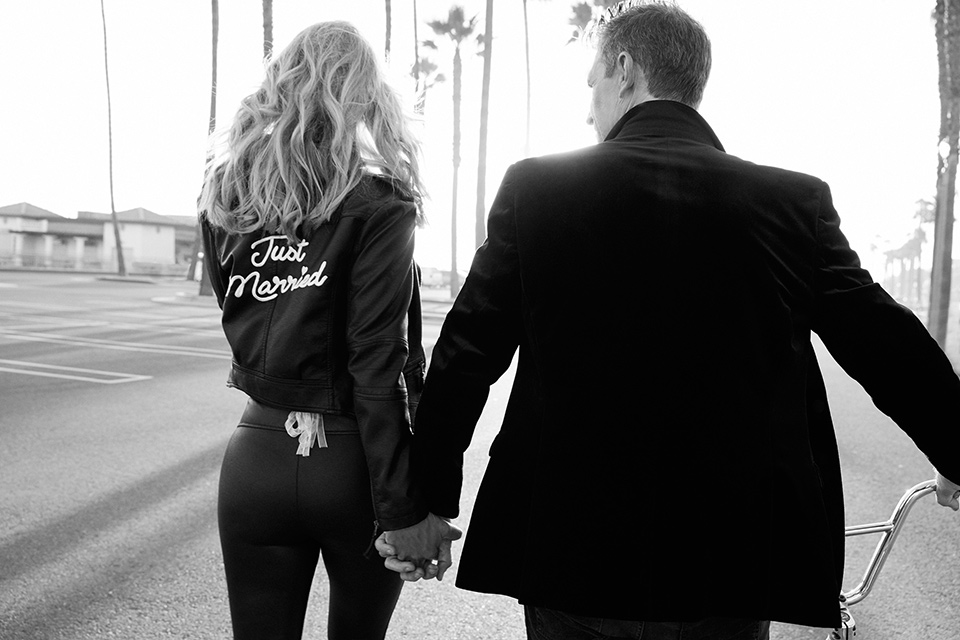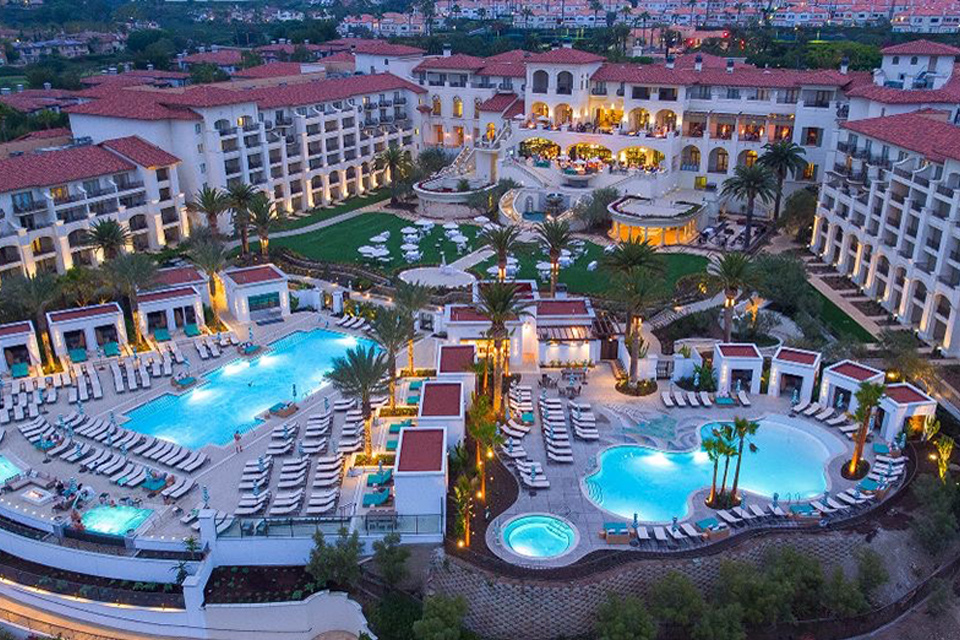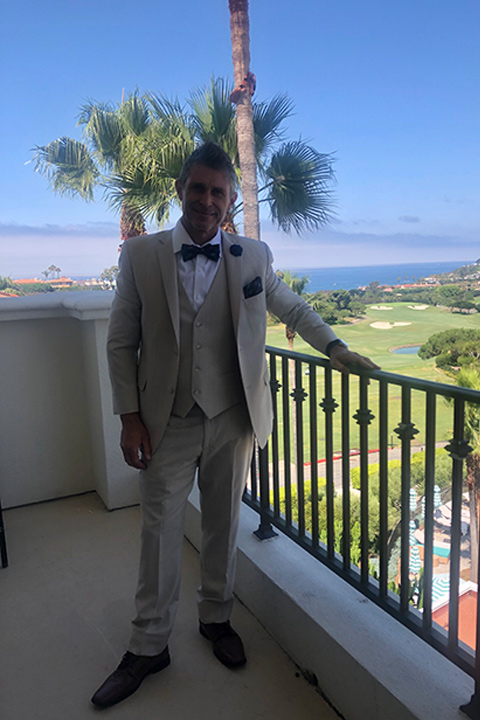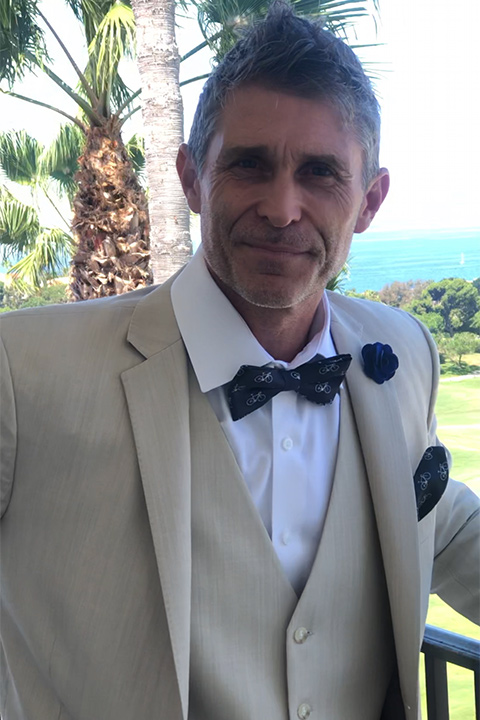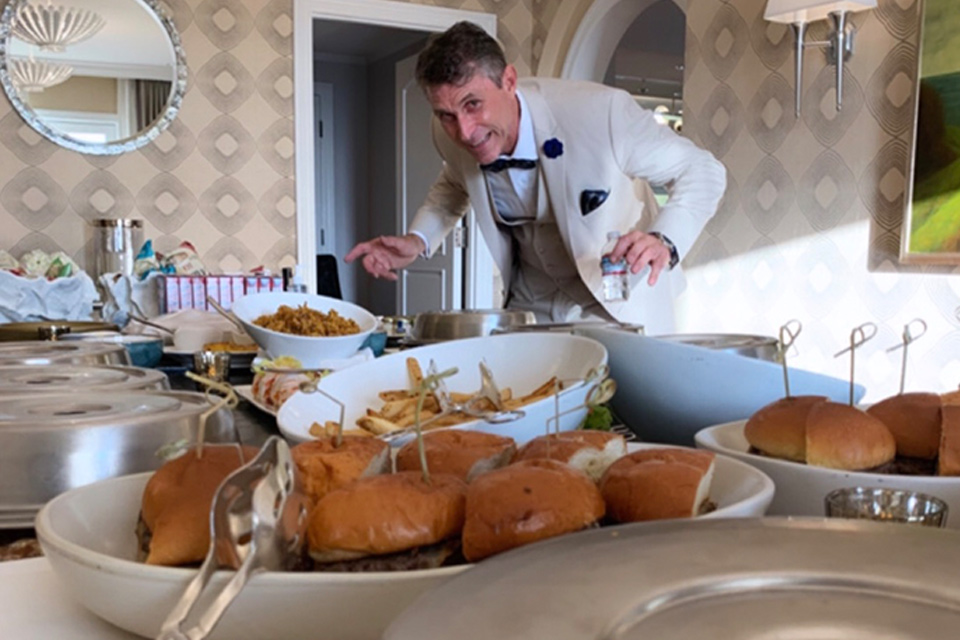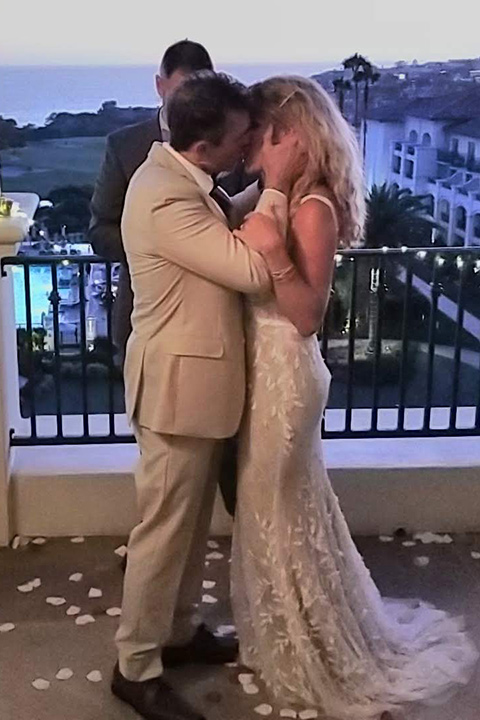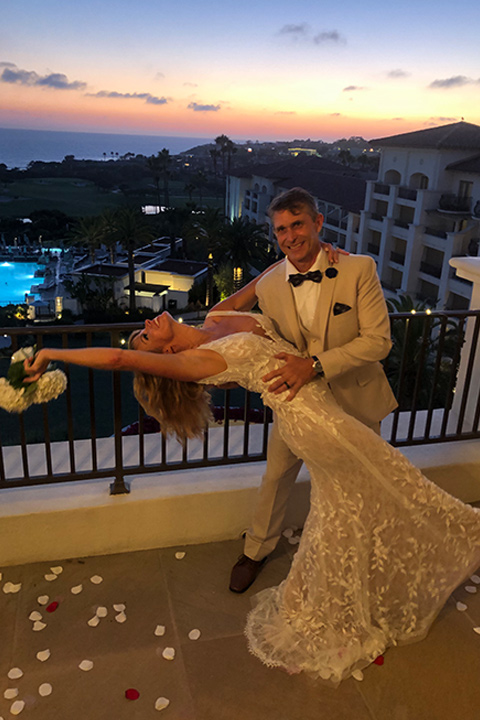 Florals: Meri Wagner | Beauty: Healing Beauty HB | Makeup: Hali Mc Gowan | Hair Stylist: Beauty Bungalows by Porcelain | Comedian + Officiant: BJ Lange | Bride: Cathleen Weed | Groom: Gabe Weed