What was our overall take on the 2019 Golden Globes? Keep it classic with black tuxedos and bow ties, with a little velvet and some blue coats. We were a little surprised to see such muted, simple tuxedo looks from the celebrities but we thought everyone looked pretty good. We've broken down the looks by category and have linked to our style gallery so you can start planning how to create each look for yourself by renting a tuxedo and adding accessories.
Monochrome to the Max:
We love a good monochrome look. Make sure when creating your own take on this style to really pay attention to texture and tones. This allows the look to be interesting and not one-note. Yes, it is one color- but that does not mean boring!
Shop our black tuxedo styles.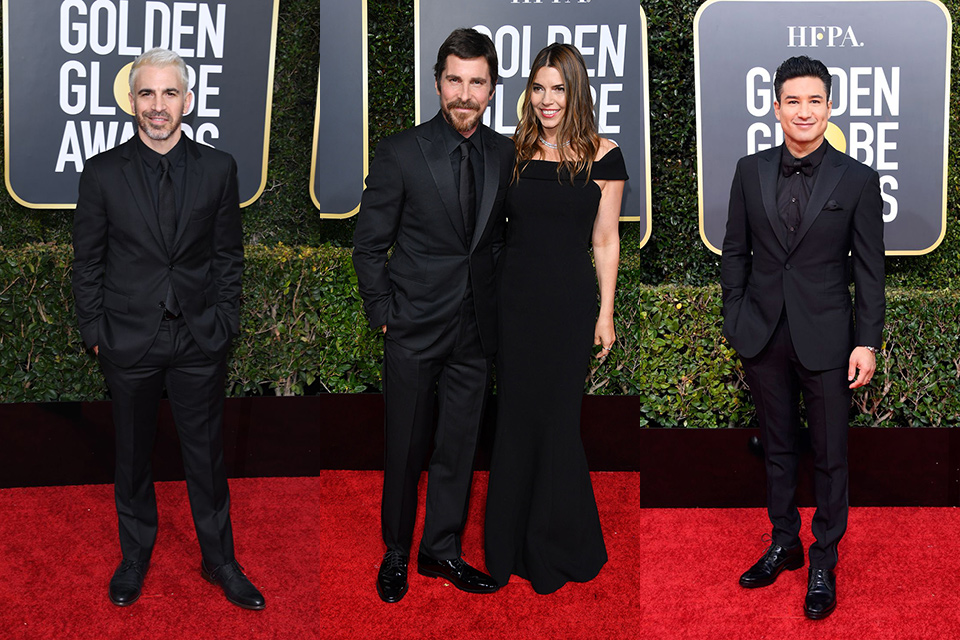 Photo Credit: Getty Images
Keeping it Classy:
There is something so perfectly effortless and chic about the traditional tuxedo style. The crisp white shirt, the black studs, the perfect bow tie. This look works wonders at any black tie event, wedding, party, red-carpet event. Nothing says "leading man" more than this look.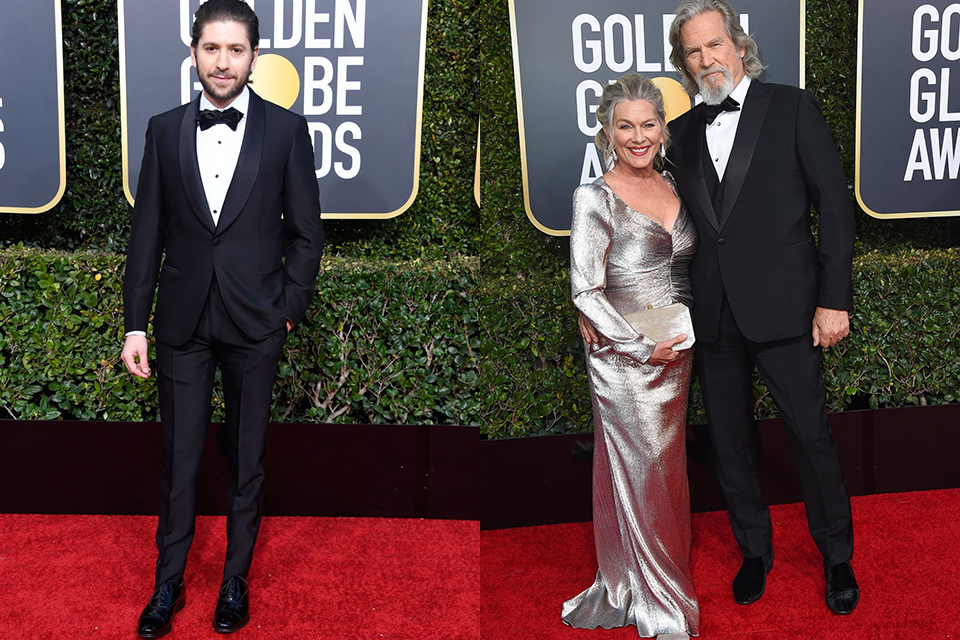 Photo Credit: Getty Images | Invision
Navy Craze
Navy may secretly be our favorite neutral when it comes to tuxedos. It is bold and classic all at the same time, and lends itself to being a chameleon when it comes to events and wedding themes. Needless-to-say, we love it! A round of applause to all the dapper men who wore this look last night.
Shop our blue suit and tuxedo styles.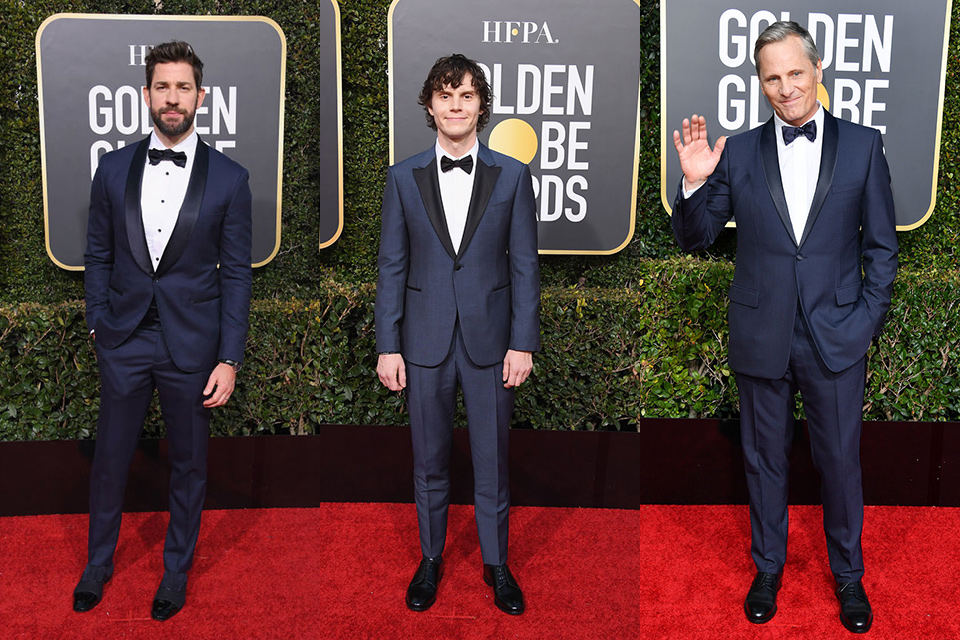 Photo Credit: Getty Images | Getty Images | WireImage
White Tuxedo Mania
This look is getting more and more popular and chic with every passing year. There are many ways to put this look together, such as with black accessories like John David Washington and Tony Shalhoub did. Or with white accessories like Luke Evans and Bradley Cooper. Regardless on the accessories you decide to go with, this look will always look put together and stylish.
Shop our white suit and tuxedo styles.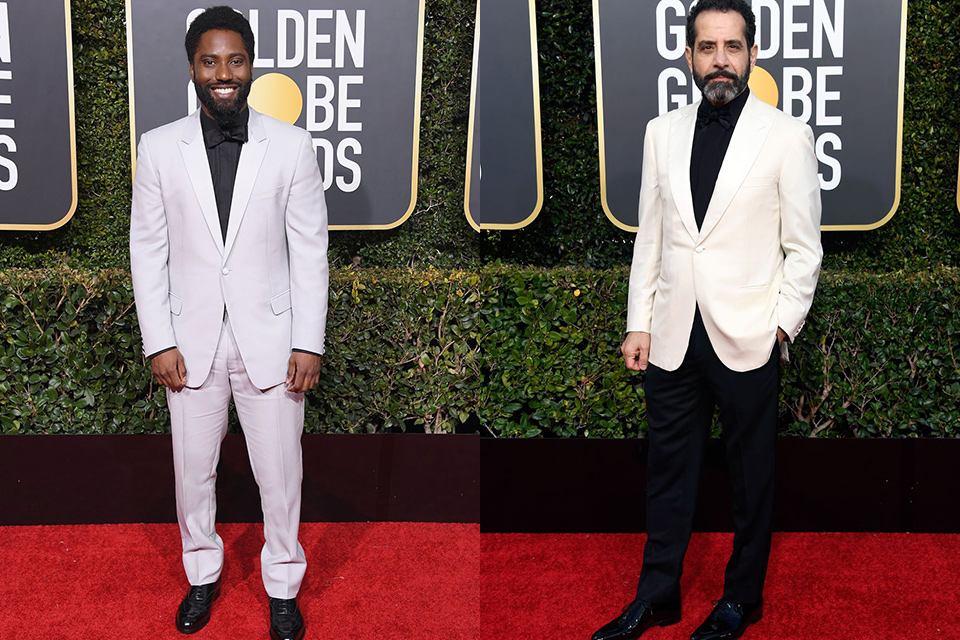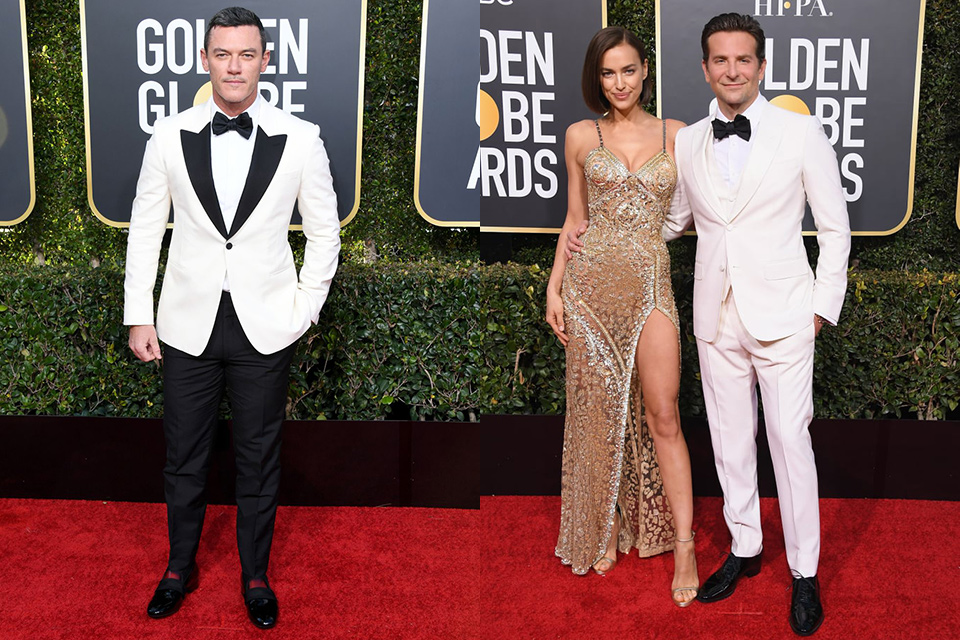 Photo Credit: Getty Images
Velvet Dreams
Let's be real for a moment, velvet is just cool- period. It somehow blends the classic tuxedo silhouette with a trendy fabric in a way that is both dapper and demanding and we cannot get enough! We love the variety of colors that this tuxedo can have: from Seacrest's deep plum, Scott Evans' retro mustard, or Adam Driver's classic black this look will always demand fashion attention.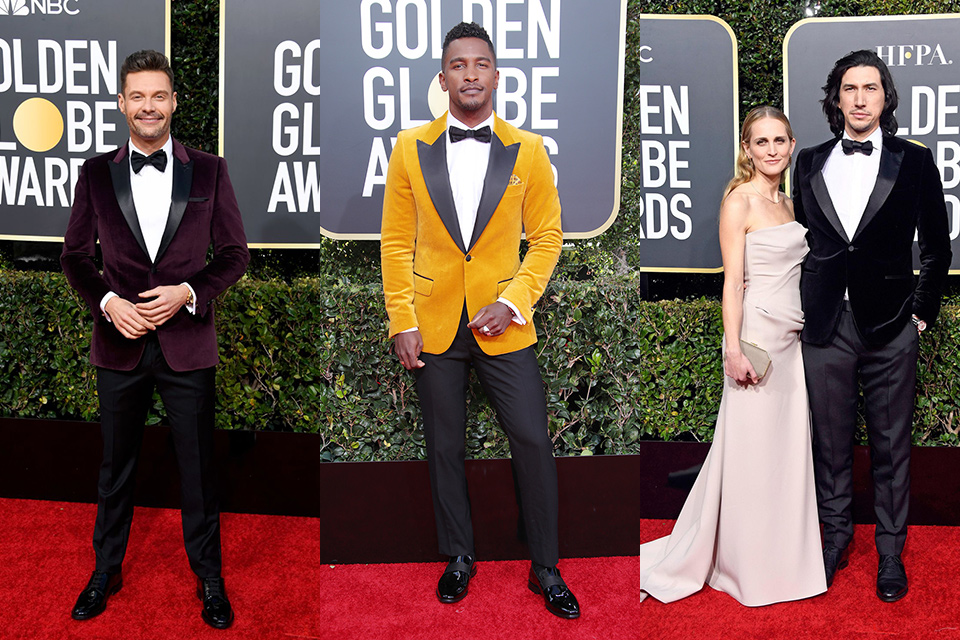 Photo Credit: Getty Images | Shutterstock | Getty Images
Pattern and Texture
We are always on board for anyone who wants to play around with color, pattern, or texture. This look can be done in bold ways like Darren Criss, in luxurious colors Idris Elba, or in subtle monochrome ways like Danny Franco. There is no right or wrong way, this is a look that just needs to speak to you on a fashion spiritual level.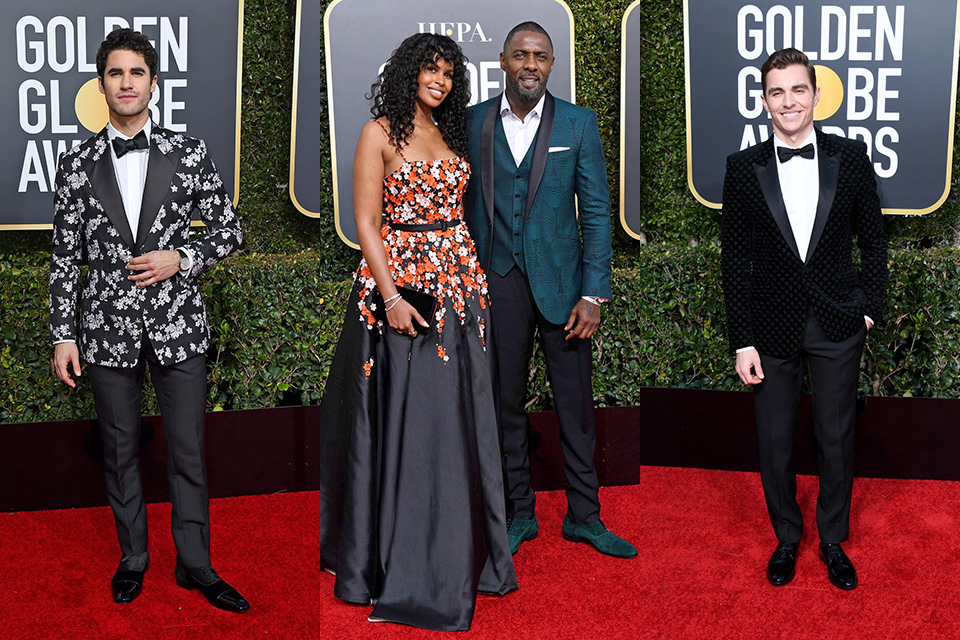 Photo Credit: Associated Press | Getty Images | Getty Images
Fashionable Accessories
We here at Friar Tux are never one to shy away from accessories. From the neckwear, jewelry, socks, shoes, lapel pins. You can take a simple look and make it completely your own depending on the little touches of style. We love how Stephan James' gold tip shoes are effortless and chic with his double-breasted velvet tuxedo (seriously all our favorite trends rolled into one, how he pulled this off while looking so put together and amazing we don't even understand! He must be some type of fashion alien sent from outer space sent here to deliver this gift to us mere unworthy humans). Or how A.J. Gibson and Edgar Ramirez kept their oversized bow tie trend subtle with classic and perfectly fitting tuxedos. Making the look seem effortlessly styled and cool.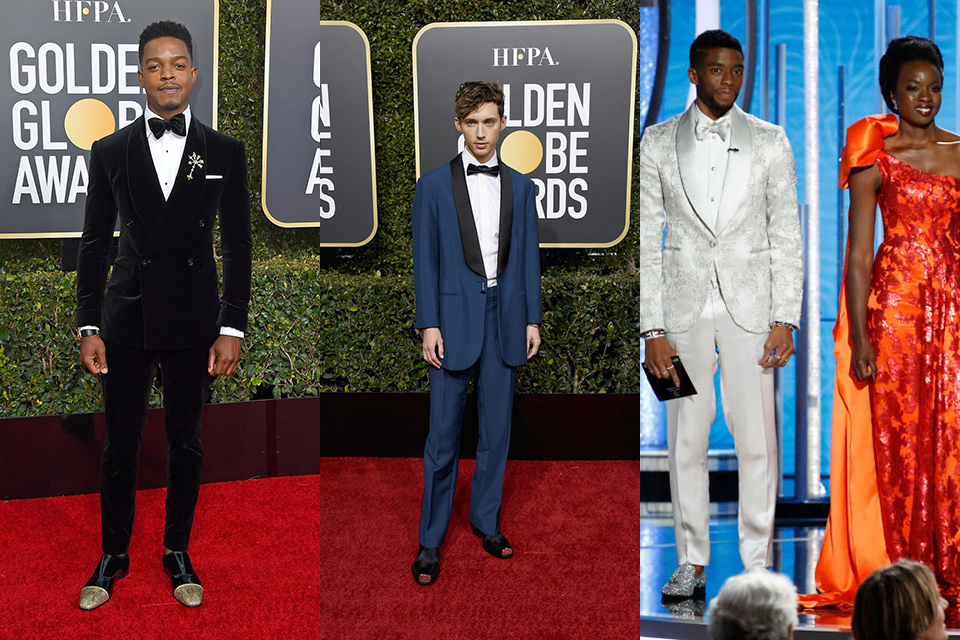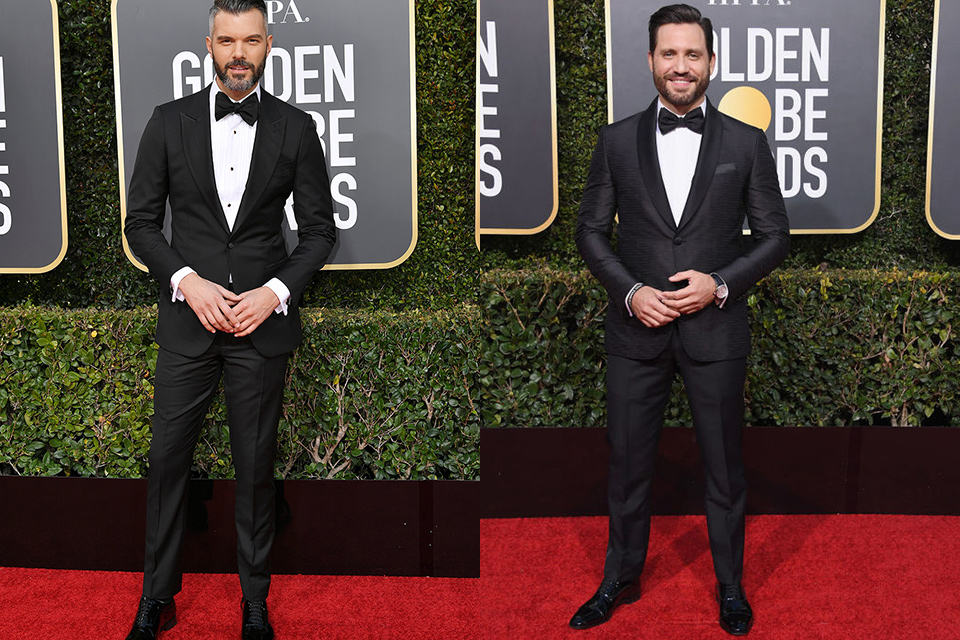 Photo Credit: Credit: Shutterstock | Getty Images | Associated Press | Getty Images | Getty Images
Leading Ladies
We love to see a woman who is not afraid to rock a pants look at a red carpet event. There is something so powerful and strong about it. Not to mention it is always a fashion moment. We love the opposition in femininity in these two women's outfits. Judy Geer plays with the masculine tones of the traditional tuxedo, where Julia Roberts looks just as stunning as ever in this fun feminine jumpsuit.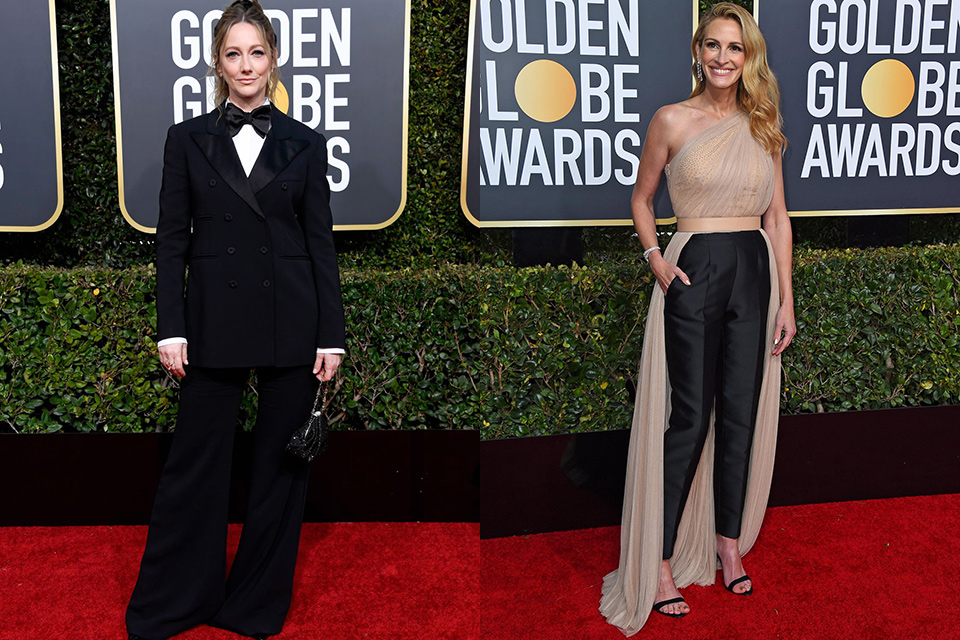 Photo Credit: Getty Images | Associated Press
Chat up one of our stylists about how to create your own red-carpet-worthy tuxedo look!