Venue: Grand Fiesta Americana Coral Beach Cancun
Photography: Lauren Alexandra
Planning + Design: Events by Talissa
Menswear Style: (When your bride is a fashion influencer, you get to wear 4 styles on your wedding day!) Navy Tuxedo, Tan Suit, Light Grey Suit, and Sky Blue Suit
Write up from Brides.com
"In true modern fashion, Andreea Cristina and Bryan Gaul's relationship began with a Twitter DM. 'I added him thinking he was cute, and then I got a nice message back from him with the cutest pickup line and that's how we started talking,' the bride recalls. Fast forward a few months, and the pair—she's the beauty blogger behind Simply Andreea; he's a professional soccer player—finally met in person for their first date...at the airport! Andreea had a layover in Frankfurt, Germany on her way to Berlin, so Bryan (who was living in Germany at the time) came to meet her. 'I had potato salad and sauerkraut, and he had a coffee,' Andreea adds of their October 2016 IRL meet-cute. The airport date proved successful, and the pair embarked on a quick getaway to Venice, Italy, in February 2017 when Bryan had time off from soccer. The trip coincided with Carnival, which Andreea says made it more memorable, but the most noteworthy moment came when Bryan proposed on day two. After sightseeing, the couple settled into a café along the water to watch the sun go down, and Andreea went to the restroom to wash her hands. When she returned, Bryan immediately plunged into his romantic proposal, which featured several rhetorical questions. His bride-to-be—not realizing an engagement was on the way— unintentionally interrupted multiple times with (unwanted!) answers. "He blew past my interruptions only to get to the end and pull out a ring box he'd been carrying around in his pocket all day," she says. 'And the rest is history.'"
Sitting down to talk to this gorgeous bride, we wanted to know more about how she handled planning her destination wedding from so far away:
What was the most challenging part of planning your wedding?
"Doing all the planning while traveling. Not being near the property to make small decisions made it tricky but the staff was awesome and would send videos and photos and communicate so much! Made it all work out."
How would you describe the overall style of your wedding and your inspiration for it?
"The wedding was very chill. We wanted everyone to feel like they were on vacation. The Grand Fiesta Americana Coral Beach Resort was so beautiful it would have been a shame not to take advantage of a mini vacation. Obviously, the location decided the color scheme of muted marine colors and the flowers too. It all came together quite nicely :) everyone described the reception as an al fresco experience under the stars and that's exactly what I was going for."
How did you go about deciding what Bryan was going to wear for your big day?
"I actually let Bryan pick his suits. He has great style, he definitely wanted to stay within the color scheme, so he got different tones of blues and a neutral beige one too. For my dad I picked a dark navy suit as everyone was wearing dark navy for the ceremony. Bryan then switched it up with a light blue suit with for the reception. Super casual and ready to party with an untucked button up under."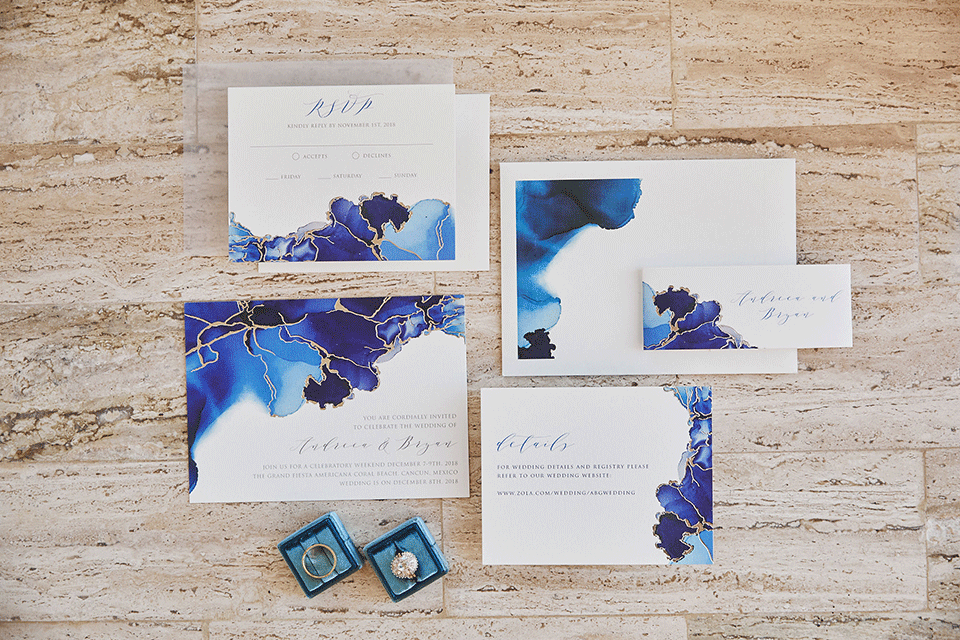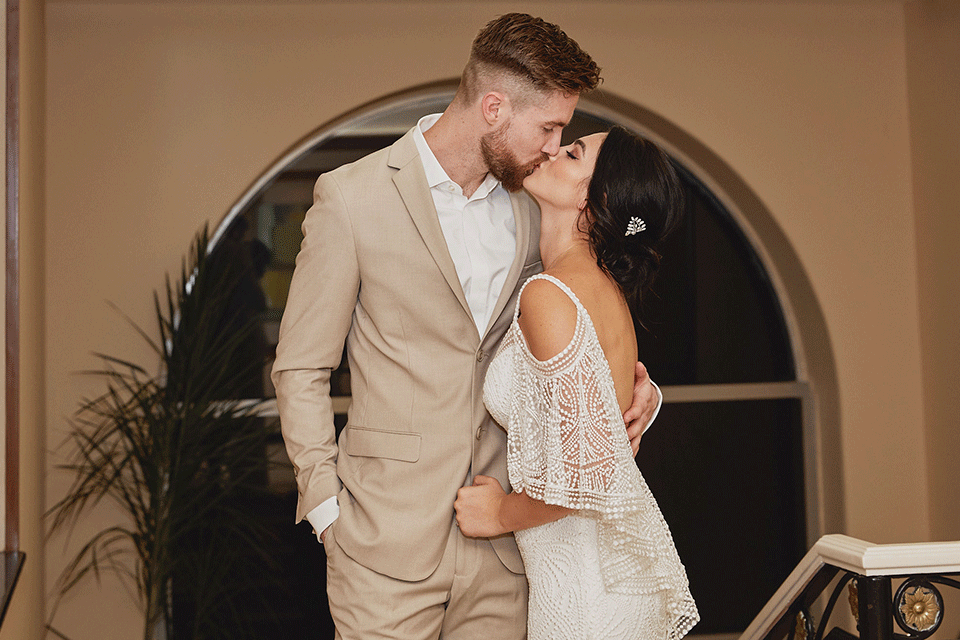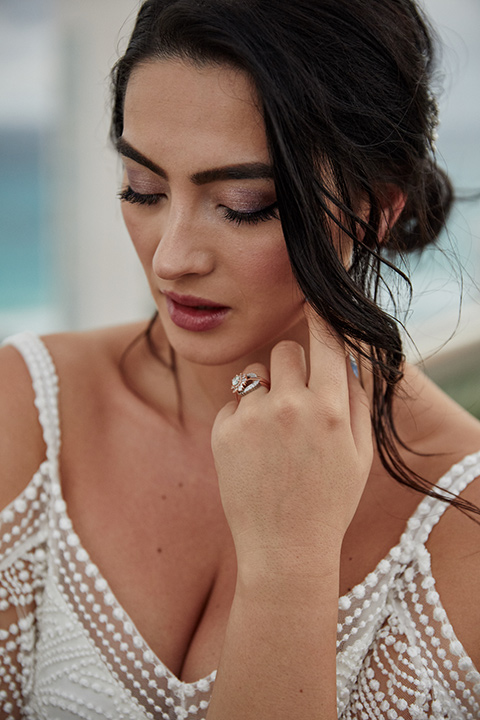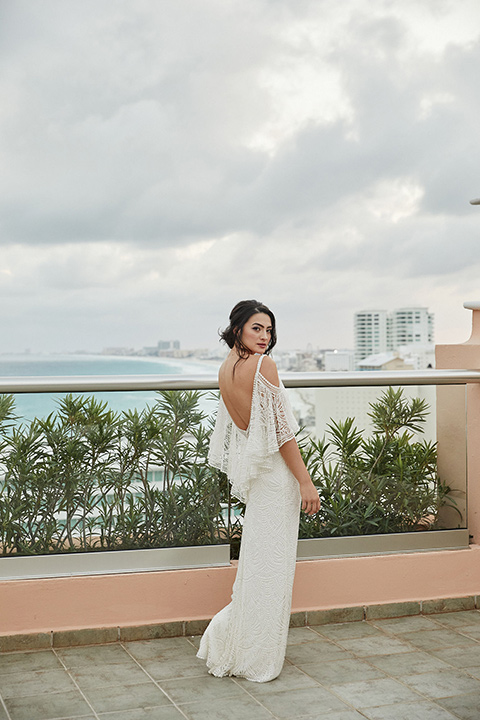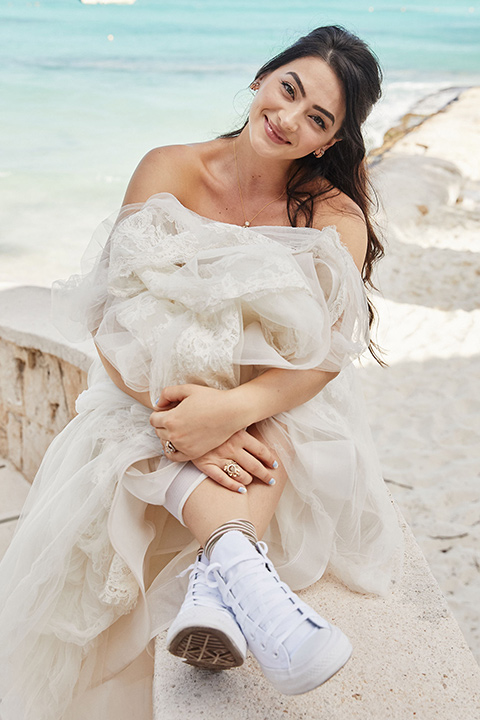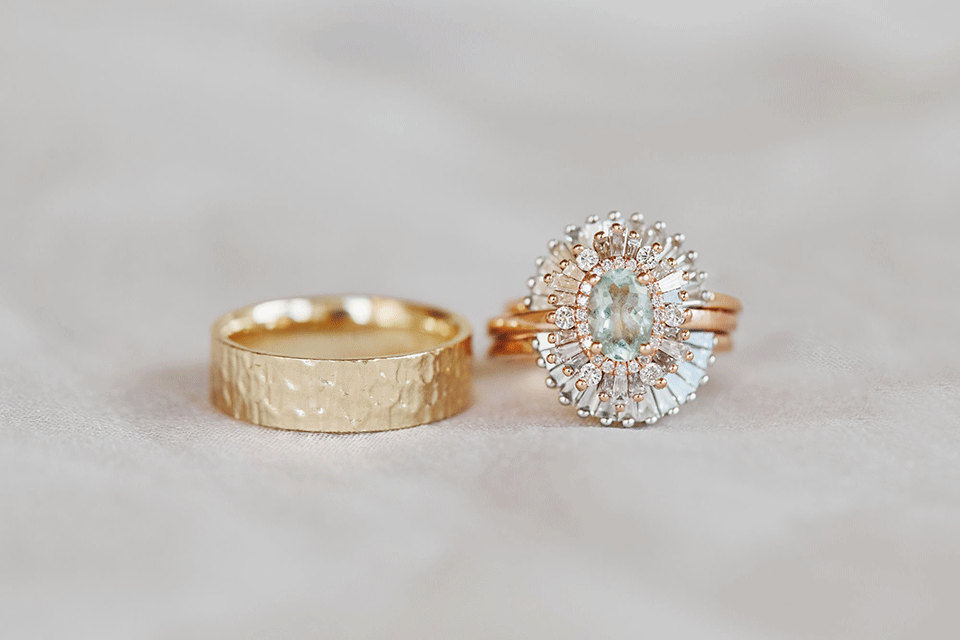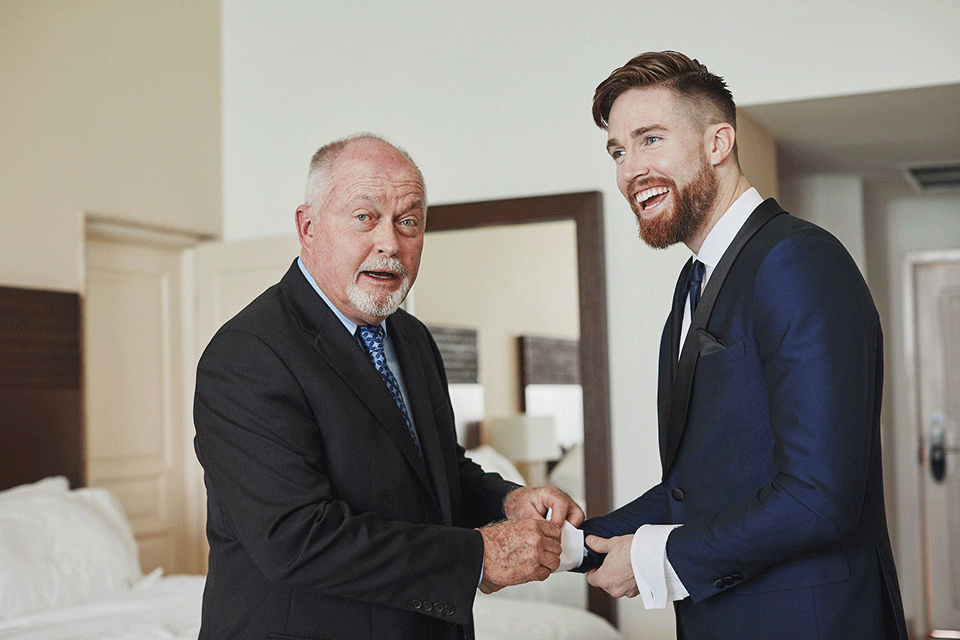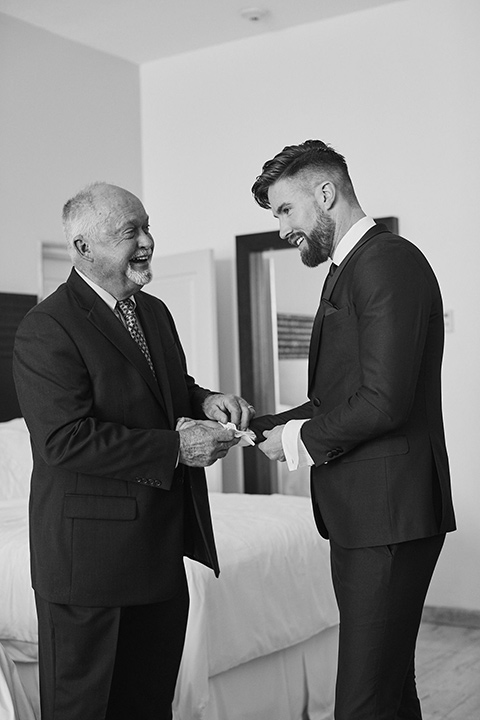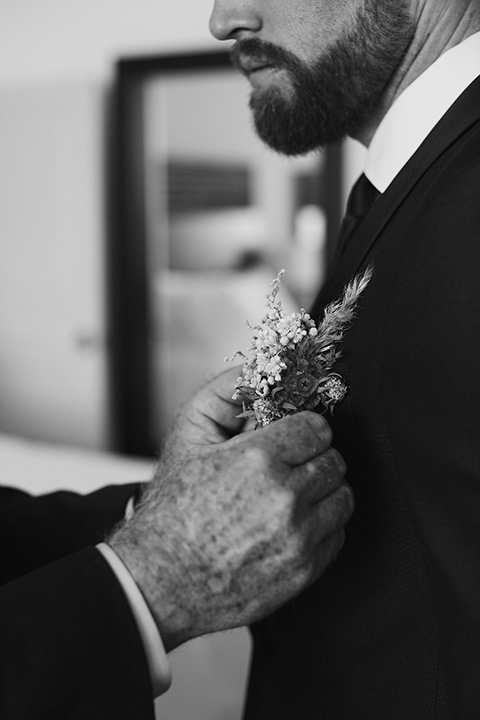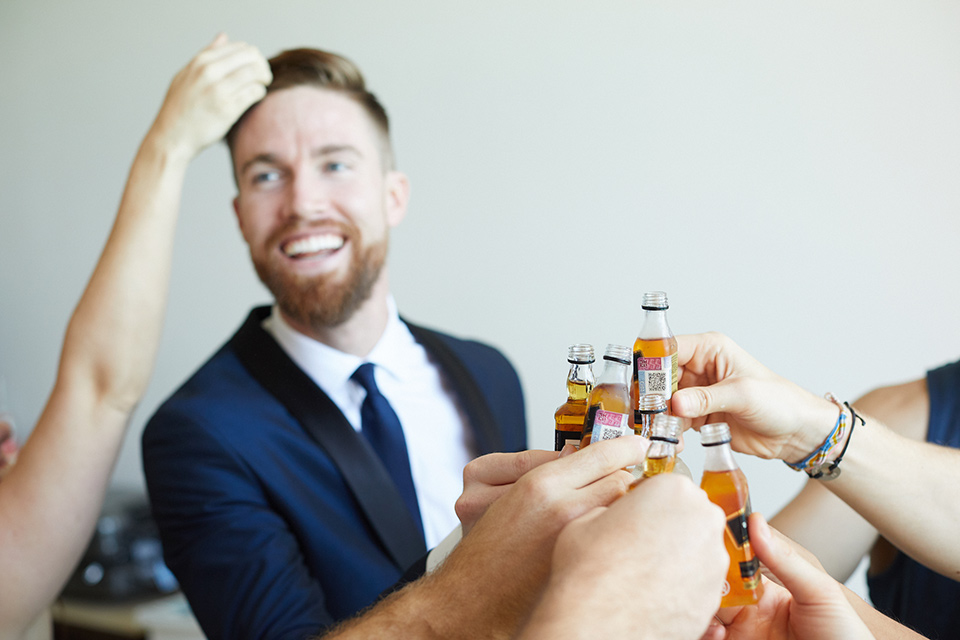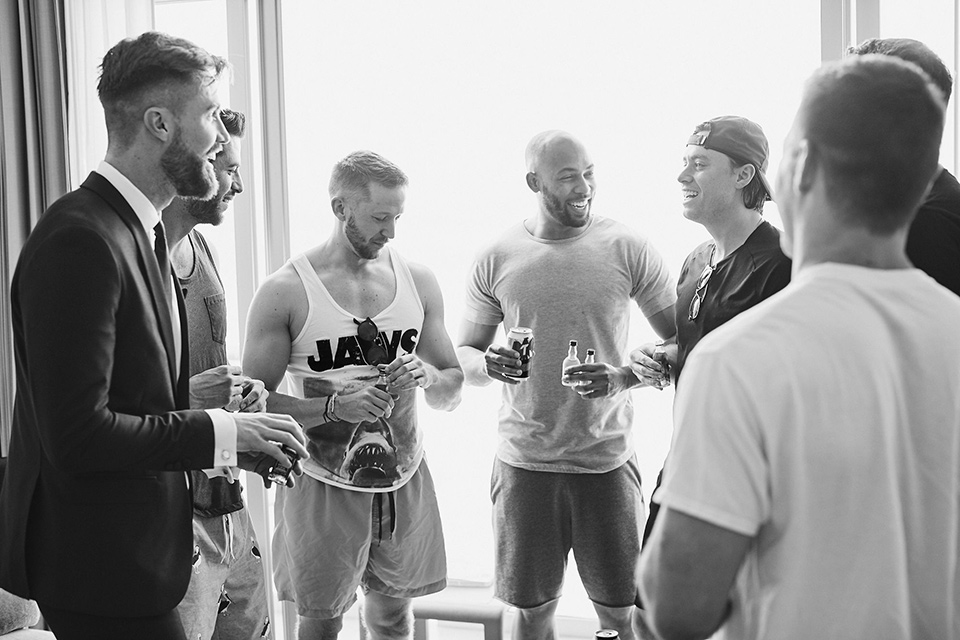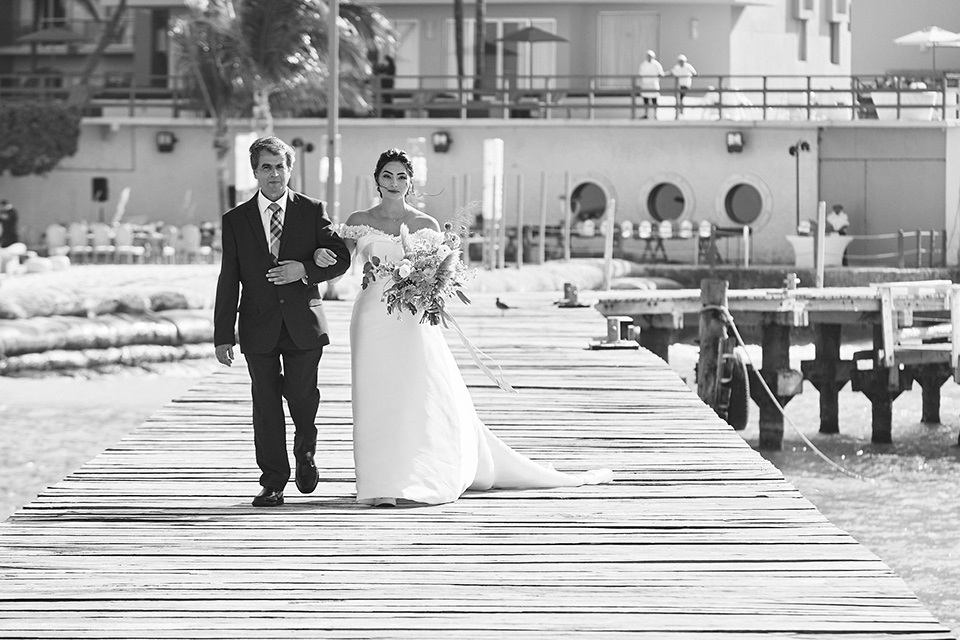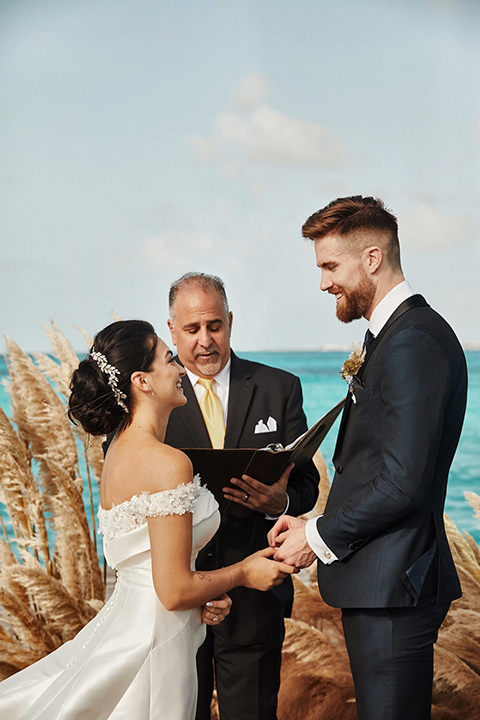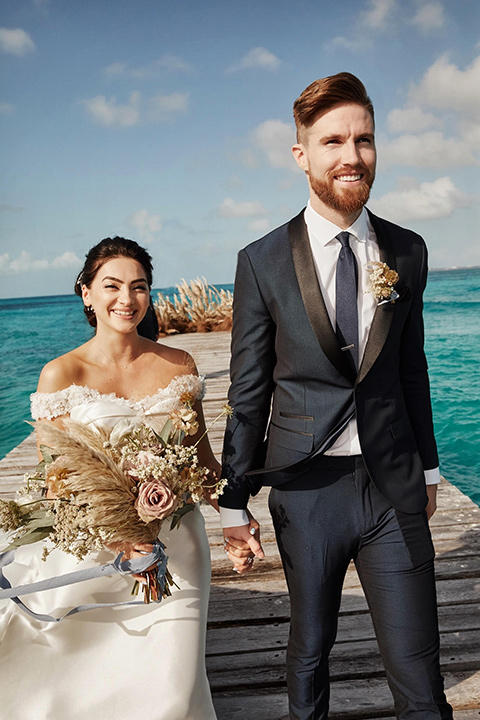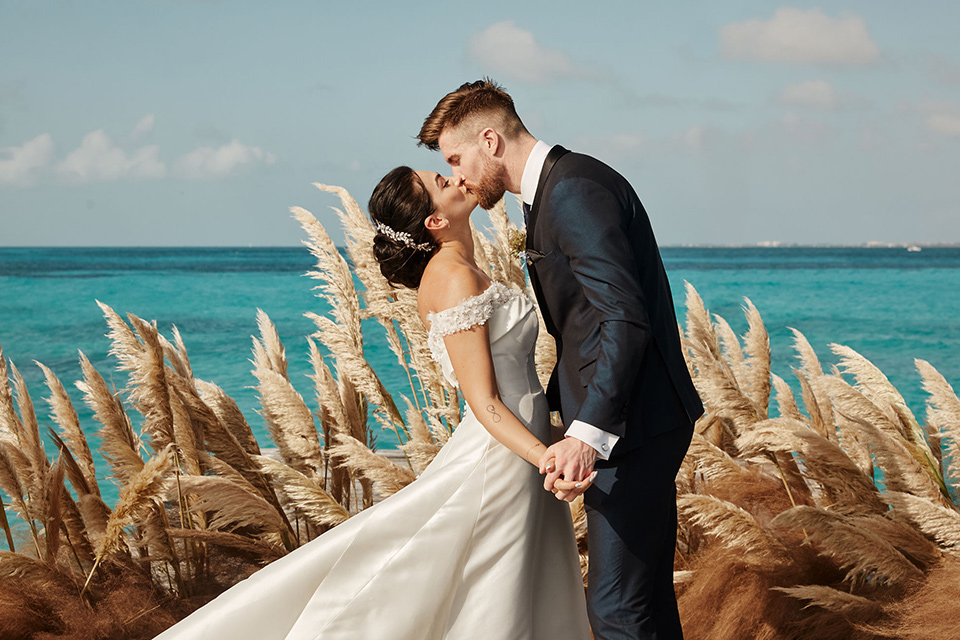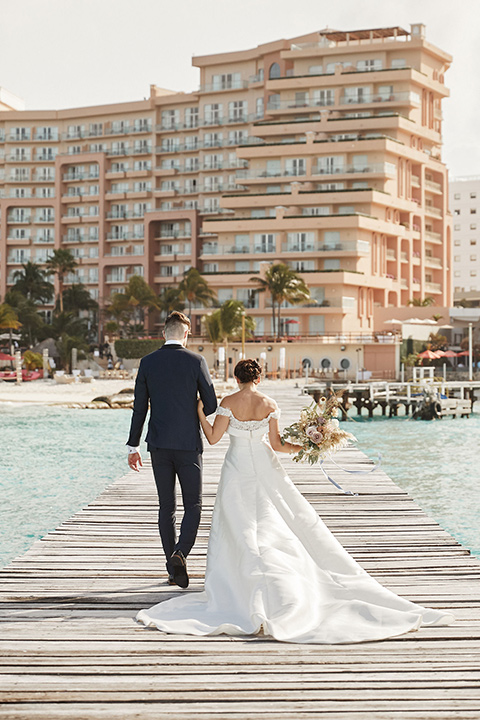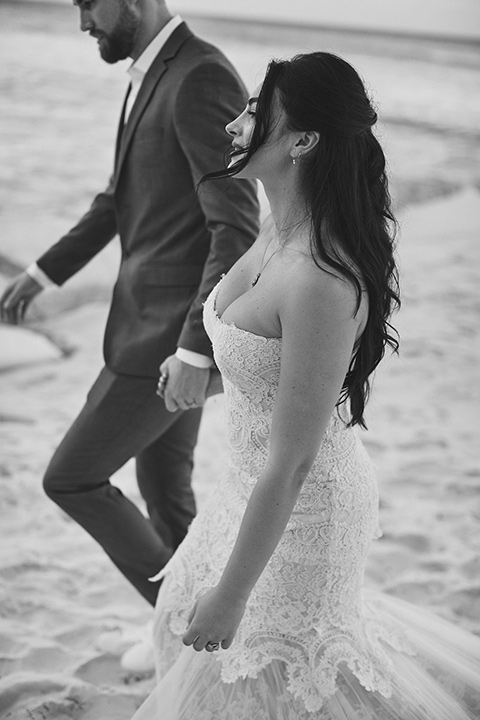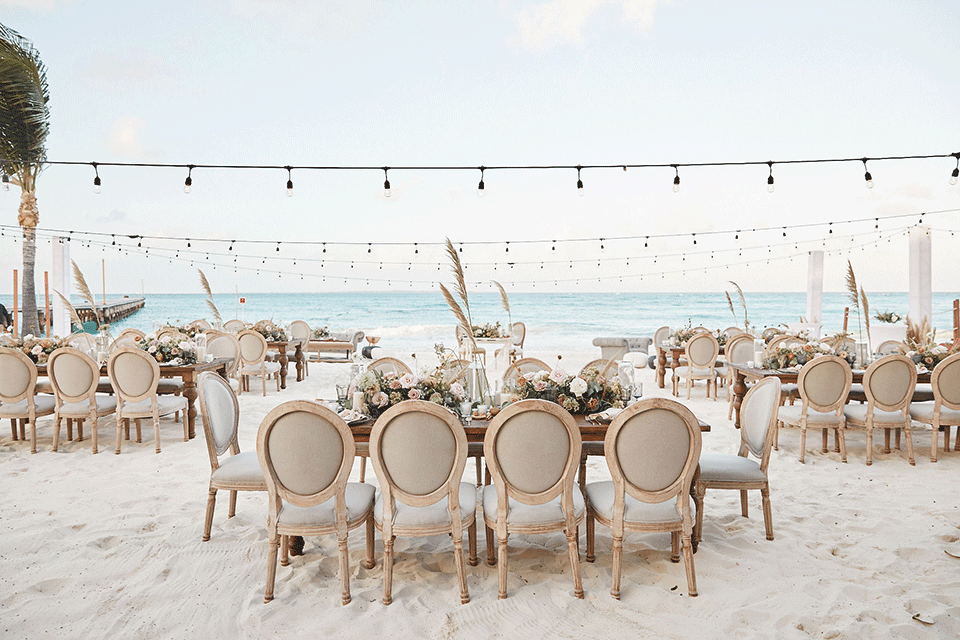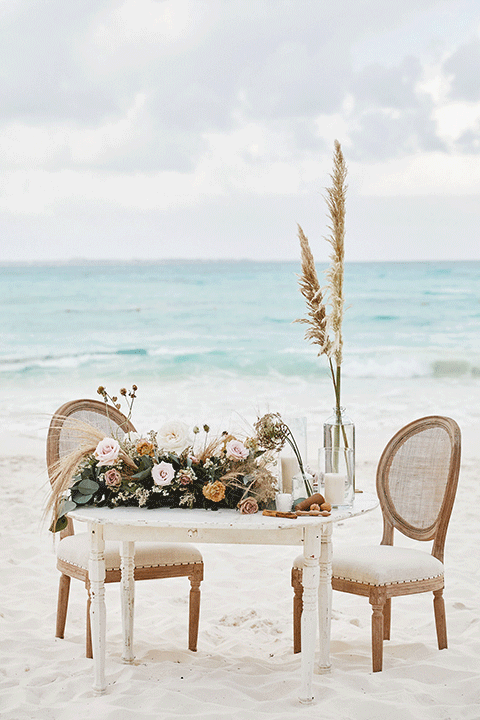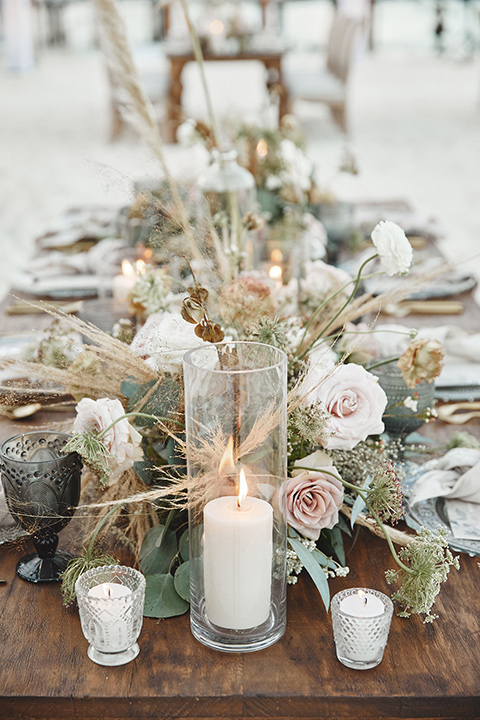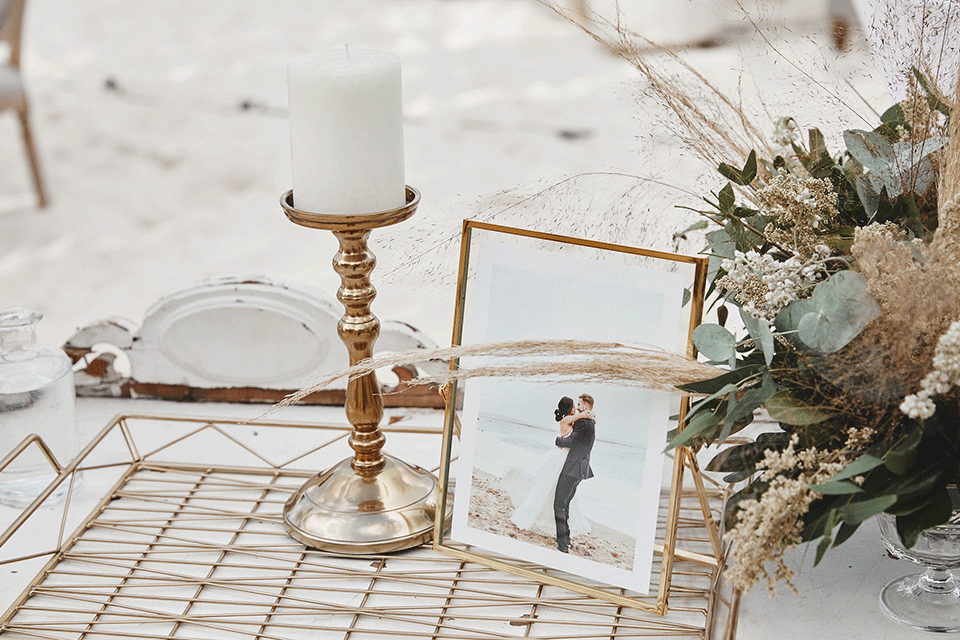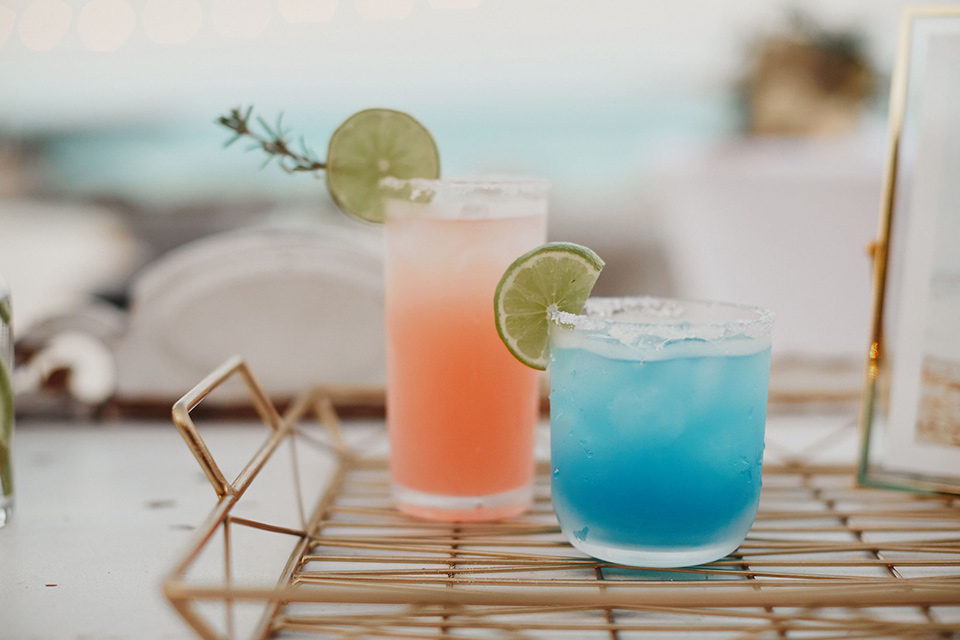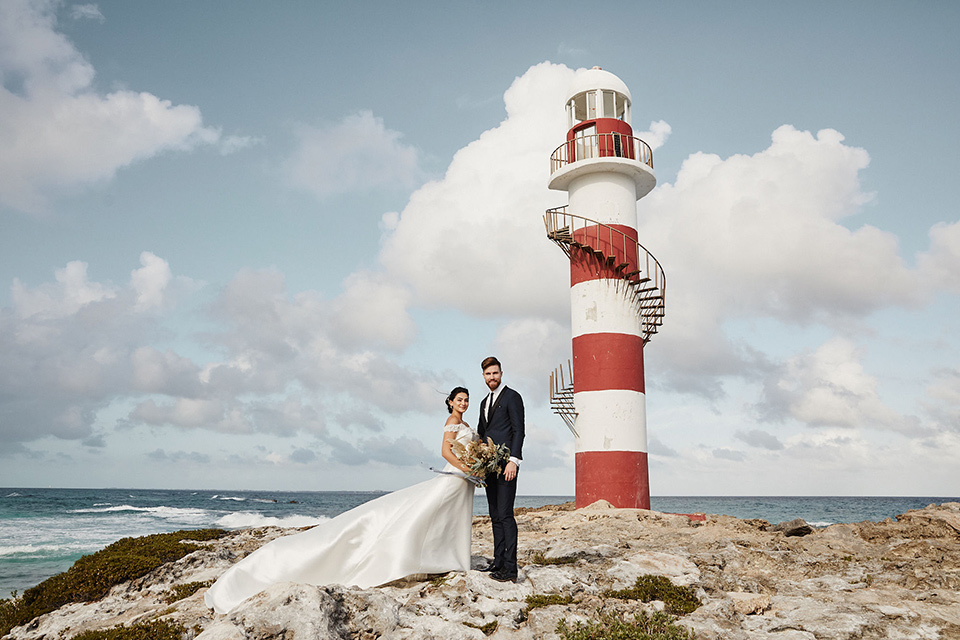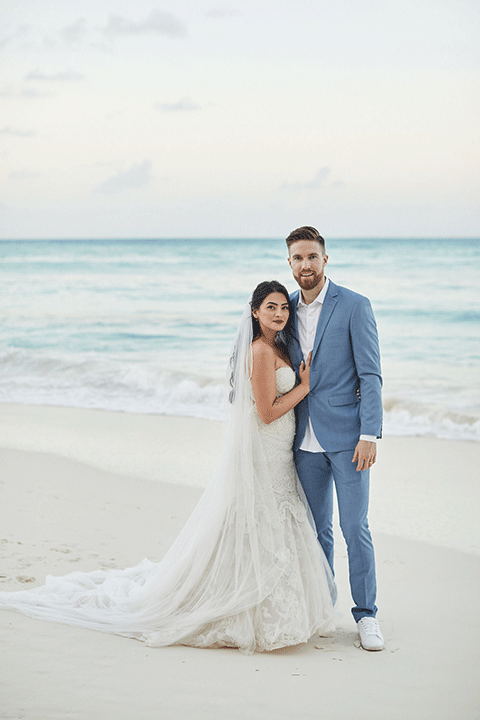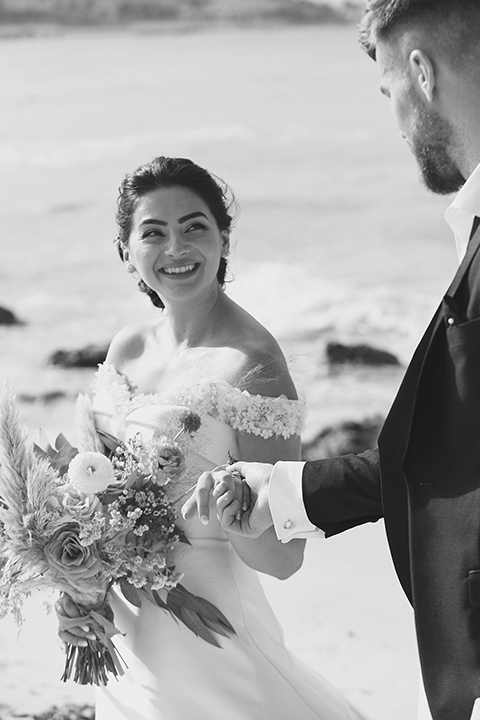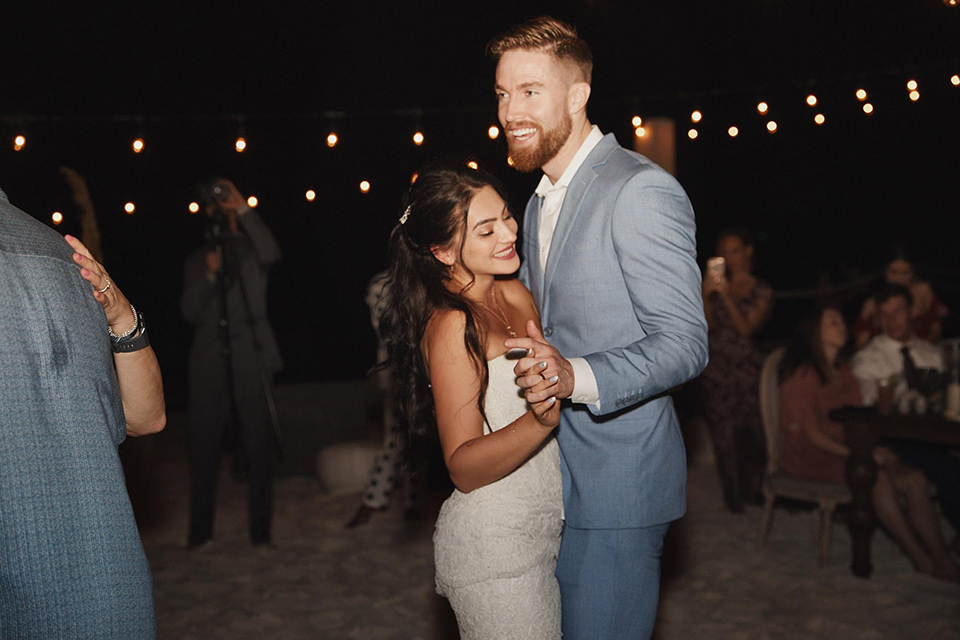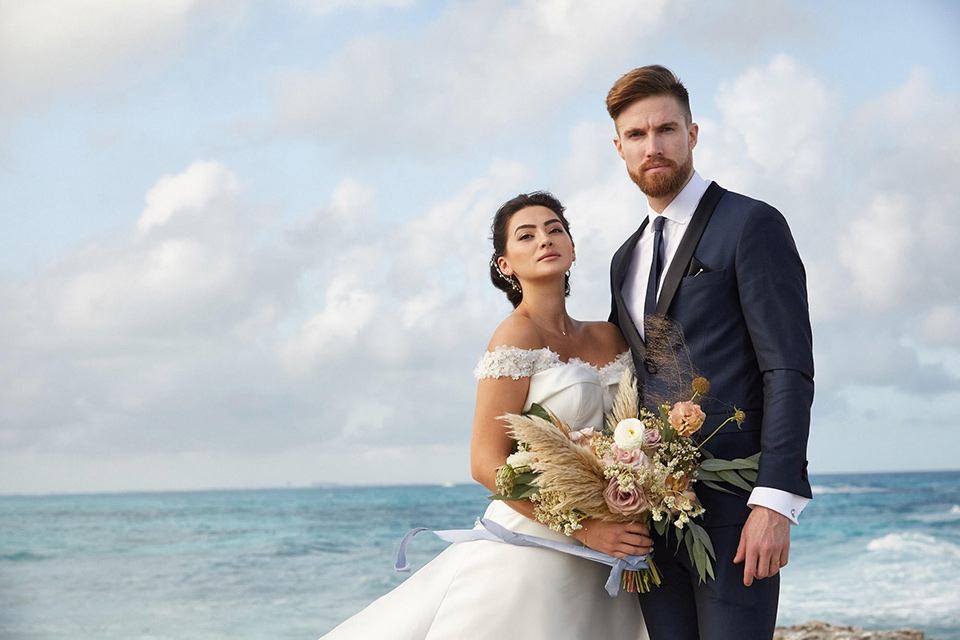 This wedding was also featured on Brides.

Bride's Dresses: BHLDN + Pronovias + Rita Vinieris | Bride's Veil: Pronovias | Bride's Jewelry: Nicha | Bride's Shoes: BHLDN + Converse | Hair: The Hair Lounge | Engagement Ring: Heidi Gibson | Wedding Rings: Marrow Fine | Floral Design: Maria Limon | Invitations: Minted | Paper Products: Pirouette Paper | Music/DJ: DJ Goruva | Rentals: Archive Rentals | Transportation: Tropical Incentives | Videographer: Linden DeGurian