Photography: Pesterson Desgn & Photo | Planner: Anything But Gray Events
This year's Pantone Color of the Year is Vivid Magenta and we are living for it!  The best part is this color is so fun to use in all your different pre-wedding and wedding festivities!  Below we have all the tips and trends you need to know on this bright and bold color.
Pre-Wedding Uses
We didn't want to just give you wedding day uses for this color considering planning events start way before the big day! For your engagements party, engagement photo session, and beyond you can easily add this color as a small detail or a big focal point.  
Engagement Party Décor 
Engagement parties are great because they give you a small taste of how a pop of color may carry over to your big day, but with way less pressure.  Try incorporating the magenta color to your décor like in a fun balloon wall, floral focal point, or with your party signage.  We particularly love the idea of a personalized ice cream cart like this couple did!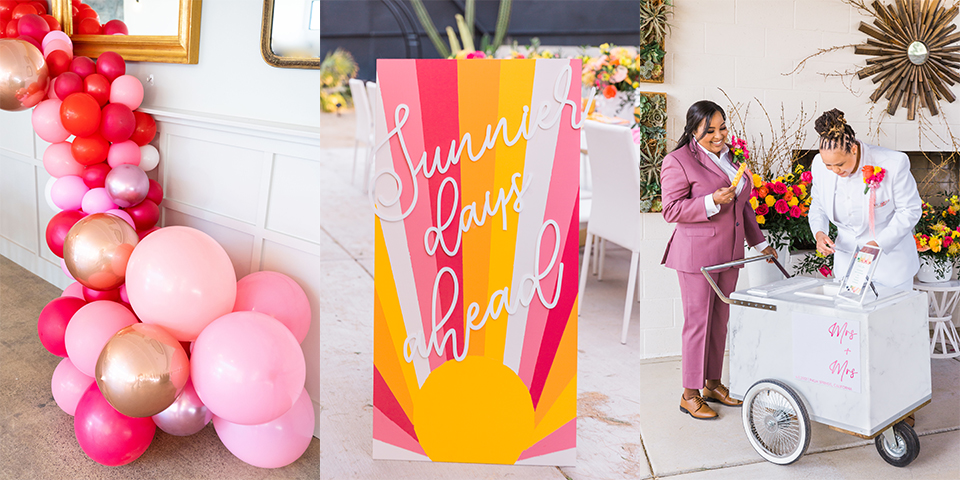 Photography: Pesterson Desgn & Photo | Ashley LaPrade Photography
Engagement Party + Engagement Photos Fashion
Now when it comes to any fashion for your engagement party or engagement photos, it is known that Windsor® is the go-to place to shop your look! Make a bold statement by wearing a magenta pink gown, or keep it classic but chic by wearing one of their gorgeous white dresses or jumpsuits.  We also love the idea of rocking one of their bold magenta accessories!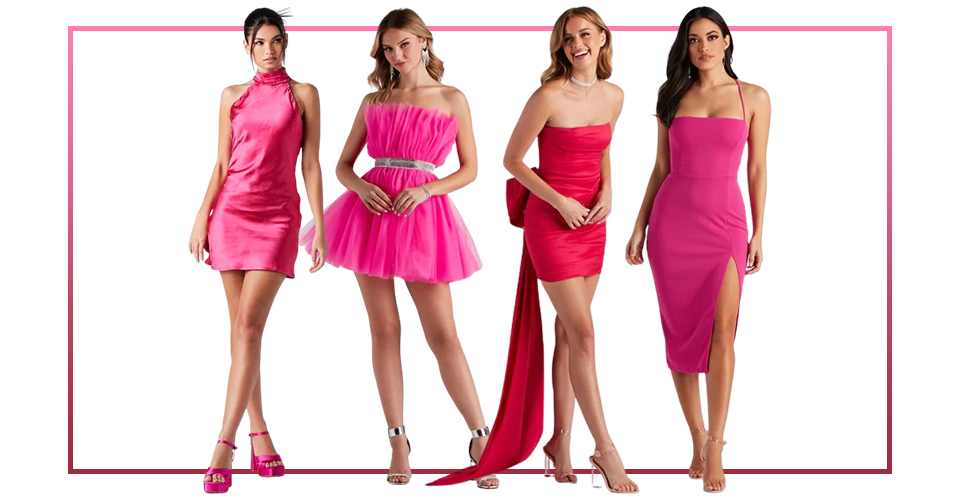 Dresses: Irresistible Charm Satin A-Line Dress | Bell Tulle Rhinestone Short Dress | Lucy Taffeta Bow Mini Party Dress | Henley Formal Lace-Up Midi Dress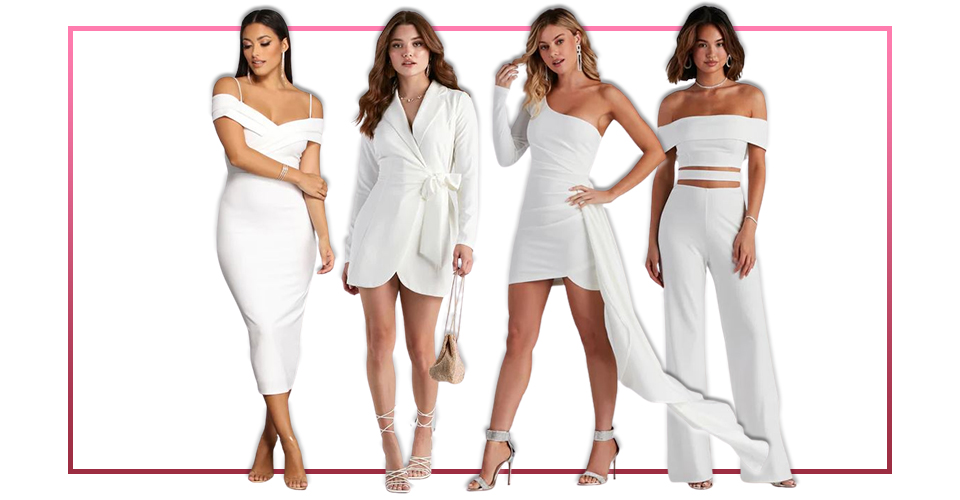 Dresses: Valeria Formal Off-The-Shoulder Crepe Midi | Chic Moves Blazer Dress | Emily One-Shoulder Pleated Asymmetric Mini Dress | Elevated Style Off-The-Shoulder Jumpsuit

Accessories: Chain of Style Jelly Crossbody | Disco Queen Block Heels | Glam Marvel Envelope Clutch | Precious Glam Earrings | Stole My Heart Mules | Way To My Heart Hoops 
Suits + Tuxedos
When it comes to colors to pair with Vivid Magenta pretty much any suit or tuxedo color will work, but we do have some that we absolutely love – White Casablanca Dinner Jacket, Green Notch Lapel Suit, Light Grey Peak Lapel Suit, Black Paisley Peak Lapel Tuxedo, and Cobalt Blue Notch Lapel Performance Suit.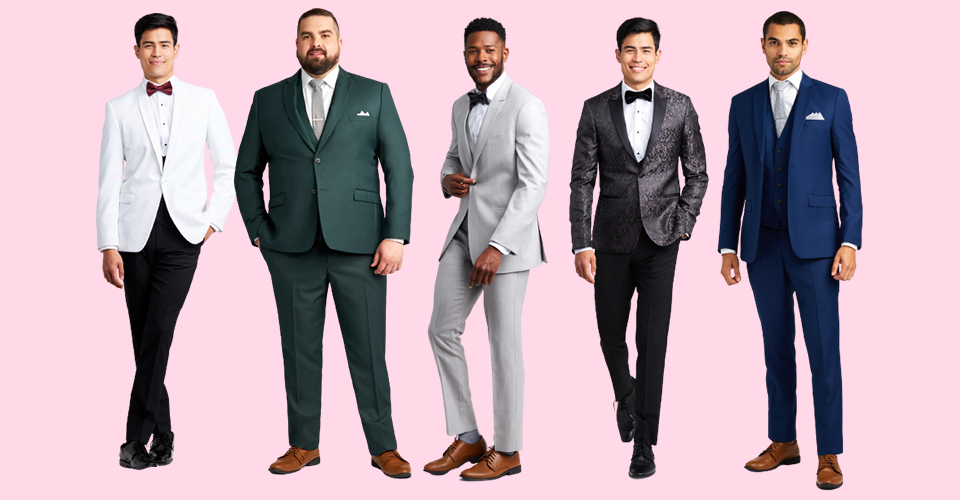 And when it comes to accessories, Friar Tux has dozens of magenta pink options for you to use! 

Invitations to the Big Day!
Invitations are not just simple pieces of paper, they are a real chance to show off your wedding day vibe and creativity. Use the pop of pink in the font color, as the bold envelope your guests open, or as a smaller detail in the stamp or wax melt.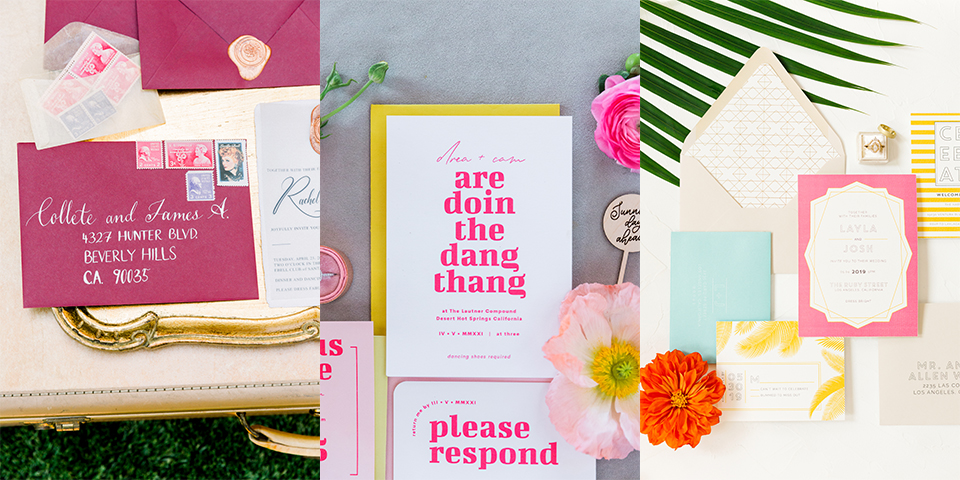 Photography: Manya Photography | Ashley LaPrade Photography | Rachel Stelter Photography
Wedding Day Uses: 
Now for the real fun, the wedding day ways to use Vivid Magenta!  Now, below are just some of the major ways to incorporate the color…but the options are endess.
Florals
Boutonnières, floral bouquets, arches, table centerpieces…the options are bountiful.  This pop of color will really make your wedding day flowers glow.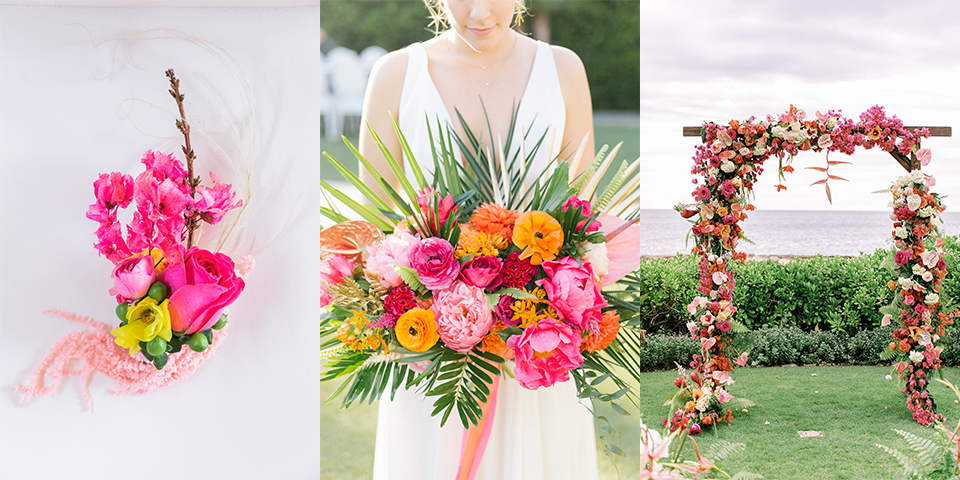 Photography: Ashley LaPrade Photography | Rachel Stelter Photography | Alice Ahn Photography
Table Décor and signage
Use magenta in your table runners, linens, napkins, name cards, and more.  No matter if you use it in a small way or as the table focal point, your wedding guest will be ooh-ing and ahh-ing over it.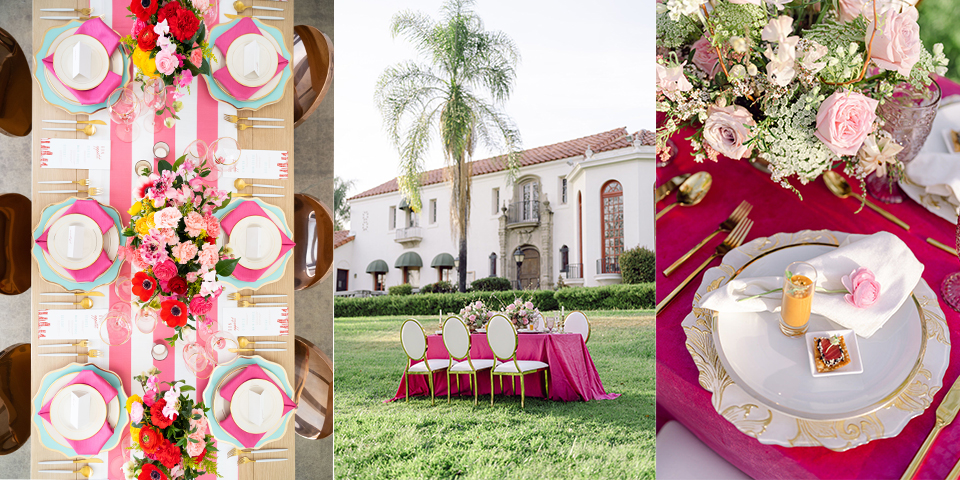 Photography: Pesterson Desgn & Photo | Peony Park Photography 
Dessert + Treats
Cakes, strawberries, and candy are just some of the dessert options to add magenta to – and we 100% support this delicious decision.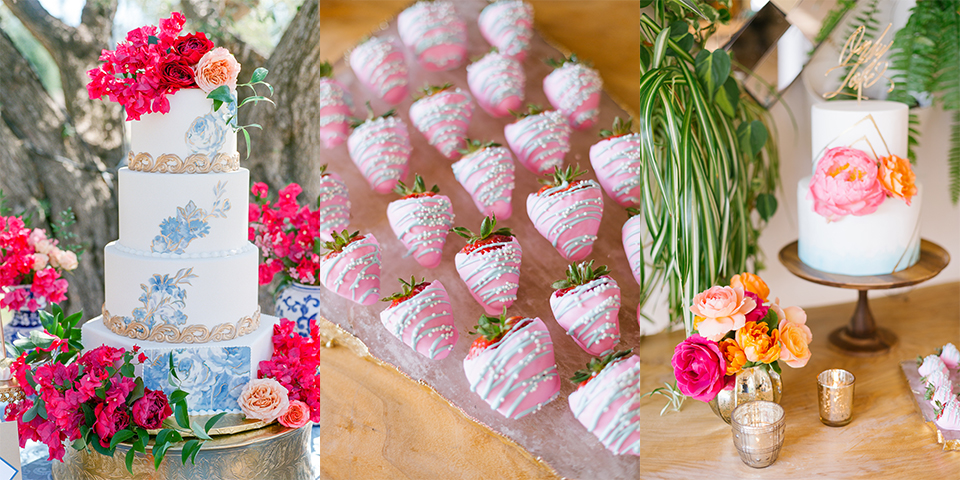 Photography: Elizabeth Burgi Photography | Rachel Stelter Photography
4 Vivid Magenta Color Schemes to Swoon Over
Stuck on what colors to pair with Vivid Magenta to create the wedding day of your dreams?  Well, we compiled a few dreamy color stories for you to get inspired by.
Berry Special 
The combination of light pink, magenta, and rich greens makes this color scheme pop in subtle and delicious way.  This fun wedding design in Palm Springs shows that magenta is a fun way to create a tropical art-deco style that is both flashy and refined.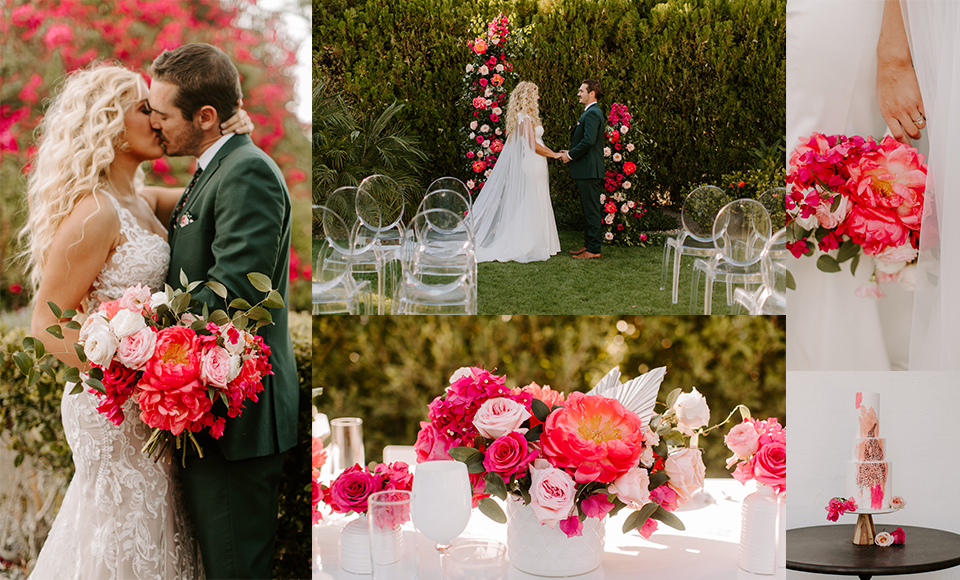 Photography: Brianna Broyles Photography 
Cool Blue 
Blue and pink have been a classic wedding-day color combination for a long time now, and we see no reason for that to stop! We love how exciting these colors can be when paired with the boldness of magenta and the dreaminess of cobalt – turning a classic color scheme on its head.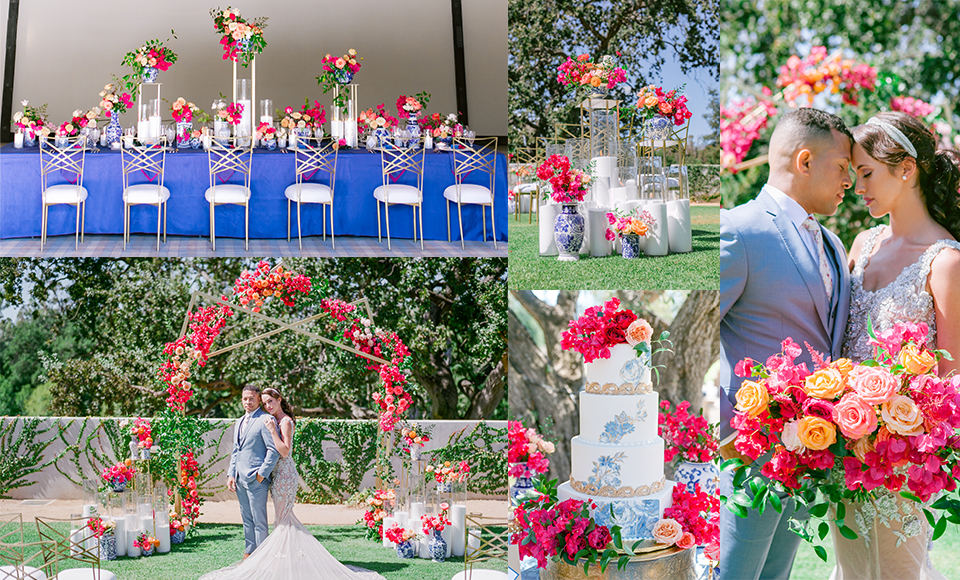 Photography: Elizabeth Burgi Photography
Eclectic Fun
If you want to stand out, then this totally non-average color design is for you! It is not a secret that we are totally obsessed with Julia and Jackson's DTLA eclectic dream wedding (you can see this wedding in our 2023 Stylist Magazine). Giant balloons, sunset-inspired signage, and a fringe-tastic jacket makes this wedding on the top of our OBSESSED list.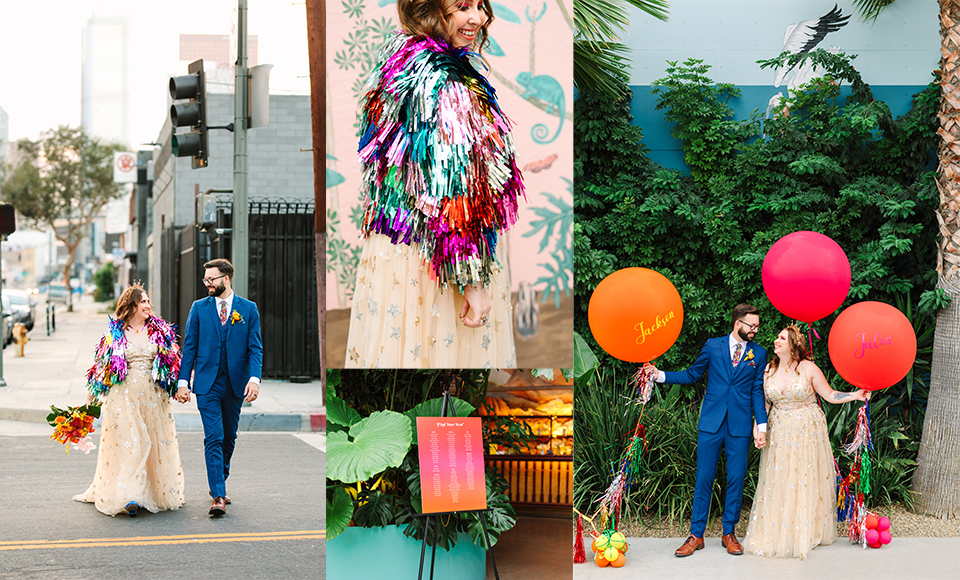 Photography: Mary Costa Photography  | Planner: Anything But Gray Events
Sangria + Slate
Now, this color palette is for the romantics.  Sultry magenta and sleek greys create this dreamy color design.  We love how this wedding color scheme is perfect for a wedding at an estate or high-opulence venue.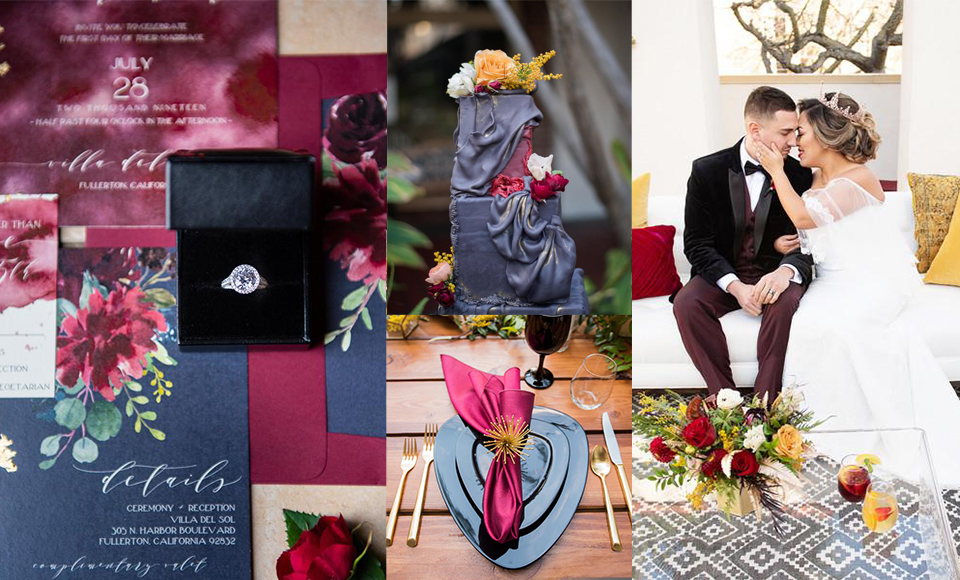 Photography: Jacquelynn Buck Photography
We hope this inspires you to add this trendy color into your wedding festivities, and for more tips be sure to check out our Pinterest and Instagram.