Photography: Robert Michael Films
At Friar Tux, we believe you should always try to look your best for life's important moments—especially at your beach wedding. Seaside affairs are often considered to be more relaxed, but when it comes to style, beach weddings do not mean you have to compromise on style!
We spoke to Blue Nile, the world's leading online retailer of diamond engagement and wedding rings, to share our thoughts on how to look your best at a beach wedding.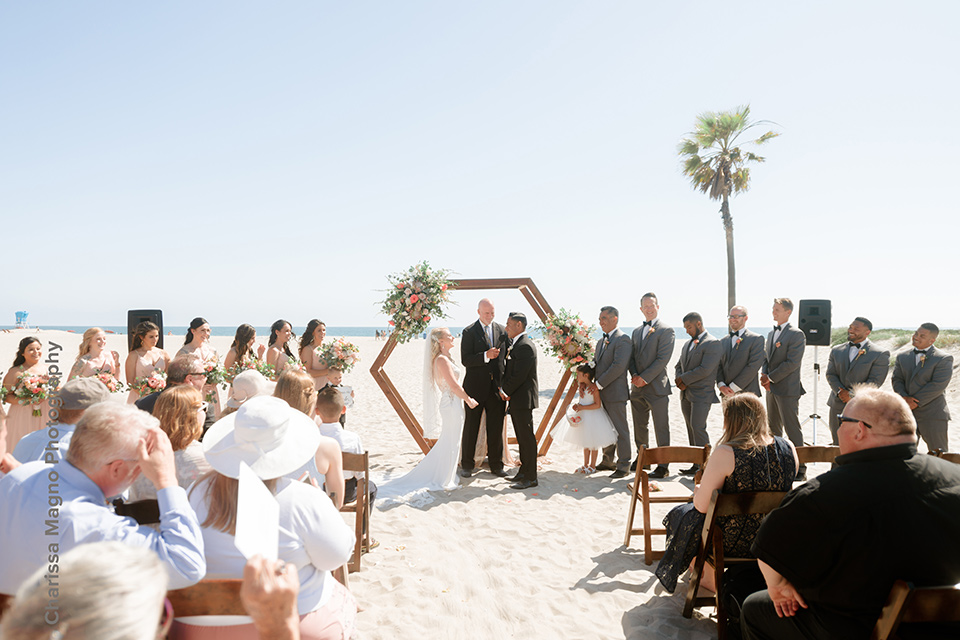 Photography: Charissa Magno Photography
What makes a beach wedding meaningful?
One of the things that makes a beach wedding so romantic is the gorgeous ocean background. Having your wedding at a beach location means you can draw on the beautiful nature and weave it into everything from the decor to the favors you send your guests home with.
What should I wear to a beach wedding?
There's nothing more handsome than a man in a suit, and the same goes for a beach wedding. We suggest using soft-toned colored suits like our Tan Notch Lapel Suit or Light Blue Notch Lapel Suit that mimic the colors of the ocean backdrop. Having the men in soft-toned jackets allows for a "put together" look while still keeping things beachy.
For a black tie inspired look that pops against the sand and the water, we suggest the Black Notch Lapel Performance Tuxedo by Michael Kors. This tux is particularly great because the stretch and breathable fabric will keep you cool and comfortable during the sandy vows and at the dance party later.

Suit jackets for men can bring refinement and chicness to your ceremony photos—but after the ceremony it's time to let loose and dance! Remove the jacket and opt for a fashion-forward vest or suspenders for the party.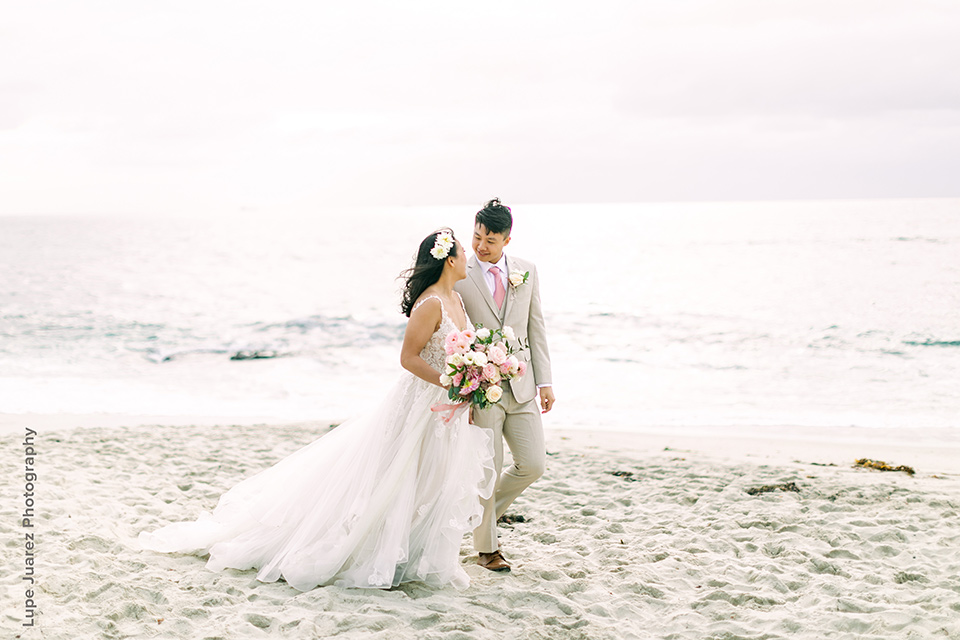 Photography: Lupe Juarez Photography
What is the proper footwear for a beach wedding?
When it comes to having your wedding at the beach, it's important to remember that sand isn't the easiest to walk on. This is something to think about when choosing footwear for yourself and your bridal party. For women, a flat sandal, wedge or block heel can be a great option. Boat shoes are an excellent option for men.

Your guests will also appreciate a note in your invitations or on your wedding website letting them know the ceremony is going to be held on the sand so they can plan their outfits accordingly.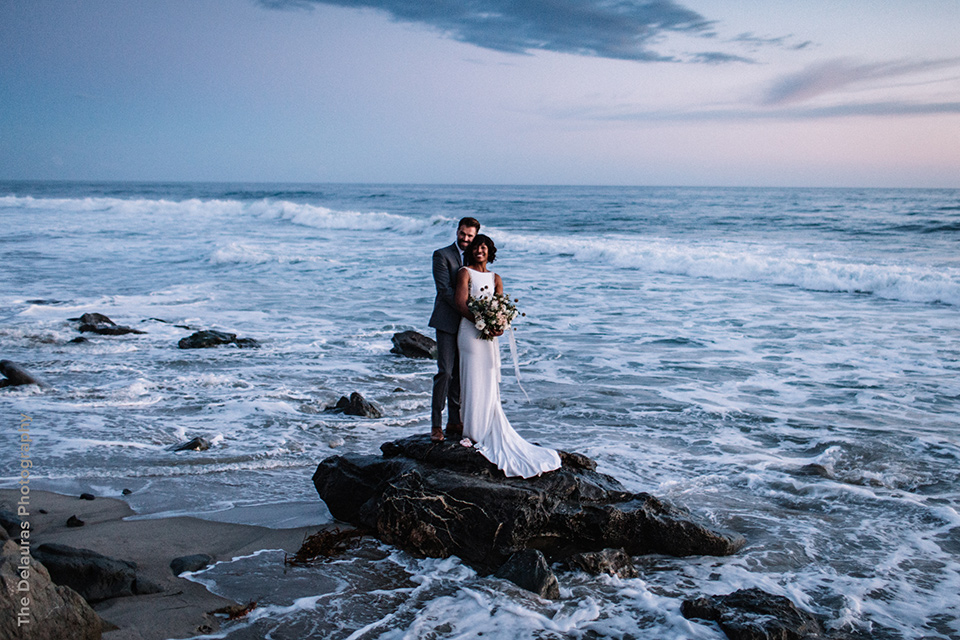 Photography: The Delauras Photography
Why celebrate your love on the beach?
Getting married on the beach is a beautiful way to start your life with your partner. We love the idea that you can visit the place you said "I-do" whenever you want, spend your anniversaries with picnics at that spot, or just spend the day there relaxing. Remember to wear sunscreen and hydrate, and your beach nuptials should go off without a hitch!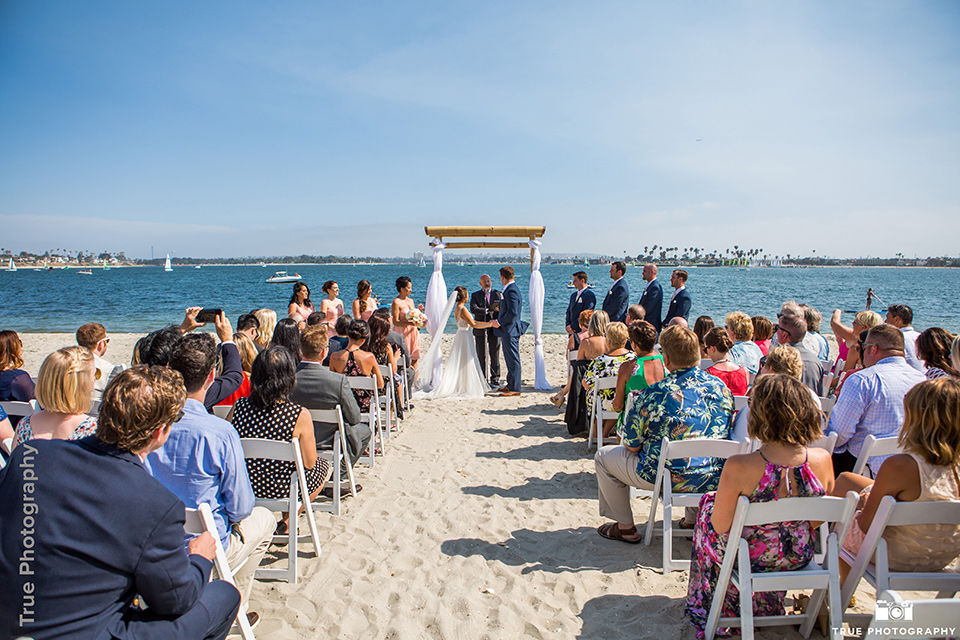 Photography: True Photography
For more beach wedding inspiration, make sure to check out our Pinterest! And for all your diamond needs, head over to Bluenile.com today.