It should be no surprise that here at Friar Tux, we really love suit and tuxedo fashion.  When we get the amazing privilege of styling not one, but two people in suits/tuxedos for their special day we are always excited!  
With that, there are many different ways to style two looks for a wedding.  In this blog, we will break down all the different (and amazingly stylish) ways to coordinate two suits/tuxedos to create one special and cohesive moment. 
Happy Pride!
Option #1 - Same Suit, Different Accessories
One easy and classic way to style two looks is by wearing the exact same suit and coordinate them with different accessories.  This is for the couple who want to keep the color palette simple, while still wanting to play up each other's different personalities and styles.
Greys + Greens = Wedding Day Dreams
Take this couple for example, (also how can you not smile when looking at these pictures, their happiness and love just comes through so much!). This couple kept their suits simple by wearing our Grey Notch Lapel Suit then coordinated with their neckwear accessories.  One in a light sage matte long tie, and the other in an evergreen satin long tie. This allows them to bring in the colors of the weddings, while still having a sparkle of personal style.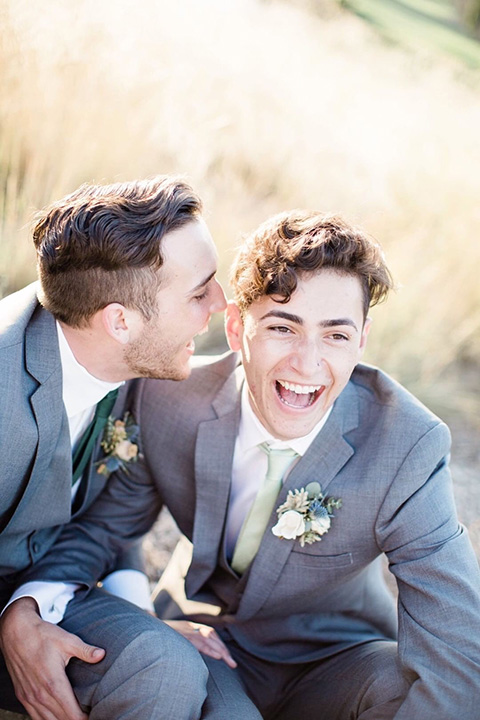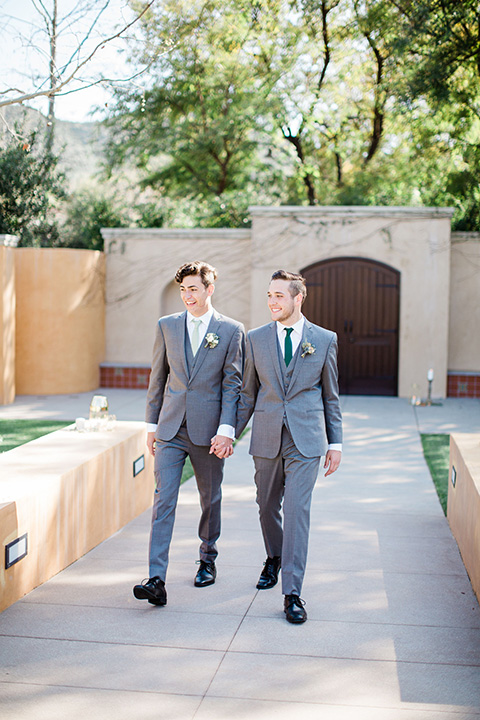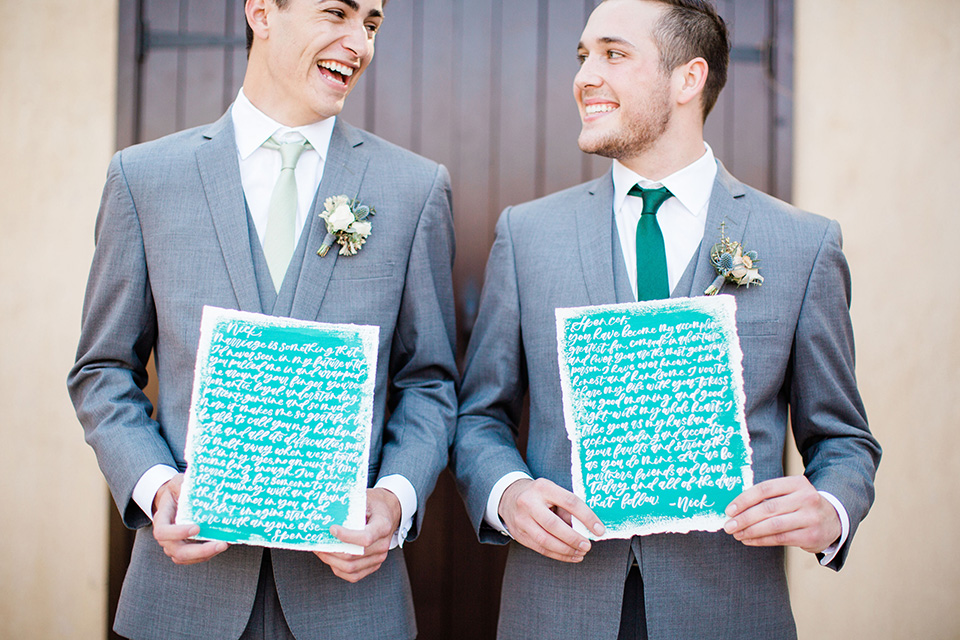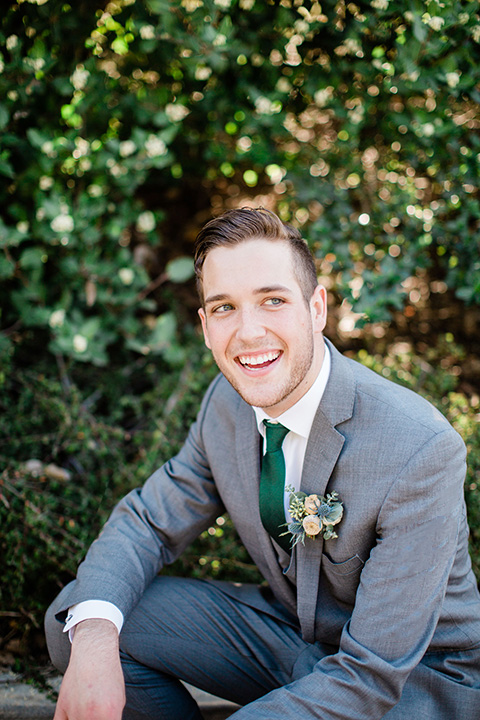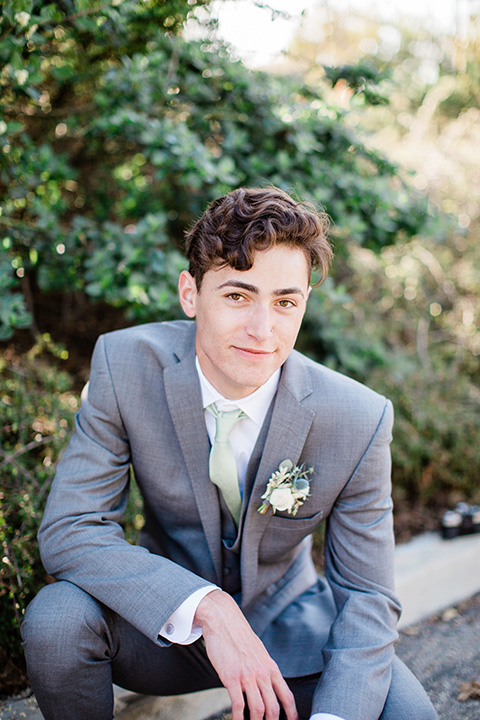 Photography: Angel Sheree Photography
Cobalt City-Style Bold
This couple went for a color style POP! by wearing our Cobalt Blue Suit.  They then used jewel-toned accessories to create unique looks.  Let us not forget to mention how they added a second layer of style with their unique floral boutonnières.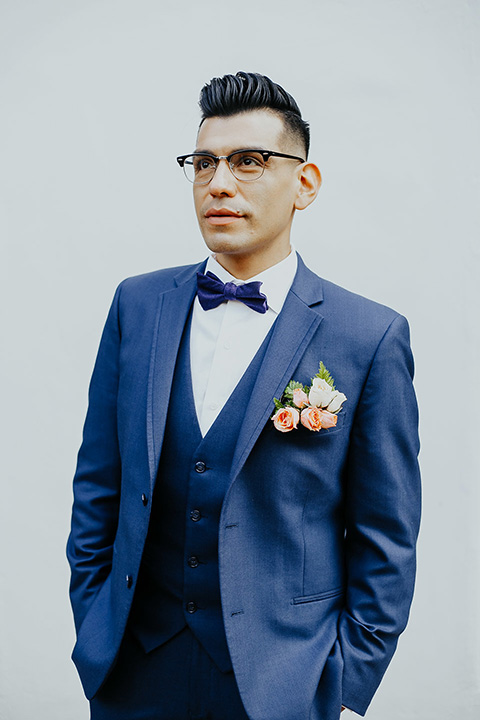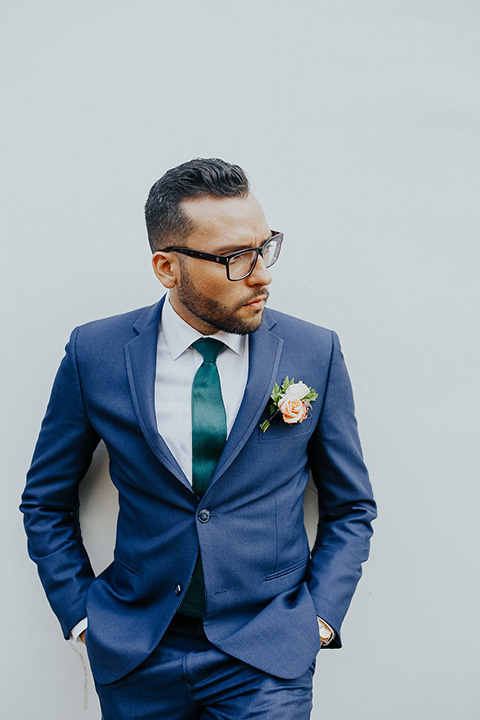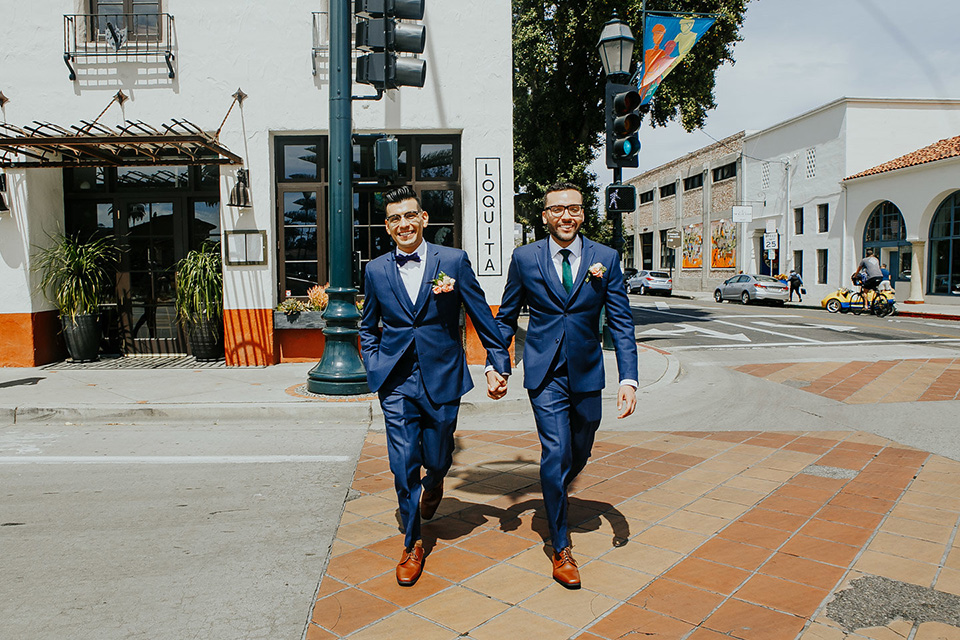 Photography: Megan Blowey Photography
Option #2 - Bold Contrast
For this style option, the idea is to use different color suits that create a cohesive color story while still allowing the couple to express their own fashion feels!
Joshua Tree Chic
The first couple used their looks to stand out from the desert scenery in their Joshua Tree Bohemian Elopement. The first groom wore a Rose Pink Notch Lapel Suit with a chianti matte long tie, while the other groom wore a Dark Blue Notch Lapel Suit with a navy floral tie. Their looks work together perfectly by having the same lapel, and the navy floral tie brings in the rose color of the first groom's suit color making for one amazing desert I-do moment.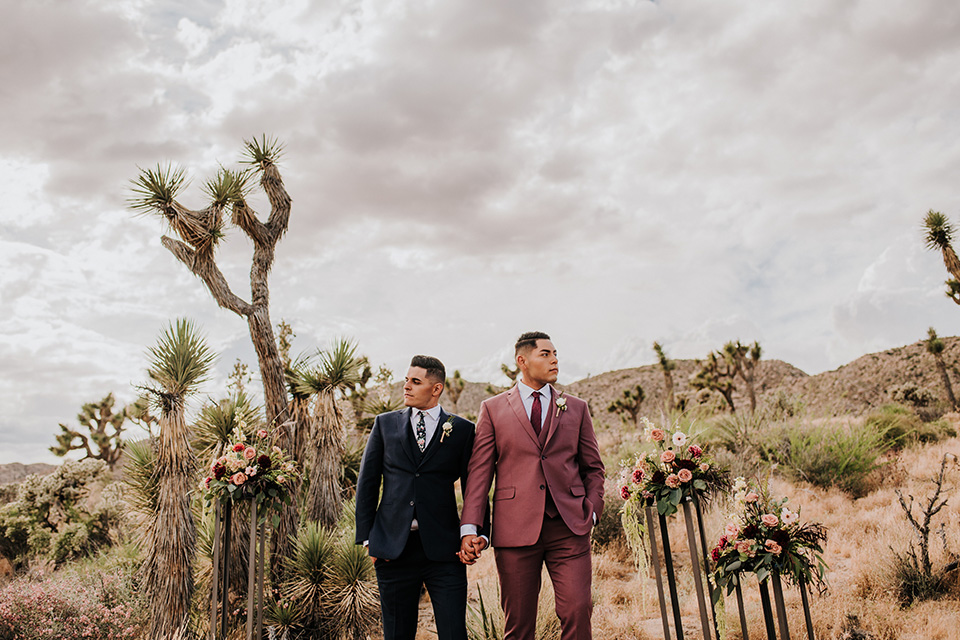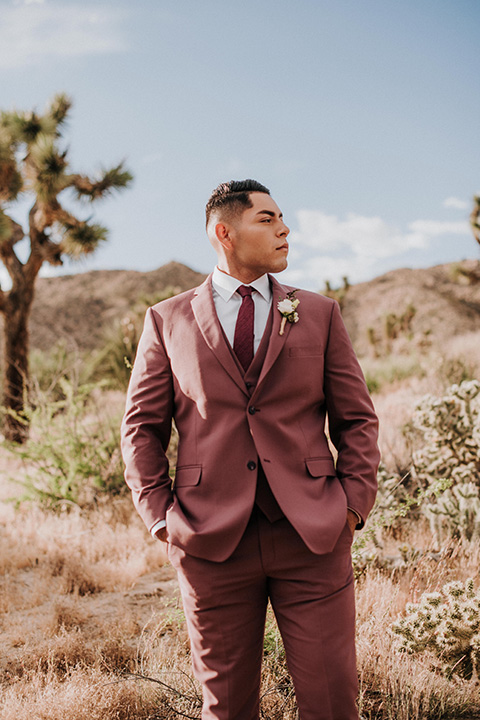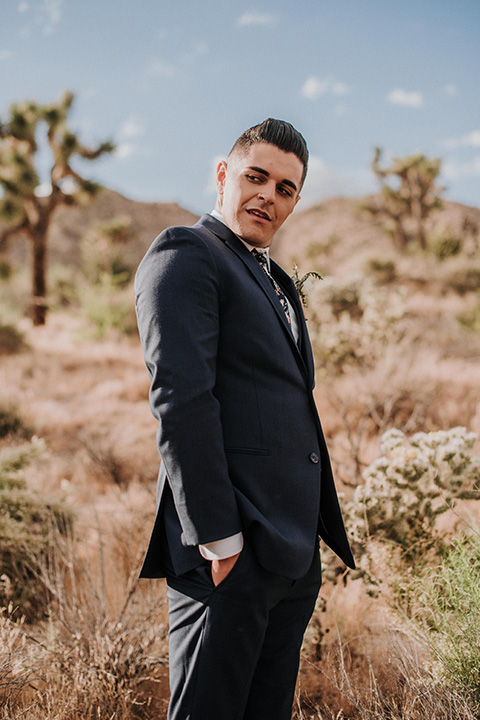 Photography: Sessions by Anne Salas
Pastel Dreams
In a similar color palette, these brides decided to add a moodier look to their otherwise light and bright suits. One bride wore the Rose Pink Notch Lapel Suit as well, but styled it with a black bow tie with a geometric pattern and black rocker-style boots. The other bride wore a Light Blue Notch Lapel Suit with a chianti matte long tie and a bold matching lip color. They both styled their makeup with a sultry smokey eye to add a little more pop and style to their looks.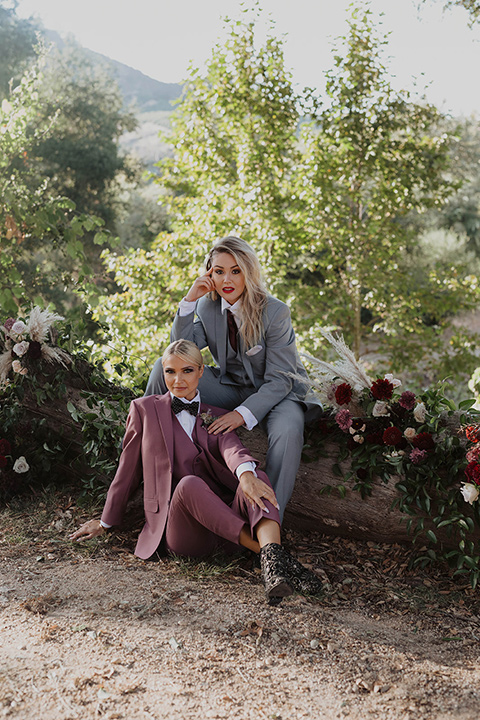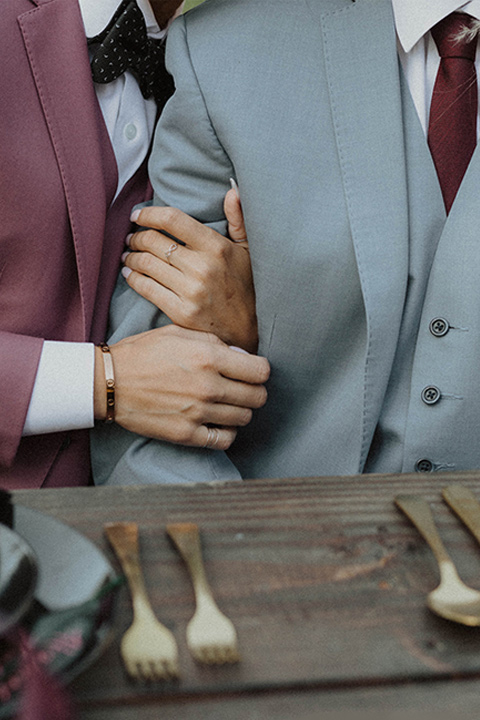 Photographer: Foolishly Rushing In
Option #3 - Play with Textures
This is a super fun style option!  What we mean by "playing with textures" is play with different fabrics, patterns, details. This can be as bold as you want it to or as subtle, but when thought of it can create an epic look! 
Here at Friar Tux we are proud of all our style options for this category: velvets, paisleys, satin trims, diamond details, ect…
Las Vegas Moods
Take this Las Vegas wedding for example, these grooms played with tones and fabrics to create their special day looks. One groom wore an all-black style – yet had key elements to make it stand out. By having the Black Tuxedo with a Framed Lapel with a small amount of satin plus a satin long tie, the look's variety of tones and fabrics created a unique style. The other groom wore a Burgundy Shawl Lapel Tuxedo with coordinating black accessories to match his groom's attire.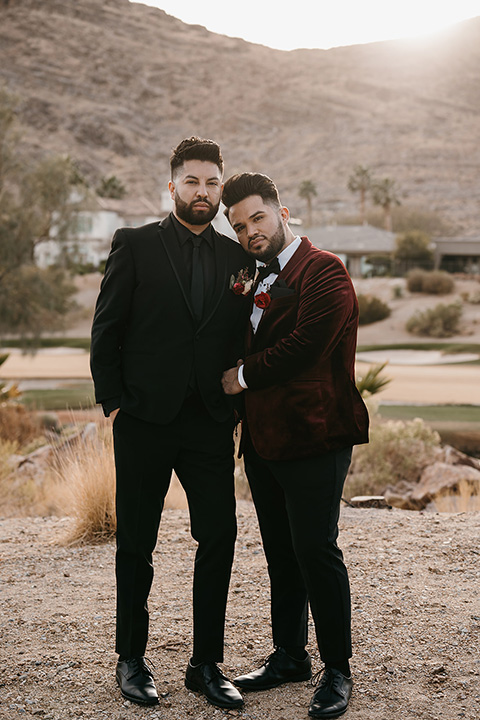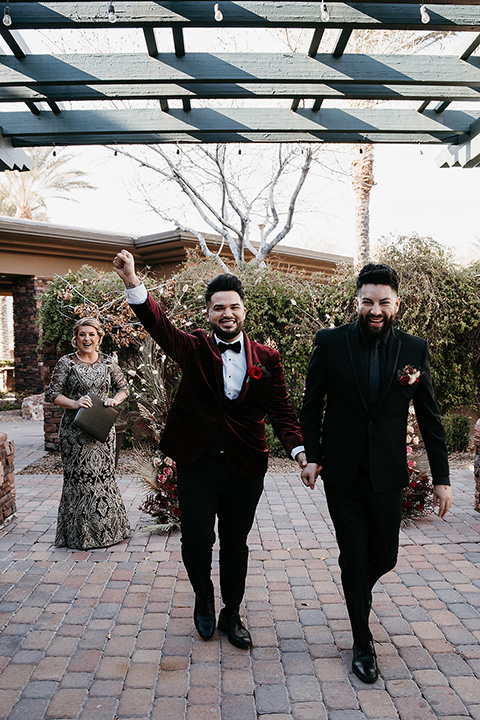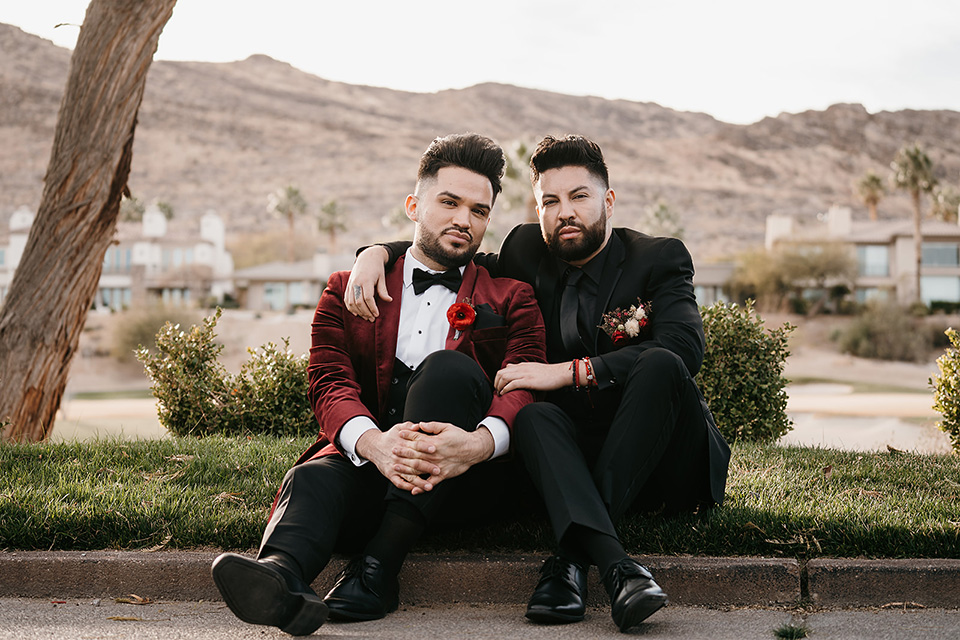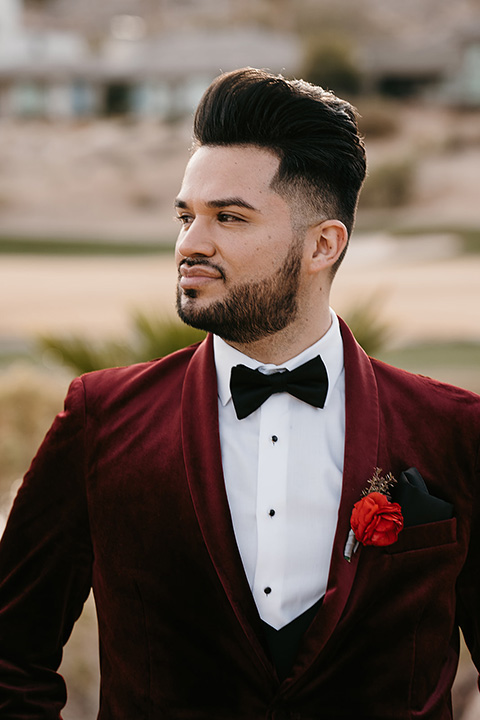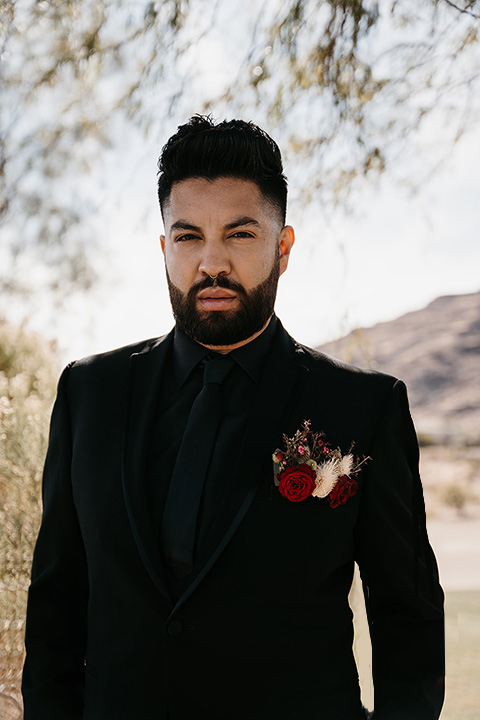 Photography: The Combs Creative 
Tuxedos with a Twist
This couple played with fabrics and pattern to create their wedding style story. One in our Black Velvet Peak Lapel Tuxedo with a black patterned bow tie, while the other wore our Black Paisley Peak Lapel Tuxedo with a black velvet bow tie. Both tuxedos have the same lapel style as well, and they coordinated accessories to match the others' overall look. Together this creates a spiced up black tie look that is perfect for any style of wedding.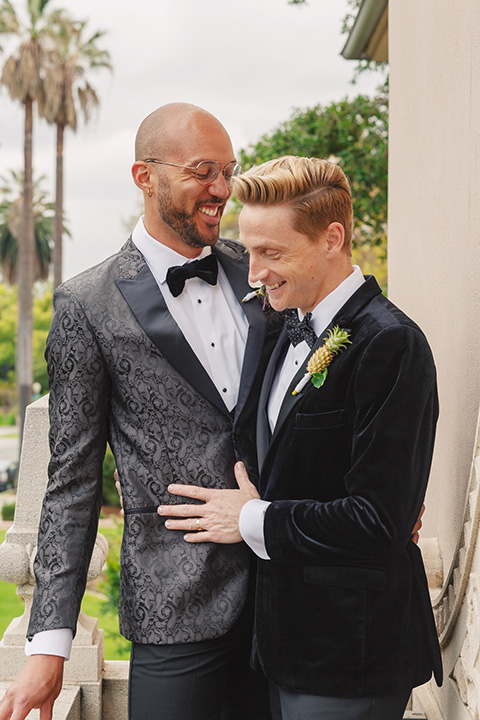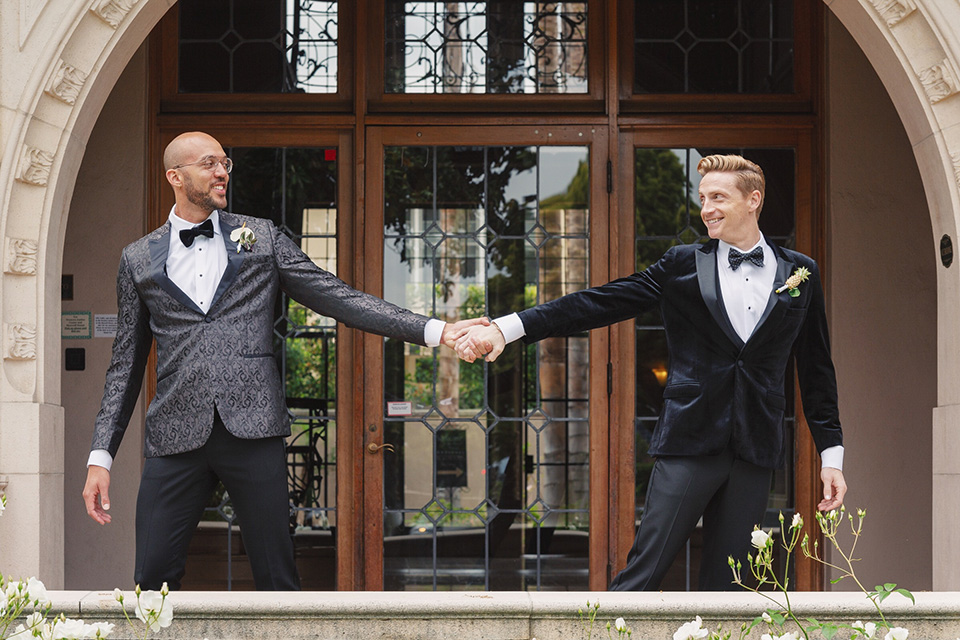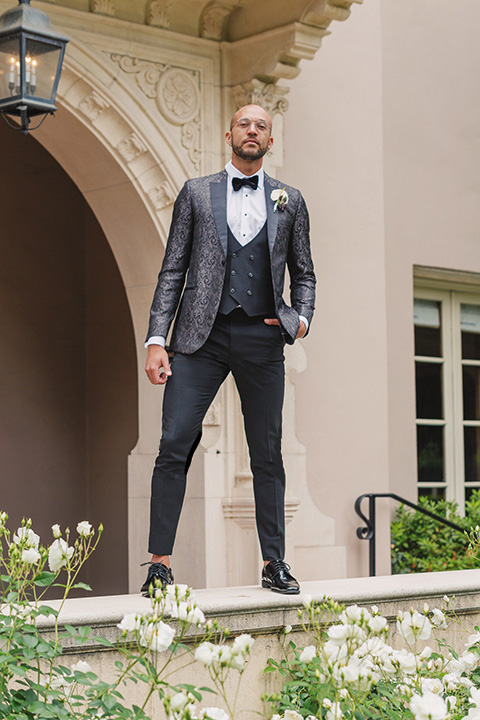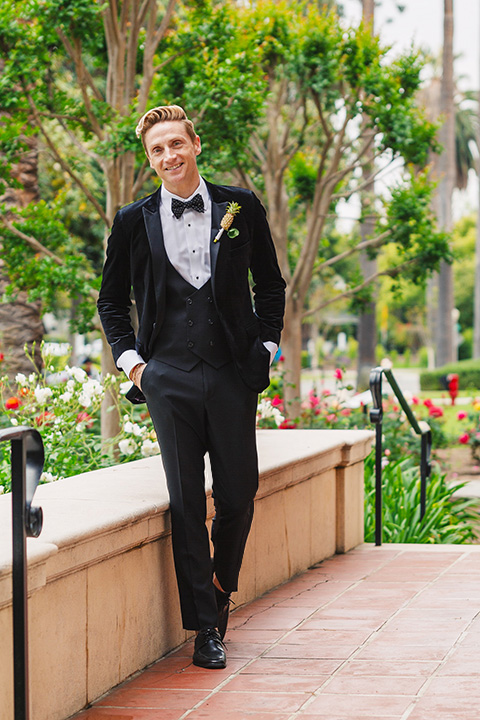 Photography: Akeem Pina
Option #4 - Mix & Match Fun
Now this may be our favorite option, just because of how much fun we have creating different styling combos!  A mix-and-match look is where one uses different colors of suit coats, pants, and accessories to create on solid cohesive look.  Just like when playing with textures, you can go as bold or subtle as you like.
Palm Springs Perfection
With this Palm Springs inspired style look this couple create a monochromatic-esque look that was to die for!  The first groom wore a Light Blue Notch Lapel Suit coat, paired with a pair of Tan Suit pants and a navy floral long tie.  The other groom wore a Dark Blue Suit coat, with a pair of Asphalt Grey pants.  He paired his look with a light blue shirt and a gingham plaid bow tie to create the perfect look.
We love how their looks play off of each other's color combos and tone to create very different, but very cohesive looks.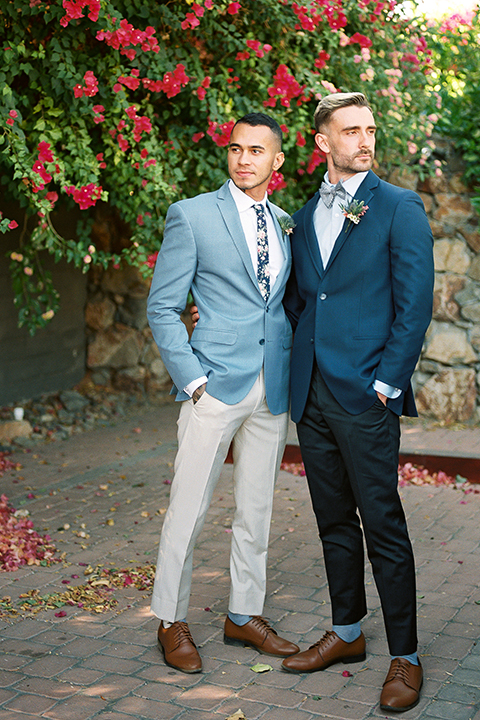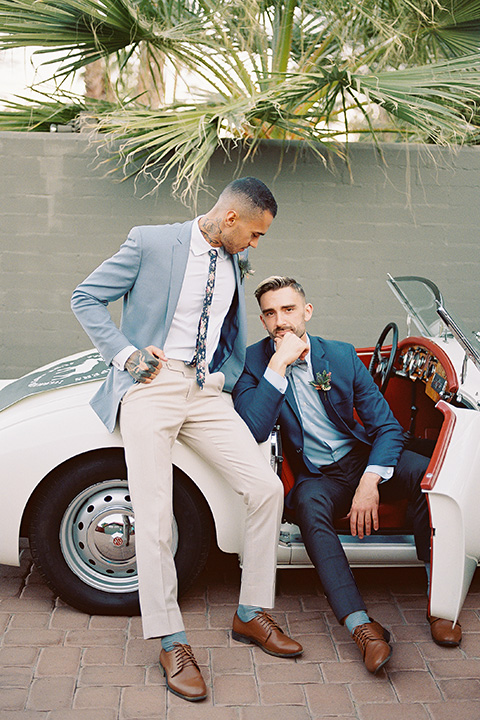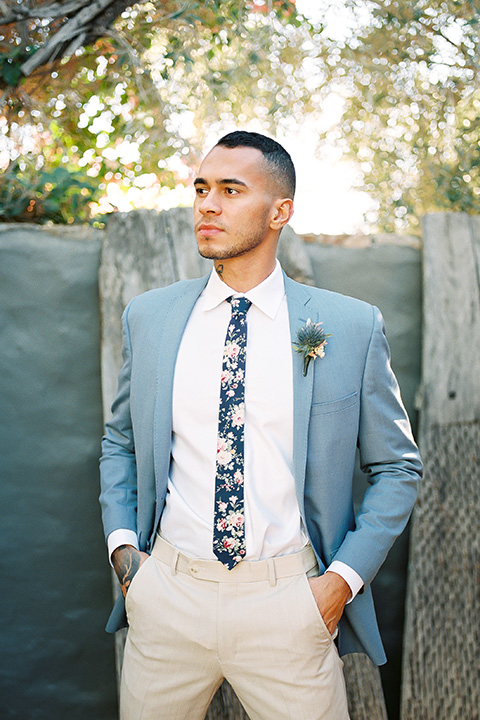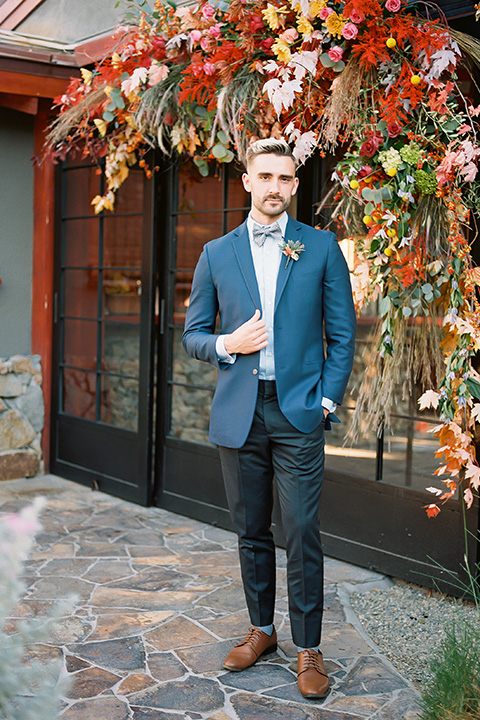 Photoshoot: Allie Lindsay Photography
Long Beach City Style
For this Long Beach nuptials, these grooms decided to wear the same pants but different jacket colors. This allows them to coordinate with each other, while still wearing their favorite color. One groom paired his tan pants with a Cobalt Notch Lapel Suit coat and the other in a Green Notch Lapel Suit coat, both styling their looks without a tie and different unique boutonnières.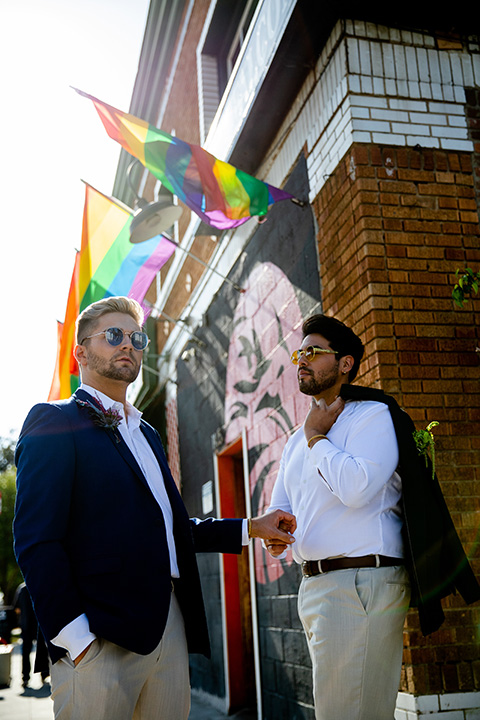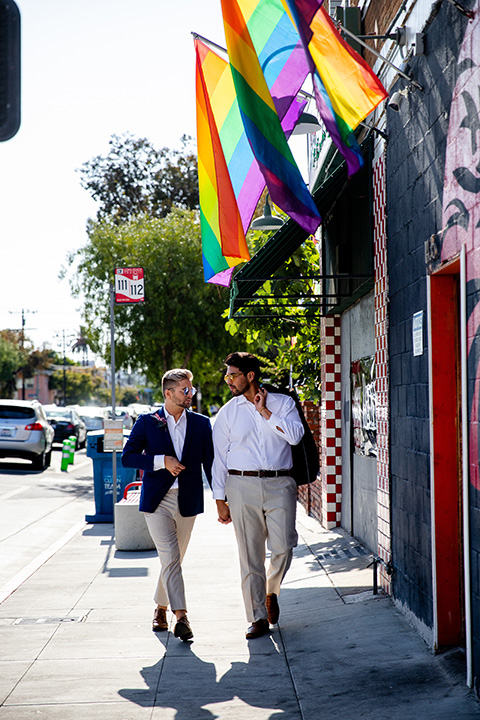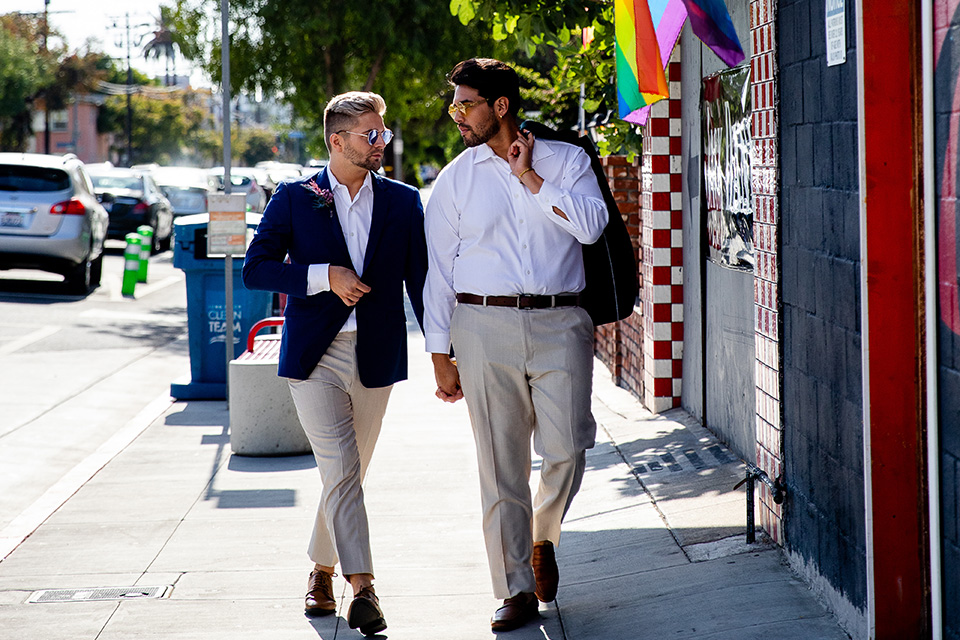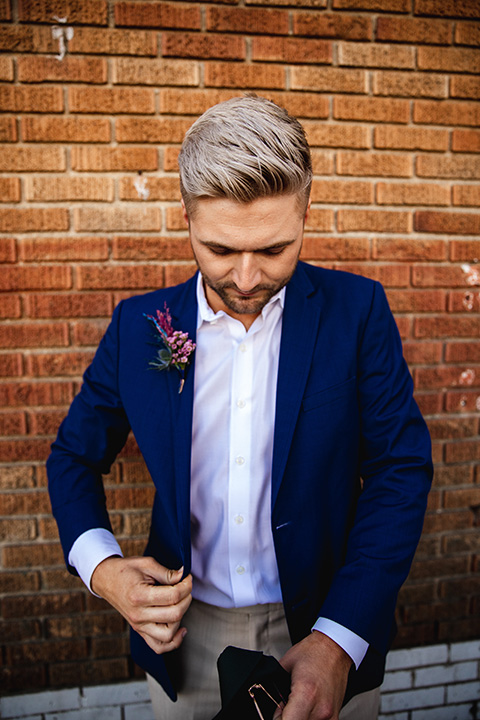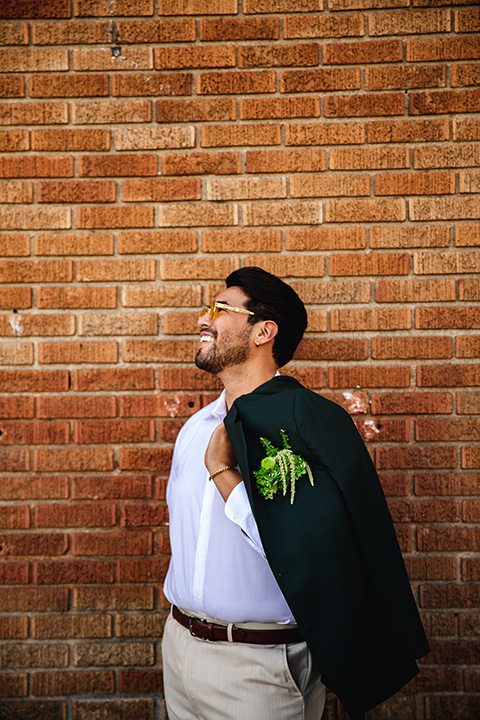 Photography: Emily B. Photography 
Option #5 - Keep in the Same Color Tone
When looking at suits to wear, another option is to go with suits with the same tone.  Colors are cool or warm toned, meaning when you look at the fabric ask yourself if it has more of a blue tint or orange tint. This will decide the tone of the fabric. 
Glamping Fashion 
This first glamping-chic couple pulled inspiration from the woods around them to create their color story with their looks.  The first groom wore a Dark Green Notch Lapel Suit and the other a Dark Blue Notch Lapel Suit with coordinating accessories.  The suits are deep cool tones that create the perfect moody nature moment for their woodland elopement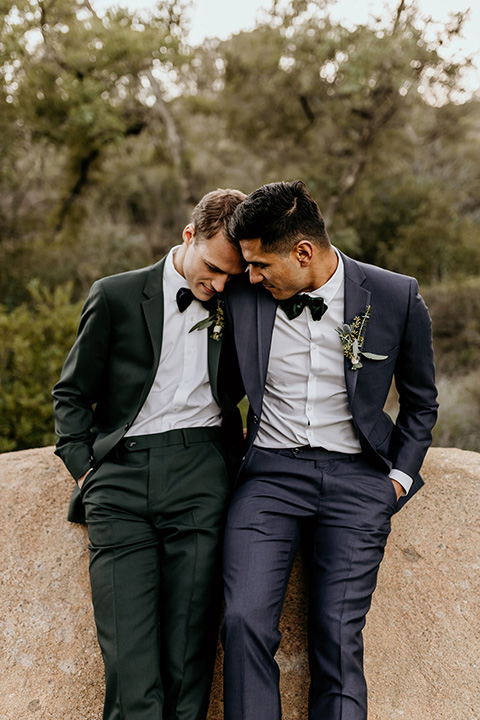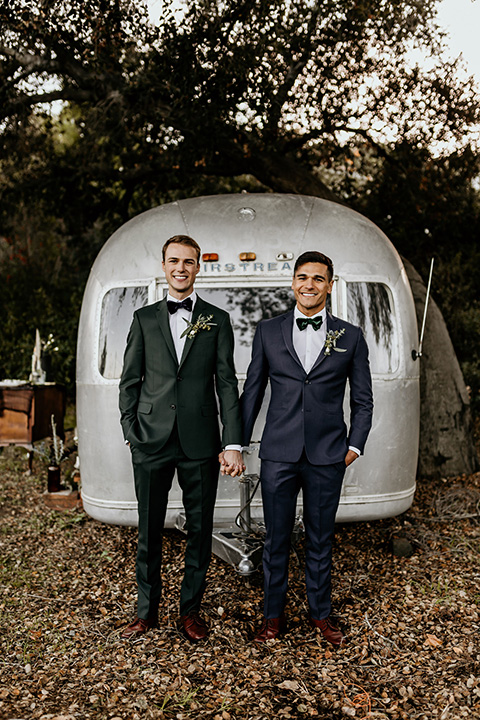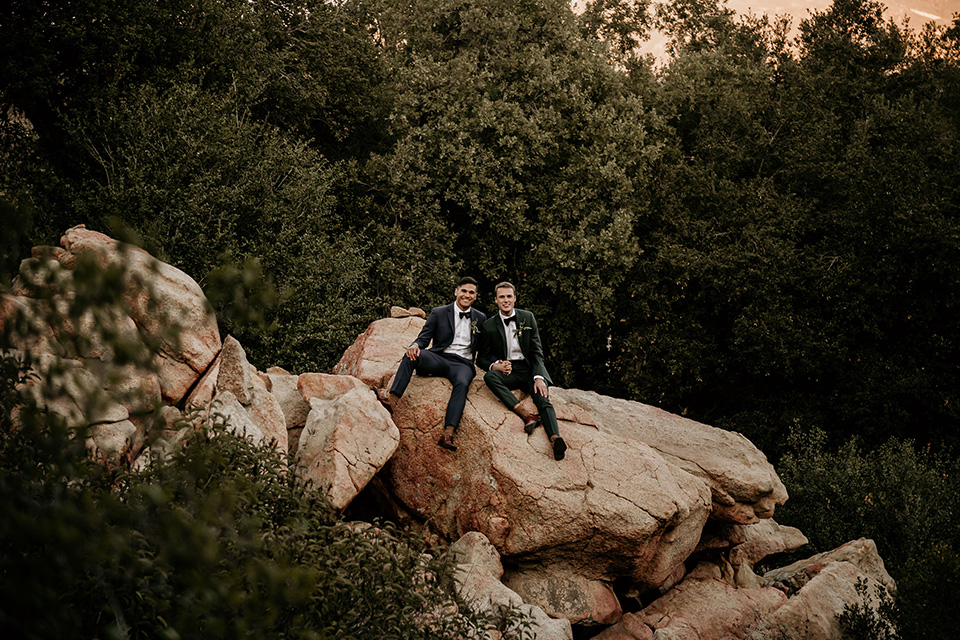 Photography: Melissa Fe Chapman Photography 
Effortlessly Charcoal + Navy 
This couple wore match styles of tuxedos but with different cool-toned colors.  One wore a Charcoal Grey Shawl Lapel Tuxedo and the other a Navy Shawl Lapel Tuxedo.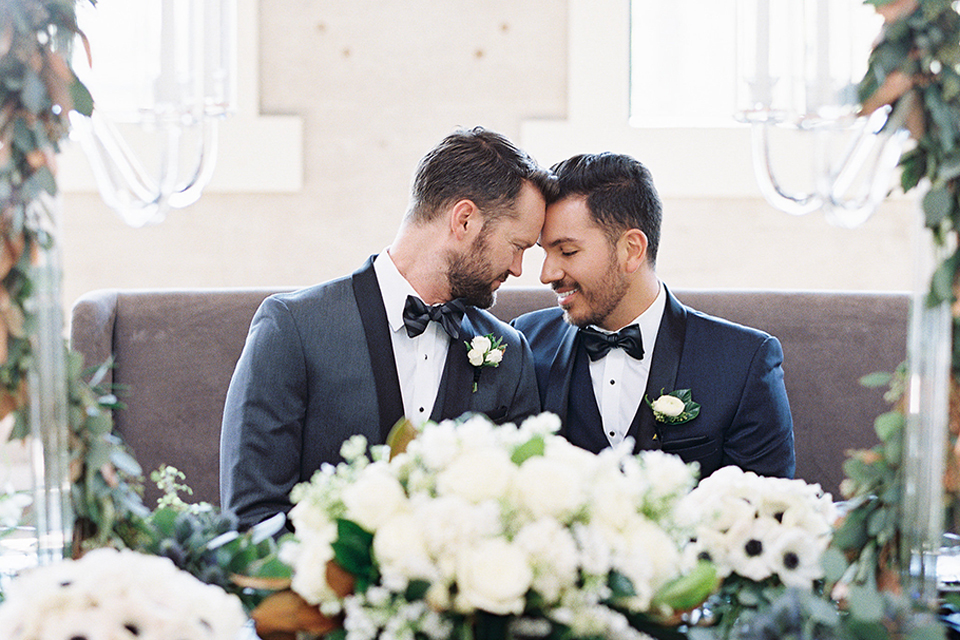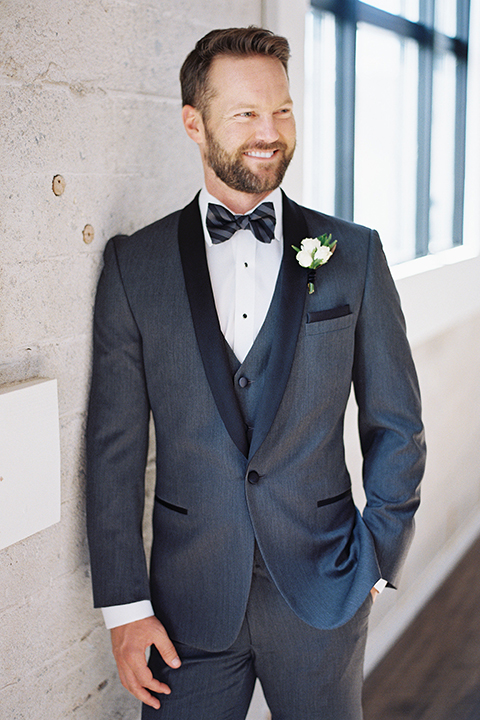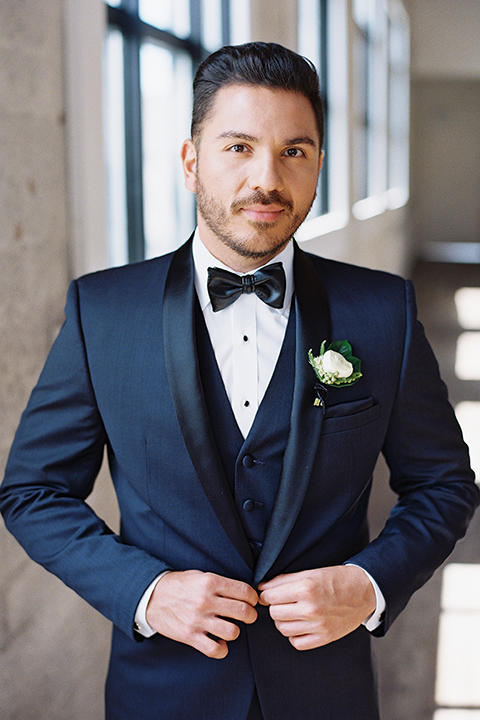 Photography: Brett Hickman Photography 
Option #6 - Keeping it Classic
You can never go wrong with keeping it classic with your style.  There is a reason why Black Tie fashion is so popular from weddings to red carpets all around the world.  And let us be clear, when we say classic that is in no way a code word for boring!  Just take a look at these Friar Tux fashion icons below to see just how chic and fun classic style elements could be…
Rooftop Gatsby
This couple went with a Gatsby inspired affair for their rooftop LA nuptials!  Wearing White Dinner Jackets paired with classic black tuxedo pants and black bow ties.  The combination together looks like art deco perfection.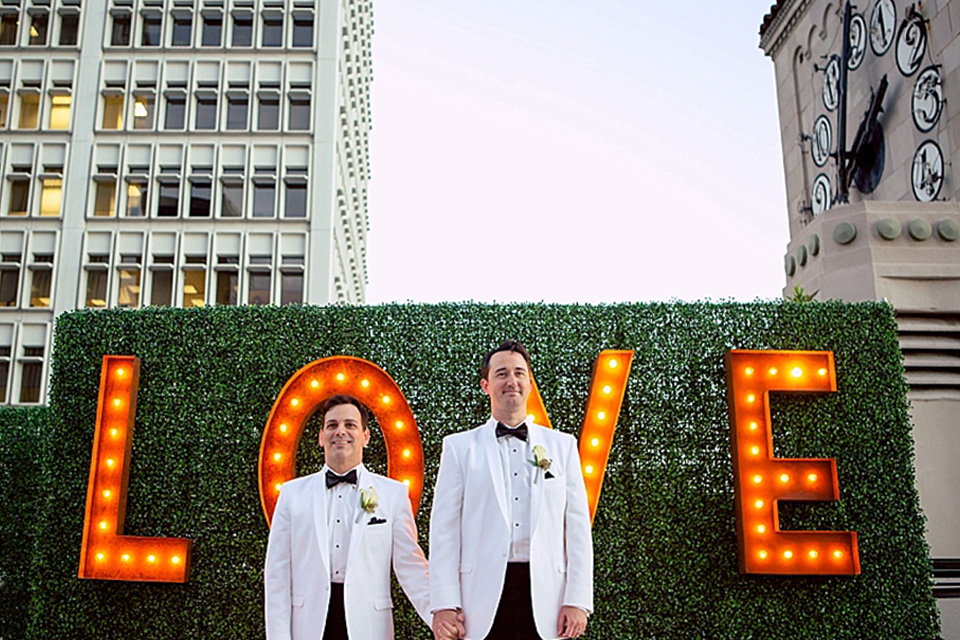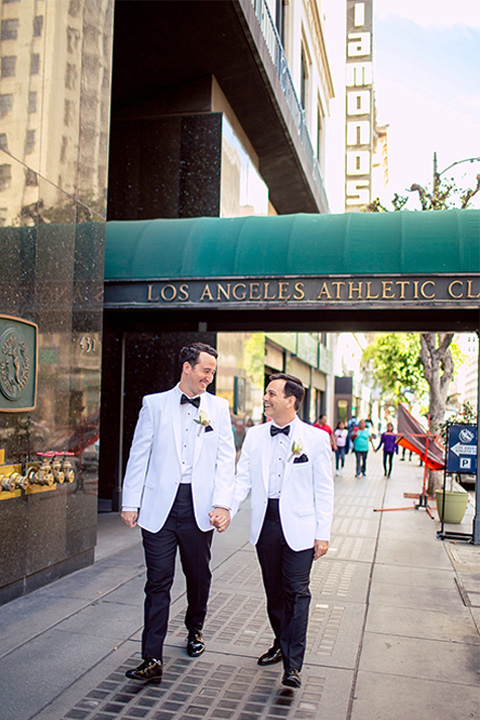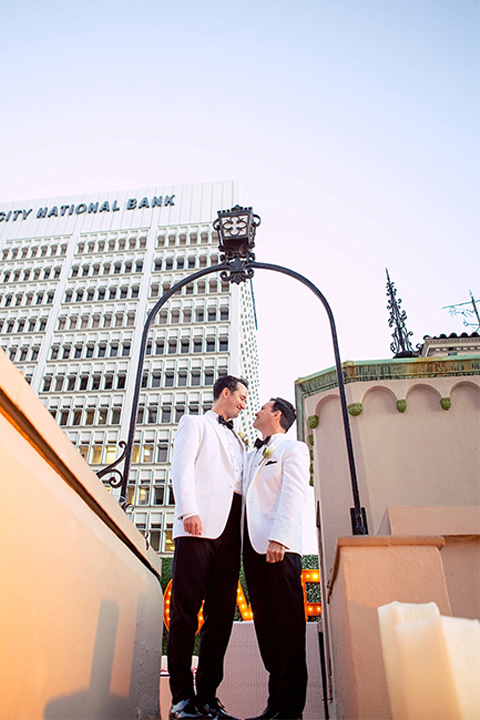 Photography: Once Like A Spark) Photography
Rockabilly Glam
Now these brides went with classic styles, but upped the fashion level to about 1000, making their looks rock-a-billy-chic for their resort wedding.  The first bride wore an all-white look in the same White Dinner Jacket as the art-deco couple, but paired her look with a white bow tie, blush pocket square, and stylish strappy heels.  The second bride wore our Black Women's Tuxedo with patent leather shoes and a bold red lip for some added rocker flare.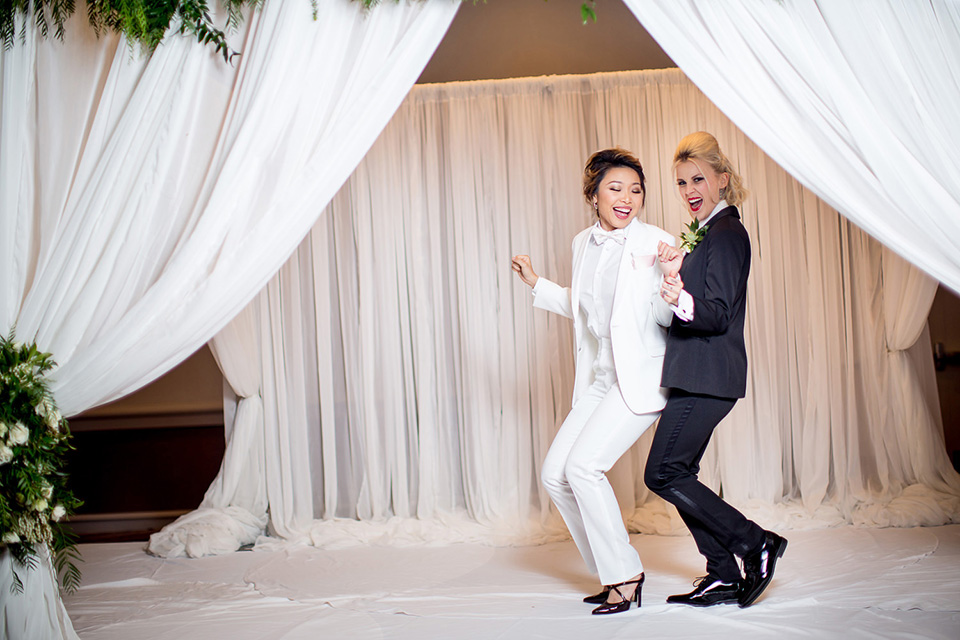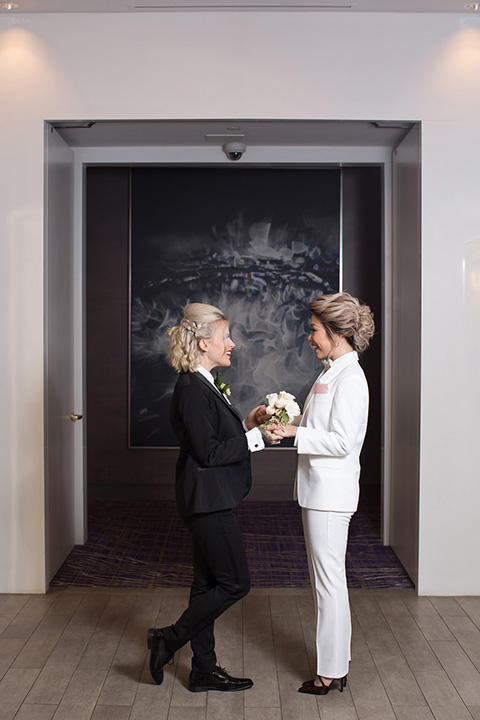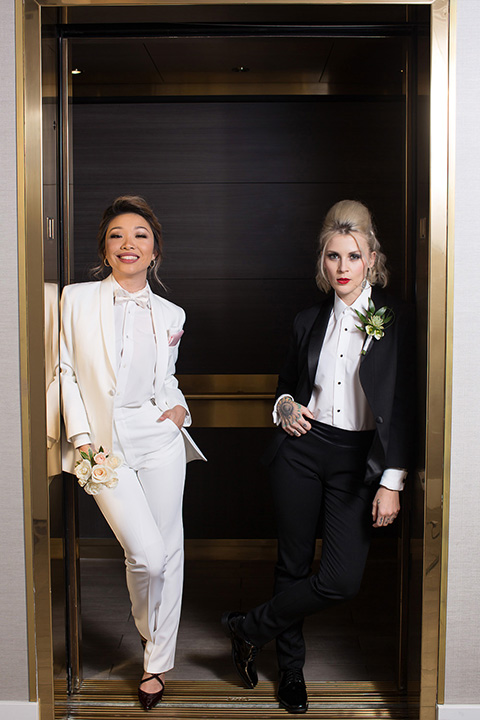 Photography: Alexander Mo Photography
For more ways to style two suit/tuxedo looks check out our Pinterest and social channels, or stop by one of our stores to speak with one of our trained stylists to help you create the perfect look for your special day!