The stars came to the 2019 Academy Awards dressed to impress. From pink, blue, purple, velvet, sparkle, the menswear was all over the board and we are all about it! Here is our list of trends that were a hit on the red carpet last night. Now grab some popcorn, sit back, and enjoy the show…or read this blog…
Navy, the New Black?
Navy has always been a classic color for a tuxedo, but we have been lately noticing an upswing in celebrities and style icons choosing this color over the traditional black. This tuxedo color is a great way to have timeless vibes, while still looking modern and trendy. Navy will never go out of style and can be used for black tie events, weddings, Quinceañeras, and pretty much anything else in between. We love how all these leading men kept their looks simple and sophisticated with black bow ties and black shoes.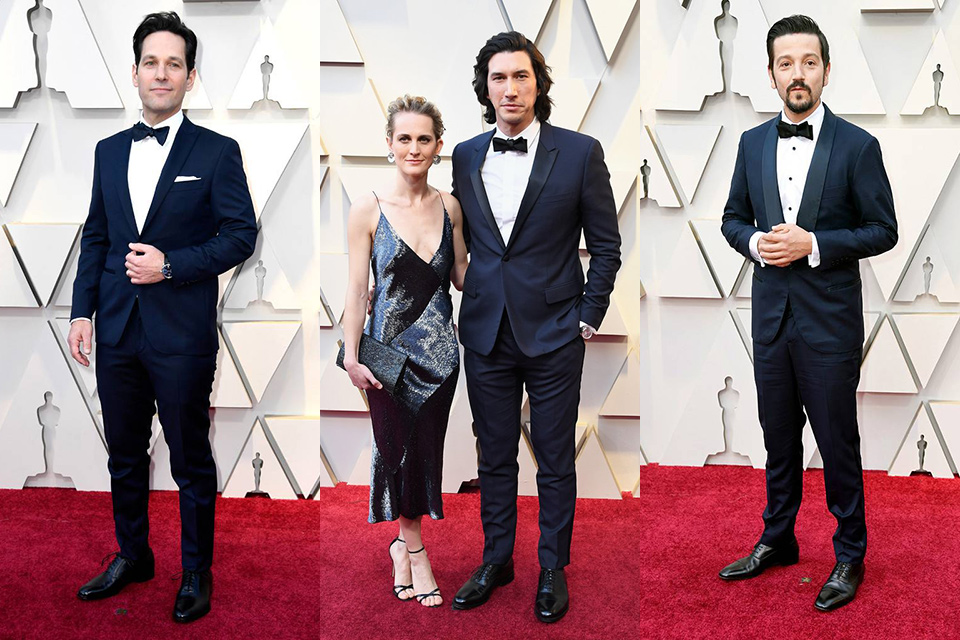 Getty Images
Check out all our navy suits/tuxedos


Blue Velvet Dreams Keeping with our blue theme, we were LIVING for the blue velvet tuxedos that graced the red carpet! Chris Evan's slate blue coat was the perfect shade of dusty blue and chic grey. Pairing the look with black pants and a black bow tie just made the look come together so effortlessly. Michael B Jordan's royal blue jacket shimmered perfectly in the lights of the red carpet, his style never ceasing to amaze us! (Side note look for our own Royal Blue Velvet Jacket coming this Spring!) Then there was David Oyelowo's green/blue velvet tuxedo with the double breasted scoop vest and chain clasp….come on! We couldn't pick our mouths off the floor! Trying to balance trendy and sophisticated can be hard at times, and David made it look perfectly easy.
Getty Images | Invision | Getty Images
Check out all our velvet tuxedos


The Classics Never Get Old
The classic black tuxedo is always a great choice, and there are still many variations of it to choose from. Notch lapel, shawl lapel, pick-stitch, framed…yet, the lapel we saw taking the red carpet last night by storm was the peak lapel. Viggo Mortensen and Rami Malek both rocked this look with classic accessories to match. While Sam Rockwell paired his traditional notch lapel tuxedo with an oversized bow tie and shoes with a higher heel.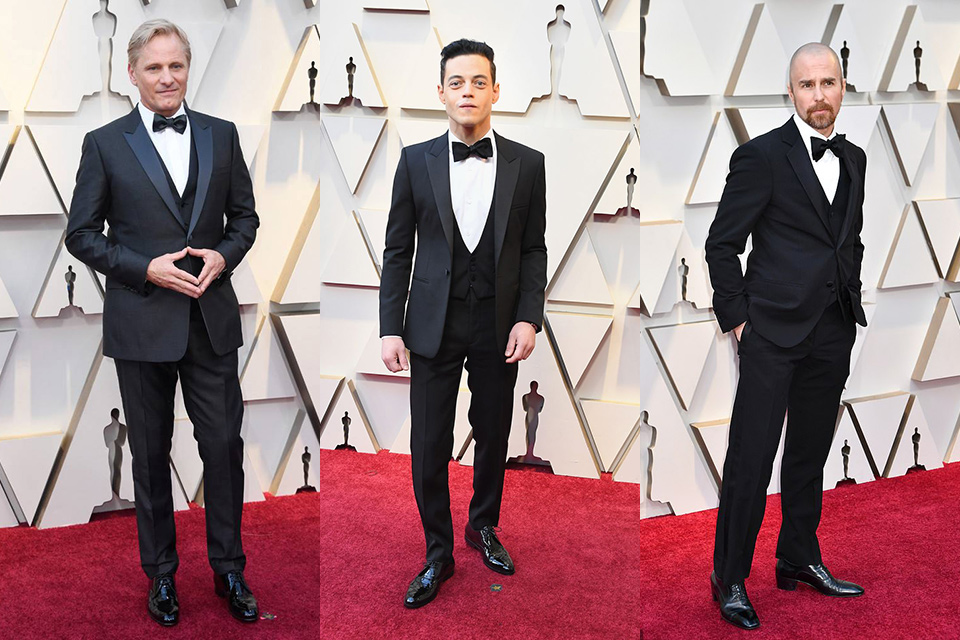 Getty Images
Check out all our black tuxedos


Black Velvet, Like the Traditional Tuxedo…but WAY More Fun
Velvet has been a huge trend this awards season, and that was set in stone at last night's big event! This tuxedo has all the trimmings and essence of a traditional black tuxedo, with a touch of flare that is just well, FUN! This look is sleek and simple enough to be worn at a wedding, black tie event, or dance. We love how Henry Golding wore his with a white waistcoat and traditional tuxedo shirt. While Mario Lopez wore his with more simple accessories, and Joe Alwyo wore his with an oversized butterfly bow tie.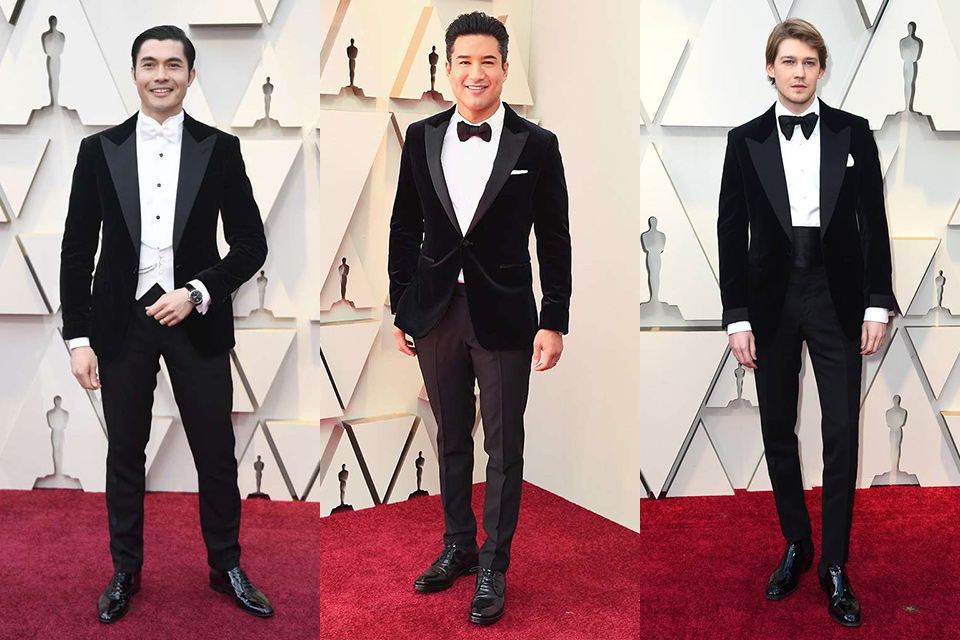 Getty Images | Wire Images | Invision
Check out all our black velvet tuxedo


#Trending
Wearing "trendy" things can easily go south for many people, but not these men! Ryan Seacrest wore a fitted tuxedo with a simple print. Printed or patterned jackets are becoming a huge trend this award season, and Mr. Seacrest wore it perfectly. Mark Ronson jumped on the "detailed tuxedo" trend effortlessly. His detailed sleeves and lapel, paired with an oversized bow tie looked chic and sophisticated. Then there is Trevor Noah, who needs to tell us who his tailor is ASAP, because this man's jackets always fit him perfectly. We are in love with his double-breasted tuxedo style with simple black accessories.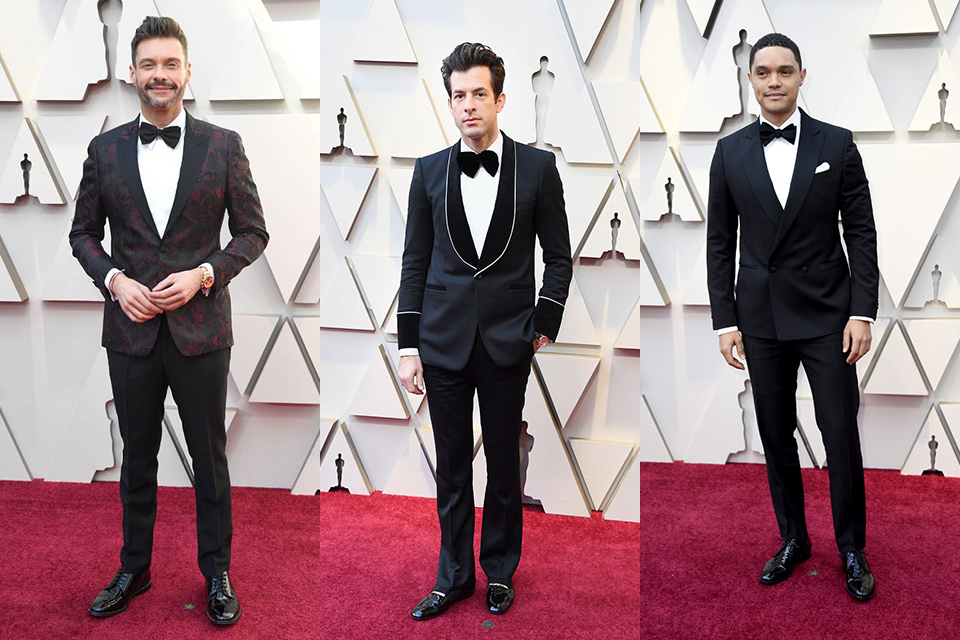 Getty Images | Shutterstock | Getty Images

All Hail These Royal Majesties
These men took fashion to a regal level. First with the king of Wakanda himself, Chadwick Boseman, wearing an outfit only he could have worn. The patterend jacket with a long tail, and all black accessories, pay homage to the film, The Black Panther, while still looking modern and present. Nicholas Hoult wore an uber sleek and chick tuxedo that was both double breasted and paired with a shawl that wrapped around to the side. Then Billy Porter graced all our eyes with his glorious tuxedo dress. Yes, we bowed to our T.V. screens…do not judge us.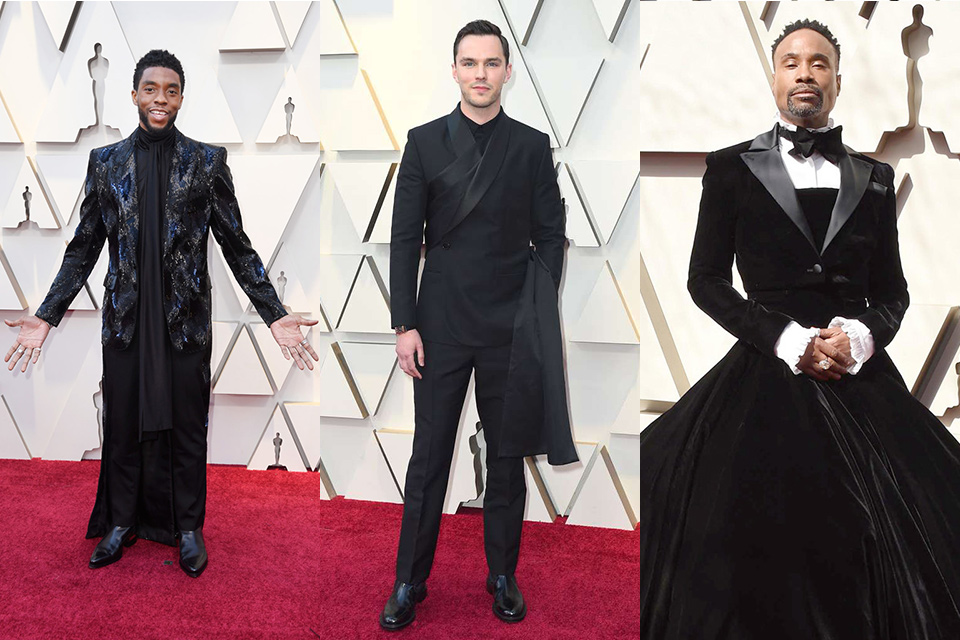 Getty Images

GNO Stole the Show
These leading ladies turned it out on the red carpet with their tuxedo fashions! We loved their blend between masculine and feminine! Amy Poehler rocked it out with her wide legged pants and black ruffled shirt paired with a black tail coat jacket. Awkwafina sparkled her way into all our hearts with her blush tuxedo look. This monochrome dream was fun and flirty, while still bringing out her gorgeous quirky sense of style. Elsie Fisher wore a fun tuxedo look with a framed lapel, a jeweled button cover, and patent leather boots.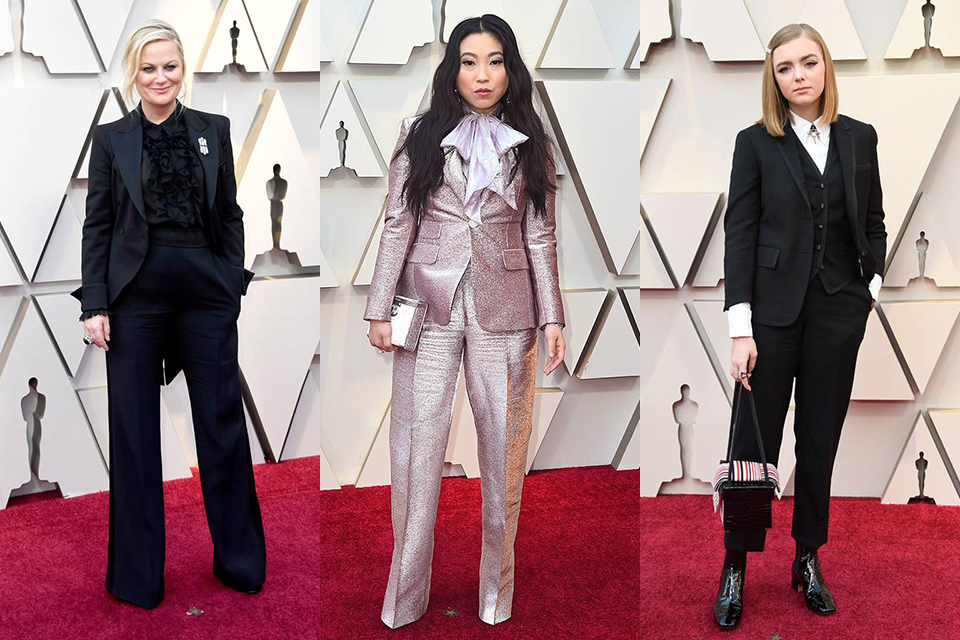 Getty Images | Invision | Getty Images

Making a Statement…Literally
We are reading Spike Lee's attire loud and clear! His purple look with blue shirt, gold shoes, and matching purple hat really did speak for itself…and if you couldn't read the look, his jewelry will spell it out for you. Stephan James rocked our worlds with this red velvet tuxedo with matching red accessories and white boots. Pharrell Williams wore shorts to last night's big event. A bold choice, but with Pharrell would we expect anything less?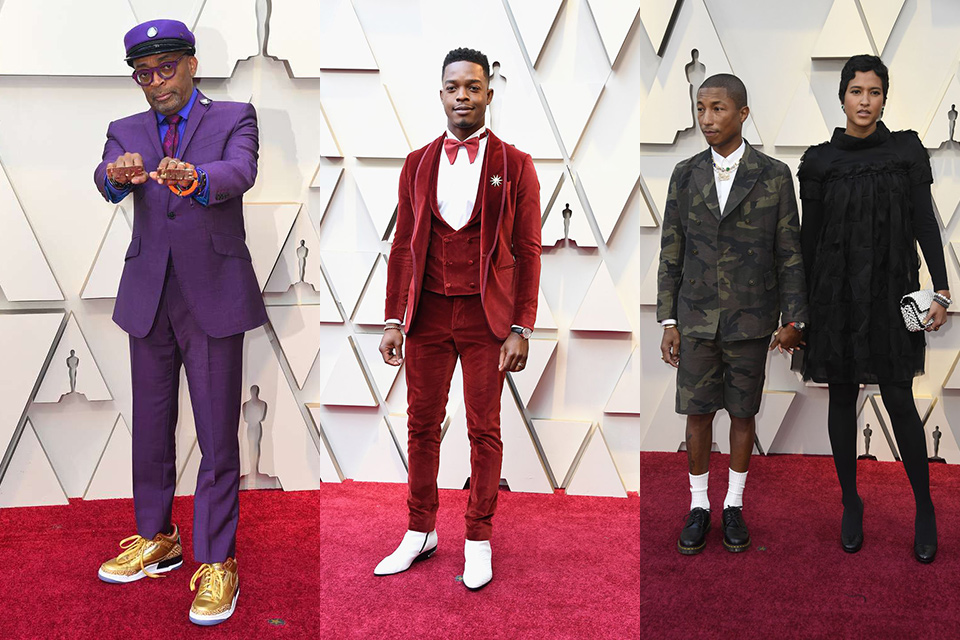 Getty Images

Best Couple Award Goes To….
Jason Mamoa and Lisa Bonet! This couple had us all blushing on our couches from their pure chic-ness (and hotness)! Jason Mamoa perfectly proved that men should always wear pink (but only he can wear a pink scrunchy)! This velvet dream of a tuxedo fit him perfectly and his laid back accessories made the look all his own.