Venue: The 1912
Photography: BYC Photography
Dresses: Windsor®
Friar Tux has been in the Prom game since 1974, and Windsor® has been at the top of women's fashion since they opened their doors in 1937!  Our combined 135 years in the formalwear business means it is safe to say we are the best partners to help you find your favorite Prom-night look!
This year we wanted to help take the guess-work out of shopping for you, by showing you the top fashion styles and accessories for your own Prom night.  Check out our list below, and leave us a comment on social media with which styles are your favorites!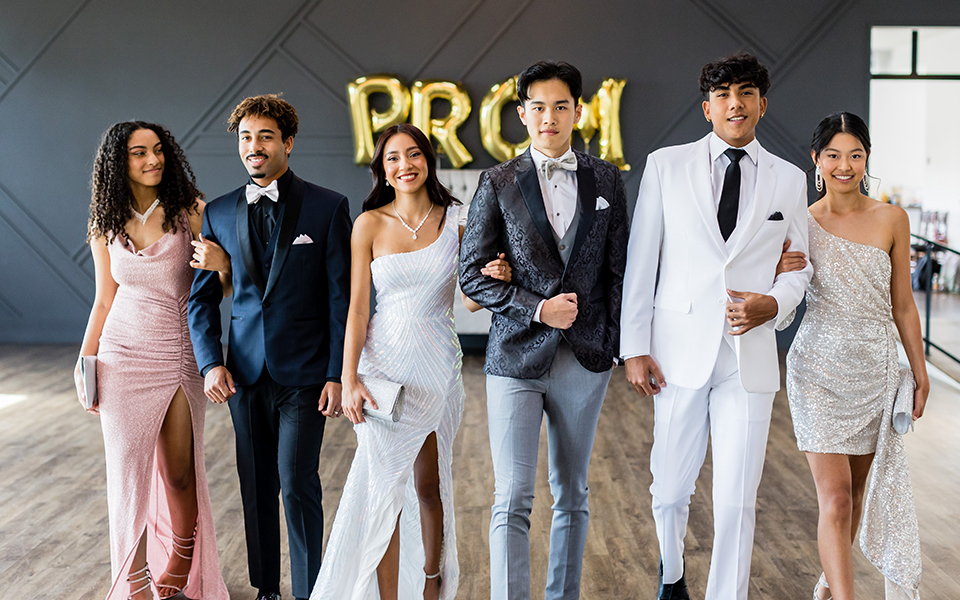 Golden Glow Glam
Golden tones are here to party, and we are living for it! With this trend, you will sparkle and shine all night long and who wouldn't want that?
This first couple went for gold by wearing high and low contrasting gold tones with this fun Karina Formal Sequin Cross-Back Mini Dress and our Ivory Paisley Tuxedo with caramel suit pants. We love how these looks have both bright and bold gold tones, along with soft, creamy hues to create a multi-dimensional look.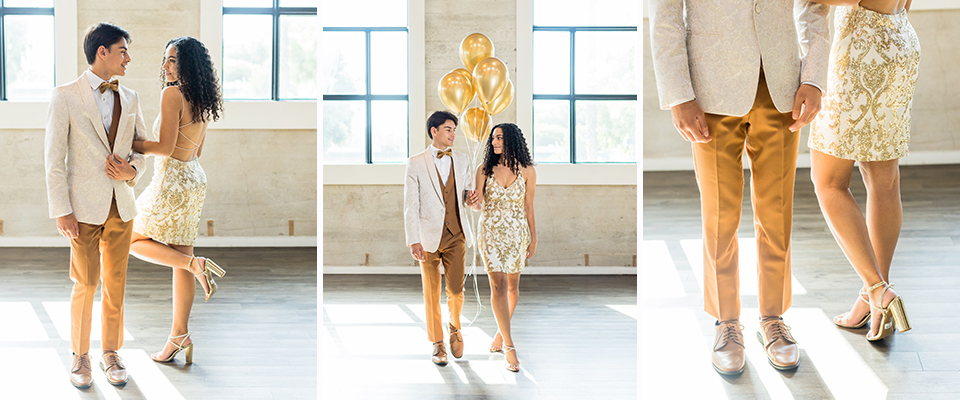 This second couple brought the glam and elegance with the female model wearing Kaliyah Formal High Slit Lurex Dress.  This dress has a subtle sparkle and a long flowing skirt, perfect for dancing the night away in.  To complement this stunning gown, we had our male model in a Tan Notch Lapel Suit with a gold velvet bow tie.  Together they look like a golden dream.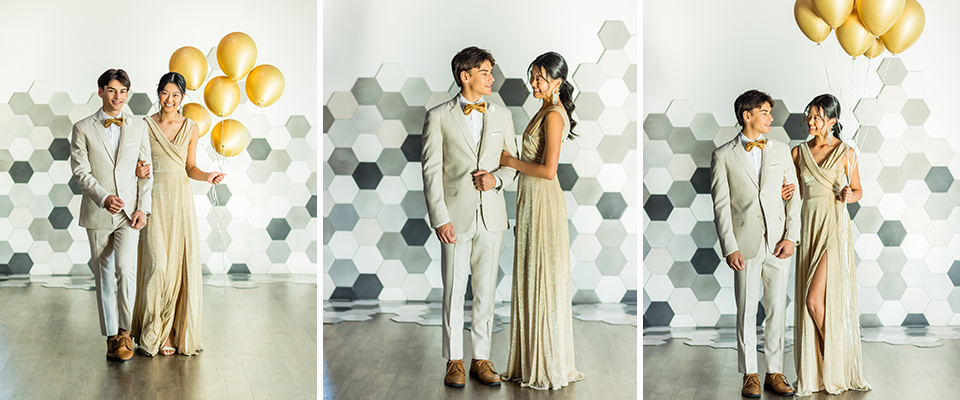 Extra Style Reccomendations:
We love this gold trend! See more fabulous Windsor® + Friar Tux fashions with the same vibe.


Monochromatic Chic
Bring the bold by wearing a fun monochromatic style! These looks below may be simple in color but are strong in style.
The first couple brought the flare by wearing bright blue.  The female model stunned in this one-shouldered cut out gown like their Lydia Asymmetrical Formal Dress.  The male model shined in his own right by wearing Steel Blue Notch Lapel Performance Suit by Michael Kors paired with a royal blue velvet bow tie.  We love that these two looks are different blues, but in the same blue tone to harmonize perfectly with each other.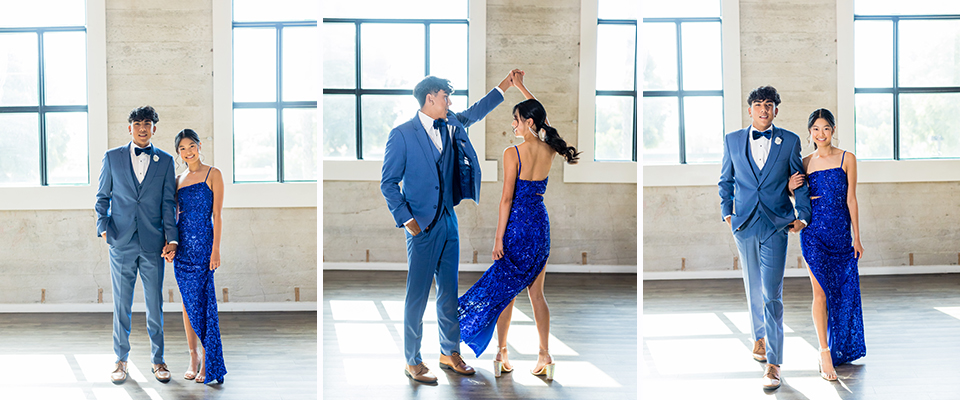 For their second looks, this couple switched out the color for sleek chic white tones.  These looks together look so perfect together, we are still swooning over them! The female model wore this show-stopping Talulla Formal One-Shoulder Sequin Mini Dress!  With this look, the male model wore our brand new All-White Notch Lapel Suit with a black matte long tie and shoes.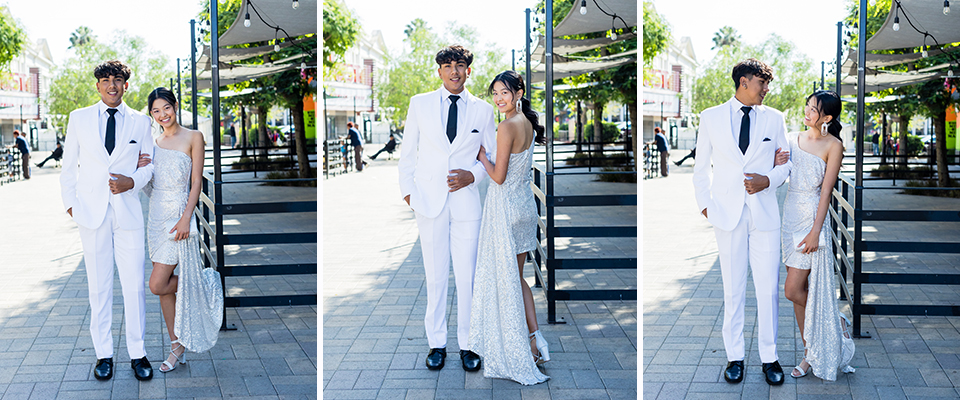 Extra Style Reccomendations:
Explore more looks in these colors from Windsor® + Friar Tux!


Pantone's Color of the Year
There is a reason Vivid Magenta is Pantone's Color of the Year, because it is amazingly awesome!  There are so many fun ways to bring this color into your look. Like how this female model kept it fun and fabulous by wearing Windsor's Sultry Strappy Back Satin Mini Dress in fuchsia. The male model kept the fun going by wearing our Rose Pink Notch Lapel Suit coat with a pair of tan pants.  We love how with these looks, they are both able to express their own fashion styles while still complementing each other perfectly.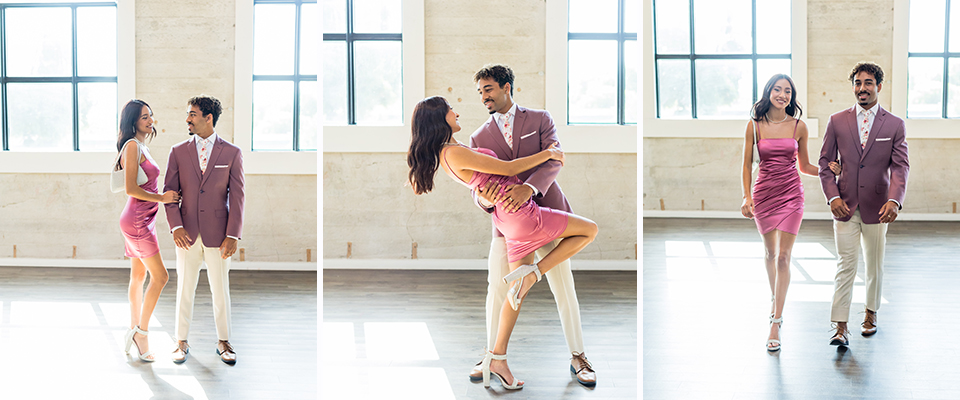 Extra Style Reccomendations:
Check out these dazzling ideas in Pantone's Color of The Year from Windsor® + Friar Tux!


Classic Elegance with Modern Flare
Now, as much as prom fashions can be fun and bold we also are big big fans of classic elegance.  These looks below are a great blend of iconic classic and modern flare.  This first couple radiated with the female model in this Celina Glitter Knit Mermaid Dress in shimmering rose.  The male model wore one of our all-time tried and true fabulous tuxedos, our Navy with Black Shawl Lapel Tuxedo.

For this next look, it takes a classic black and white color scheme idea and flips it on its style head!  The female model wore a gorgeous white off-the-shoulder gown with a chic feather detail.  The male model took black tie style to a whole new level by wearing our Black Paisley Tuxedo but paired it with light grey pants and accessories for an head-turning look.

Extra Style Reccomendations:
We love how a classic accessory can complete a look. Take a gander at these gems from Windsor and Friar Tux. 


Prom Planning Pro Tips:
Do not wait until the last minute to get your fashions.  Plan ahead and leave room in your schedule to save yourself of any style stressors.

Book any vendors you need for the big night in advance: hair, nails, makeup, photographer, etc.

Make pre and post-prom plans. Share any dinner and transportation reservations in advance with parents and friends (trust us, your parents will be very happy they know your plans).

Corsages and boutonnières are typically made from fresh flowers, so order ahead so you have plenty to choose from.

Remember to have fun. Take it all in, style up, dance your heart out, and enjoy the night!
For more inspiration and savings, check out our prom website and lookbook. You also don't want to miss this video highlighting the awesome fashion collab between Windsor® and Friar Tux!