Photography: Leah Marie Photography
We are big fans of Wedgewood Wedding venues!  Who can resist picture perfect venues all across the country, all-inclusive packages, and a responsive team that will be there to help you every step of the way.
Plus, the venues themselves are pure perfection.  Each one is unique and allows every couple to find their perfect vibe.  In this blog we will talk about just a few of our favorite SoCal Wedgewood Wedding Venues and how to style them to make your bridal party complement or stand out, depending on what you wish of course. 
This stunning space is refined in sophistication but has that flare that only Temecula can bring.  In the heart of famous SoCal Wine Country, this venue is full of dramatic greenery, rustic charm, and cozy features. 
Plus, if you have a wild heart and a love for horses this space comes equipped with a modern carriage house, a refurbished barn, and an equestrian center.
One way to style this venue is with a Garden themed wedding.  Lots of blooming florals and some delicate rustic touches in this space will go a long way.  This wedding party complemented the garden theme by wearing our Navy Notch Lapel Suit and blush pink vests and ties to go with the bridesmaids' gowns.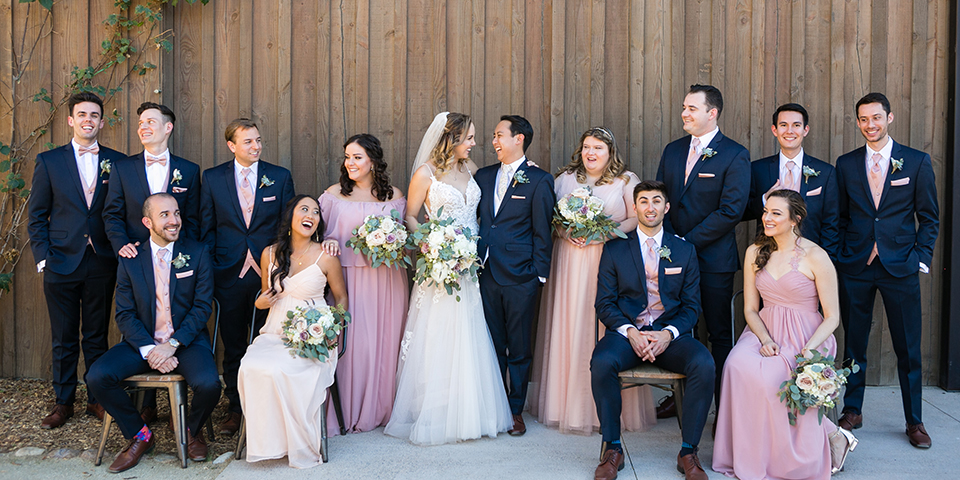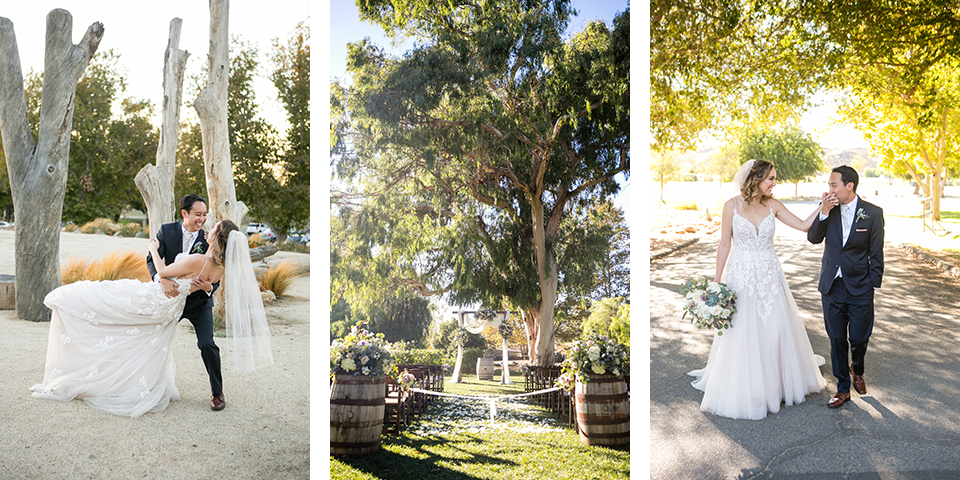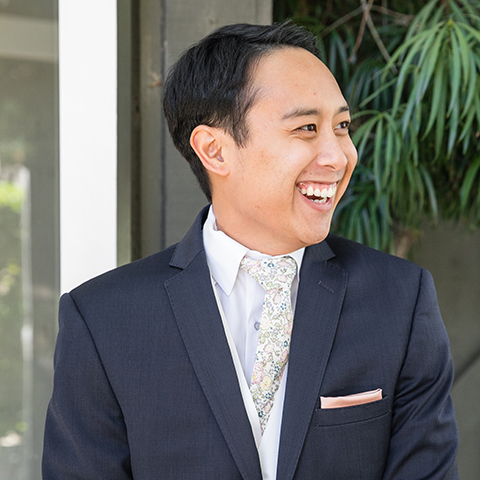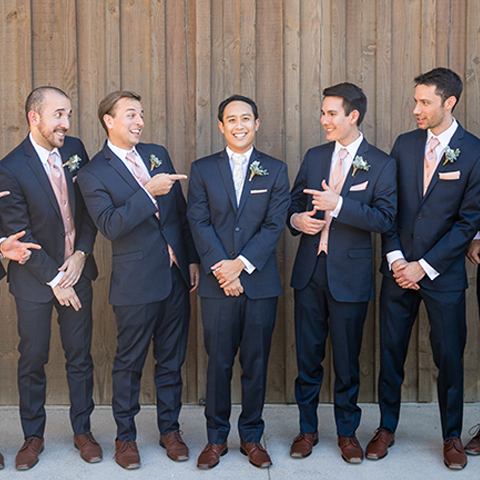 Photography: Leah Marie Photography
This couple brought some extra luxury and sophistication to this venue with timeless white flowers and even a horse-drawn carriage for some extra fairytale touches.
With that level of grandeur, they went with the groom in a Navy Shawl Lapel Tuxedo and the groomsmen in Black Shawl Lapel Tuxedos, allowing the groom to stand out while still keeping with the black tie style.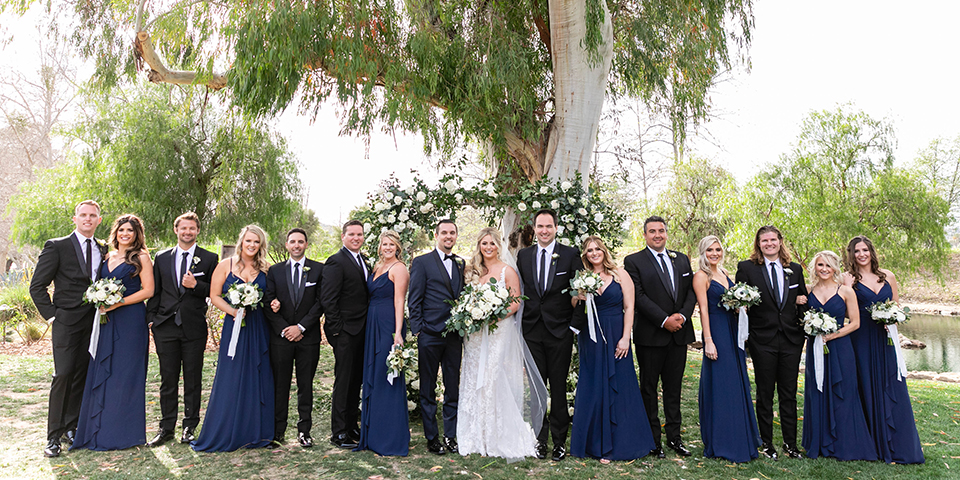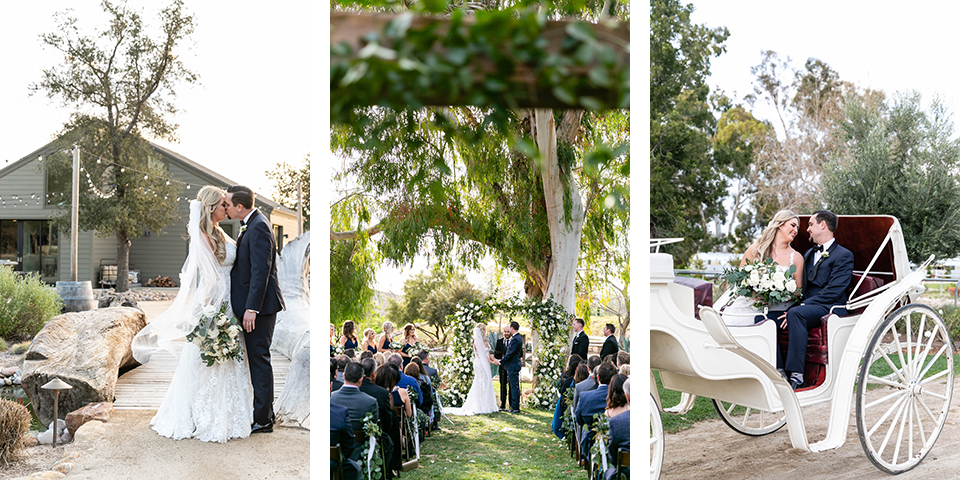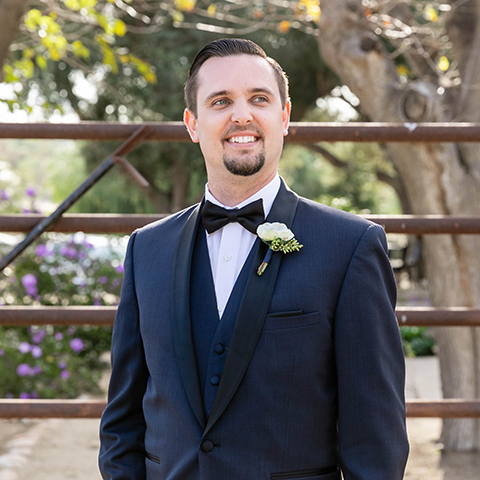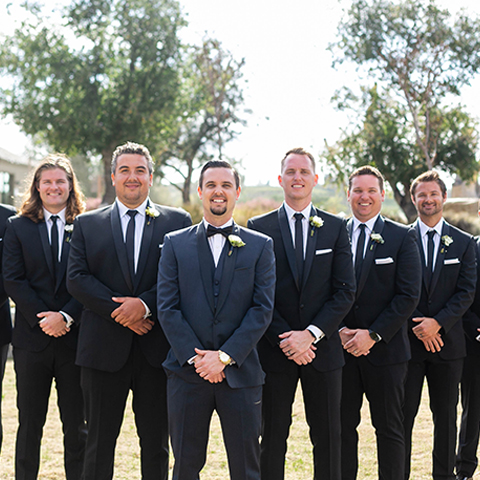 Photography: Leah Marie Photography
Now this couple you might recognize from our 2021 Stylist Magazine!  This ombre color scheme of light and bold blue hues brings out the more fun aspects of the venue.  This couple also went with a groom stand out look by having him wear our Heather Grey Notch Lapel Suit with a floral tie, and the groomsmen in Cobalt Notch Lapel Suits with light blue ties.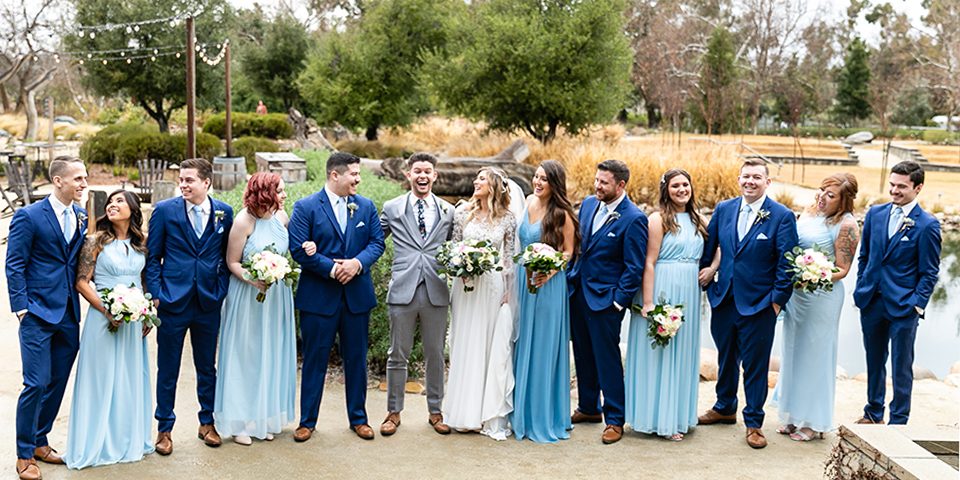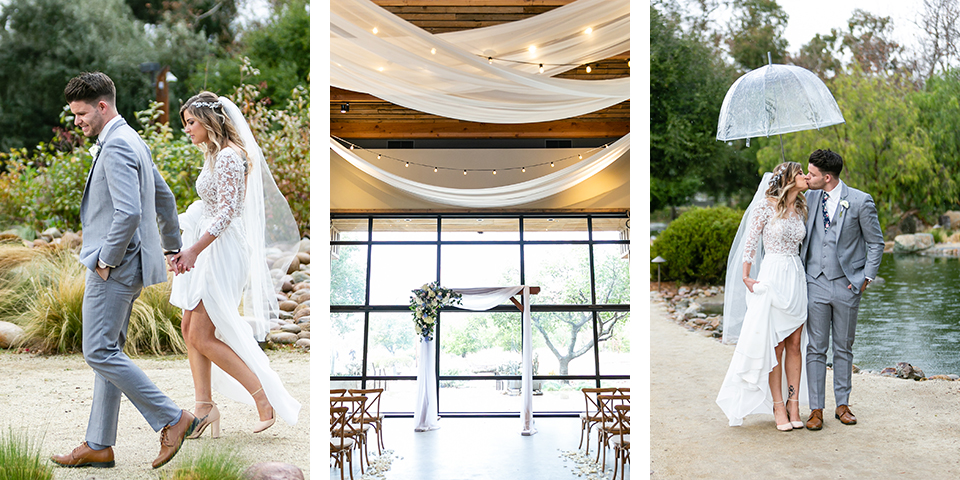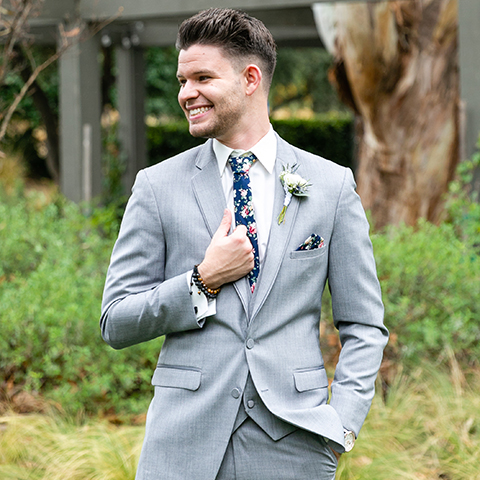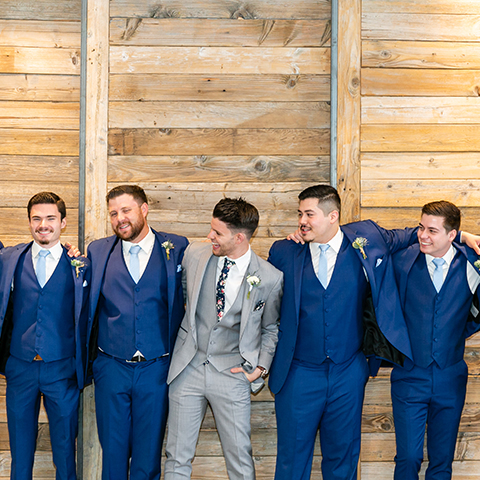 Photography: Leah Marie Photography
Let's just breakdown the perfection that is Vellano Estate real quick.  One, this venue literally makes you feel like you're in another country with its sweeping views, lush gardens, and old-world architecture. Two, with different indoor and outdoor spaces your guests will find little pockets of perfection everywhere they turn.  And who doesn't want that kind of experience at a wedding? And three, the sunset wedding photos you will get here are to die for!    
Festive and bold is this color scheme with popping reds and dramatic blues this wedding was not afraid to bring the party! We love how this color combo juxtaposes with the luxe architecture of the Vellano Estate creating one unique and gorgeous style.
The groom, groomsmen, and groomslady all wore bright Cobalt Blue Suits with red ties to go with the bridesmaids gowns and florals of the wedding.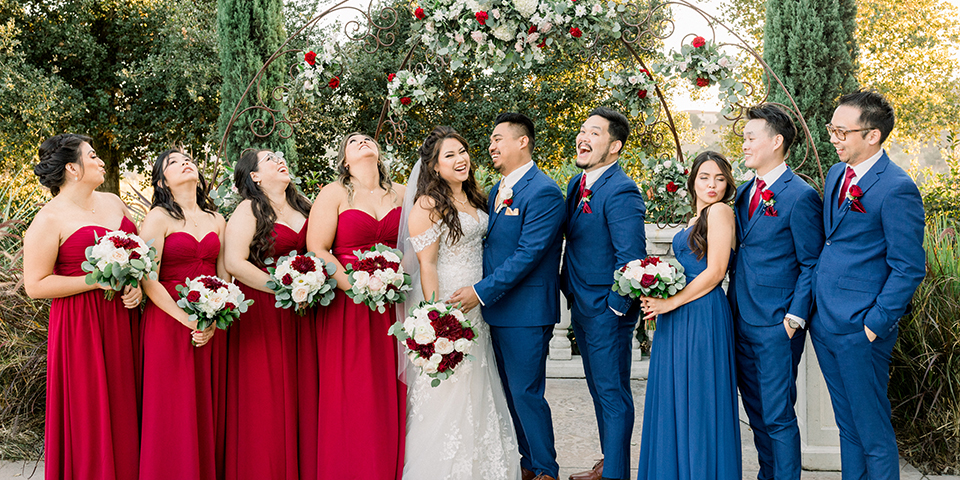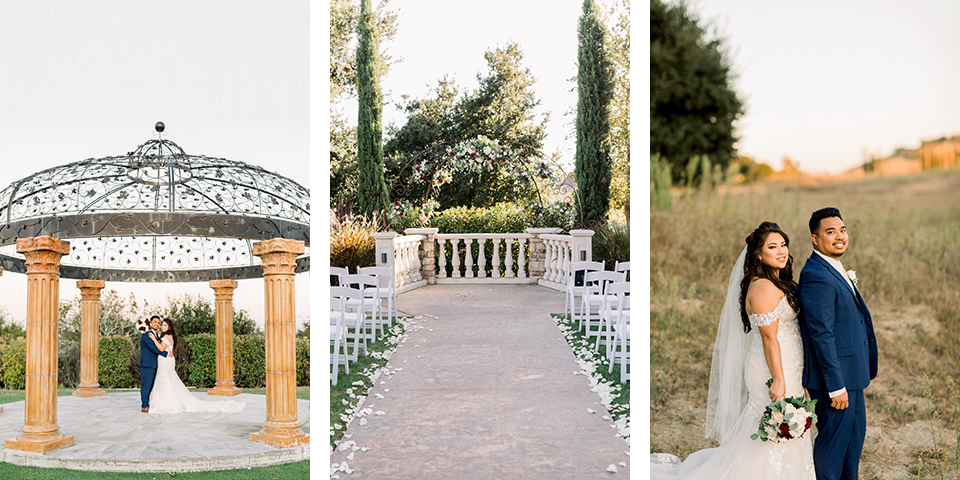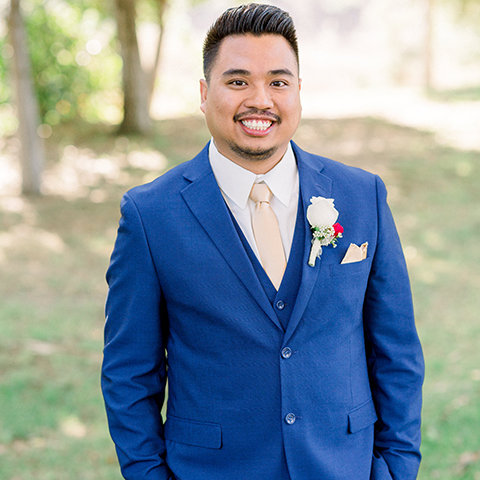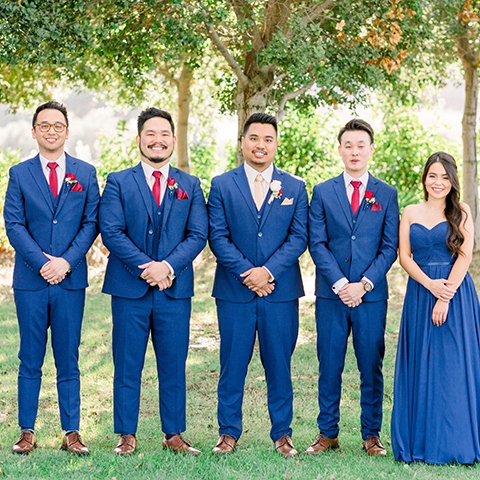 Photography: Three16 Photography
This wedding played with the romanticism of the almost Tuscan-inspired architecture and gardens by having a black tie wedding.  The groom wore a Charcoal Shawl Lapel Tuxedo with a black bowtie. Perfect for the groom who wants a sophisticated tuxedo, but not in the traditional black tux color.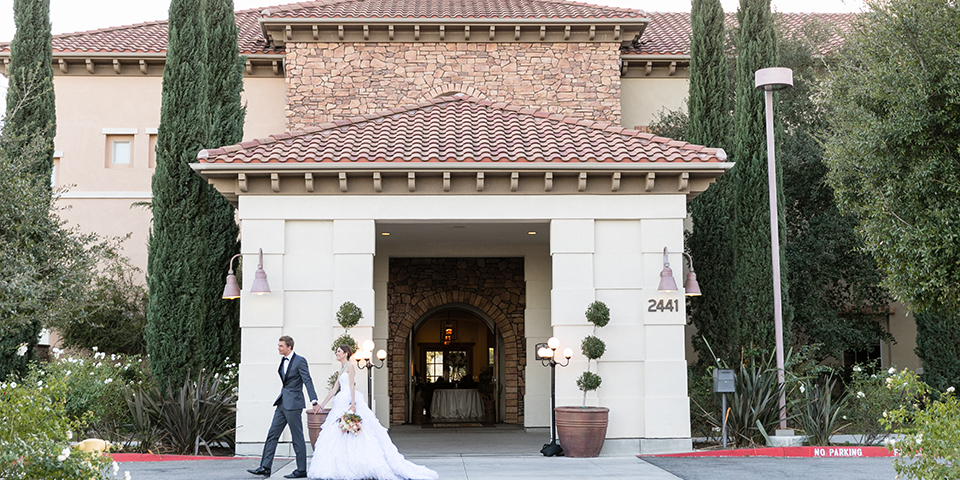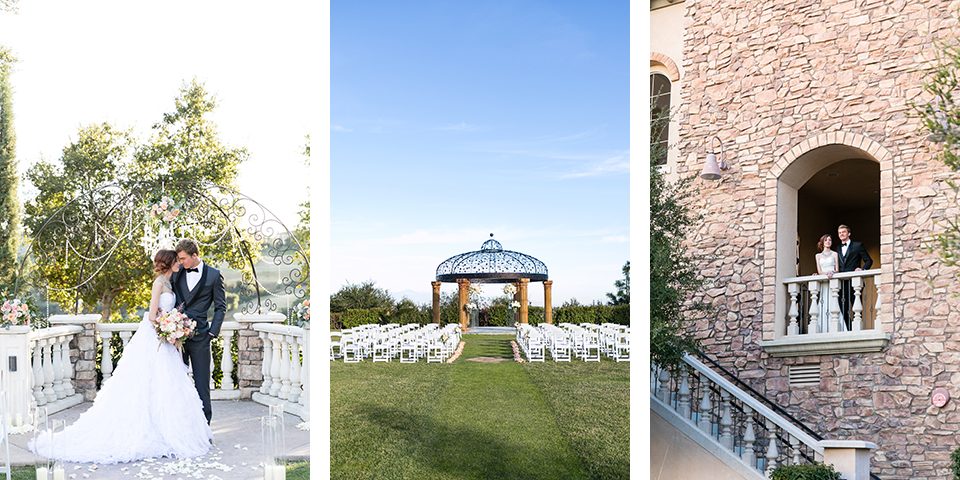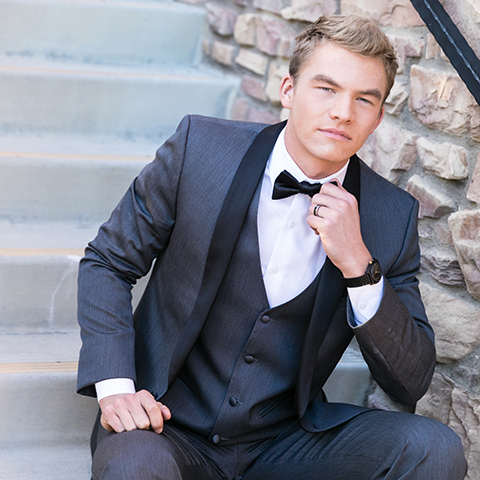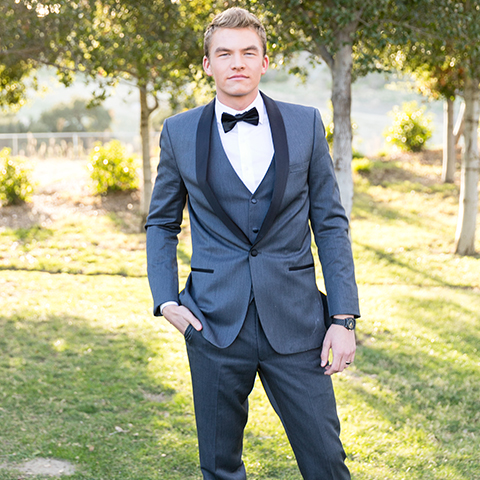 Photography: Leah Marie Photography
Didn't know that luxury windmills were a thing?  Well, now you do!  Didn't know that there was a luxury windmill venue here in sunny SoCal?  Well, meet the Carlsbad Windmill!  This cozy historical landmark has been turned into a modern masterpiece with vaulted ceilings, wall-to-wall windows, and chic English-inspired accents makes this one of the most unique places to say I-so in the Wedgewood family.
Okay this wedding played up this cozy cottage windmill venue perfectly!  We are living for how on brand they made their style.  With the grey façade of the venue and the English countryside-inspired space this bridal party had the groom is an Asphalt Grey Notch Lapel Suit and the groomsmen in Heather Grey Notch Lapel Suits.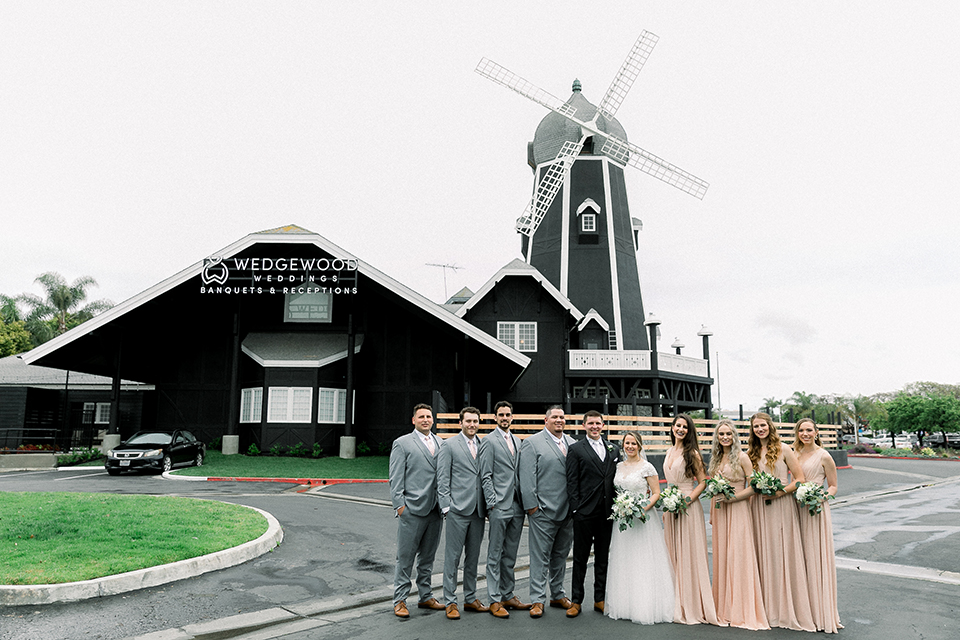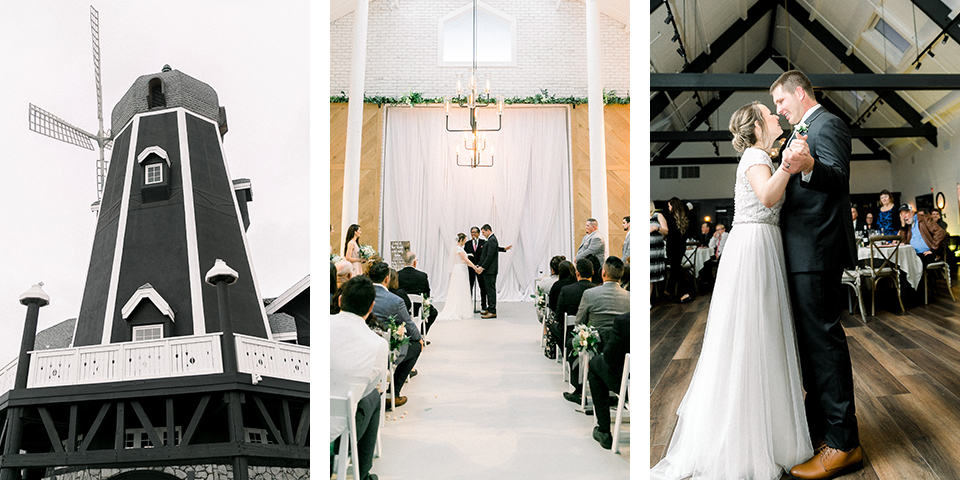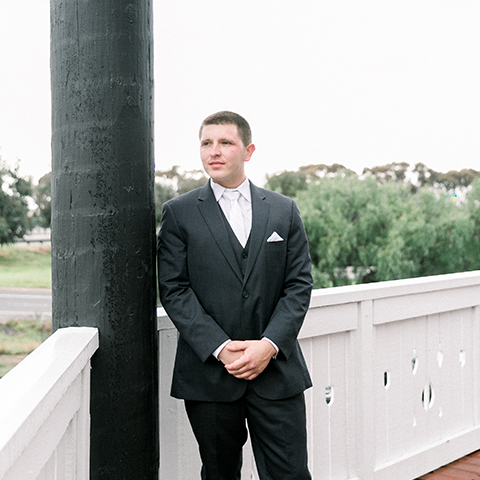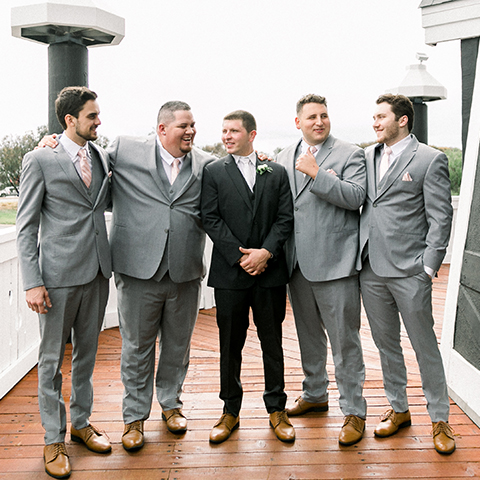 Photography: Leah Marie Photography
This venue blends country-side charm with Spanish-inspired architecture and we are living for it!  With a bold courtyard full of blooms water features and a grand pergola area perfect for a luxe cocktail hour this venue has everything you need and more. 
Plus, being that it is nestled in the San Diego hills, that means this venue gives you views of not only the countryside, but the ocean and city views as well! How cool is that?!
This wedding played with the tones and textures of the venue's architecture buy using warm fun tones in their décor and fashion! They used yummy oranges and romantic greens in the florals and design to really bring this wedding to life.
The groom wore our chic Asphalt Grey Suit by Michael Kors and the groomsmen went with a lighter and warmer toned Grey Notch Lapel Suit.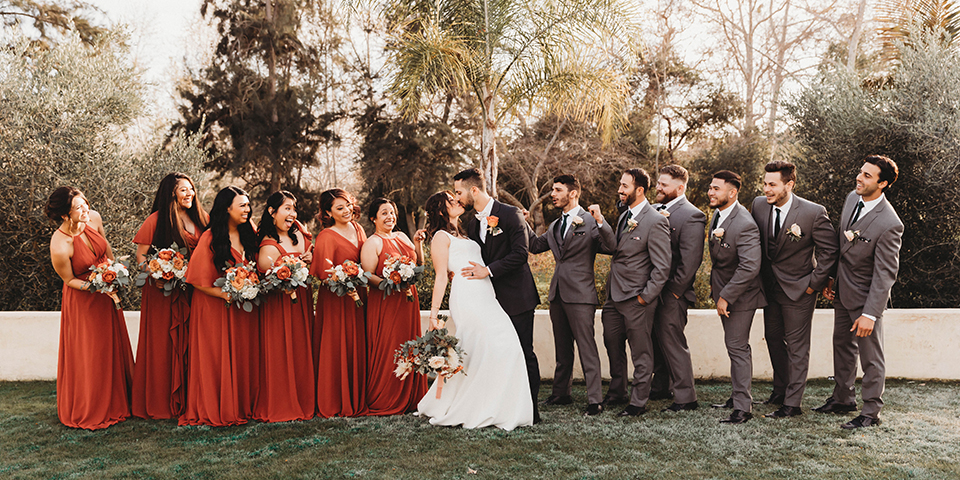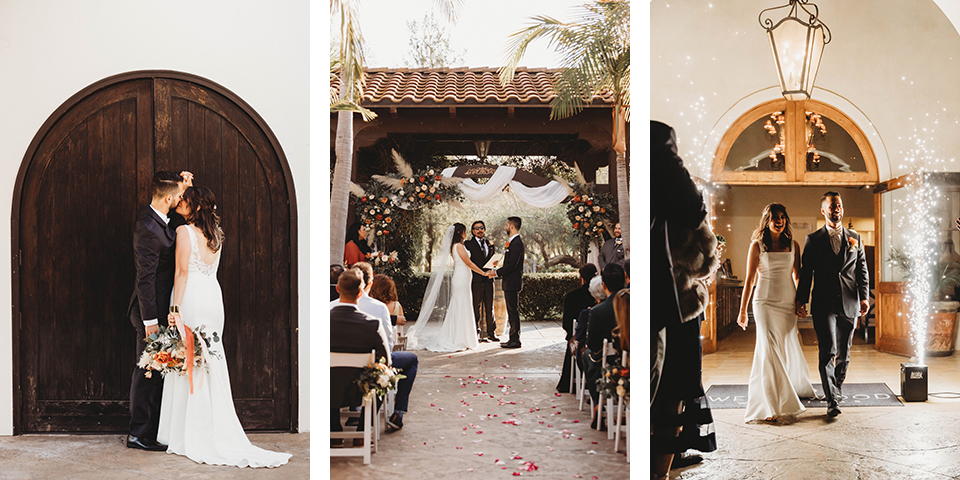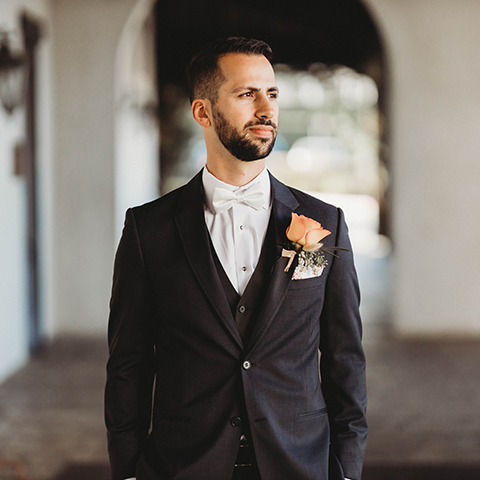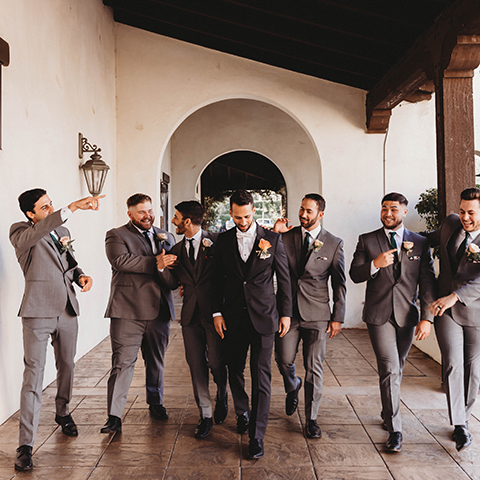 Photograhy: Shot by Katie Gunz
When thinking of the perfection that is the Fallbrook Estate, this wedding party kept it California Cool by having the bridesmaids in different colors of greens and blues, almost reminiscent of the venue itself with views of the ocean, city, and countryside. 
The groomsmen wore Dark Blue Notch Lapel Suits to complement the gowns, while still keeping the overall bridal party look soft, timeless, and cool.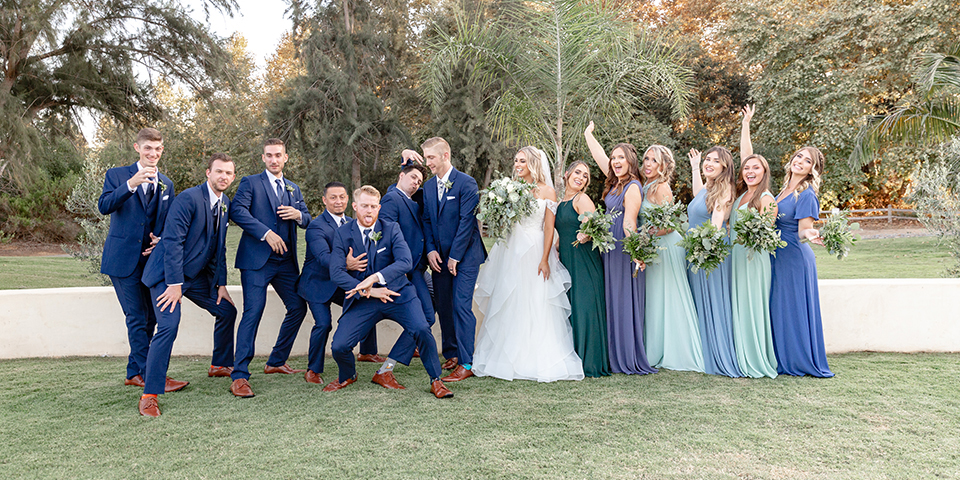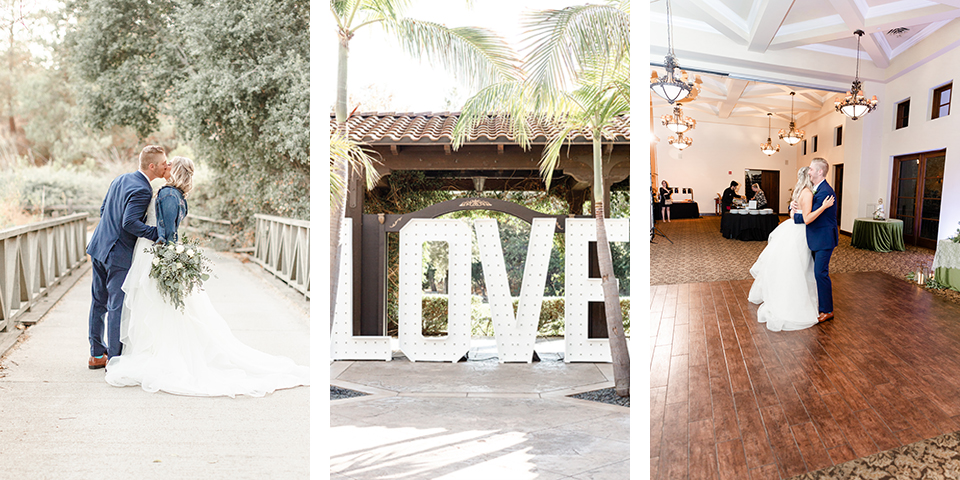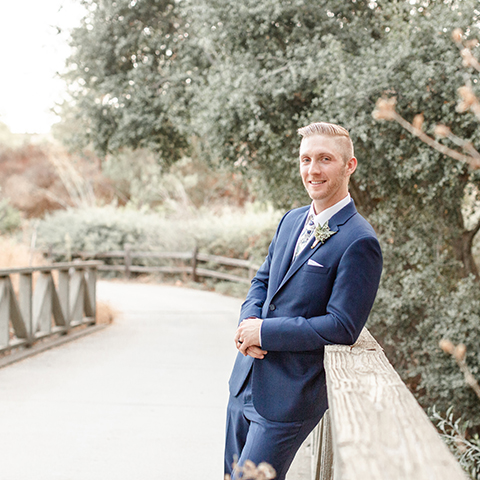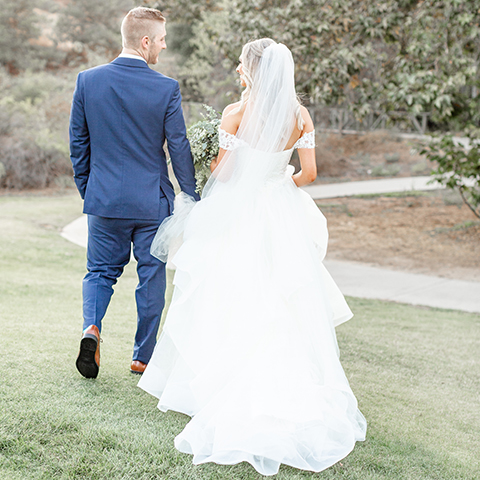 Photography: Genesis Imagery Photography