Photography: Stephen Schauer
Ahhhh fall, the best time of year with Hocus Pocus running on repeat, pumpkin spiced everything, apple picking, and more. With the cooler weather and gorgeous sunsets, it is no wonder that September-November is becoming the busiest wedding season of the year. And for all you couples planning your Autumn I-do's we have compiled the hottest list of suits to wear for your most cozy day.
1. Trendy Tan
This Tan Notch Lapel Suit is gorgeous any time of year, but we particularly love it in the fall.  Pair with warm neutral tones and this suit just pops! 

The fall wedding color scheme that we love best with this suit is Neutral Sage.  With dusty greens, rosy terracottas, and your lovey neutrals you cannot go wrong with putting your groom and/or groomsmen in this look.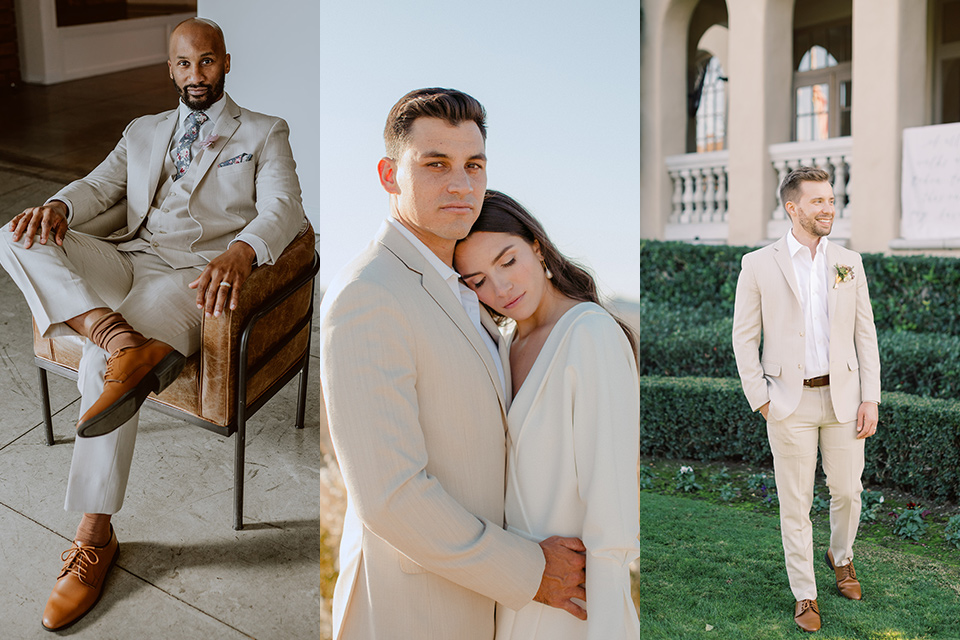 Photography: Shore & Wave | Ali Beck Photography | Lovely Light Imagery
2. Dreamy Green
Trust us when we say this Green Notch Lapel Suit is STUNNING! With its deep rich color this suit is sleek and chic.  Create a classic look with a white shirt, brown shoes, and chocolate matte tie.  Or make a moody statement with a black shirt, black shoes, and a gingham plaid tie.  No matter what you decide, this look will make your fall wedding pop!

Our favorite seasonal color scheme for this suit is Moody Forest Green.  Rich browns and velvety greens, balanced with metallics/neutrals create a dreamy rounded out color moment.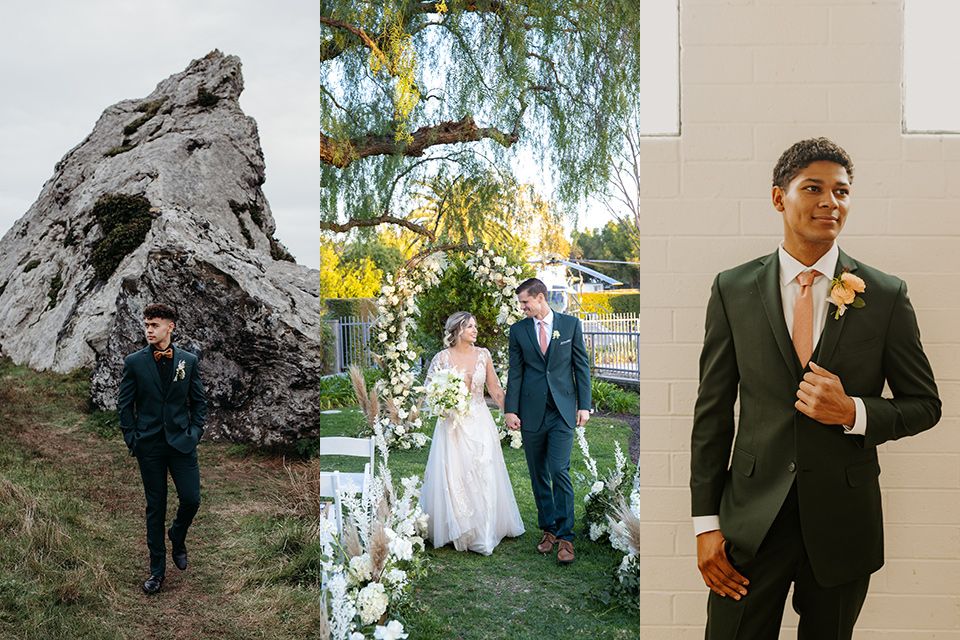 Photography: Liz Koston Photography | Frank Salas Photography | Kellie Jane Photo
3. Classic Black
Okay, no matter what time of year you cannot go wrong with wearing a classic Black Notch Lapel Tuxedo. Especially when that tuxedo is Michael Kors and fitted with stretch material and COOLMAX® technology to keep you cozy and cool all party long! 
You can pair this tuxedo with traditional accessories: black bowtie and patent leather shoes.  Or you can add a pop of fall color if that suits you – like a wine or burgundy tie.

You can literally go with any color scheme we mention in this blog with a classic tux look, but we are living for the trendy Neutral Chic weddings that are so popular right now.  Lovely browns, crisp black, creamy ivory….this color scheme is traditional meets trendy and we are about it!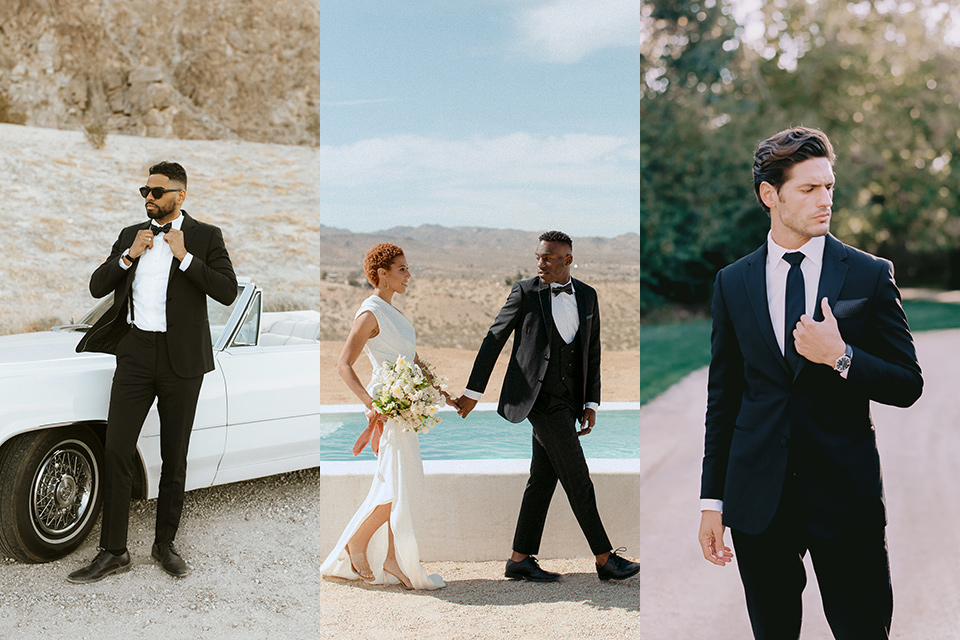 Photography: Kai Villanueva Photography | Ali Beck Photography | Donny Zavala Photography
4. Warm Caramel
In the spirit of the pumpkin spice season, of course our Caramel Notch Lapel Suit had to make the list! This suit is one of the most dreamy colors ever, and quickly becoming our most popular.  We love pairing this look with neutral-colored ties like chocolate brown or tan.  Or you can pair with a black shirt and a bolo tie or a fall boho-inspired look.

The color scheme we love most for this suit is Dried Florals.  Sage, taupe, mauve, rose….these are colors that just make this suit stand out the way it should.  Trust us, your wedding and style will be the most admired and talked about all wedding season long!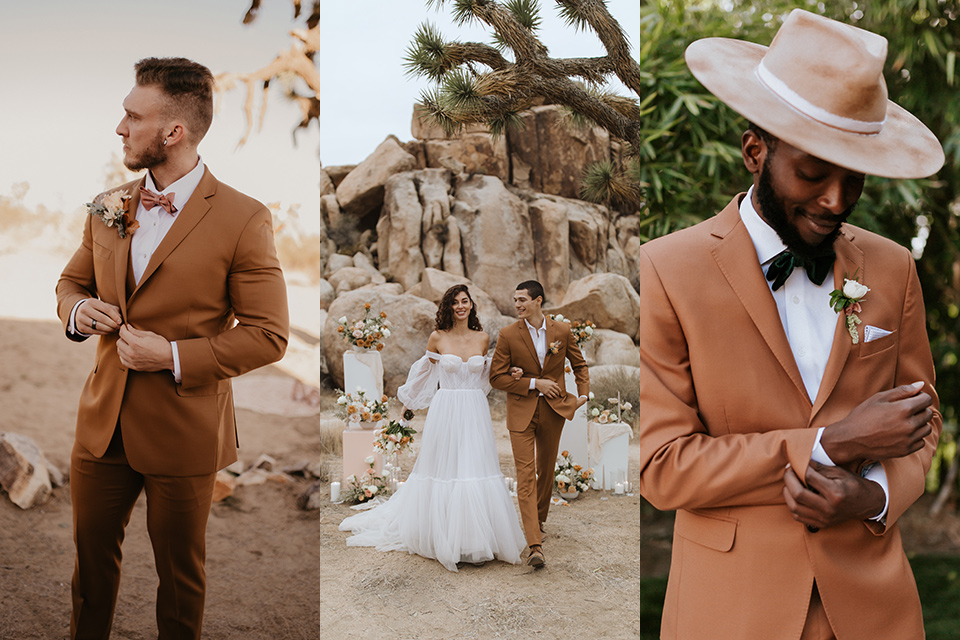 Photography: J. Emmanuel Photography | Peyton Beth Photo | Jenni Summer Studios
5. Sultry Steel Blue
Let us introduce you to one of our newest colors Steel Blue Notch Lapel Suit! Like our Black Tuxedo mentioned, this Michael Kors dream is fitted with stretch material and COOLMAX® technology.  And let us take a moment and admire this gorgeous color! A sultry mix of blue and grey, this color suit looks great paired with softer colored accessories- like a caramel or platinum tie and light brown shoes.

Our favorite color scheme for this look is Dusty Dreams.  Mauve, rose, blue, and taupe in dusty tones allow this suits tone and sheen to really sparkle.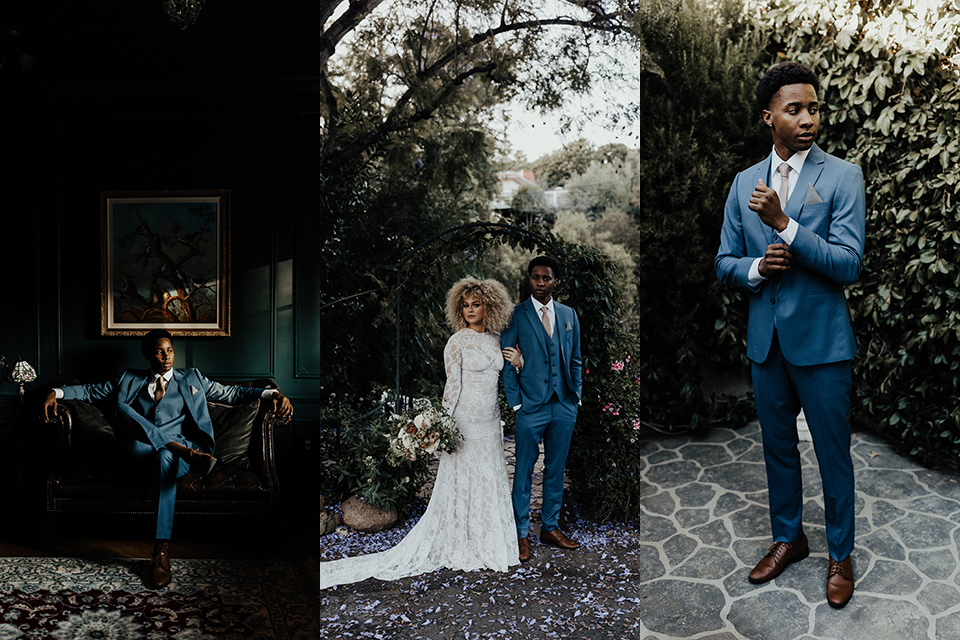 Photography: Natalie Leonning Photo
6. Bold Burgundy
Double double toil and trouble, believe us when we tell you this Burgundy Shawl Lapel Tuxedo is wicked.  The color is a deep burgundy with a black satin lapel, perfect for fall.  We love pairing this look with a black shirt and black velvet bow tie to really play up the seasonal vibe.

The color scheme that works best with this tuxedo is Wine Not?  Playing up the wine/burgundy color of the tuxedo while also playing it up with greens, darker toned plums and black, with a touch of lavender to brighten up the day.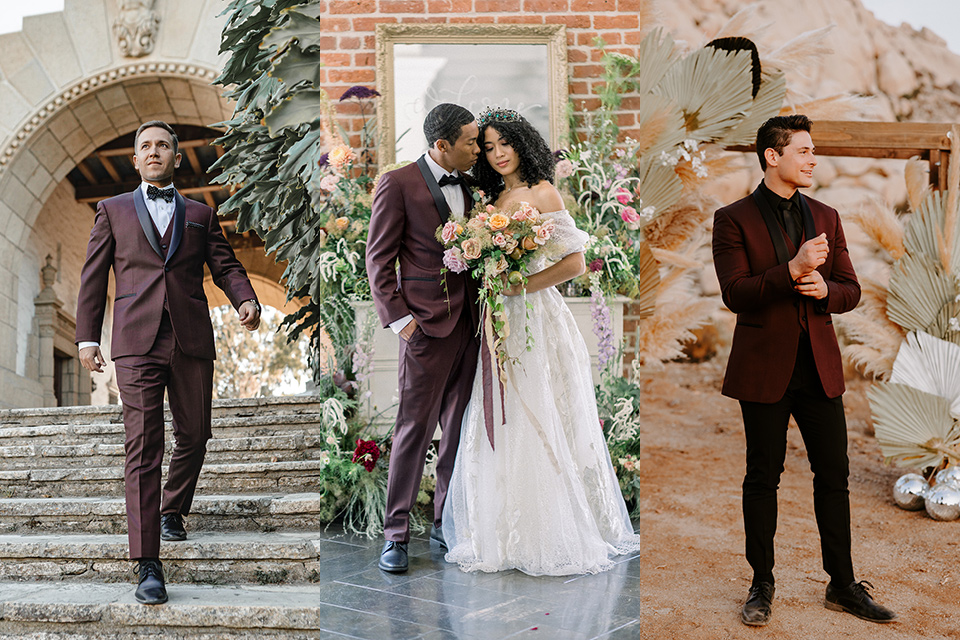 Photography: Bucketlist Bride | Two Fourteen Photography | Pretty Branch Photo
7. Asphalt Grey
With Asphalt Grey Notch Lapel Suit is a cool-toned deep grey and it is brilliant for this cooler season.  Again, this suit is part of our awesome Michael Kors Performance collection with stretch material and COOLMAX® technology. Pair with a black tie and black shoes for a traditional look. Or a Sage tie and brown shoes for a more earth-toned moment – trust us, you can't go wrong.

Our favorite color scheme for this suit is Cozy Charcoal.  A cozy blend of greys and browns to create a sweater weather dreamy day.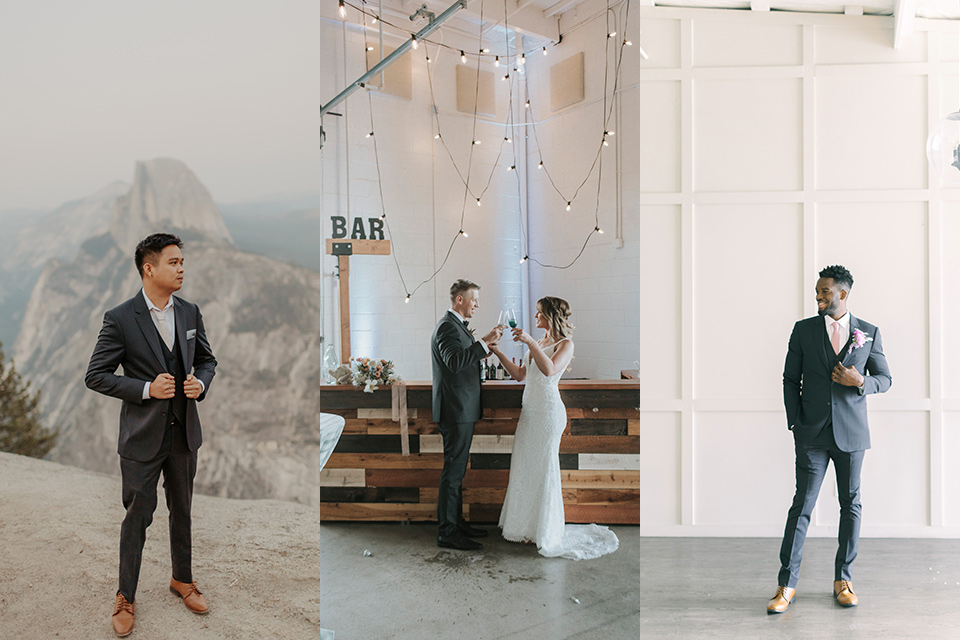 Photography: Keyling Francis Photography | Oh Lovely Wedding | Lupe Juarez Photography
8. Café Brown
This color is a brilliant blend of brown and grey – making our Café Notch Lapel Suit one of the most interesting neutral suits ever!  Plus, its textured woven fabric gives it the perfect rustic/boho edge – great for fall barn or nature weddings. 
We love to pair this suit with neutral and burgundy colors like our chocolate brown tie or our burgundy velvet bow tie.

The color scheme we love best is Rose Latte.  With a blend of rich bold burgundy, dusty rose, and latte brown this suit will be a standout.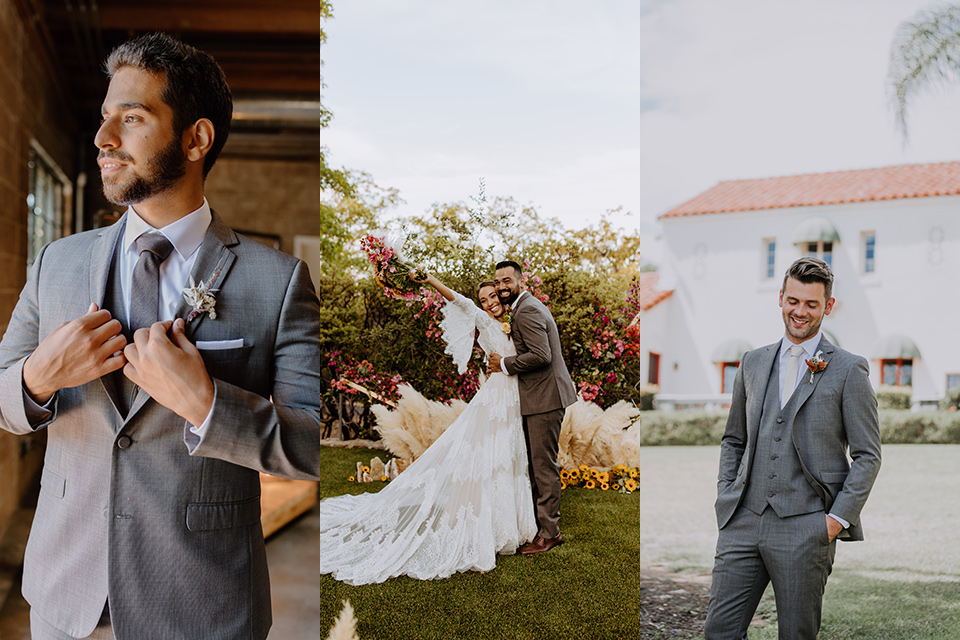 Photography: Tess Laureen Photography | Parallel 33 Photography | Monique Dao Photography
9. Chic Dark Blue
This Dark Blue Notch Lapel Suit is a freaking classic!  Deep navy color with a textured fabric to makes this traditional perfection and paired with the right color accessories this would be a great suit for your fall wedding. 

The color scheme that is perfect for this suit is Fall on The Vineyard.  Imagine drinking yummy wine while looking out over the vineyard as the leaves change color – so blues, neutrals, and chianti colors.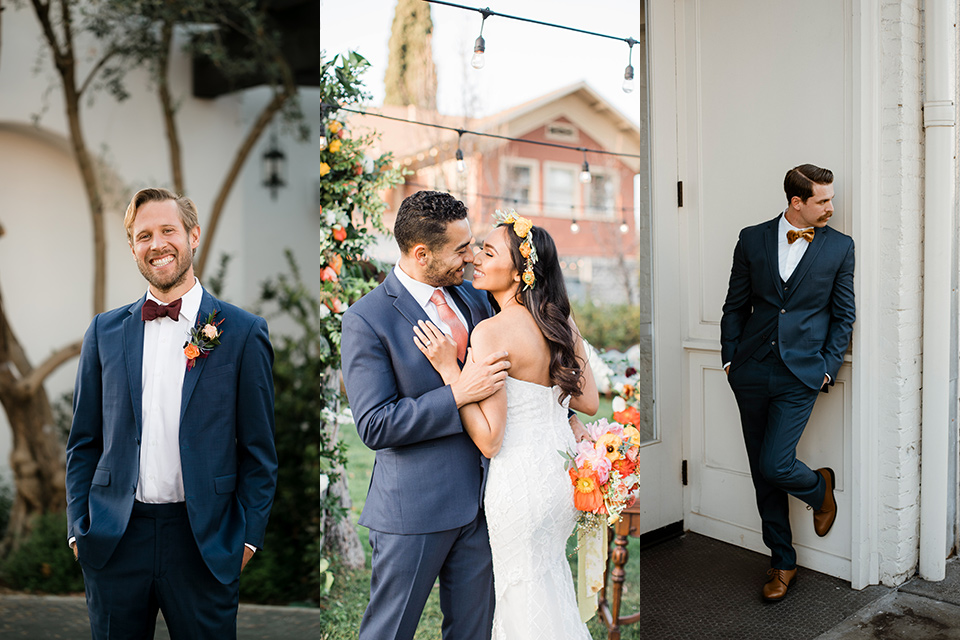 Photography: Sarah Mack Photo | Krisandra Praytor Photography | Cara Chapman Photography
10. Green Velvet
We could not talk about perfect fall suits and tuxedos without adding our Green Velvet Shawl Lapel Tuxedo to the list!  This is one of our newest colors to our velvet collection, and trust when we say it is magical. 
Pair with black pants and a black shirt to play up the darker vibe of the tuxedo. Or pair with tan pants and a bolo tie to make it a softer moment, either way you will be the talk of the town in this coat!

The color scheme we love best with this tuxedo is Green Luxury.  A blend of woodsy and Gatsby makes this green color come alive!  Add touches of gold and bronze metallics to make your wedding say sparkle and shine.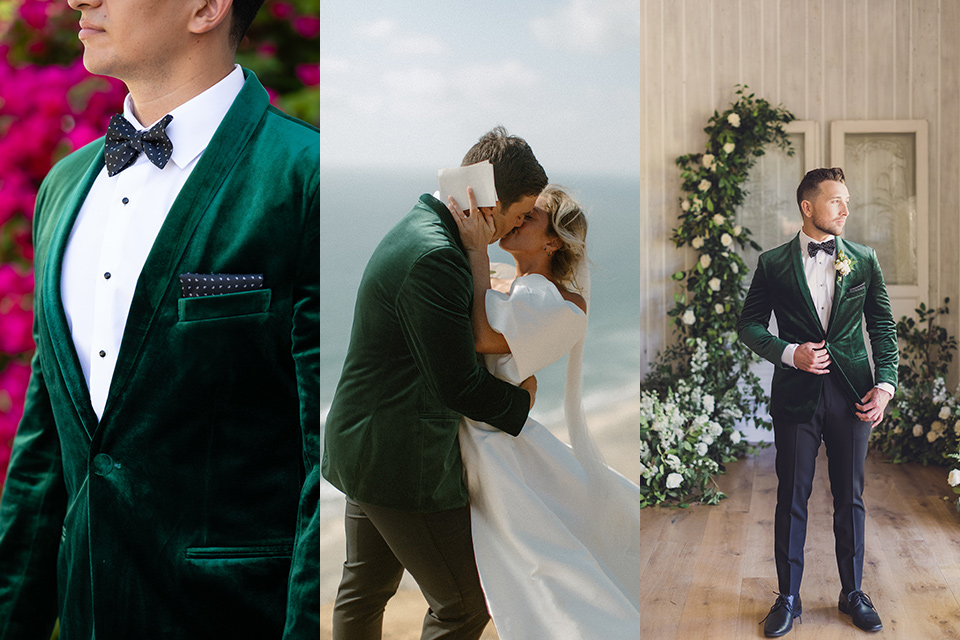 Photography: Gloria Mesa Photography | Amanda Noel Photography | Sun & Sparrow Photography