Have you ever received a wedding invitation and had a miniature panic attack wondering what the heck you are going to wear? Well first off, breathe…in…out…in…out… Second, stop stressing out, we are here to help you navigate this problem. Everything you need to know is in the invitation, though it may look like hieroglyphics to you with names of places and dates- the information you need is there. Most of the time the dress code term you are going to be looking for will be on the bottom corner of the reception card. Here you will see one of these terms: black tie, black tie optional, cocktail, beach formal, semi-formal. Now we know after reading that some of you might be back to your panic attack wondering what those terms even mean… remember to breathe again. We are going to go over each dress code style and what it means for your style now:
Black Tie
What to Wear: Traditional Tuxedo and Accessories
Black tie weddings are pretty easy to dress for, in the sense that there are not many variations of this style. Black tie weddings are usually an evening affair and require the upmost classic touches when it comes to your look. A formal back tuxedo, white (or black) shirt, black bow tie, studs + cufflinks, and tuxedo shoes. Your look should be clean and crisp, like Leonardo Di Caprio at the Oscars. Within this style, you have some options: jacket lapel style, shirt with pleats or no pleats, style of bow tie- but honestly the simpler you make it, the better this look is.
Can you wear a colored tuxedo to a black-tie wedding? It depends, and the best ways to decide how traditionally vs. fashion-forward is to consider the venue, if it is a very classic location then keep your look classic, if it is more modern, you might be able to add some color. If you don't want to wear a black tuxedo to a black-tie wedding, charcoal, navy, burgundy or a dark-colored tuxedo is most appropriate. If you don't have a tuxedo (we can help there!) you can likely get away with a nice black suit for a black-tie wedding as long as you dress it up with a black bow tie.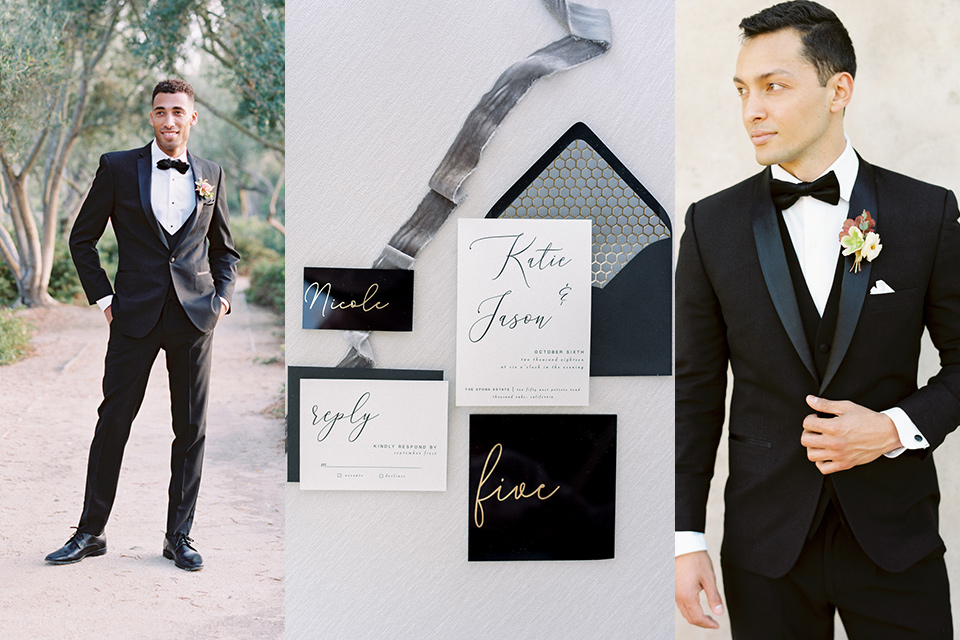 Check out our black tuxedo options here.
Black Tie Optional 
What to Wear: Tuxedo or Dark Suit
Black tie optional is exactly how it sounds- tuxedo style optional. For this you have much more creative freedom over your look- whether you wear a tuxedo or a suit is completely up to you. Have fun this though, how often are you going to a place where you can get all dressed up and play with your fashion? Go for a printed tuxedo or a colorful option- or keep a black tux but go wild on a velvet or polka dot bow tie! Black tie optional basically means that they want you to wear a tuxedo but they are being nice and letting you wear your nicest suit if you don't have access to a tuxedo. So keep it classy *whispers "San Diego" under breath in Ron Burgundy voice*.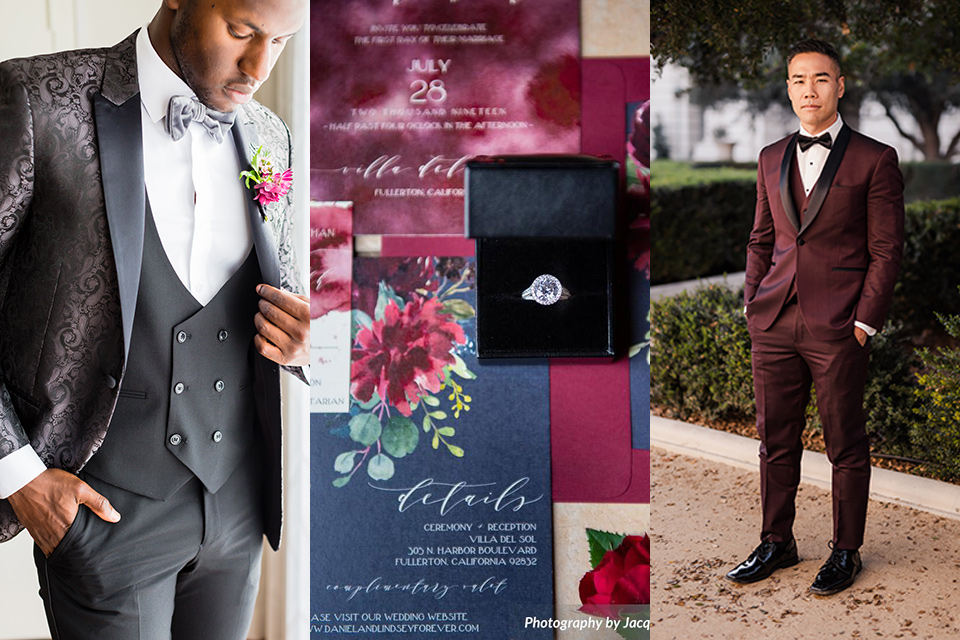 Check out our other tuxedo options here.
Cocktail 
What to Wear: Suit and Elegant Accessories
Cocktail attire really depends on the time of day the wedding is and your own personal preference. If it is a day/early afternoon wedding feel free to wear a medium grey or blue suit. If the wedding is an evening or nighttime event it is best to stay in the darker realm of suit colors like black or charcoal. Now, this is still a great time to play with fashion, try our green suit or a dark patterned tie. Treat this like you would a fancier company Christmas party- what would you want the CEO to see you wear?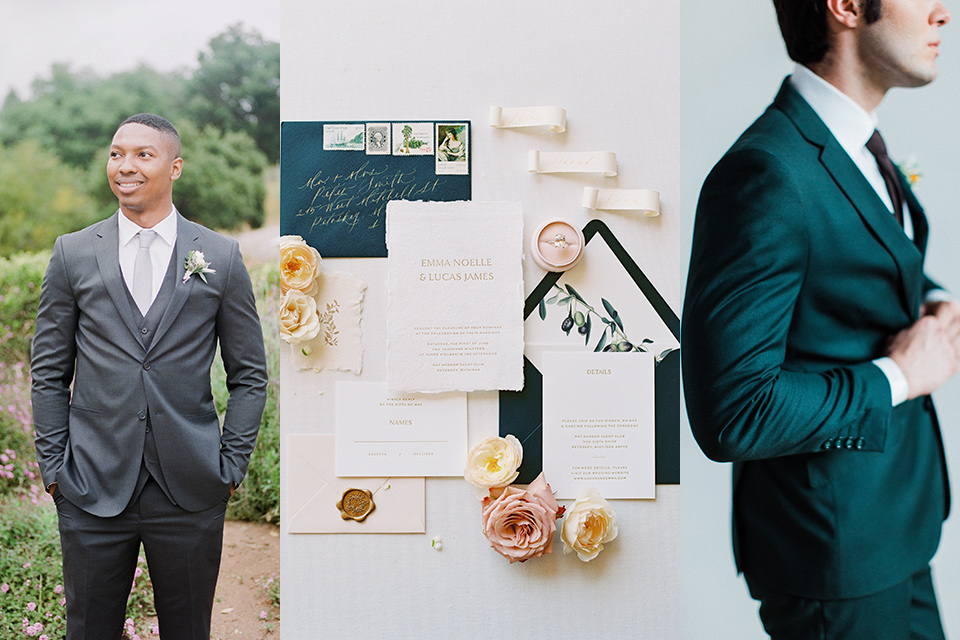 Check out our suit options here.
Beach Formal
What to Wear: Suit With or Without Tie
Beach weddings can be tricky- when it comes to dressing for one use your judgment on the beach location and what you know about the bride and groom themselves. If you know your buddy is the kind of guy where a collared shirt is dressy, you might not need to be formal at all for that wedding. Yet most beach weddings are what we call "beach formal"- meaning they are possibly at a beach-front resort or a more formal affair. For this, we recommend lighter colors or some with simple texture, like our tan or café brown suit. This is a great time to play around with a mix-and-match look, like pairing darker blue pants with a light blue coat.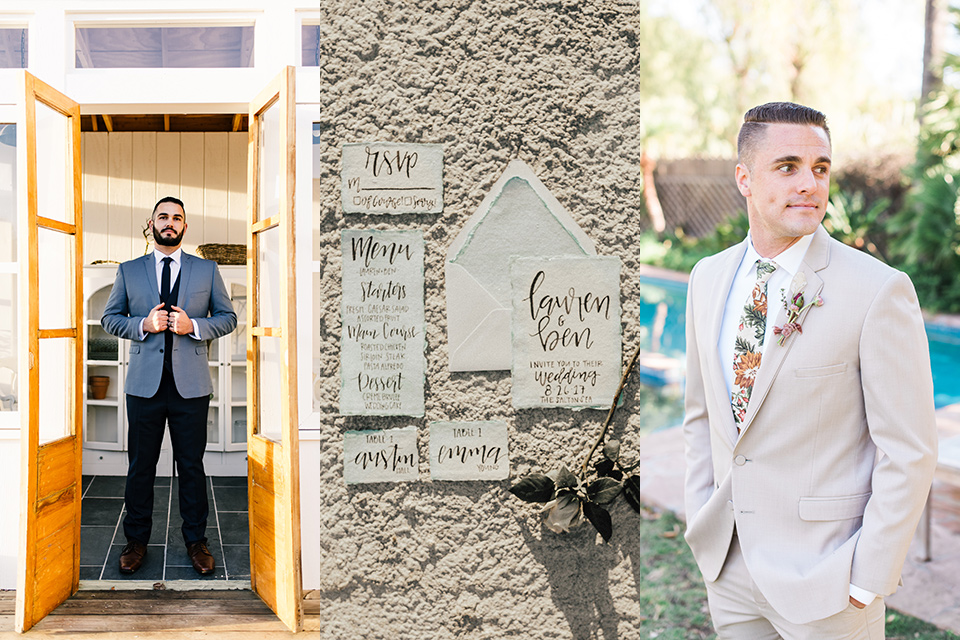 Semi Formal
What to Wear: Suit + Tie
Semi-formal weddings are probably the most common these days for attire. It is an easy go-to and can accommodate a wide range of style. The rule of thumb is much like cocktail attire weddings: lighter colors or day weddings, and deeper colors for evening weddings. The difference here, is that you get to have a lot more fun with your accessories. Punch up your style with a floral tie or add a cool lapel pin! But if the word formal is still in there, even if it follows semi, it means you should wear a coat.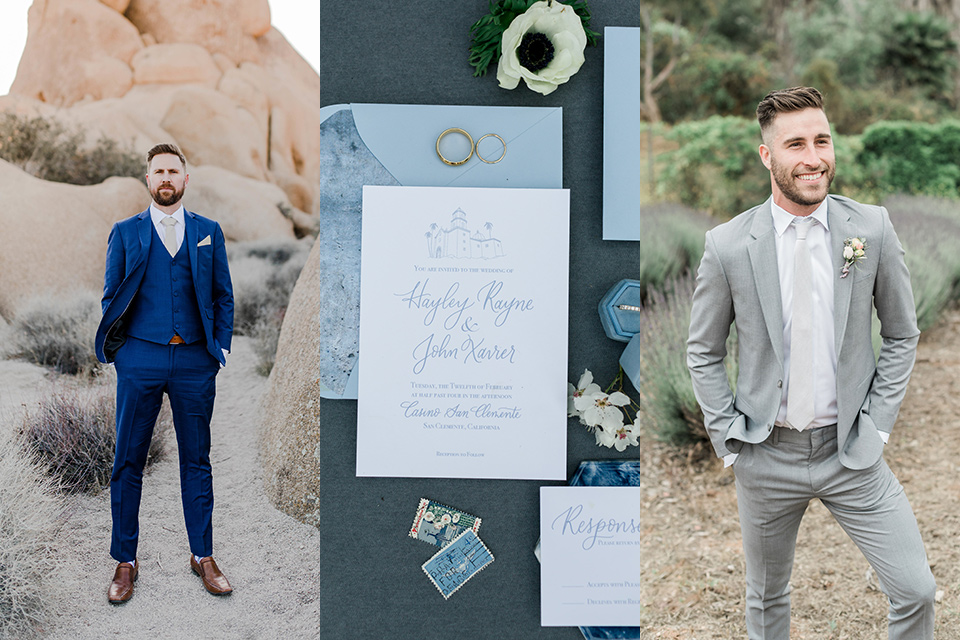 Have a wedding coming up? Stop into one of our stores to buy a suit for a wedding or rent a tuxedo for a black-tie wedding, or add a new tie to your suit (because, yes, that wide one with stripes is lame). Come in and one of our stylists will help you find whatever you need to be one of the best dressed wedding guests at every wedding you attend!