Venue: La Villa Bella
Photography: Colleen K Photography
Planning + Design: Esoteric Bride
Menswear Style: Burgundy Velvet Tuxedo with a black bow tie
Did you know that Valentine's Day officially became a holiday in the 1300s? That is when Roman Pope Gelasius officially declared the date February 14 as "St. Valentine's Day." In the tradition of celebrating love, we thought we would go over the 5 must-have details for a Valentine's Day themed wedding! (Because who wouldn't want to celebrate their eternal love, on the day of love?)
1. XOXO & Heart Details
Hugs and kisses should always be flowing at a wedding, and that should be in the décor as well. We love the adorable XOXO and Heart cookies from Vanna's Sweets Custom Sugar Cookies, to tie the Valentine's Day theme together. You can bring in these details with the invitations, candles, linens, and other décor elements of the special day. We also love the idea of giving your loved one a valentine before the wedding instead of a typical note or card.
2. Red + Pink Colored Flowers
Everyone knows that flowers are a must for any wedding, but a Valentine's Day wedding needs to be on another level. Roses are a must, but you can also have a little more fun with it by adding peonies, daisies, or any other flowers that you love! We also are obsessed how Bloomie Creations added extra flare by adding chic feathers to the bridal bouquet!
3. Themed Party Favors
Just like in school when you brought valentines and candies for the whole class, your wedding party is no different. Send them home with all the nostalgic parts of the holiday: candies, chocolates, flowers…We also love the idea of something unique and different like mini flower pots with seeds, custom fortune cookies, or candles.
4. Lots of Sweets!
Cookies, cakes, and chocolates…OH MY! Now, this holiday requires lots of sweets. Think of having a candy/dessert bar full of all the favorites: chocolate covered strawberries, rice crispy treats, and of course the candy hearts with the cute sayings! We are personally obsessing over the romantic cake from Cake-licious with the painted red and pink details and adorable floral details.
5. Fashions of Love
Now it may be completely biased, but we do believe with all our candy coated hearts, that you cannot have a Valentine's Day themed wedding without the stylings of one of our chic styles! This groom showed off his vibrant fashion side with our Burgundy Velvet Tuxedo. Paired with an uber-stylish double-breasted vest and black bow tie. Other style ideas that would look great for a wedding on this day would be our Rose-Pink Suit, a traditional Black Tuxedo with a red velvet bow tie, or even our Burgundy Tuxedo with a black shawl. With our 100s of different neckwear and tuxedo styles we can help you create the look of your dreams!  The bride wore a stunning gown with a soft flowing skirt and an illusion neckline and ¾ sleeves.  She paired her look with a bold red lip and a fun floral bouquet that matches her makeup flawlessly.  The bridesmaid wore a sequin raspberry gown with an off the shoulder detail, complimented with a floral crown.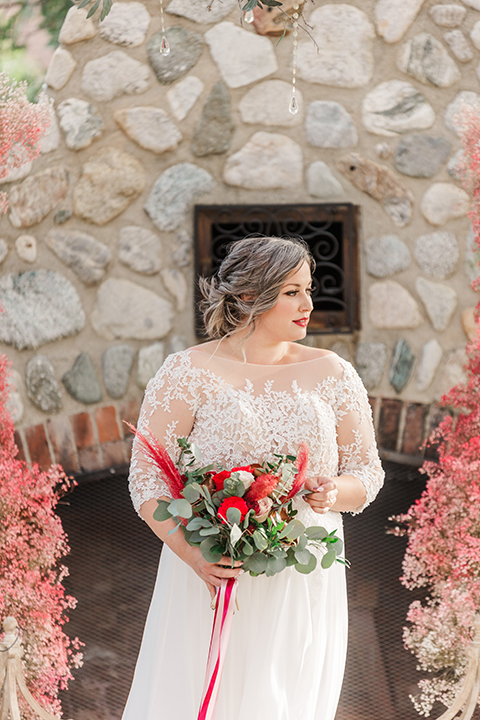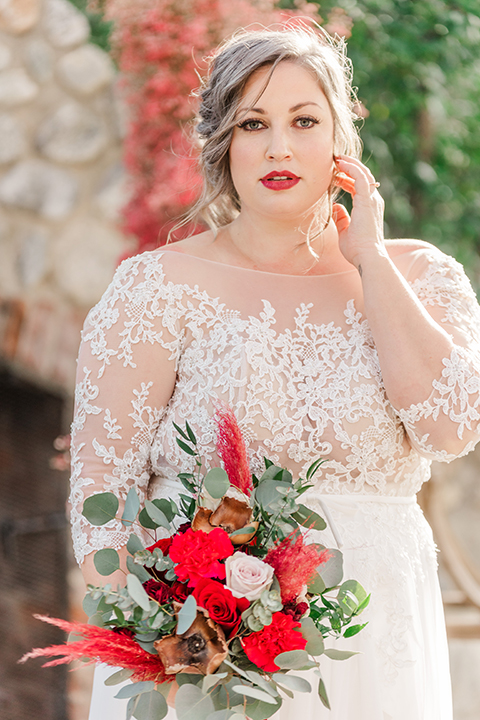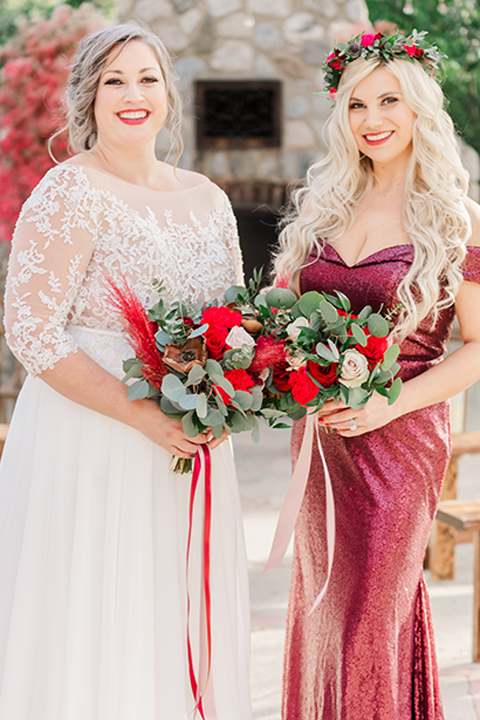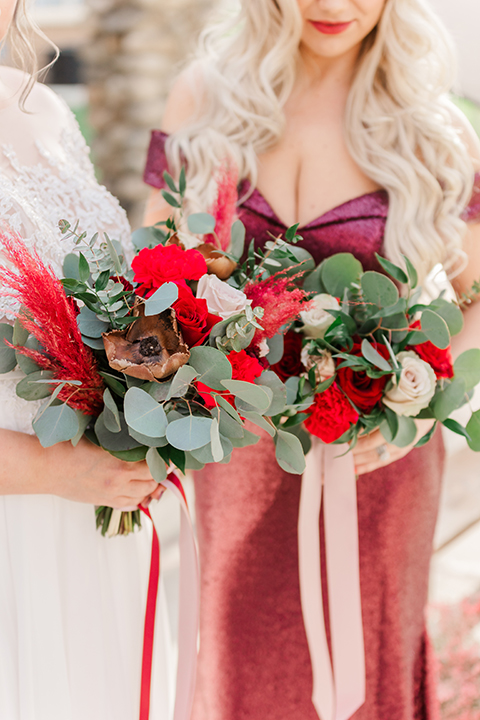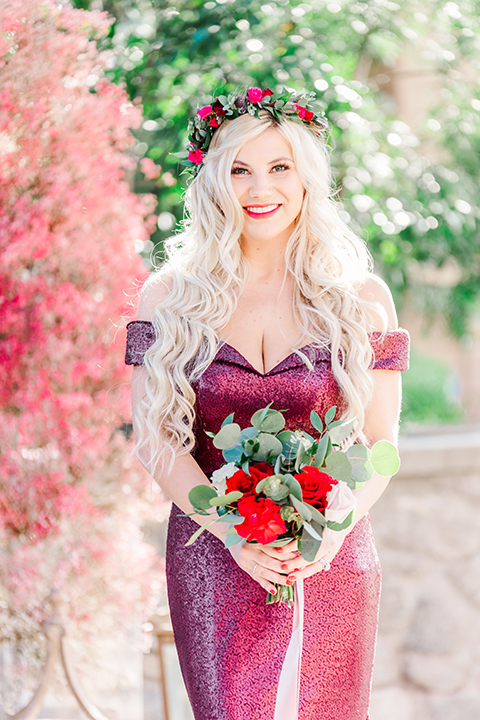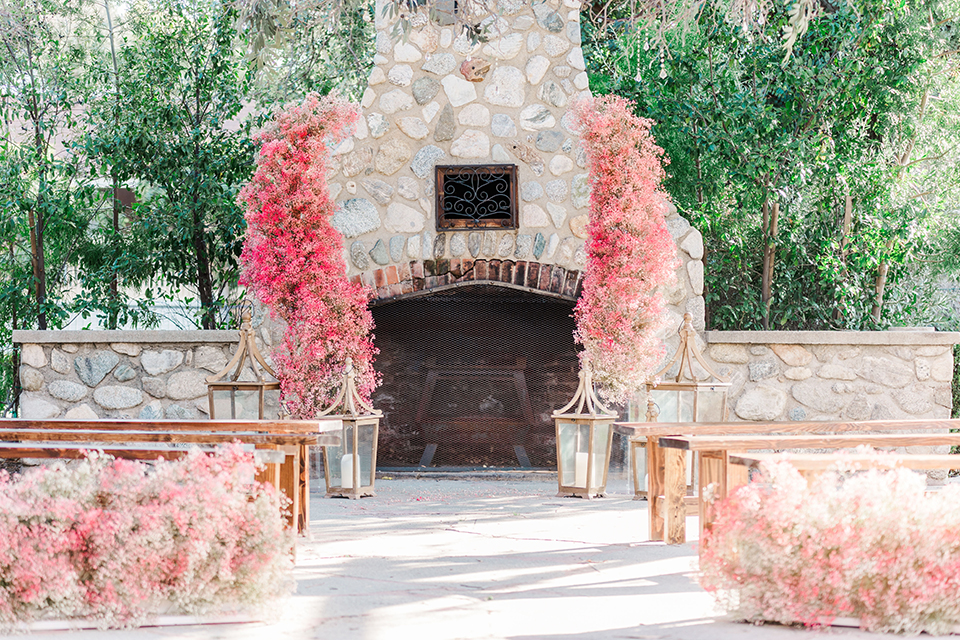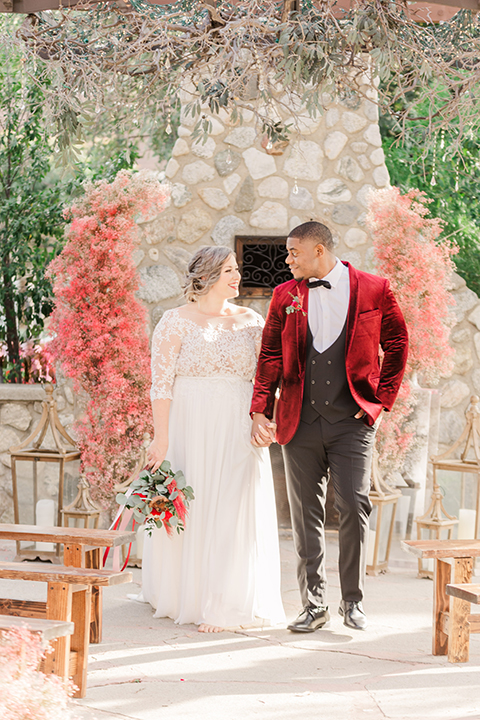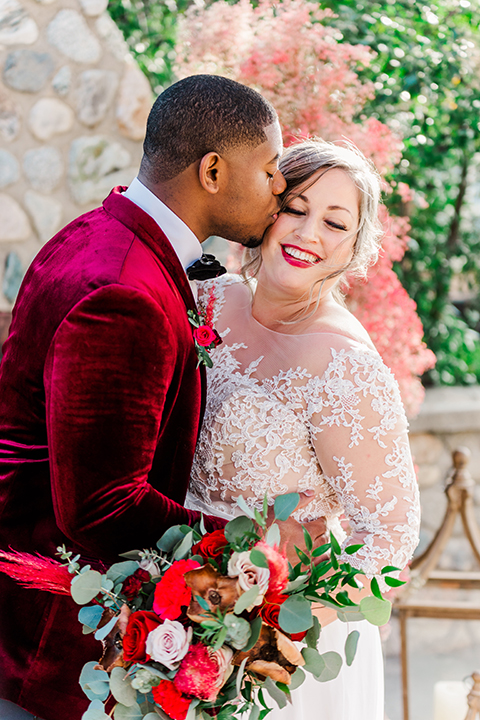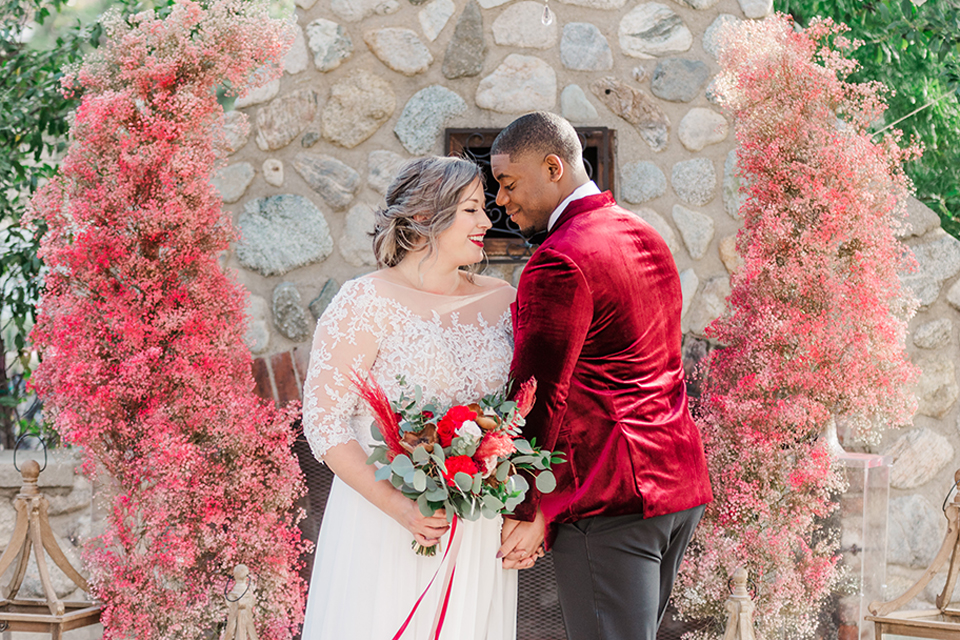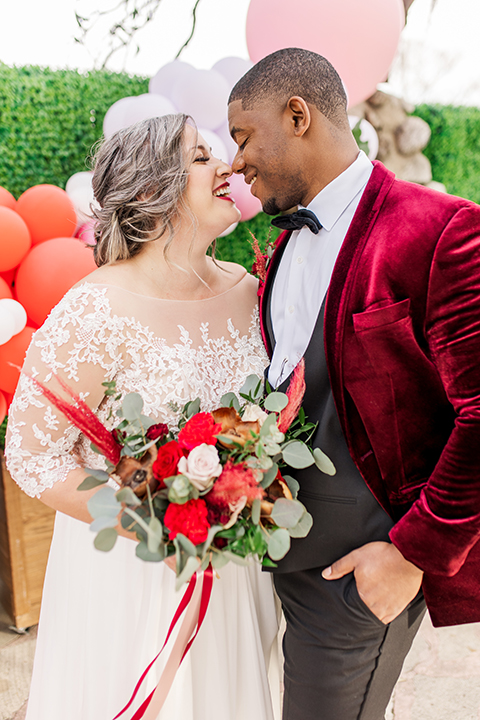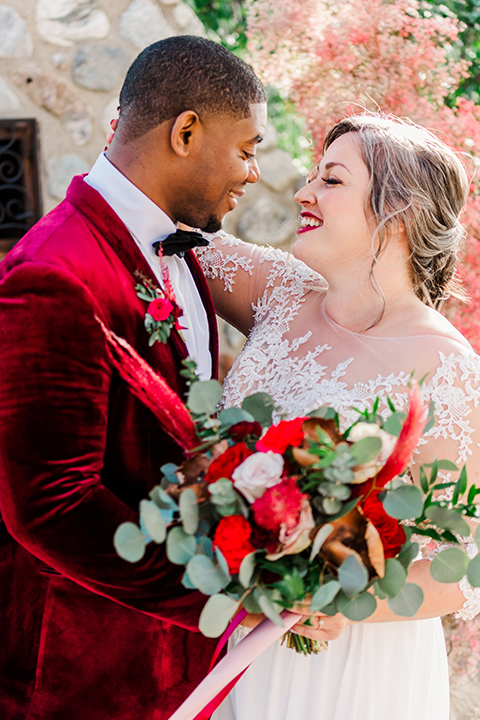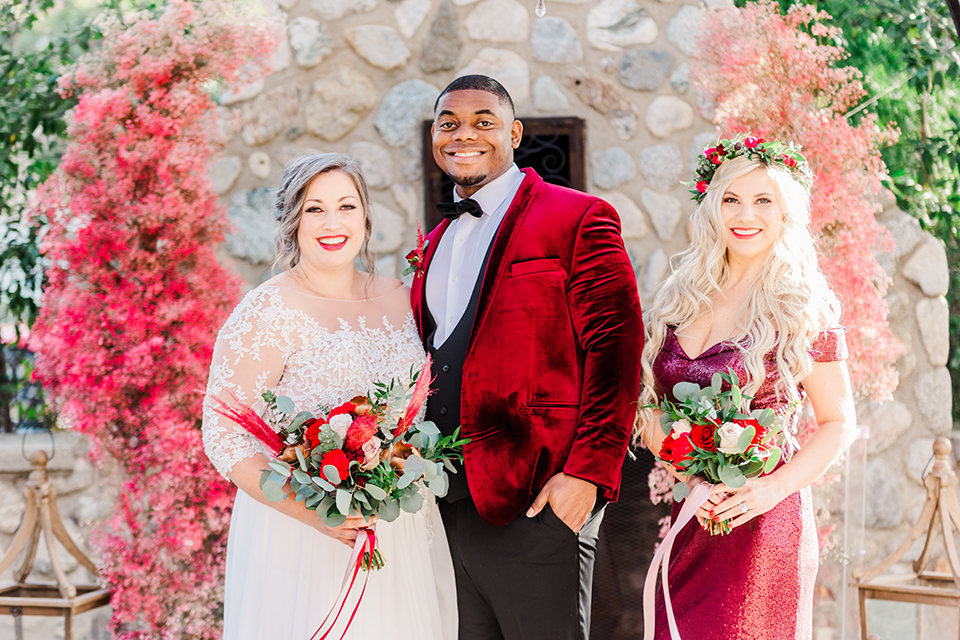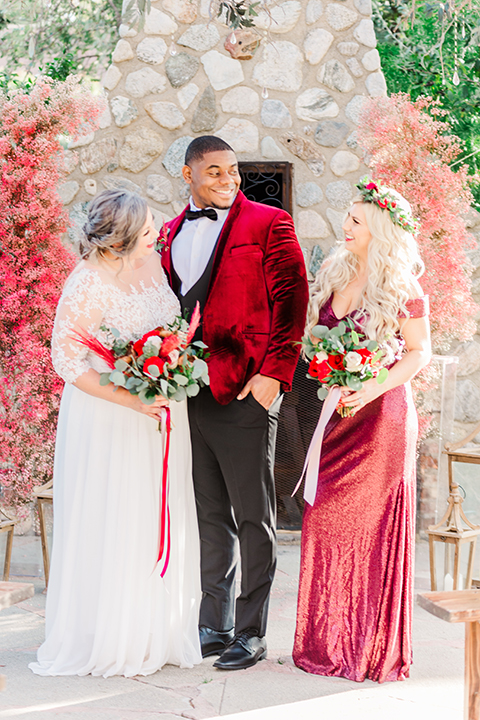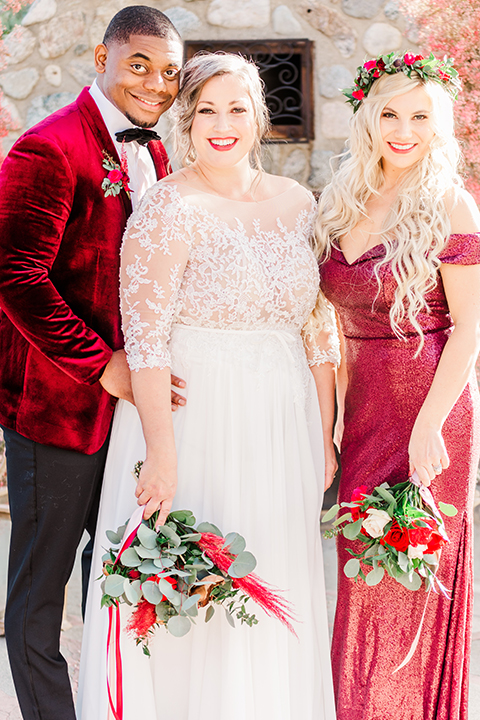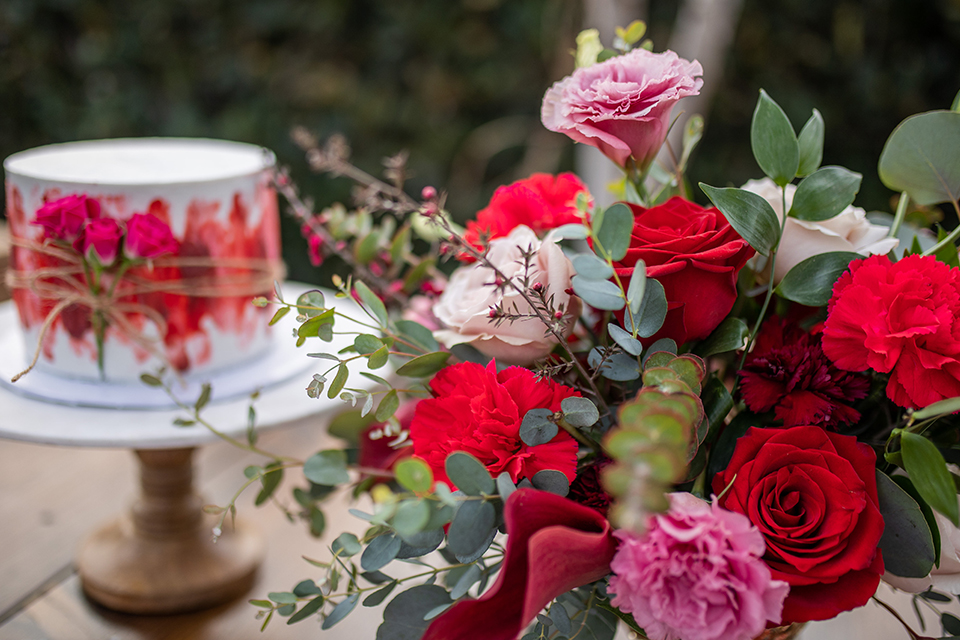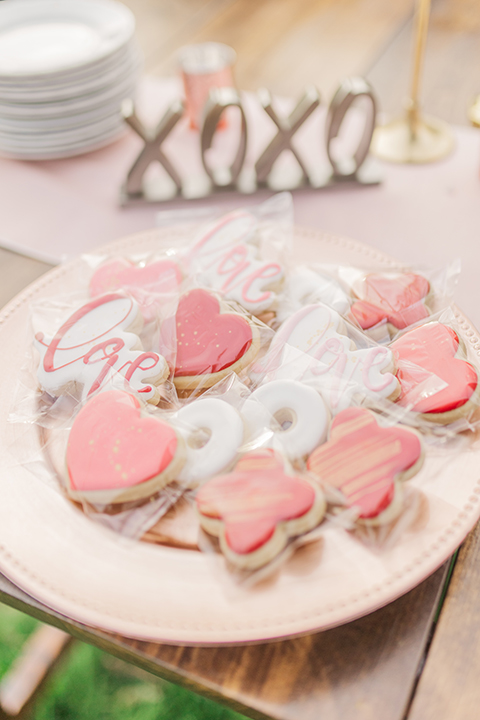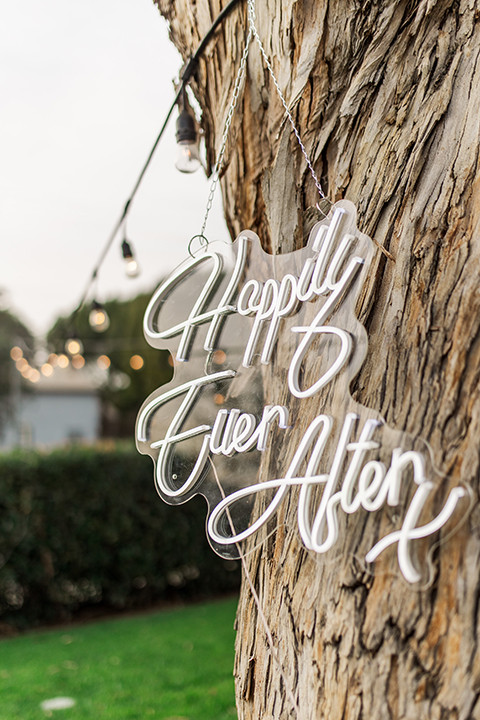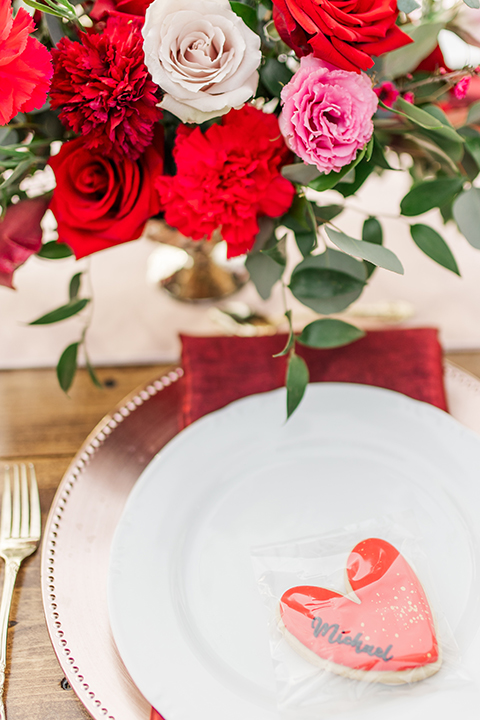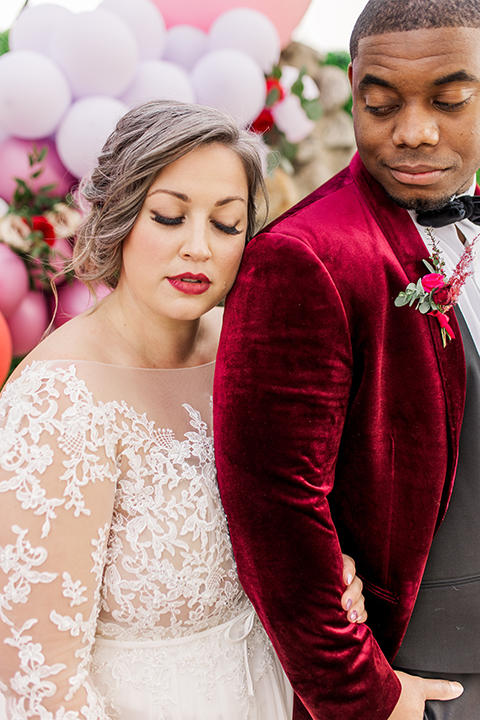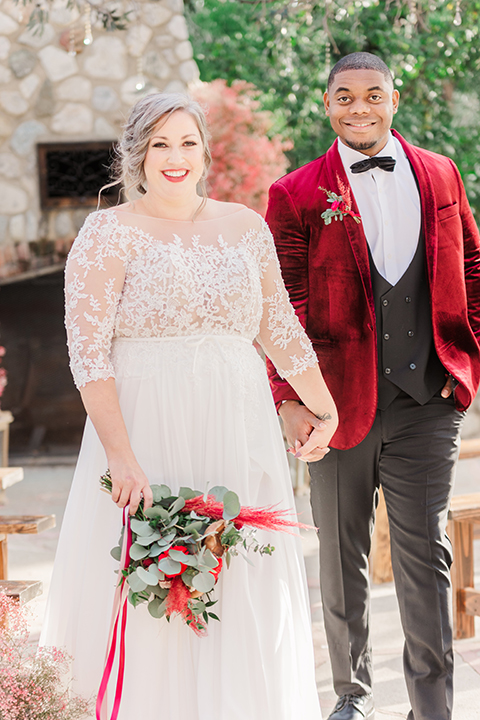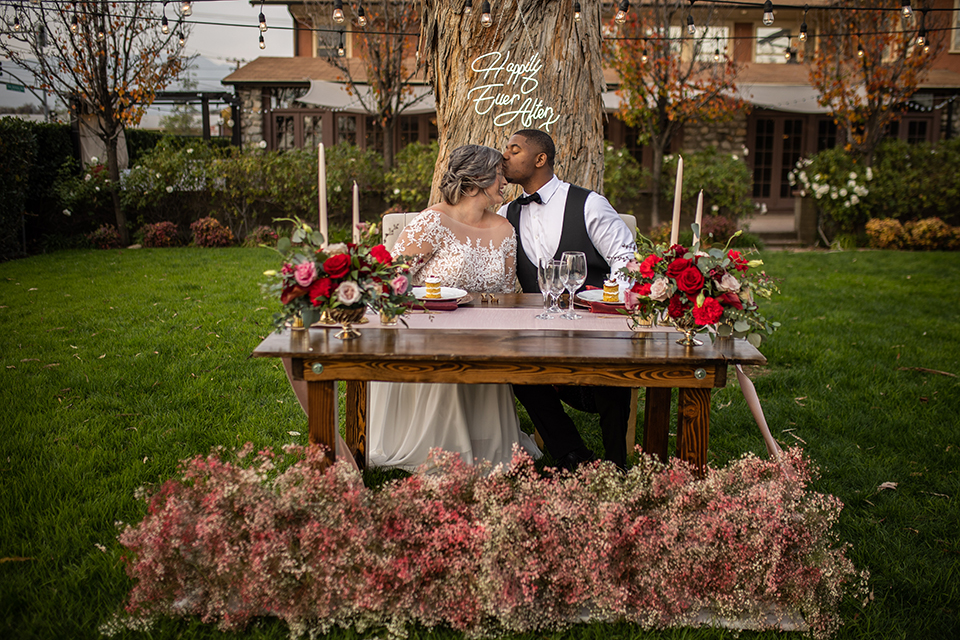 Assistant Photography: Michael Channa Photography | Florals: Bloomie Creations | Cookies: Vanna's Sweets | Cake + Mini Cakes: Cake-licious | Bride Model: Katelyn Alford | Bridal Hair: Ashley Noelle Hair | Bride's Makeup + Bridesmaid's Beauty: Bella Artistry | Bridesmaid Model: Ashley | Groom Model: De'Jon Fatherree | Stationery: Minted | Tabletop Rentals: A Better Party & Design | Farmhouse Tables: Honeywood Events | Balloon Garland: Little Brown Suitcase | Neon Sign: Lyanne's Touch | Bridal Attire: Aria Bridal | Dress Designer: Enchanting by Mon Cheri