Let's be real, the crazier and bolder the photo the better it is! When you are getting married in the bright city that is Las Vegas there are photo ops around every corner. Each building is full of magic and wonder, each street holds a fun opportunity- you just need to know where to look. We are here to help! We have compiled a list of the most Instagramable Las Vegas photo location for your big day wedding or engagement photos! Happy gramming (yes, we are pretty hip with the 2019 lingo) and hope your wedding day is everything you ever dreamed of and more!
Welcome to Las Vegas
The Famous "Welcome to Las Vegas" sign is a must for any couple getting married in the neon city! Erected in 1959, its iconic lettering and retro feel this will make for the perfect wedding photo either day or night! Located on 5100 Las Vegas Blvd S, Las Vegas, NV 89119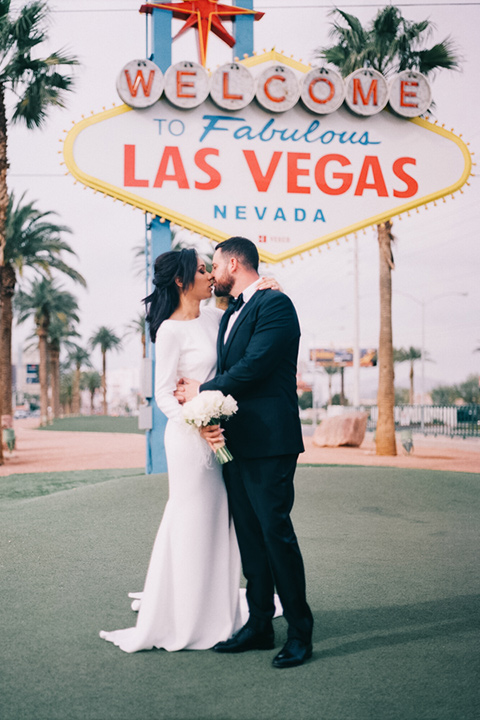 Photographer: Pure Light Creative
Fun City Pink Motel
The Fun City Motel is a location like no other. It can be seen in the background of famous pop culture moments like The Killers' album photography and even in the movie Vegas Vacation when the Griswalds get married! This fun pink motel is farther down the strip near the Stratosphere. Trust us, your photos here will never disappoint. Just take a look at this gorgeous shot by Chelsea Nicole Photography for proof!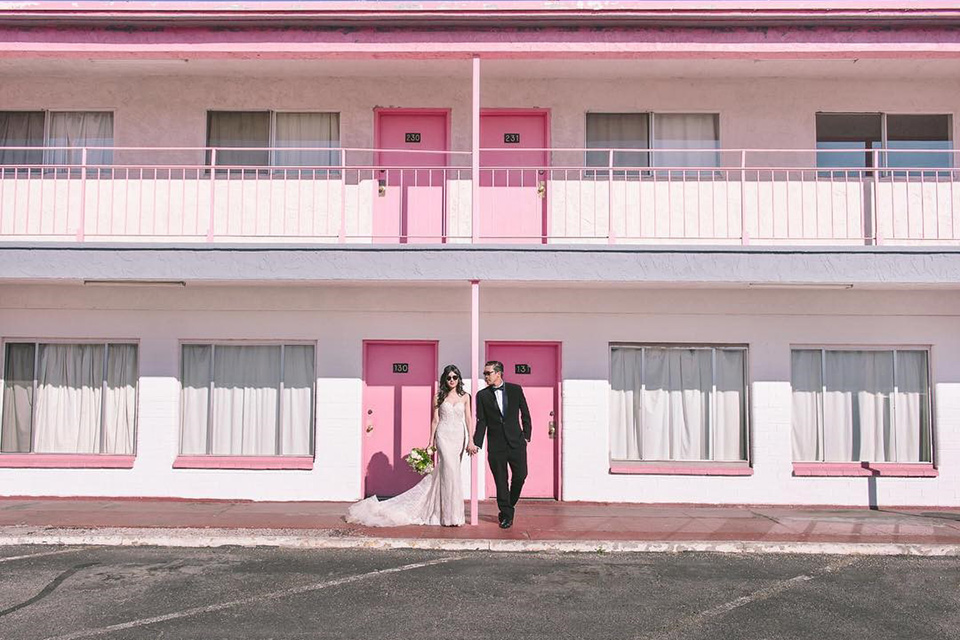 Photographer: Chelsea Nicole Photography
7 Magic Mountains 
The Seven Magic Mountains just outside of Las Vegas is exactly like what its name states, magical! The colorful art installation sits about 20 minutes from the strip is totally worth the trip. (Great news, the Bureau of Land Management issued a three-year permit extension for the artwork, allowing the installation to remain up until the end of 2021)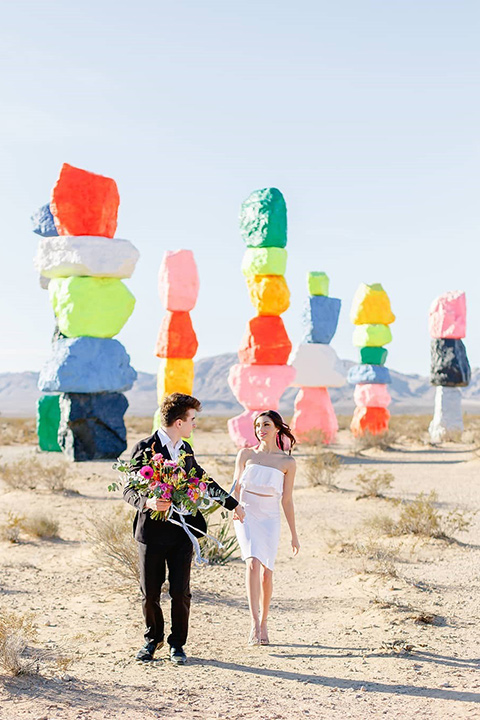 Photographer: Tiffany Sangster Photography
The Neon Museum 
The Neon Museum is a magical place to take your wedding day photos! Regardless if you go in the daytime or night, your images will turn out perfect! This is a location where you will need to pay for a ticket, so be aware and make accommodations ahead of time to ensure that it is not sold out. The tickets range from $22-42 depending on the time and session length you sign up for. Click here for more information.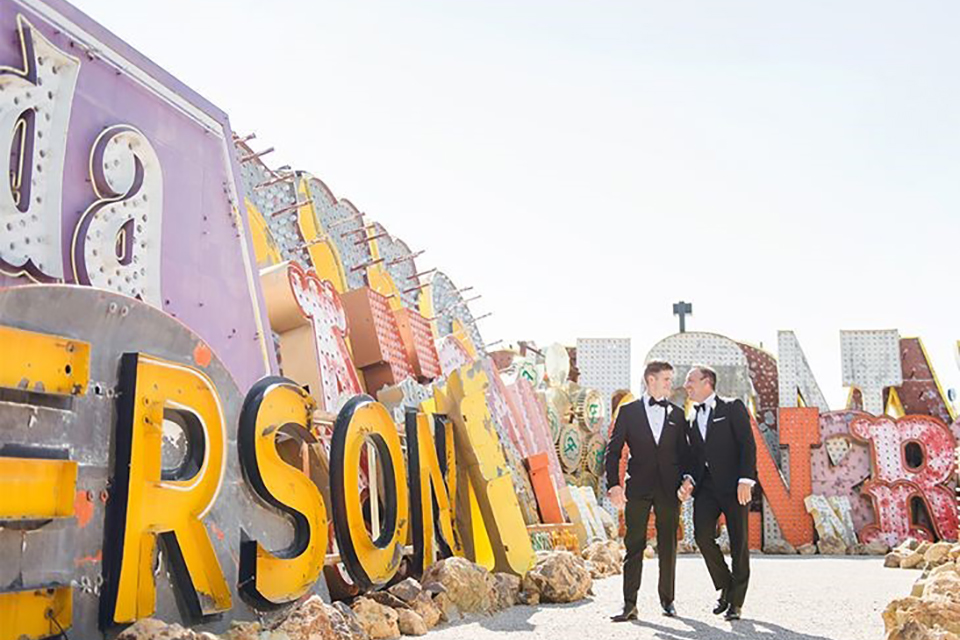 Photographer: Chelsea Nicole Photography 
Symphony Park
Now this one is slightly outside the strip, but only about 15 minutes in the car and trust us it will not disappoint!  Symphony Park is a Las Vegas staple is a great location to take fun colors with a bright and bold background. There is also a fountain and several other art pieces that will make your trip to this location more than worth it!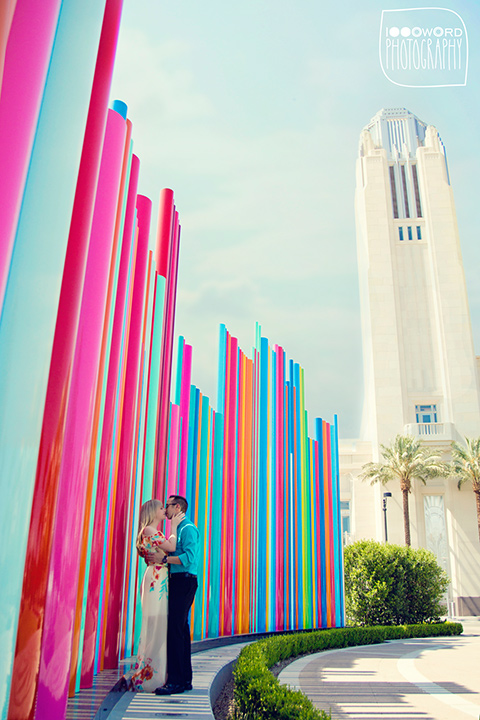 Photographer: 1000 Word Photography
Full List
Las Vegas weddings are about fun and color, glamour and rock 'n roll- and those special couples who get married there are no different in variety. With where to take your photos, comes a second part of the magical puzzle: the attire! For memorable moments, make sure you are wearing memorable fashion. We have printed tuxedos, James Bond style, pink, velvet, teal…faux leather bow ties, velvet bow ties, patterned long ties, suspenders and lapel pins! Trust us, whatever style you are needing to make your wedding pop, we are there for you.
Want more tips on planning your Las Vegas wedding? Pop over to our other blog for the insider's scoop on How to get Married in Las Vegas!