Happy International Women's Day! The Stylists at Friar Tux understand that not every woman wants to wear a dress to a black-tie event, engagement shoot, function, school dance, or their wedding! We embrace whatever style or event you want to dress up for and are here to make your tuxedo or suit goals happen!
From Emma Stone, Zendaya, Ellen DeGeneres and beyond celebrities have always embraced the female tuxedo or power suit for a look to Hollywood's big events. Heck, Diana Ross wore a satin tuxedo and ascot in 1973 to accept her Academy Award for "Lady Sings the Blues". This style classic can be done in both modern and traditional ways. In this post we will breakdown fun ways to style a women's suit or woman's tuxedo look for any occasion.
Vintage Vibes
The rockabilly and vintage style is a fun and subtle way to rock a tuxedo. It typically involves classic silhouettes and accessories, paired with fun up-dos and accessories. Here our fierce model rocked her rockabilly look (pun intended) with effortlessly chic vibes and perfectly styled bangs.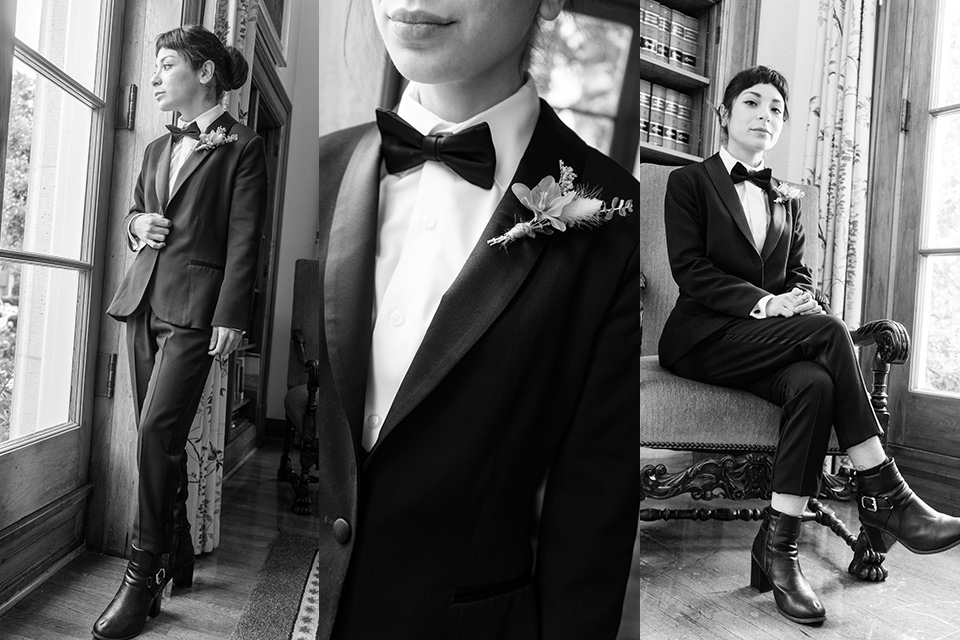 Glam It Up
Keeping with the vintage theme, that old Hollywood glam style will never go out of fashion ladies! For you power women who love to keep it simple, pair your fitted black tuxedo with a retro finger-wave and a pair of pointed toe pumps. (For those who want more color, add a pink or green velvet shoe for a touch of flare).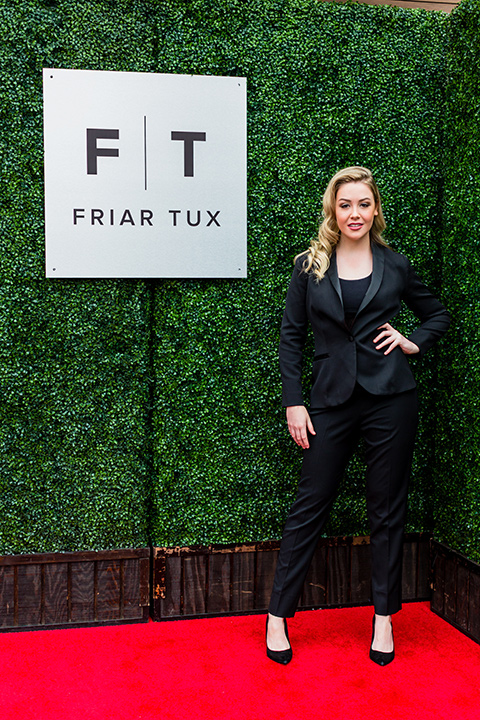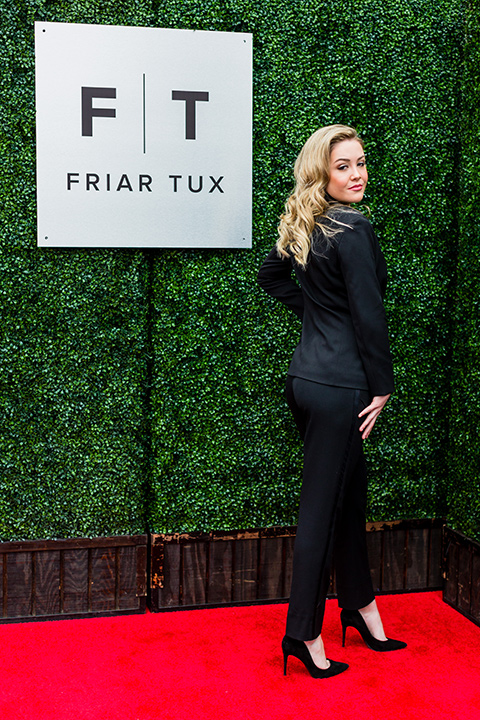 Classic Wedding Style With A Twist
A great way to play up that menswear inspired style is by wearing our modern black women's shawl lapel tuxedo with traditional accessories. The tuxedo itself is fitted for a woman's shape, but still has a stretch to it to keep you comfortable and stylish on the big day. We love how this bride paired her look with a white shirt and petite diamond bow tie. Let us not forget to mention the amazing cropped pant to elongate her legs and bring attention to the under cool burgundy velvet loafers.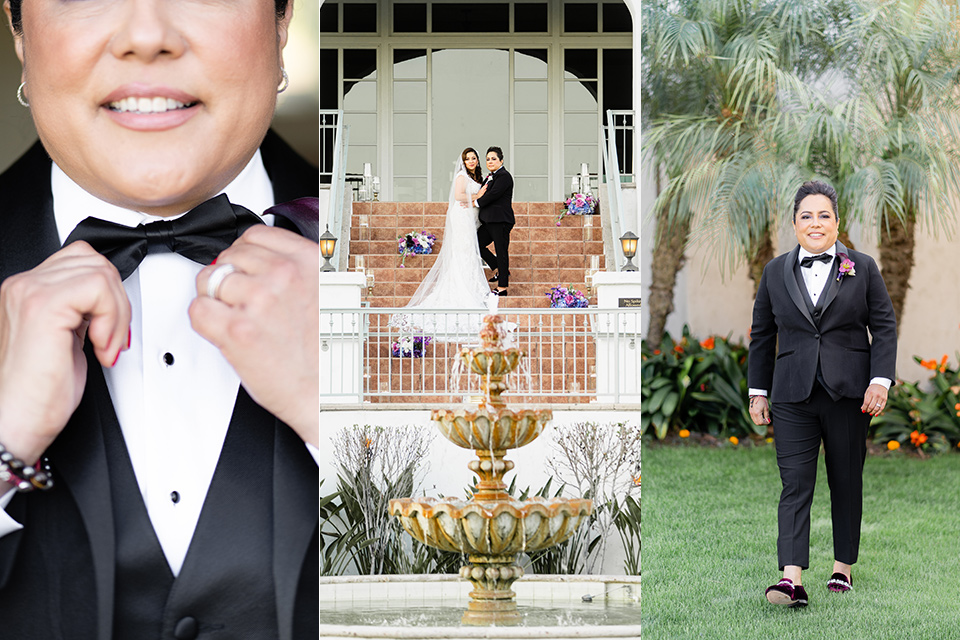 Photographer + Videographer: Hitched Photo
For the Love of Color
Black tuxedo not your thing? No worries, we have many looks that can be fitted to any color scheme you are wanting! Take these stunning ladies for example, one bride wore a rose-pink suit with a black geometric bow tie. The other is in a light blue suit with a wine-colored long tie. Together they show off their own personal style with pops of color while still complimenting the other.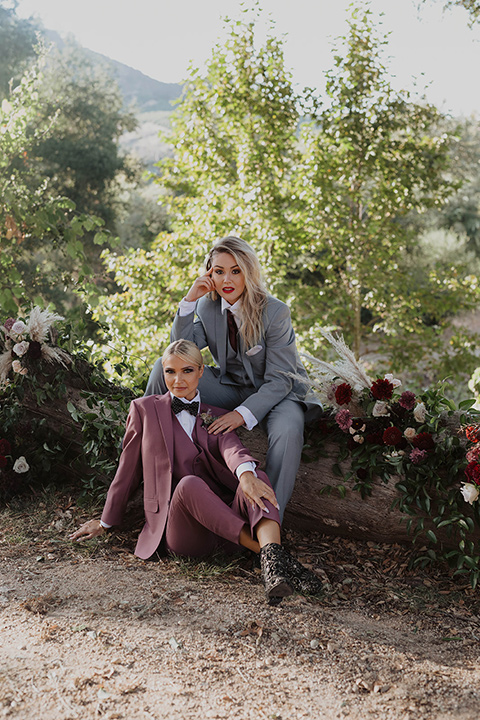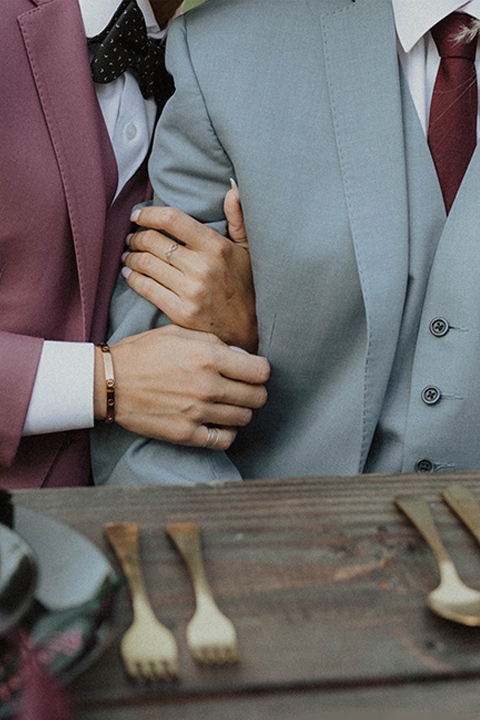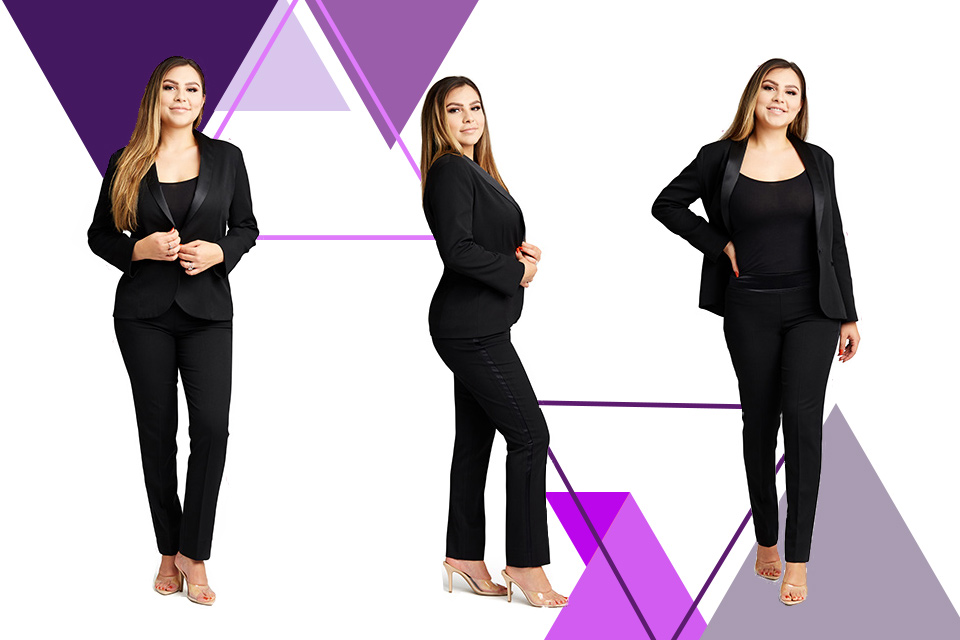 Groomswoman to the Rescue
A trend that we fully endorse is having mix-gender wedding parties. This is when that cousin, sibling, or best friend is just too important not to have by your side on the big day regardless of their gender. This could be men wearing suits to compliment the bridesmaids on the bride's side, or women wearing a tuxedo or suit on the groom's side. Like this wedding for example, this woman took her tuxedo look to a new level with her piercing red hairstyle, peep toe heels, and chic glasses.
Check out our blog How to Style Mixed Gender Bridal Parties for more inspo on how to incorporate this trend on your big day.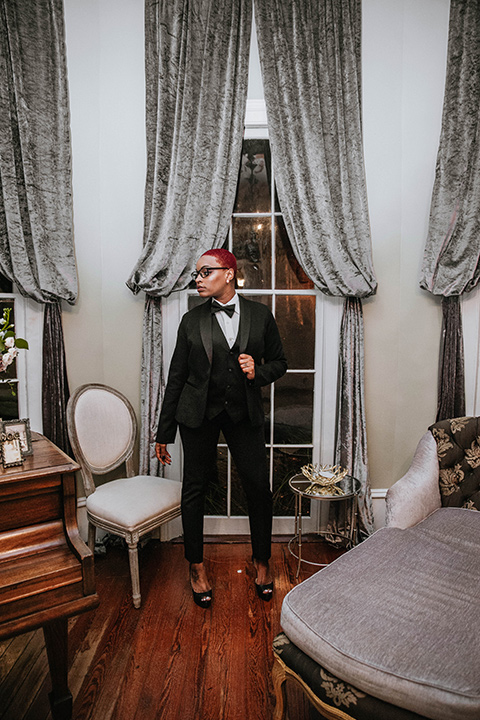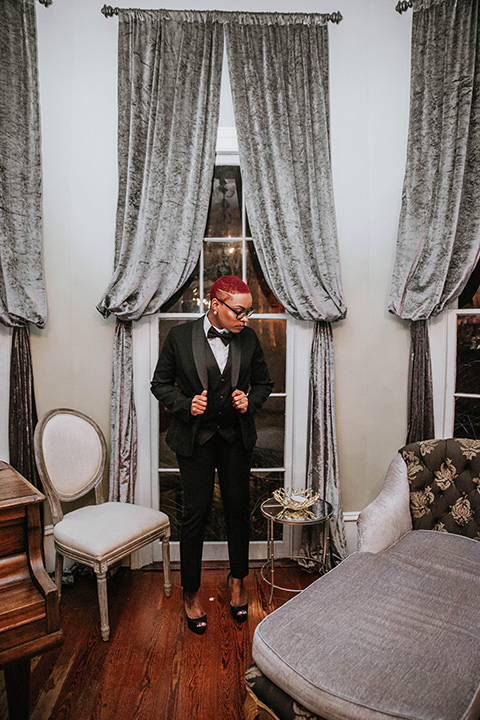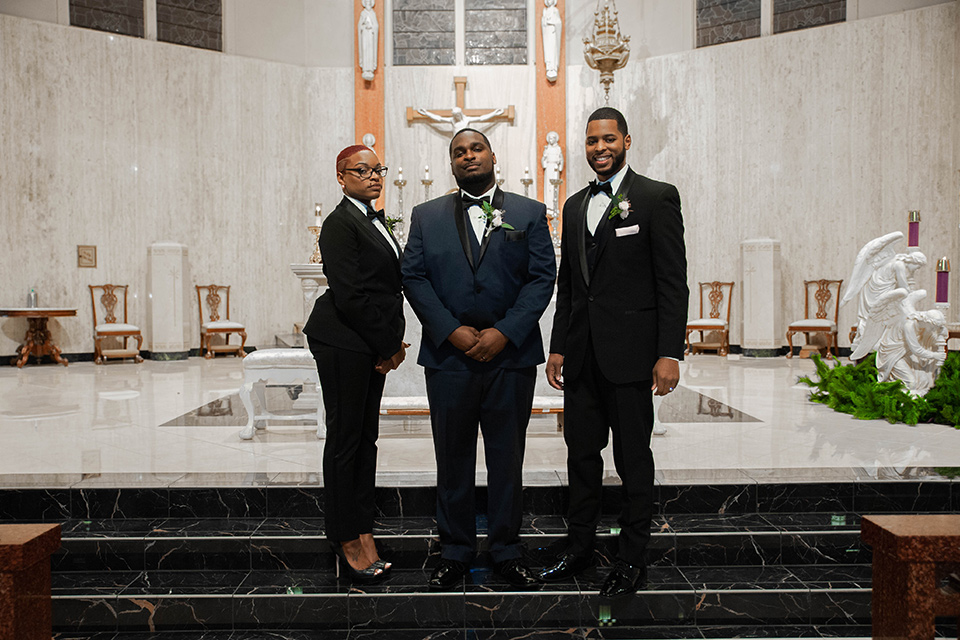 It's Your Prom, You Can Wear What You Want To
Prom is a night of embracing life and having fun. For some young women this time can be filled with dresses, but if that is not your thing wear what you want! We love how this confident young woman wore a rose-pink suit coat and burgundy pants for a fun mix and match look. She finished her look by rolling up the pants for a cropped look and a raspberry colored bow tie to finish off the monochromatic look. All together this group is ready to dance the night away!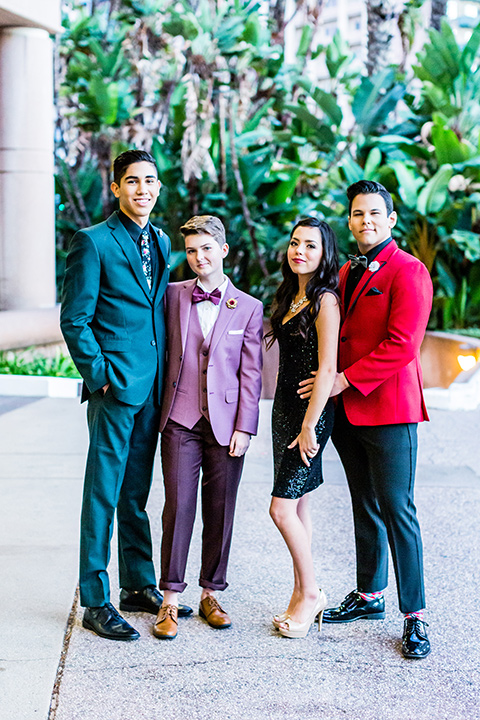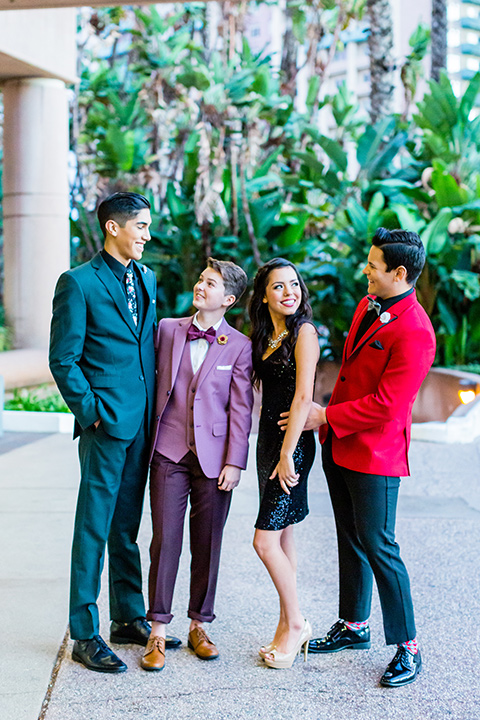 Real Queens Fix Other Women's Crowns
At Friar Tux we strive to be the best versions of ourselves no matter what that entails. We believe strong individuals should not only promote strong individuals, but they should also help raise others up to feel strong as well. Life is hard enough on everyone already, it is our job as people to lend hand to those who need our help or might just need a little extra boost of confidence. By doing this we can come together and help create a gender equal world...and if you want wear a tuxedo while you do it all, we are here to help!