Photography: Peyton Beth Photo | XO and Fetti | Kendall Ann Photography | Two Fourteen Photography |  Lupe Juarez Photography
2023 is quickly approaching, and a new yea means new fun wedding trends.   We here at Friar Tux have complied a list of what we believe will be the biggest trends of the year!
Let's get this count down started:
1. Mix Matching Bridal Parties
Now this trend as been around for a while, it did fizzle out a little during the last 2-3 years but we believe it is back with a vengeance!
There are several ways to do this trend: monochromatically or tonally.  Monochromatic is when you use the same color family (example: different shades of blue or different shades of red).  This is great if you are going for a specifically color throughout the entire wedding. 
The other way, tonally, is when you use different colors in the same color tone.  Like having different dusty shades of blues and greens.  Or using bold oranges and yellows, where the colors do not compete against each other but complement.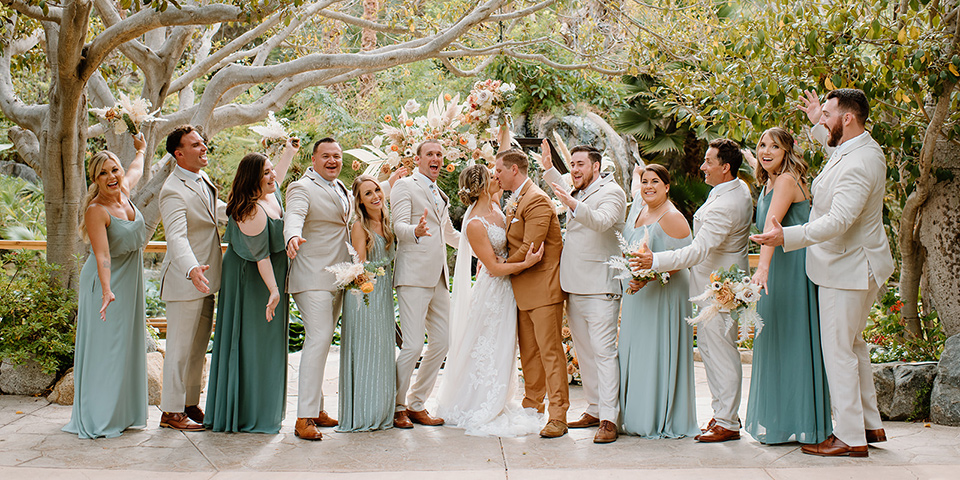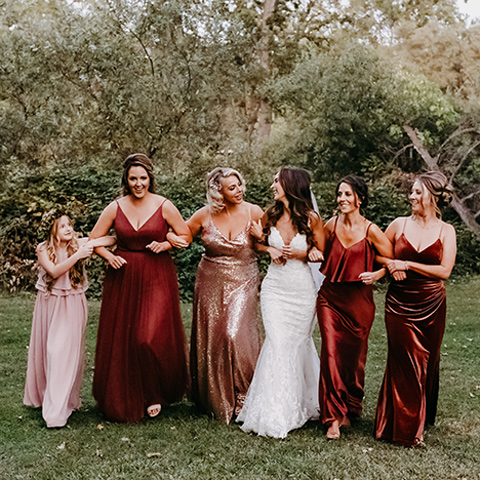 Photography: Karissa Layne Photography | Mary Costa Photography | Liz Koston Photography
2. Champagne Towers
Okay, this one has possibly the best dual purpose ever! You get the sickest pictures, but also you get champagne.  Who wouldn't want that?
Speak to your planner, caterer, and rental company to see if this fun detail is an option for your big day.   Trust us, your guests will be WOWed!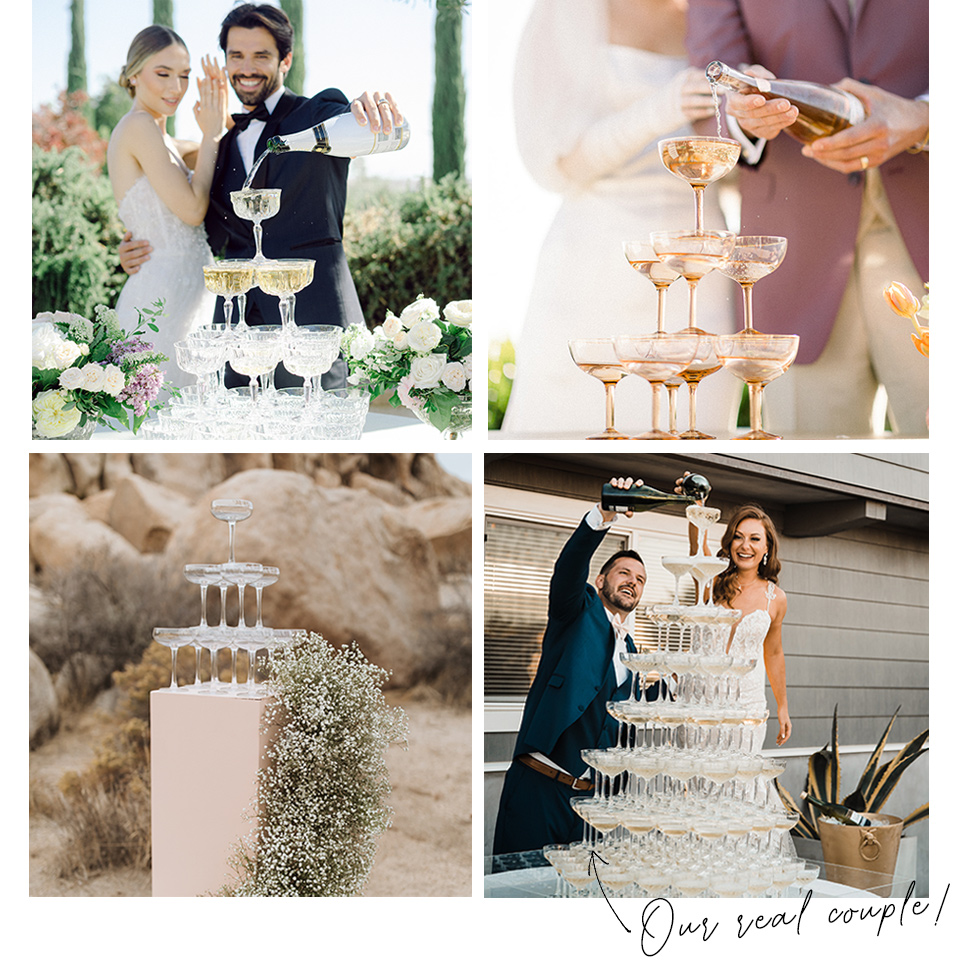 Photography: Mariel Hannah Photography | Two Fourteen Photography | Peyton Beth Photo | Savannah Rae Photo
3. Arch Décor
Arch décor is one of our favorite upcoming trends!  Whether if it is a traditional arch shape, or a more modified abstract style, it doesn't matter the vibe is pure perfection!
We love the boho/modern fun it brings to the overall aesthetic of the wedding day.  Use it as a backdrop, a seating chart, cake topper, and more!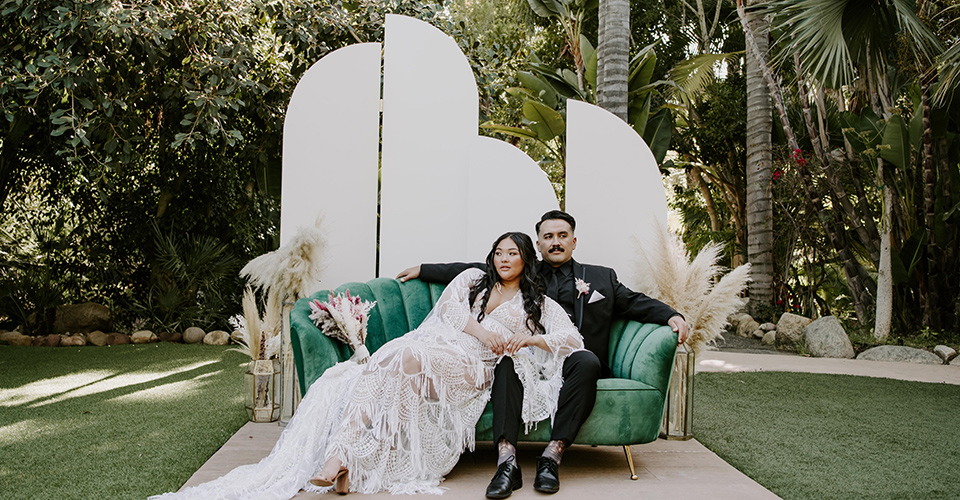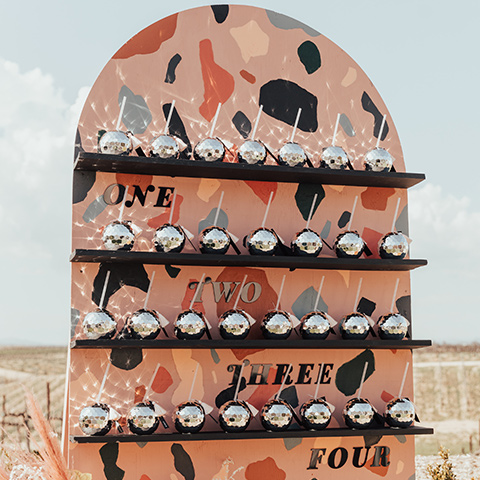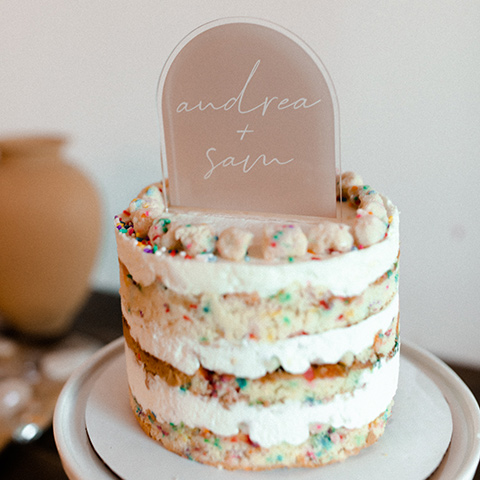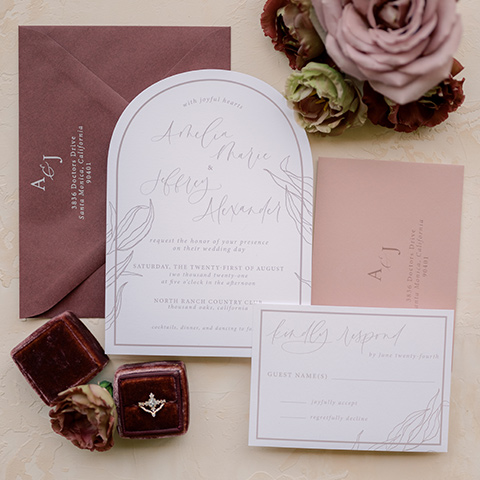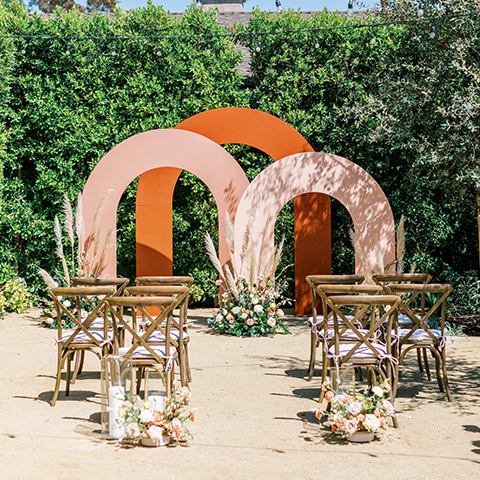 Photography: Shot by Ellen | Brogen Jessup Photography | Ashlyn Savannah Creative | Lovely Light Imagery | Kendall Ann Photography
4. Live Painter at the Ceremony
A live painter is just a show-stopping touch to have at your wedding.  Not only will your guests be in awe, but you will get an amazing keepsake to take home at the end of the day.  Live ceremony painters, like the below artists (Alicia Anne Art, Four Things Paper, and John Garcia Events) are so talented and special, and we think it is one of the coolest trends we are seeing in weddings today.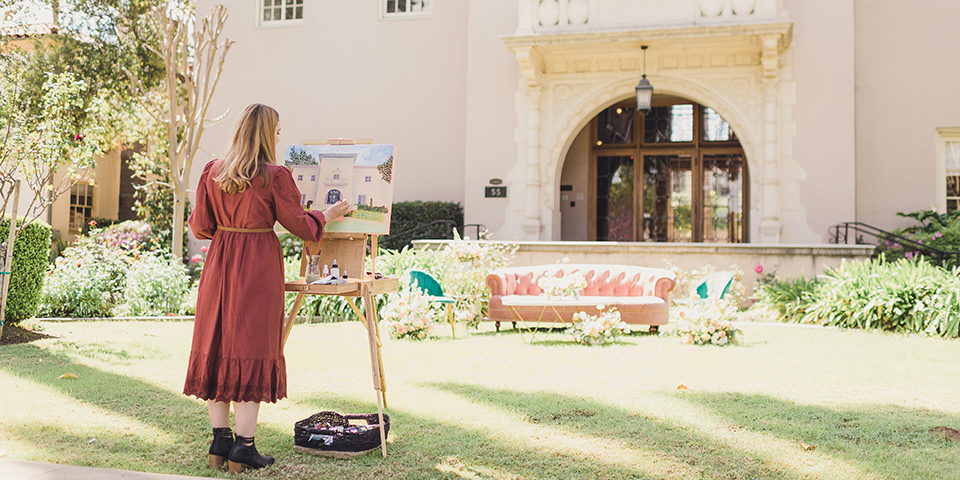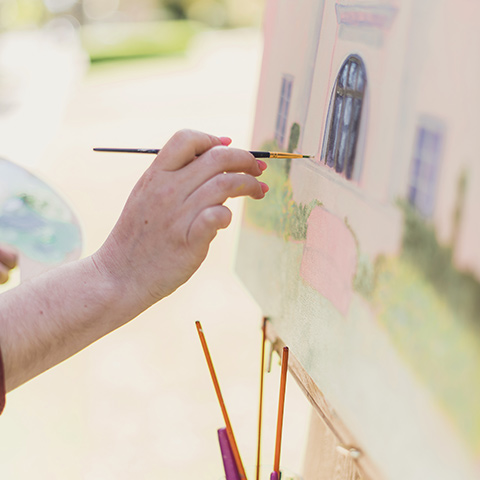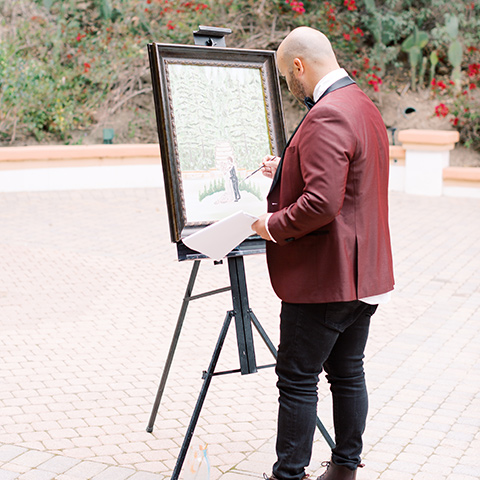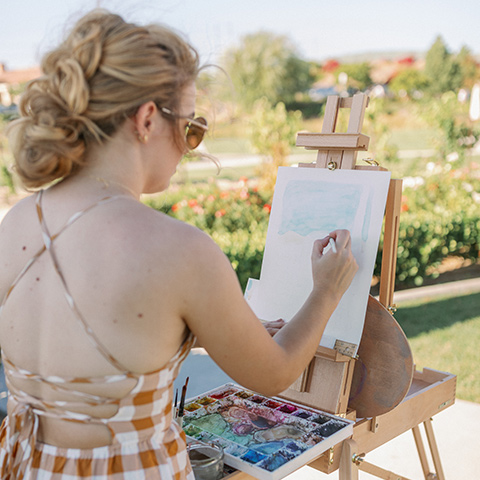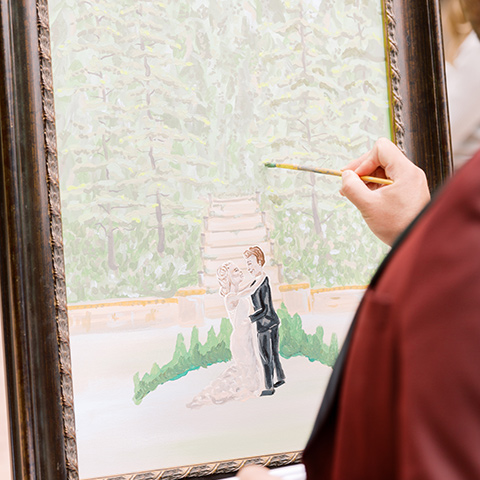 Photography: Sun & Sparrow Photography |  Emi Fujii Photography | Moose Studio
5. Celestial Details
If you love someone to the moon and back, why not have that theme in your wedding?!  This trend is pure magic and we love it.  Have celestial details in your invitations, cake topper, desserts, backdrops, and more!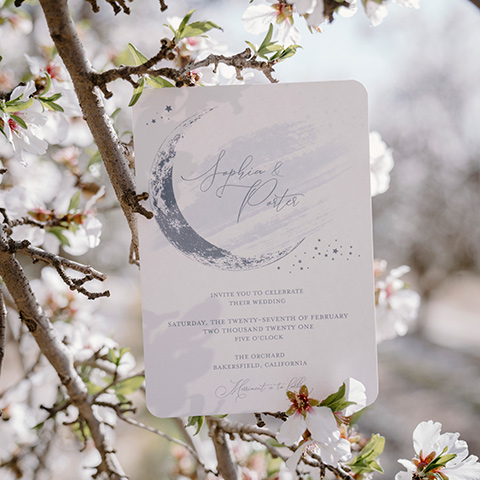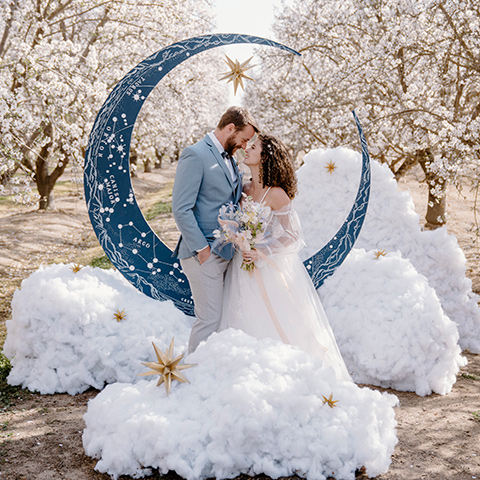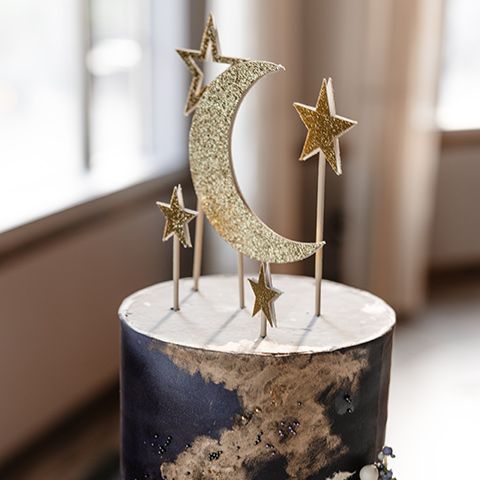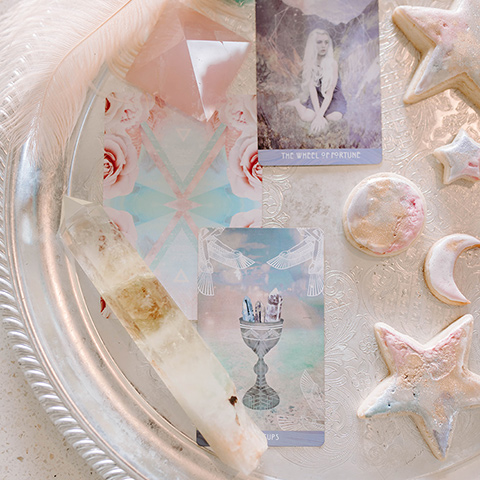 Photography: Sam Rae Makeup and Photography | True Colors Creative | Foolishly Rushing In
6. Chic Lighting
When it comes to lighting, why go basic when you can go bold?!  Twinkle lights over the reception table makes for a stunning reception moment, or if you want to go even more romantic add a lot of candles (regular or battery operated) to your tables.  The ambient glow will make the vibe amazing!
We also love when a table has a hanging chandelier like this bottom image.  It adds a level of fun to the overall design.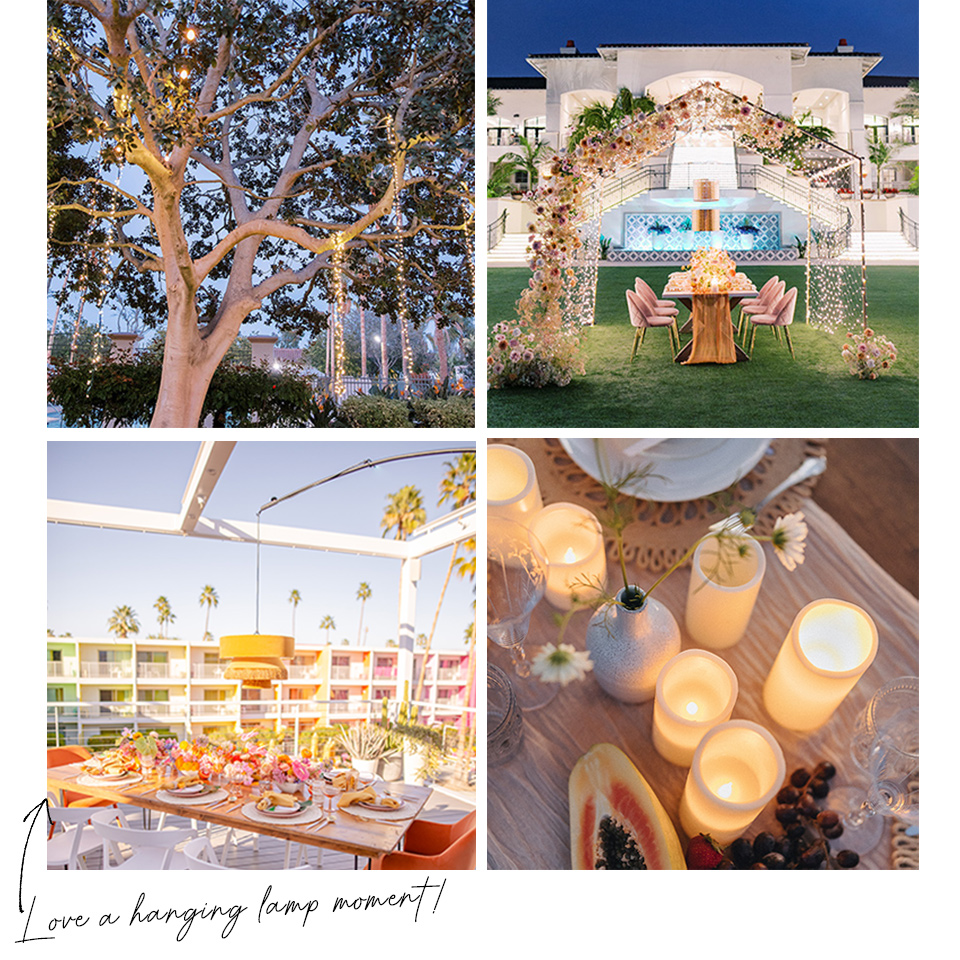 Photography: Katie Jackson Photography | Mandy Ford Photography | The Jekalo Collective | Miranda Rose Photo
7. Bold Bridal Gowns
Okay, ladies, bold bridal gowns that make a statement are hitting the salons in abundance! Flirty sleeves, bold colors, fun prints, and voluminous ruffles are just a few of the ways you can make your dress your own.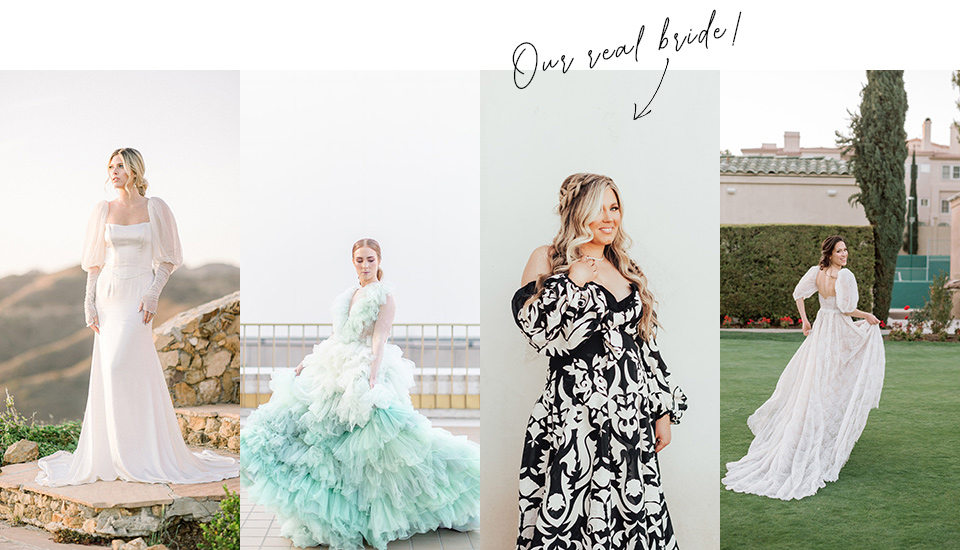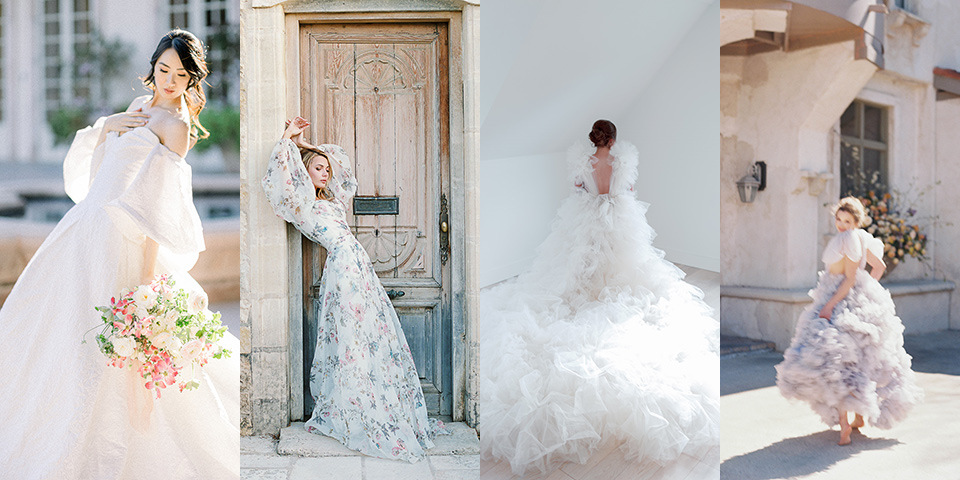 Photography: Two Fourteen Photography | Camila Margotta Photography | Brogen Jessup Photography | Lovely Light Imagery | Two Fourteen Photography | Lucy Munoz Photography | Micahla Vaughn Photography | Jenna McElory Photography
8. Disco Ball Designs!
This trend is a fun one…disco balls!
Disco balls are fun, and there is just no other way to put it! With the expanse of retro weddings, comes the use of disco balls.  We love how the weddings below used them in the ceremonial backdrops, the cake topper, reception décor, and more!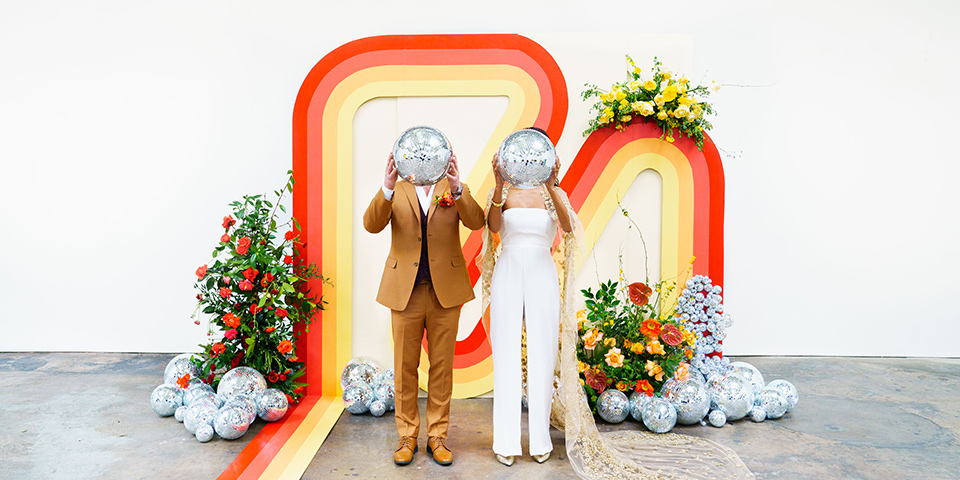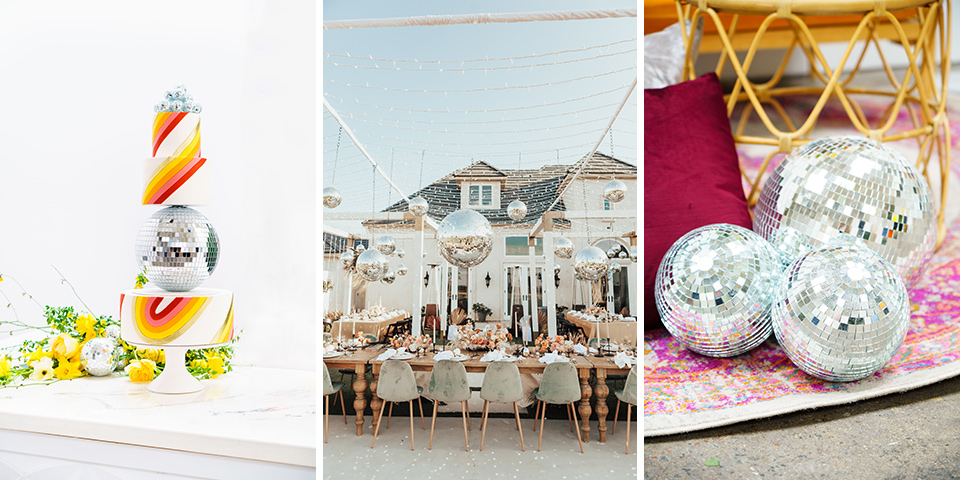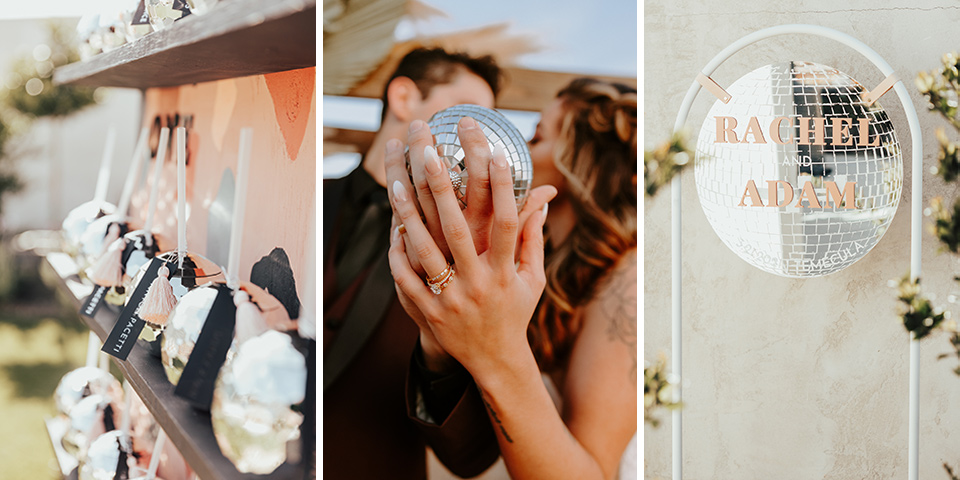 Photography: Peterson Design & Photography |  Brogen Jessup Photography | Pretty Branch Photography
9. Statement Florals
Now we know what you are thinking: "Friar Tux, every wedding has flowers.  How are flowers on your top trends list?" Well, we are not just walking about any type of flowers – we are talking about statement floral creations from the ceremony to the reception…

Ceremony Moments
Bold ceremony florals as the backdrop for the I-do's are so chic! The way your pictures will be elevated are amazing, look at these amazing creations below.
First, Blooming Bells in Las Vegas created a bohemian dream with pampas grass and light colored flowers blooming in all directions.  Then New Creation Floral artistically put together a bright and bold fall-inspired moment with this green, red, and orange ceremonial arch.  Then SWD Florals used golden-toned flowers to create a cascading I-do moment (also how awesome does that gold velvet tuxedo look next to those amazing florals?).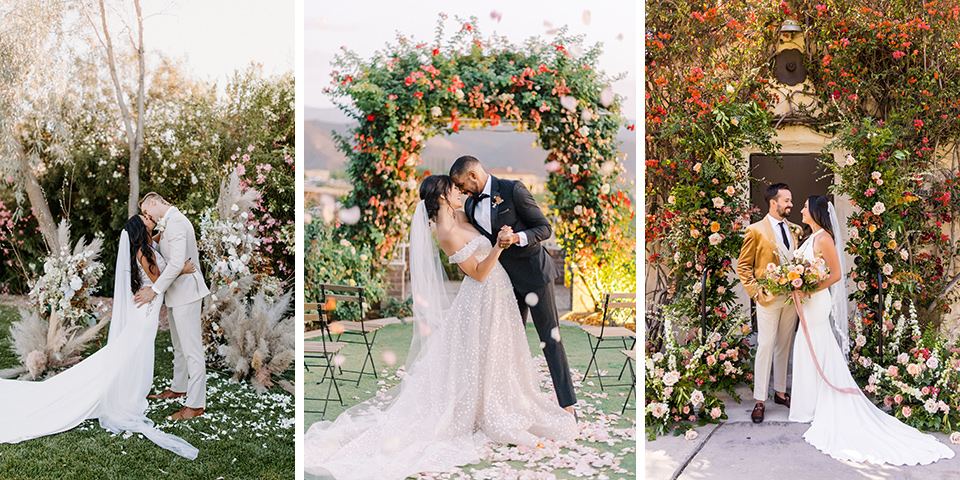 Photography: Karla Grzankowski Photography | XO and Fetti | Jamie Davis Photography
Show Stopping Tables
Table florals are always a must, but what we love about these creations is how the flowers are the showstoppers of the entire table design!
The way they almost make the tables look like a garden is so gorgeous and fun!  Blooms by Brooklyn put together a mixture of colors and textures that made the flowers look like they were glowing!  Then Studio Fleurish created the most Spring-inspired perfection that we have ever seen! Pinks, oranges, greens, enhanced with bold pink taper candles…just wow!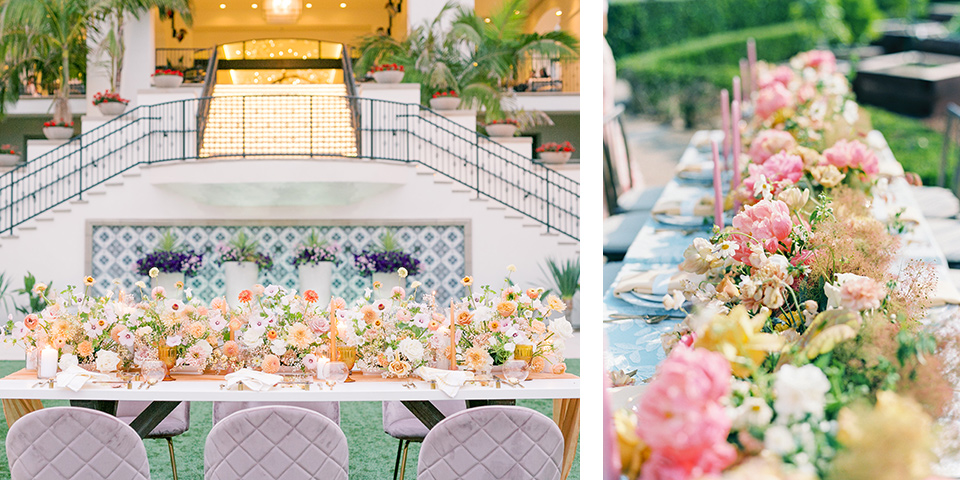 Photography: Mandy Ford Photography | Calvin Elizabeth Photography 
Levitating Arrangements!
Okay these next creations are something we have never seen until recently and were just mesmerized!  Levitating…floral…arrangements! Are you kidding?!  So chic.  These creations can be used over reception tables or as a ceremonial backdrop, the uses are endless.  
Sungrown Floral made a fun boho-style with pampas grass, paper fans, and other dried florals.  The Petal Exchange created a whimsical cloud made of lilac, green, and white baby's breath!  And Boho Chic Dreams made a modern levitating garden that has texture and an asymmetrical design – and we are living for it.

Photography: Jess Living Photo |  Lupe Juarez Photography | Katie Jackson Photography
10. Groom Outfit Change
Now, brides have been changing into a party dress for the reception for some time now.  But grooms have not really joined in on the outfit trend….until now!  We predict that in the next year of weddings grooms will embrace their "party attire" side with an outfit change.  Take the bottom two weddings as an example –
For the first wedding the groom wore our White Shawl Lapel Dinner Jacket with a pair of black tapered pants.  For his party look he swapped his look by wearing a Black Peak Lapel Velvet Tuxedo and a pair of slim fit white pants!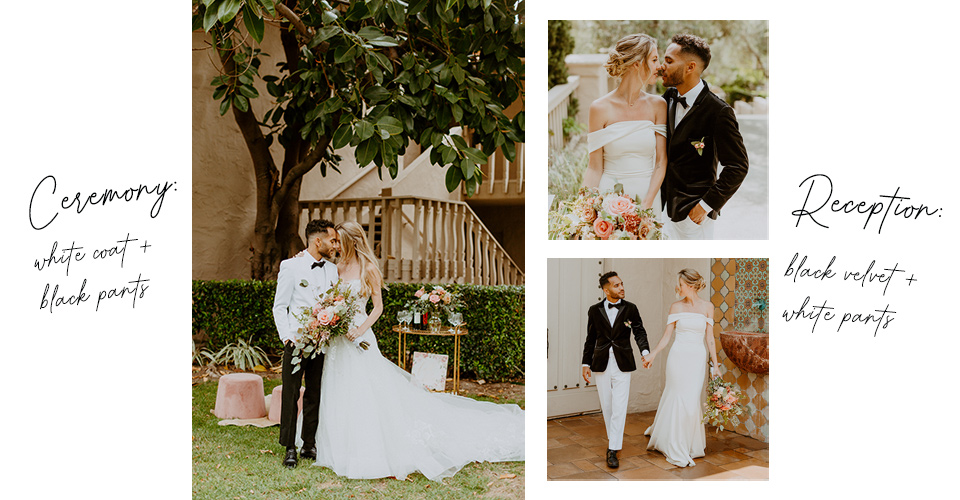 Photography: Montana Crumlish Photography
The second wedding went an easier but even more bold moment by just doing a simple coat swap.  For the ceremony he also wore our White Shawl Lapel Dinner Jacket, and then he swapped out the coat for a Gold Velvet Shawl Lapel Tuxedo! We love the way this gold velvet tuxedo really shines and bring a level of fun to the reception.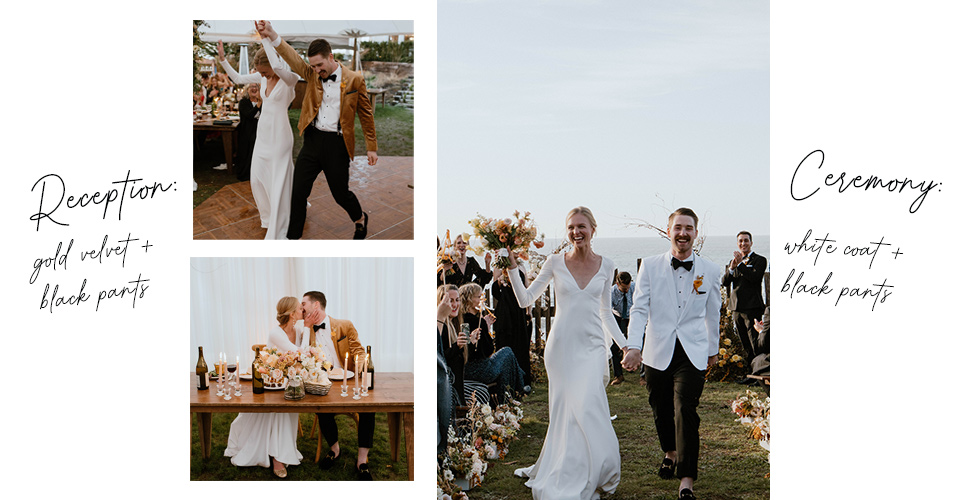 Photography: Nel Meerman Photography