Did you know that the tuxedo officially came on the scene in 1865 when the fashionable Prince Edward VII requested a formal lounge suit without all the extravagant trimmings of the traditional tailcoat?
Just to give some quick insight, a tuxedo is a formal version of a suit. Typically it has satin on the lapel and satin covered buttons, giving it a more elegant touch. In this style guide we will show you all the various versions of a tuxedo and how they can be styled. From the classic black tux to the vibrant colored tuxedo, stay tuned for some serious fashion!
---
Classic Notch Lapel Tuxedo
This classic style will withstand the test of time and has for the better part of 150 years.  When we talk about the lapel of the tux coat, we are referring to the folded flaps framing the neck and chest.  This style is called the 'notch lapel' and as you can see, it is called that due to the small notch cut out of near the neck of the suit.  This style is typically paired with a bow tie and patent leather shoes.  But if you are wanting to spice it up check out our other neckwear options such as our velvet or patterned bow tie collections. 
And for those who want a little less sweat, and a little more mobility to cut a rug on the dance floor, check out our black tuxedo with notched lapel by Michael Kors.  Our performance fabric tuxedos have both stretch material and COOLMAX® technology making them the most comfortable and breathable rental tuxedo available on the market.
Peruse our full collection of black tuxedos to find your perfect fit.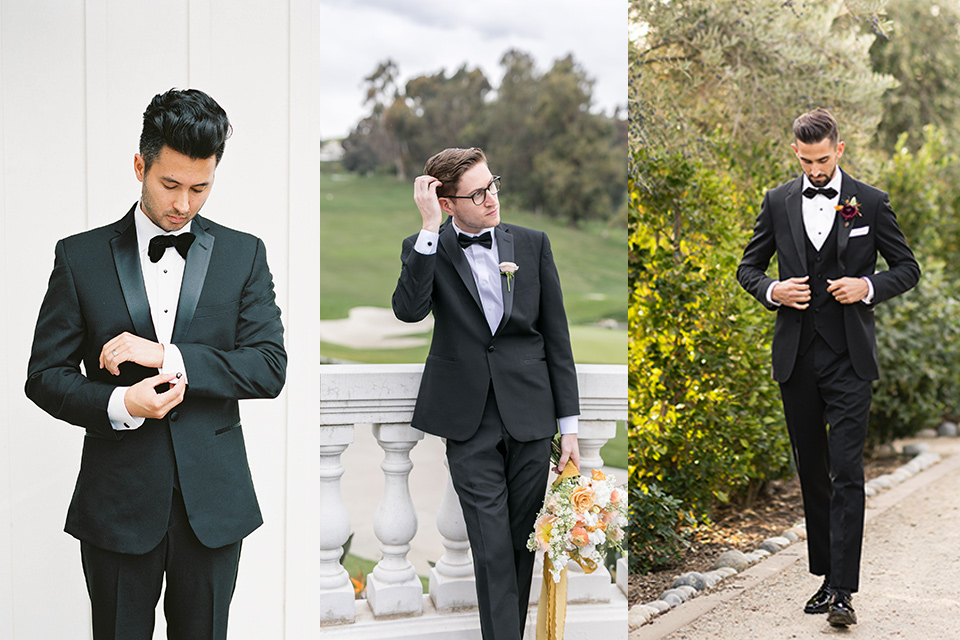 James Bond Shawl Tuxedo
You can shake or stir in this sleek and sophisticated classic shawl lapel tuxedo.  The way the lapel wraps all around the neck in one fluid motion is what makes it the fashion icon it is.  Known mostly for its James Bond appeal in many of the notorious films, this style of tuxedo will make a pop at any occasion! A fun accessory to pair with this tuxedo is our new double-breasted vest for an uber chic look.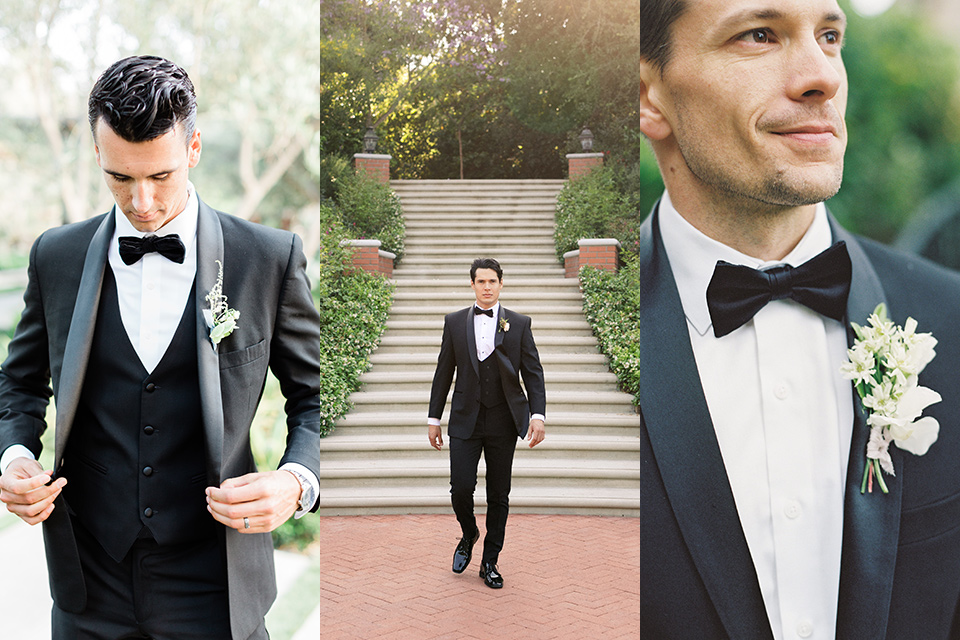 Colorful Shawl
Another way to spice up the traditional style is by adding a pop of color.  This cool tuxedo comes in colors such as: burgundy, navy blue, and grey.  With a few styling adjustments these looks can go with any style of wedding design you are going for.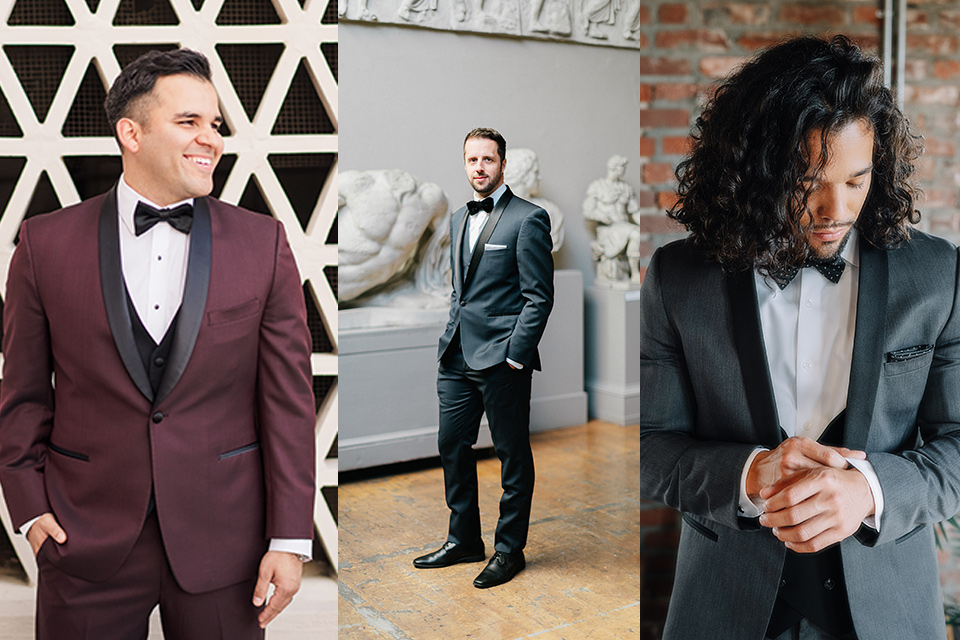 Framed Lapel
The framed lapel style allows our look to teeter between casual and fancy.  Instead of the entire lapel in a satin, it is just the outer edge that is.  Allowing it to be the perfect tuxedo for those upscale beach or winery weddings, and can be paired with a bow tie or long tie.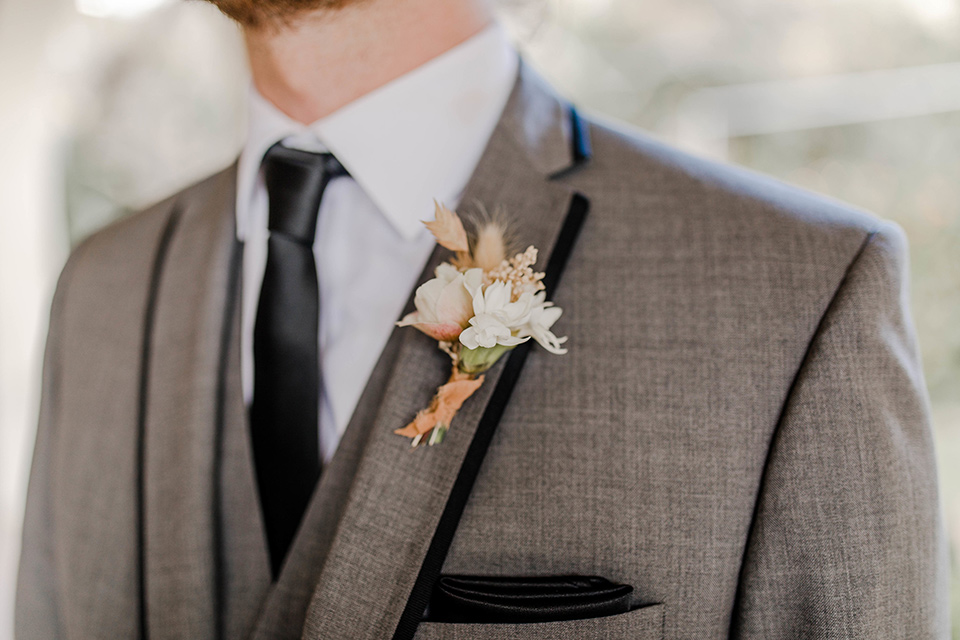 The White Tuxedo & Dinner Jacket
When deciding to go with this classic white tuxedo look, there are two options: the white with a black shawl lapel or the traditional white dinner jacket look.  The dinner jacket means the lapel is made from the same material as the body of the garment, and typically has a shawl lapel.  We love to pair either of these looks with black pants, and a black bow tie. 
Shop white tuxedo coats here.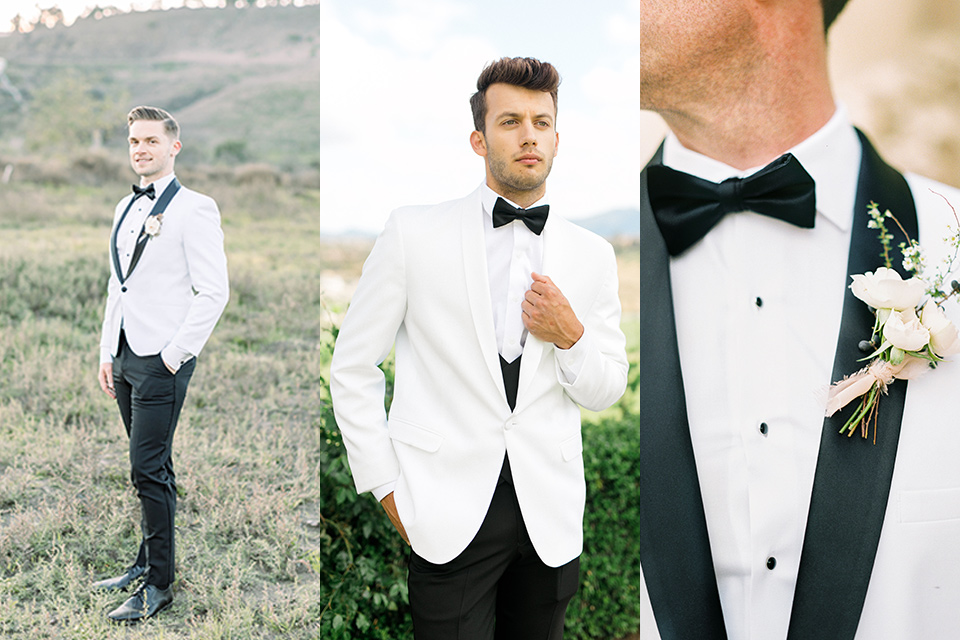 The Trendy Patterned Tuxedo
We love a patterned tuxedo. From small details to over the top style, we are always on board.  Patterns can be used for any wedding theme you are going for by using specific fun accessories.
Ivory Paisley
This ivory paisley coat is pure perfection!  (Fun Friar fact: this coat is named "The Dillion" because of our amazingly chic manager of the Downey location Dennis Dillion who inspired the tuxedo) As you can see below, this look is very versatile.  The first is styled for a bohemian wedding with a deep burgundy vest and bolo tie.  The second style is a much more classic with a pop of flair look.  Styled as if it were a white dinner jacket, this groom is paired with black pants and a black bow tie.  Our last example is for the newest trend 'Coachella' wedding design.  Keeping the look fun with cream pants and a bright colored boutonnière for some POP!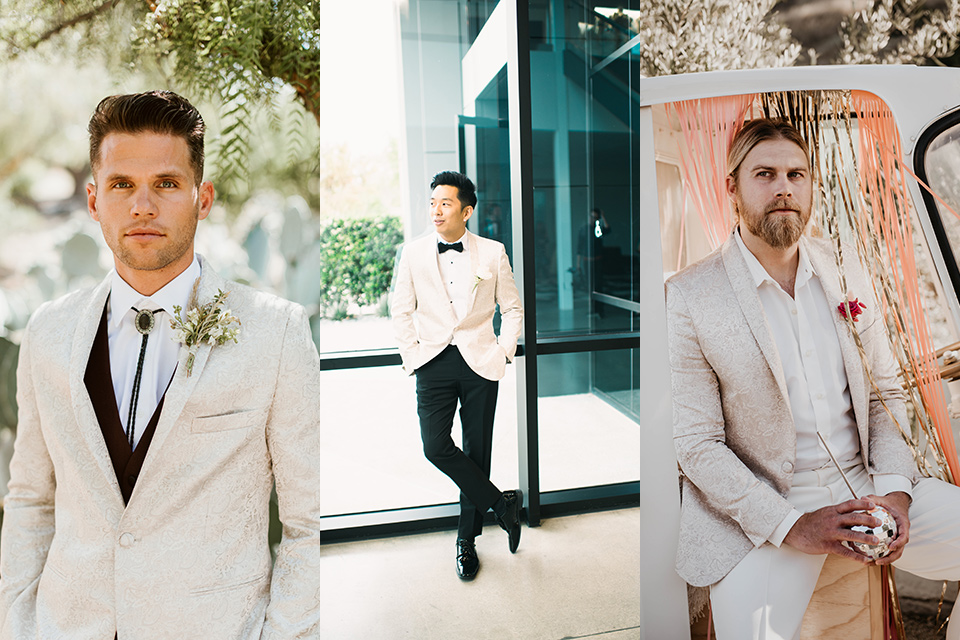 Black Paisley Tuxedo
Now the black paisley tuxedo is rich in style and design.  This tuxedo deserves attention, and rightfully so.  We love how our first groom paired his look with the double-breasted vest and a chic grey velvet bow tie.  This look is a great way to spice up any black-tie event.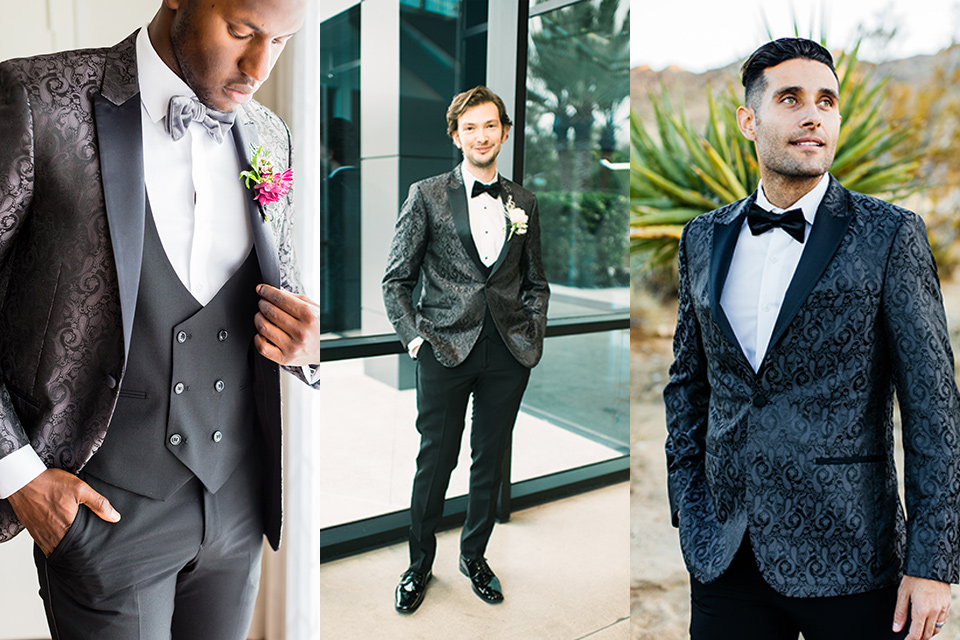 Velvet Tuxedo Perfection
Billy Porter, Chris Evans, Henry Golding, Jason Mamoa… these are just a few names of leading fashion icons who have embraced the glory that is velvet!  Our collection of velvet is everything you need to make a fashion statement.  Gold, black, royal blue, burgundy, green (coming soon!)…whatever color you are looking for we got it!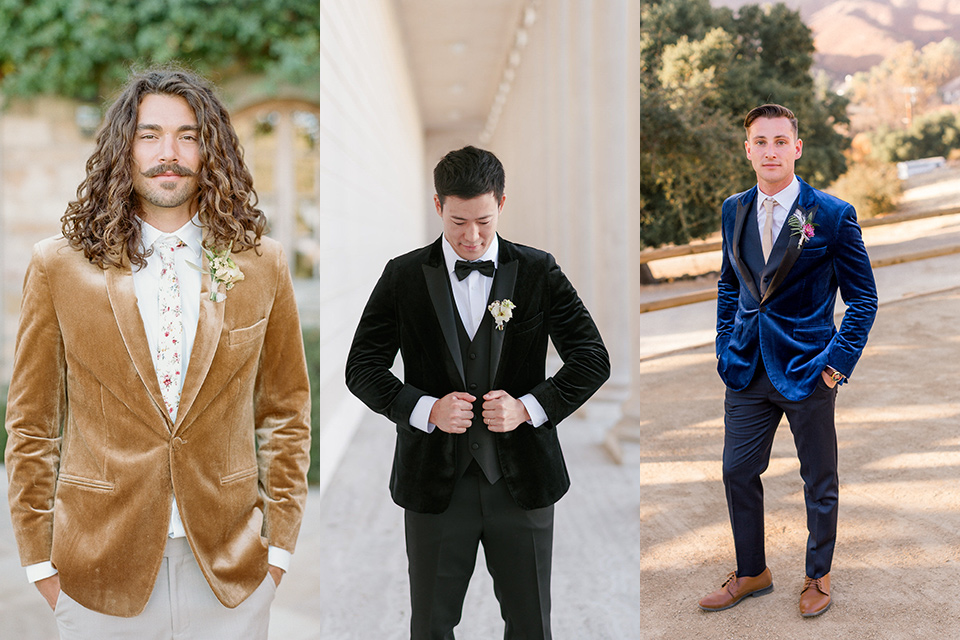 The Women's Tuxedo
The women's tuxedo has been a style fashion statement since forever!  Whether it's pop stars or princesses this iconic look will always be a power move.  Here at Friar Tux we are proud of our female tuxedo, with its stretch material for added mobility and comfort for the woman who wants to dance the night away at any event.  For more ideas and tips for style the women's tuxedo check out our blog posts: International Women's Day Styling Suits & Tuxedos Your Way and 9 Ways to Style a Women's Tuxedo.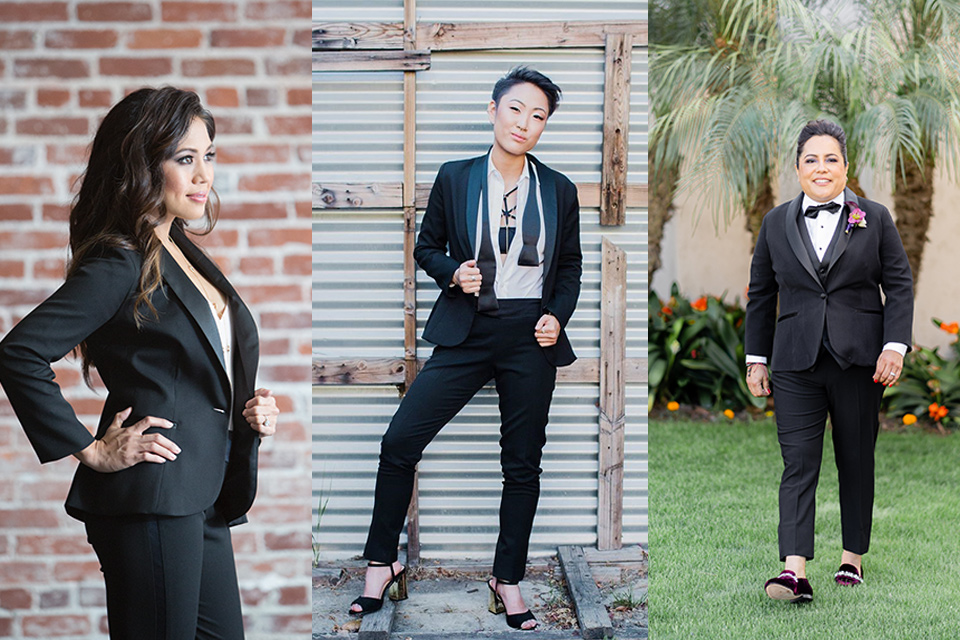 There are so many ways to style a tuxedo to fit your personality, wedding design, and style.  For more inspiration check out our Instagram and Pinterest.  Or send us a message at [email protected] and we would be happy to help you find the perfect look.