Main image photo credit: Krisar Photography
It is a question as old as time (relatively speaking): what color bridesmaids dresses should I go with? Well, here at Friar Tux we are here to help. In this blog post, we will break down the top bridesmaids colors of 2021 and how we can help bring your vision to life! Every year we look at the top gown trends from the major bridesmaid companies around the globe, and make sure we have the perfect items to compliment them for our couples. From the suit or tuxedo color itself, to our 100s of neckwear accessories, and beyond we will show how to create the perfect look for your bridal party.
Let's get this party started!
Bold Blues
Blues are always a fun color for bridesmaids. You can go subtle with a Mist or Steel Blue, bold and bright with Spa or Royal, and dramatic and strong with Navy or Ink. We are currently obsessing over Azazie's Twilight Blue color, it is dreamy and smooth…perfect for a wedding any time of year and any venue.
An easy way to coordinate with blue bridesmaid gowns is with a blue suit or tuxedo. We have many shades of blue for you to create the monochromatic look of your dreams, from light blue to royal velvet and everything in between. For those looking for more contrast, go with a grey or tan suit and bring out the blue in the neckwear. With over 70 shades of blue ties and bow ties created for today's colors from Lulu's, Azazie, and David's Bridal we are confident we can get the perfect look you seek.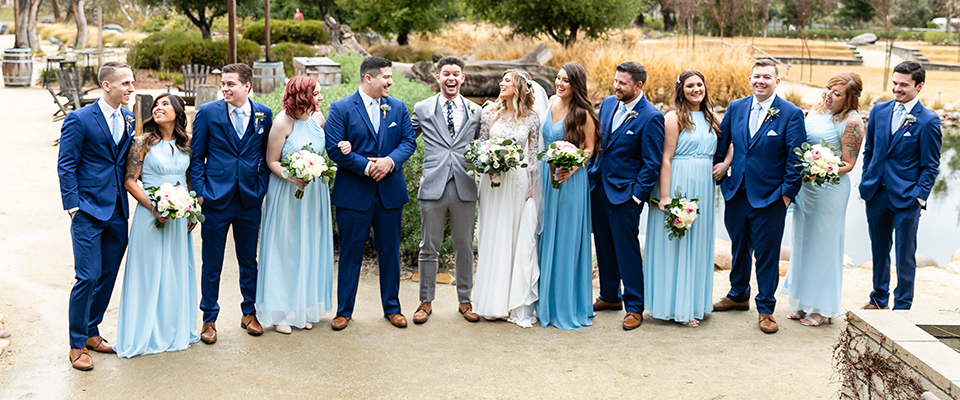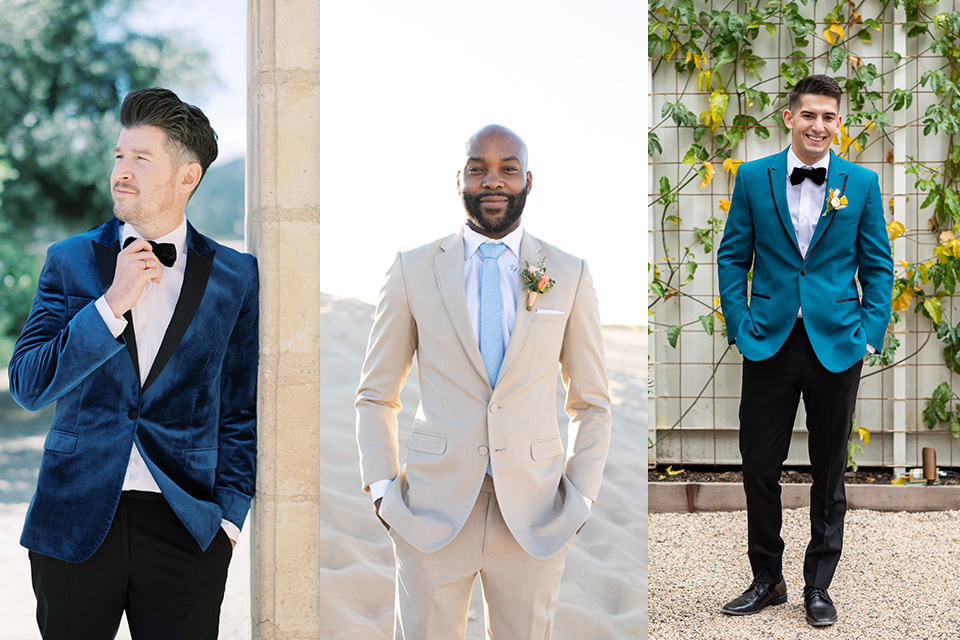 Photography Credit: Leah Marie Photography |  Ester and Smith Photography | Kayla Bowen Photography | Jenna Rose Photography
Buy your accessories:
Another great option is buying your blue accessories. For more accessory options in many shades, these become the perfect look for your groomsmen to use again. (P.S. They also make the best groomsmen gifts).


Desert Sunset
One of our favorite trends that has been hitting the wedding industry by storm is this desert inspired color palette. It is this mixture of warm pinks and oranges that are just stunning for any theme. The top bridesmaid colors for this design motif are Cinnamon, Desert Coral, Rust, and Paprika. Let us not forget about the uber fun English Rose by BHLDN for a pop of desert romance color!
Being complimentary colors, a blue suit will always look amazing with the orange tones of this theme. Other ways to coordinate is by paring the gowns with an earth-toned suit such as our tan, rose, and caramel notch lapel suits. These looks are all great by themselves, and can easily be the perfect base layer to any neckwear color you chose.
Check out our latest neckwear colors from our matte collection: Caramel and Rust!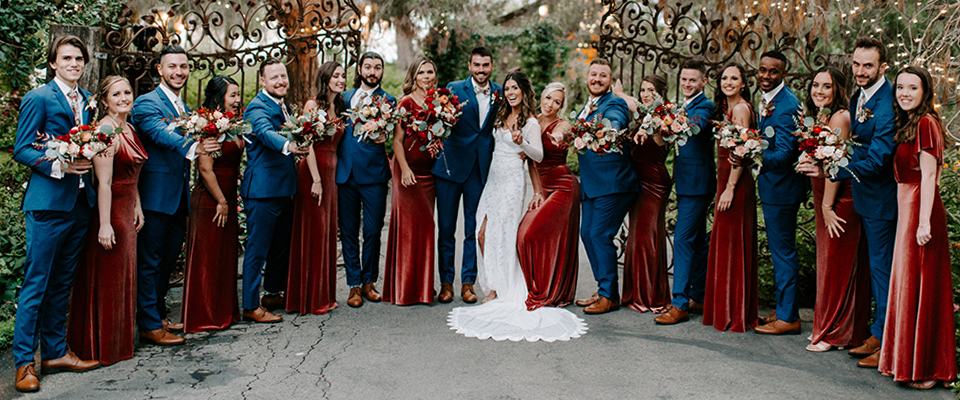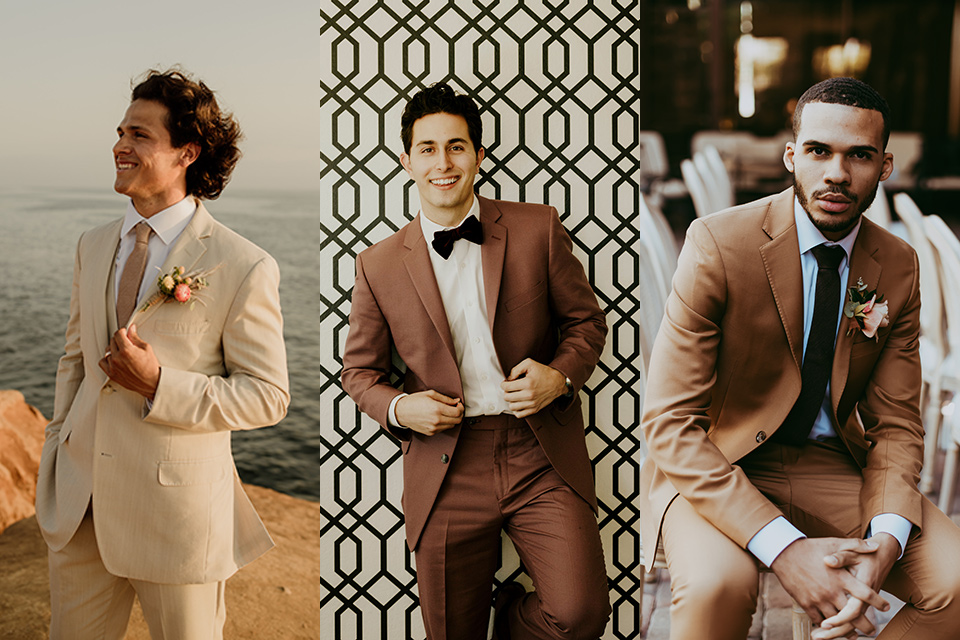 Photography Credit: Britney Moore Photography | Dana Jo Photography | Beba Vowels Photography | Jamie Y Photography
Buy your suit, tux, and accessories:
From tan to orange we have the perfect accessories for purchase to keep you desert cool all year long.


Dusty Delights
Dusty tones are that perfect muted color look that is perfect for any wedding season. Dusty blue was a major trend that took the wedding industry by storm last year, and 2021 is taking it to another level! With bridesmaid colors such as Sedona, Mystic, Lavender Haze, and Dusty Rose it is tempting not to pick all of them for your crew (and you totally can if you want). Let us not forget to mention the lovely Dusty Sage, so make your garden wedding one of dreams.
One way to compliment these styles is by picking one of our softer-toned suits like Slate Blue or Heather Grey.  Or by creating a more dynamic look with a Light Grey and Blue mix and match.  Or go a bit bolder with our rose-pink suit.  Each of these can be perfectly coordinated with our Dusty Blue Matte Tie and Soft Velvet Bow Ties.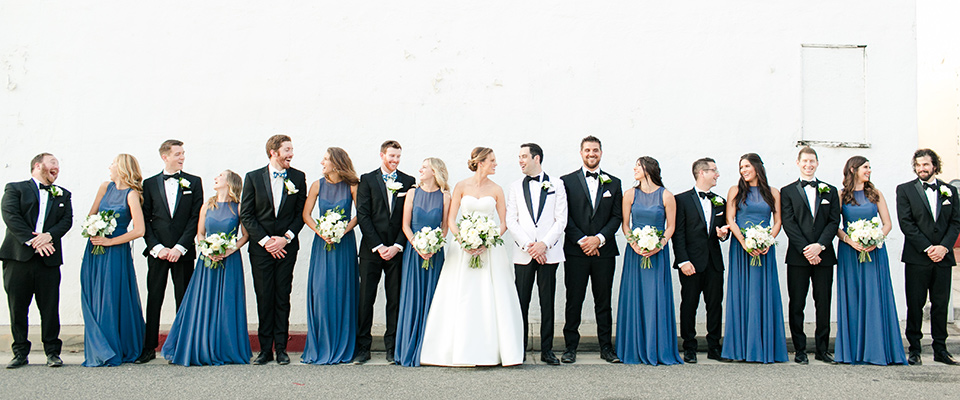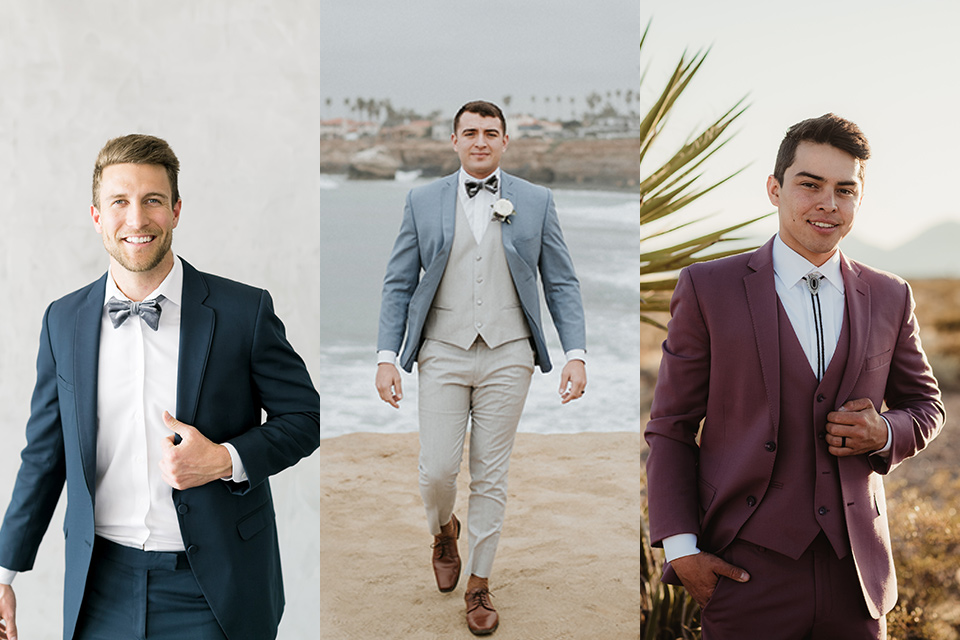 Photography Credit: Kaysha Weiner | Natalie Schutt Photography | Anna Natali Photography | Amber Garett Photography
Buy your suit, tux, and accessories:
Friendly reminder: fun socks are ALWAYS a great idea.

Gorgeous Greens
Green is making a glorious comeback with subtle delicious tones on all sides of the spectrum! From light and airy Mint and Agave to deep and elegant Peacock and Gem. Whichever tone you chose, we got you covered.
With our Dark Green Suit we got your back, literally. Another great way to bring out these bold colors is by pairing them with a neutral suit or tuxedo with our amazing green neckwear collection.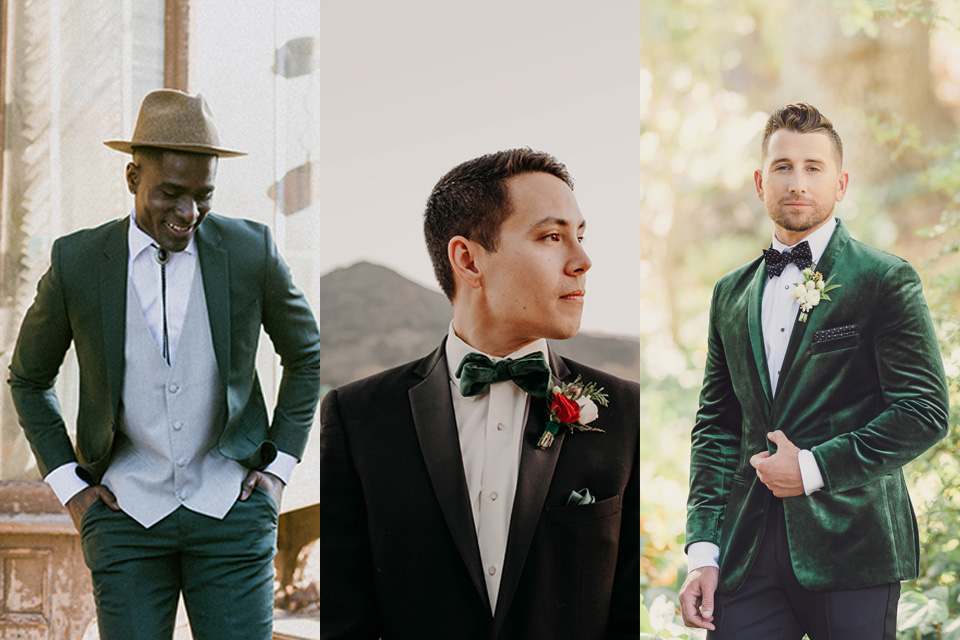 Photograpahy Credit: Three Sixteen Photography | Brian David Weddings |  Jean Photography | Sun & Sparrow Photography
Buy your suit, tux, and accessories:
Take a look at our socks, neckwear, lapel pins to round out your look.  Don't forget our fun cufflinks to remember what hand to put the rings on. 


Modern Neutrals
When color is not really your thing, modern neutrals are the way to go!  These range from Champagne, Biscotti, Mystic, Silver, Black, Ivory, and more.  What we mean by "modern neutral" is that they are traditional colors just elevated for today's trends.  We love when a bridal party keeps with one color of gowns and uses many tones such as the one below.
A great way to compliment this style is by wearing one of our own modern neutral looks.  Our Café Brown Suit is a great combination between a brown and grey suit and amazing texture.  You can also go with one of our Michael Kors Performance Suits in either Heather or Asphalt Grey to really modernize your look.  For neckwear you can keep with a simple, but always a classic, black.  Or you can create a monochromatic look with any of our other neutral colors.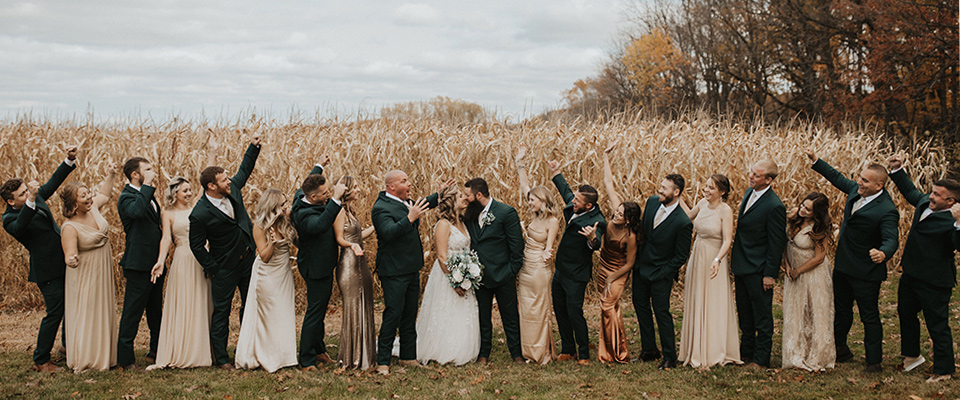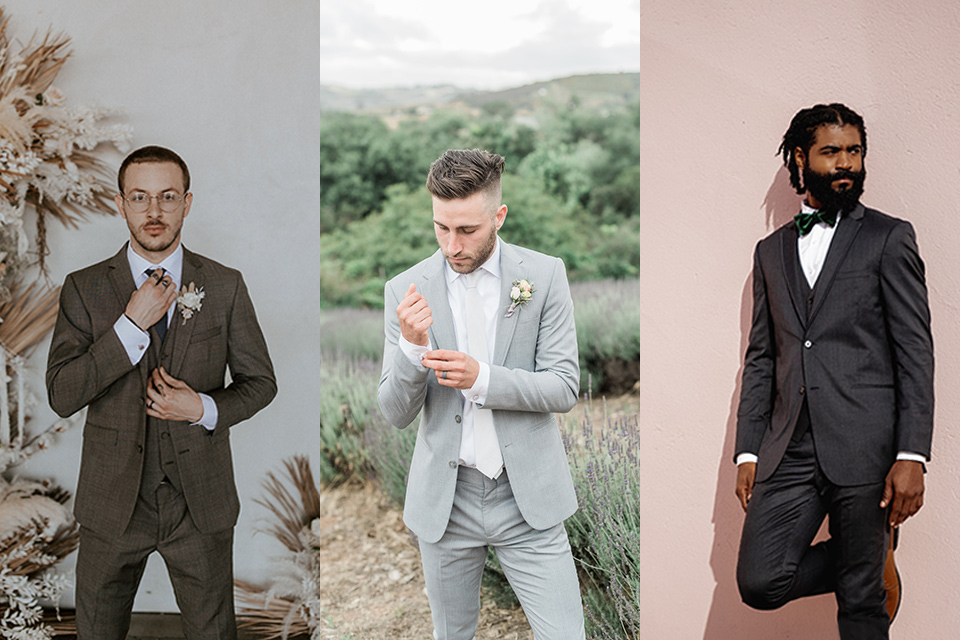 Photo Credit: McKaila Singer Photography | Seth and Company | Elizabeth Le Photography | Kenisha Gill Photo
Buy your suit, tux, and accessories:
Interested in buying your wedding day look?  Check out our blog: Why a Modern Neutral Suit is a Must-Have in Your Closet Today for ideas on how to pick the perfect color suit (if you can pick just one).


Blushing Pinks
Pink has been a wedding staple for decades now because it is simple, stunning, and classic! Blush-tones will never go out of style and we are always excited when a new shade for bridesmaids pop up each year to continue the tradition. From Pearl, Coral, Petal, and Ballet you are bound to find the perfect delicate tone for your big day. We are obsessing over Azazie's new Champagne Rose color!
For pink, there is no shortage of ways to compliment when it comes to menswear. You can go bold with a Rose-Pink suit and a floral tie. Classic garden chic with a Grey or Tan suit and pink neckwear. Or go chic and sophisticated with our Blush Shawl Lapel Tuxedo!
With over 50 shades of pink neckwear options, we are bound to find you your perfect look.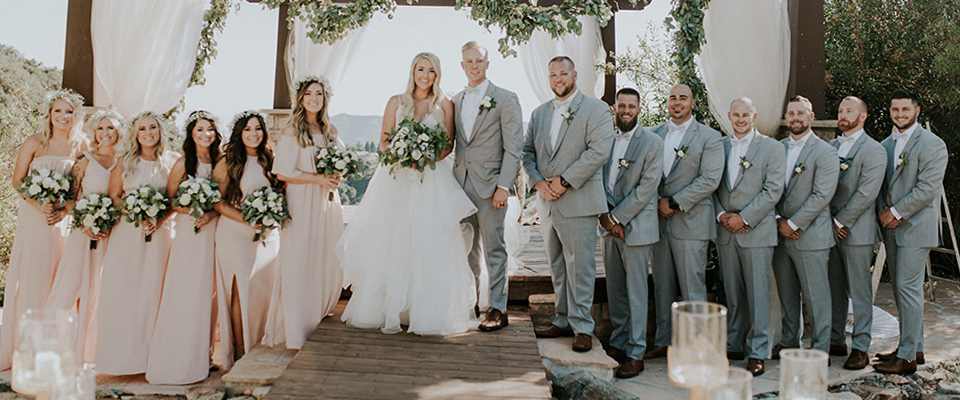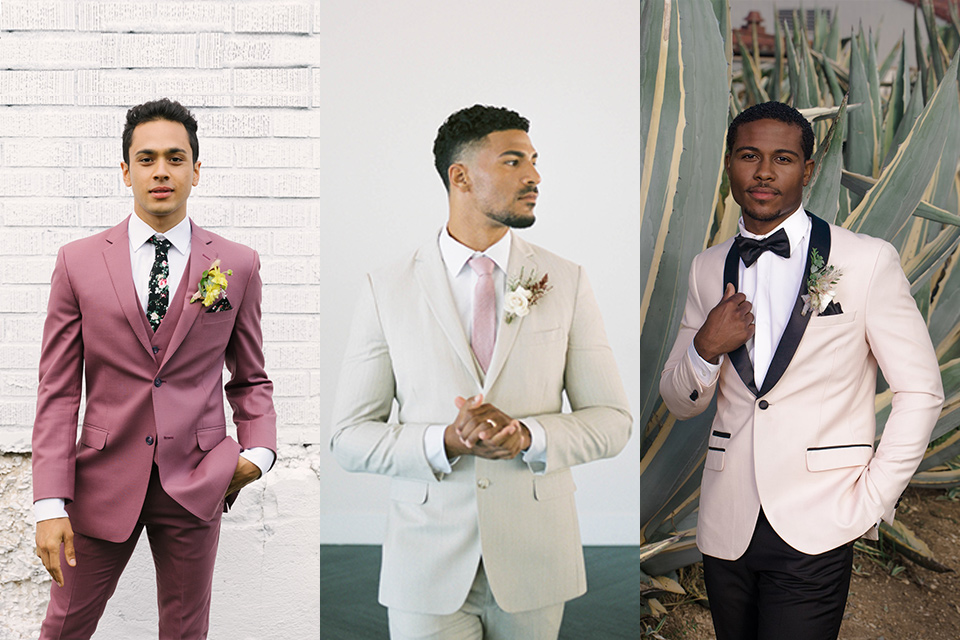 Photography Credit: Shelly Anderson Photography | Aurelia D'Amore Photography | Ashley Kukuva | Danielle Rouillard
Buy your suit, tux, and accessories:
Why not continue the pink look with our floral tie collection and a flower lapel pin? 


Perfect Purples
There is a reason the many royal families throughout time have chosen purple as their color. It represents extravagance, dignity, royalty, and magic. Considering you and your true love are royalty in our eyes, why wouldn't you want to pick this color for your bridesmaids? We love the classic shades this color from Iris, Wisteria, Plum, and Regency. As well as the more modern takes such as: mauve, Tahiti, Fog, and Lavender Haze.
Styling purple is a lot like styling pink, in the sense you can use softer neutrals to balance the bold color. Or you can go all out and be regal chic in a Purple Shawl Lapel Tuxedo. We are also big fans of keeping your look all black with a pop of color with a purple tie or bow tie.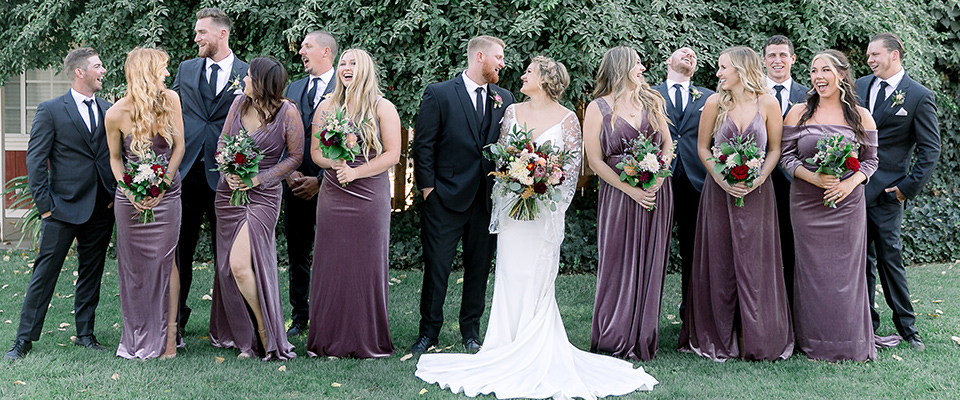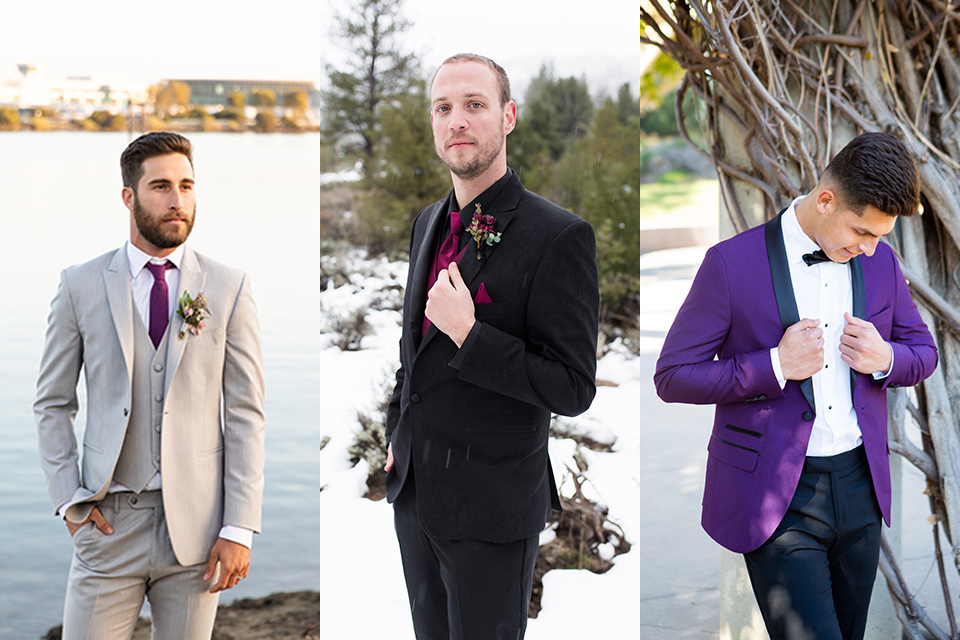 Photography Credit: Leah Marie Photography | Stormy Peterson Photography | Stefani Ciotti Photography | Michelle Lacson Photography
Buy your suit, tux, and accessories:
Want to keep your royal look?  Check out all our purple accessories for purchase here.


Romantic Reds
Nothing says classic romance like red bridesmaids gowns!  No matter is you are going with bright colors like Scarlet and classic Red, or sultry like Burgundy and Wine your bridal party will surely pop.
One way to compliment red tones is by bringing it with a deep velvet bow tie with a neutral-colored suit.  Another way is by wearing one of our burgundy or red tuxedos (we love pairing these with black shirts to create a moody dynamic look).
We have many shades of red neckwear to choose from!  So bring in your dress color and we will be sure to match it.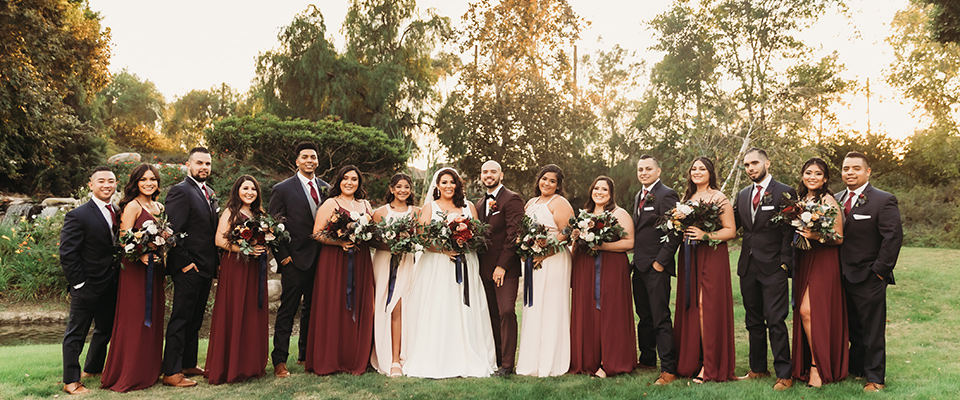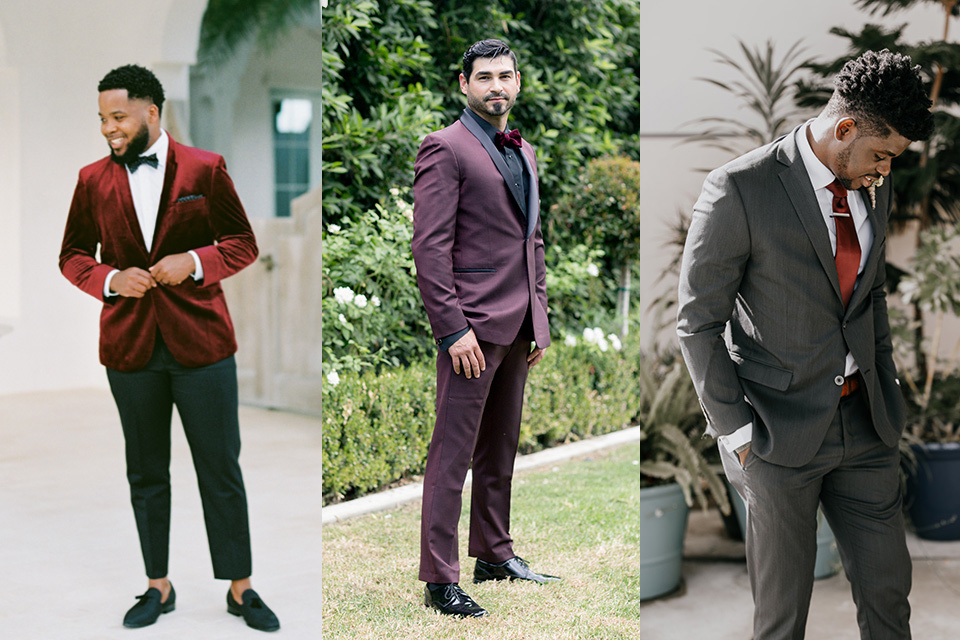 Photography Credit: Lisette OC Photography | Molliner Photography | Veronica Jackson Photography | 
Buy your suit, tux, and accessories:
From red floral ties to suspenders, we have you covered.


Sunny Yellows
We really are walking on sunshine with the latest come back of yellow bridesmaids gowns! With the trend of bohemian and desert inspired events, came the bright rise of yellow dresses! From Canary to Marigold, Daffodil to Butterscotch yellow is the color for those who aren't afraid to be bold.
This tone of gowns look great with one of our warm toned looks like our Gold Velvet Tuxedo, Ivory Paisley Tuxedo, or Tan Suit. If you are wanting to cool it down a bit, pair your yellow neckwear with a Grey Framed Tux or a Light Grey Peak Lapel Suit for the perfect complimented look.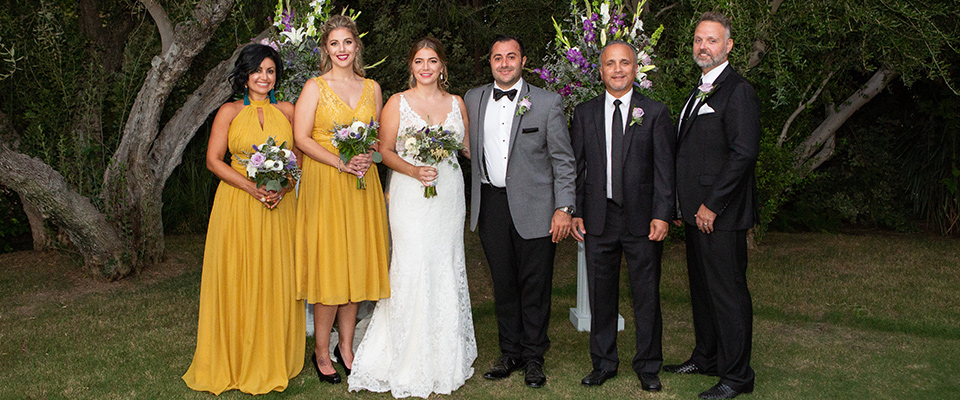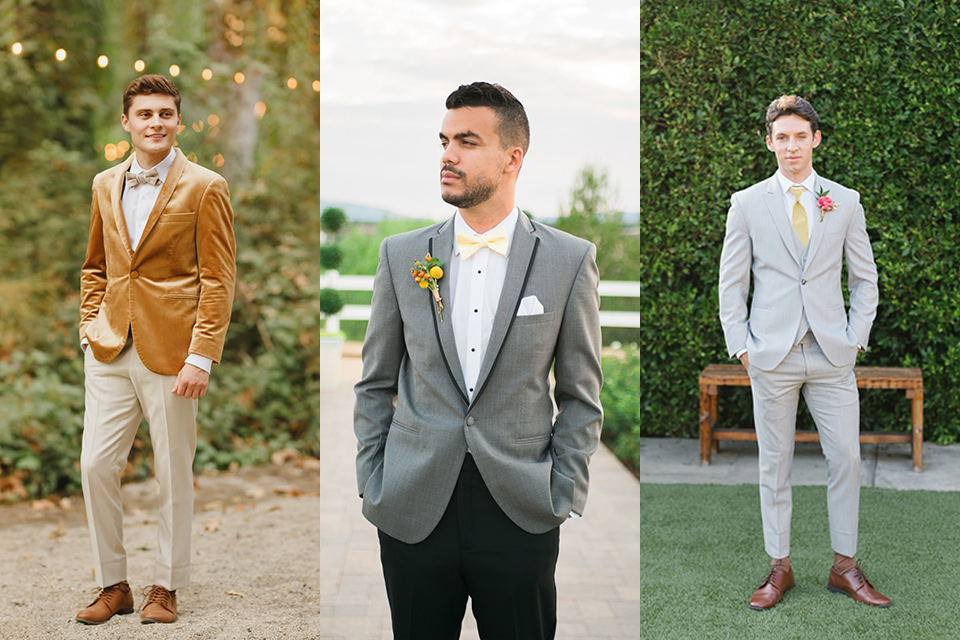 Photography Credit: David England Photography | Melissa Fe Chapman | Meghan Elise Photography | Rachel Stelter Photography
Buy your suit, tux, and accessories:
Wanting to grab hold of that retro/mustard yellow trend?  See our vintage floral and striped ties here.


Fun Fabrics
A trend that has been going strong for a while now, is using different shades of one color for your bridesmaids. Taking it a step further this season, bridal parties are now having their leading ladies in different fabrics, patterns, and colors…and we are loving it!  
Having all your ladies in velvet? Why not have your groomsmen or groom rise to that style occasion with one of our velvet tuxedos, like the Royal Blue below. Wanting something a little more understated? With the girls in various shades and fabrics, keeping your groomsmen in rich navy blue or black allows them to stay bold in their style while not clashing with the overall looks.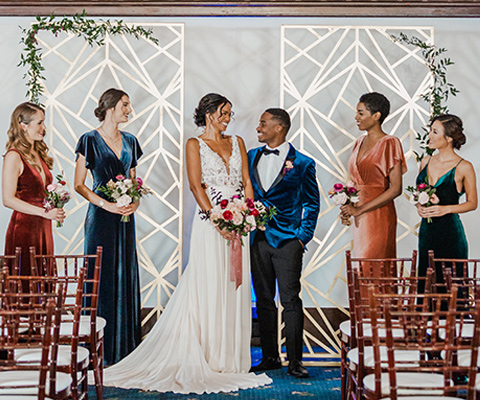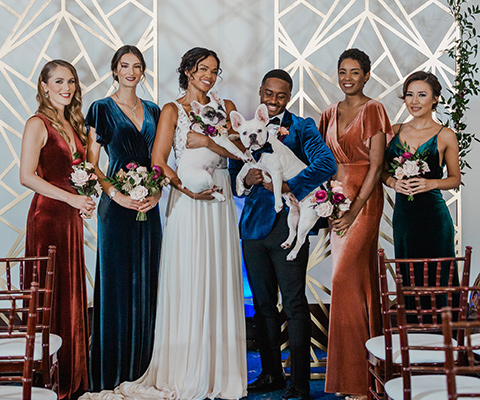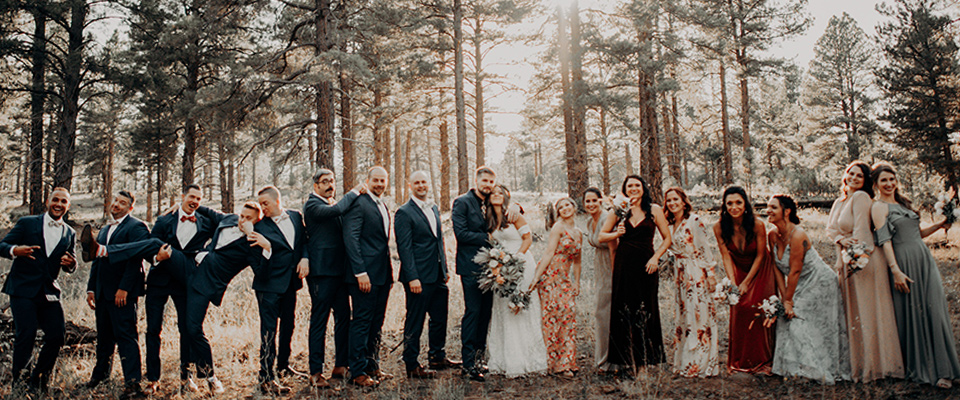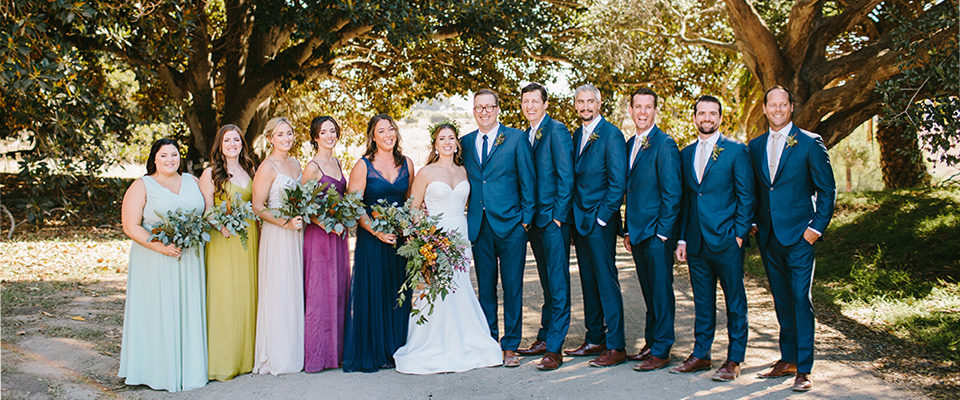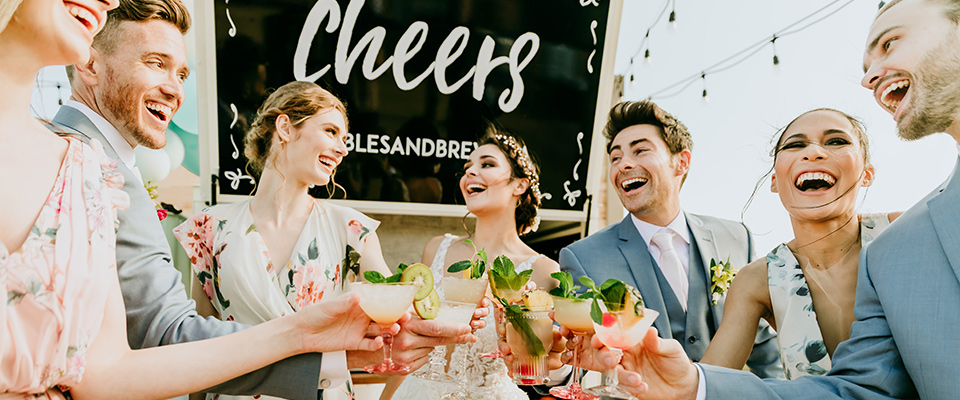 Photography Credit: Blessed Wedding Photography | Lumière Photography | Wilm Whim Photography | Lisete Gatliff Photography
Mixed Gender Bridal Parties
We all have that friend, cousin, sibling etc. that we want to have next to us on the big day but traditionally wedding party members were in one of in two categories: groomsmen and bridesmaids. Well, to heck with those gender party lines!
Get all the style tips and trends with our blog How to Style Mixed Gender Bridal Parties. Or head over to our Pinterest for endless wedding inspiration!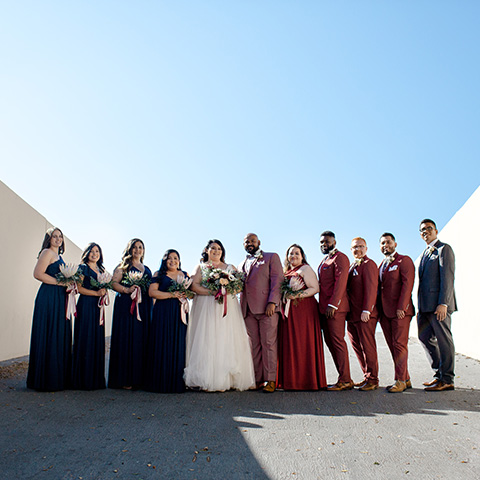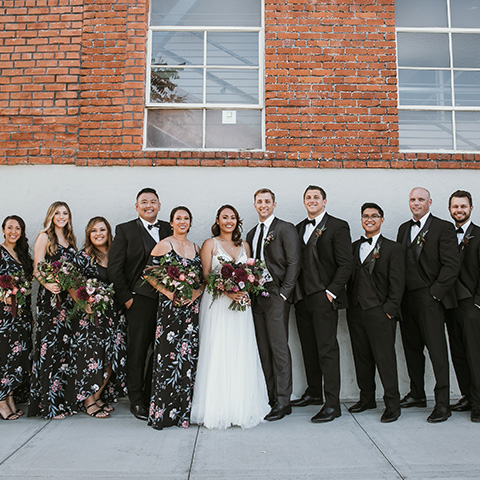 Photo credit: Robert Vega Photography | Kelly Wood Photo