When it comes to being a guest at a wedding, as soon as you get the Save the Date or Invitation there is one question that comes to mind: "What in the world am I going to wear?"
In this blog we have you covered with some awesome suit and tuxedo ideas depending on the wedding venue, along with some amazing dress moments from Windsor®!
Beach + Oceanfront Weddings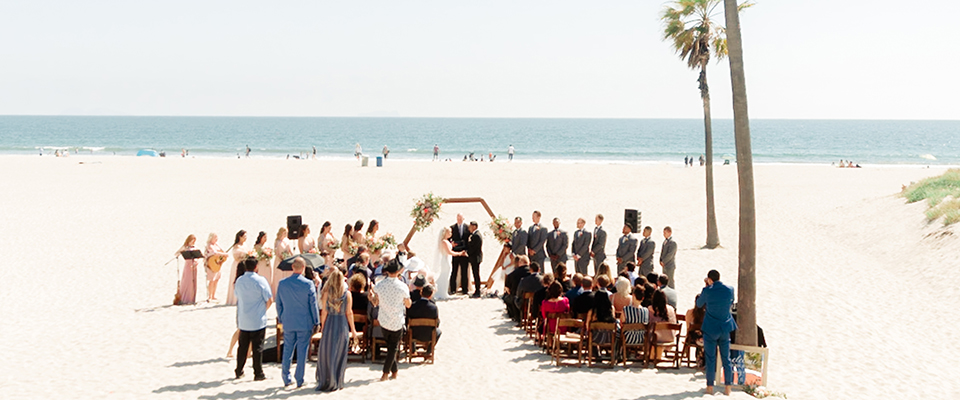 Photography: Charissa Magno Photography
Beach or oceanfront weddings are not only AWESOME, but the style can be really fun to play with. We suggest wearing lighter, earthy colors like our Tan Notch Lapel Suit or our new Steel Blue Notch Lapel Performance Suit by Michael Kors.
A big thing to keep in mind when it comes to beach weddings is comfortability, and our Michael Kors Performance Collection can guarantee just that. With COOLMAX® technology to help keep you cool and stretch fabric to make sure you can walk on the sand and dance at the reception with ease.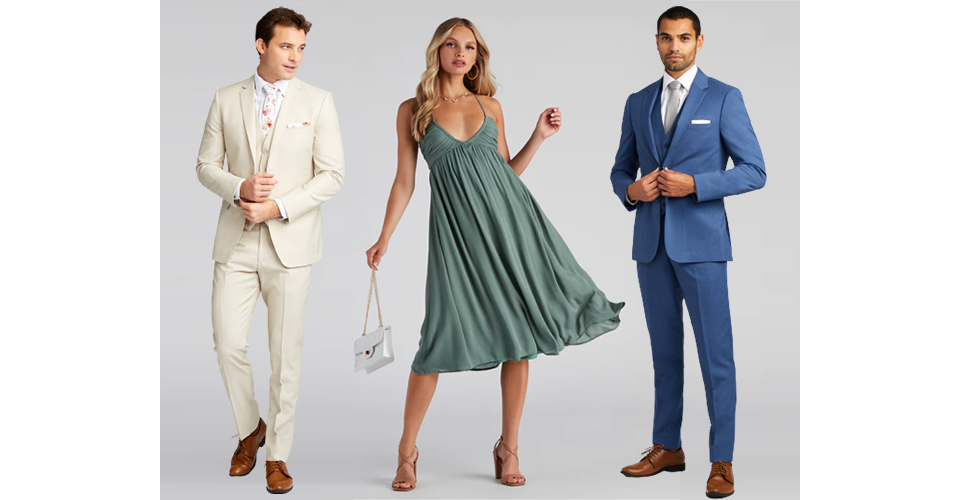 Additional accessories pairings: beach weddings can range from fancy to casual. Pair with a cool tropical tie or go easy breezy with no tie but a chic lapel pin. Either way you cannot go wrong.
Gown by Windsor®: Palisades Ruched V-Neck Midi Dress in sage
Garden Weddings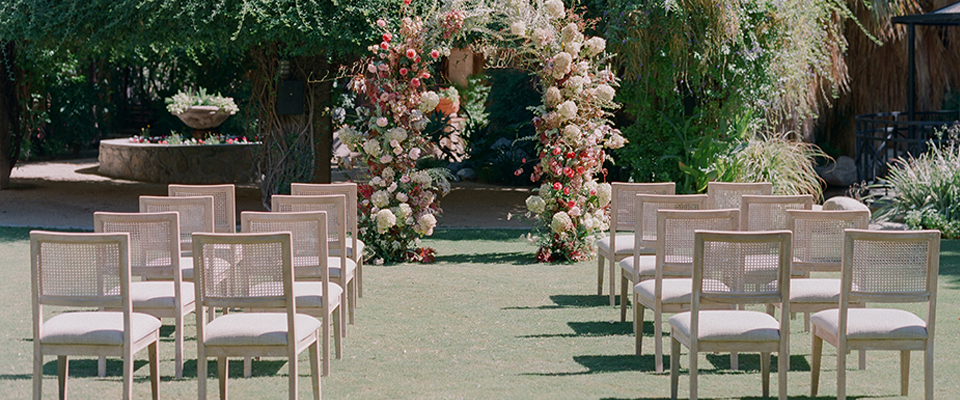 Photography: Laura Murray Photography
Garden weddings are fun to play with style, because you can go a little bolder in color.  Whatever color you can find in a garden, is a color to wear in your look!  Go for a dreamy Green Notch Lapel Suit or a brighter Light Blue Notch Lapel Suit for a exciting yet muted look. 
Want to make a bigger fashion statement?  Check out our Rose Notch Lapel Suit or a fun mix and match style. And don't forget to and add a monochromatic tie or wear a patterned tie that brings in the color of your date's outfit for extra points.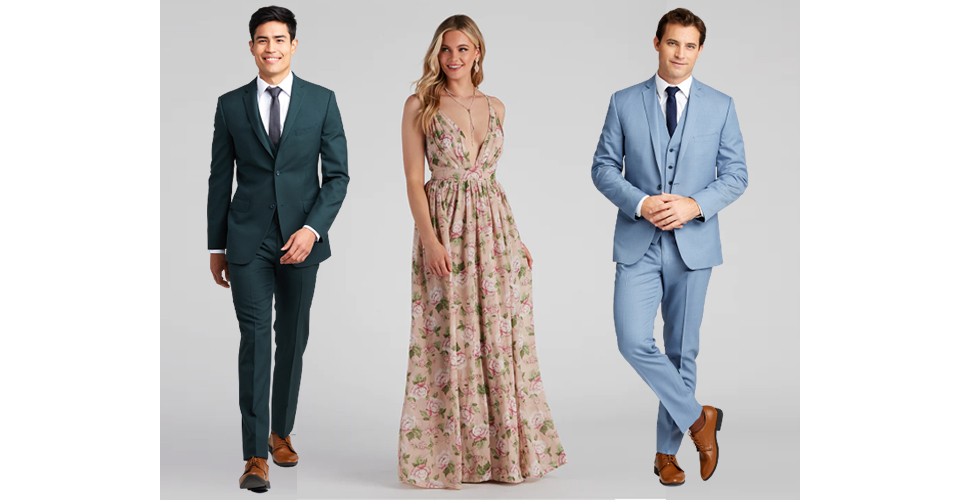 Additional accessories pairings: Florals, florals, florals! Why not?  Floral Ties, floral pocket squares, lapel pins, the works!
Gown by Windsor®: Veronica Formal Floral Chiffon A-Line Dress in taupe
Winery Weddings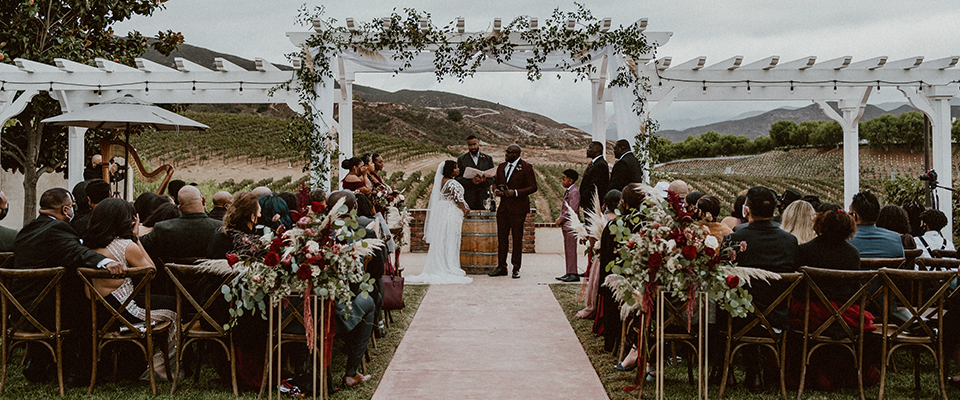 Photography: Jenn & Pawel Photography
Earthy, bold, and dreamy….all on point descriptions of the wines being served at our favorite vineyard venues, but all those things can also be said about these suit pairings as well.
When it comes to winery weddings, think more rich hues like our Café Brown Notch Lapel Suit or Asphalt Grey Notch Lapel Performance Suit.  Other ideas could be a Burgundy Shawl Lapel Tuxedo or Navy Notch Lapel Suit.  Take colors you see at a winery: wines, browns, greens, etc.  Stylist tip: since most wineries have a rustic feel to them, you don't have to go too stuffy or formal with the accessories.  You can still keep it neutral and low key.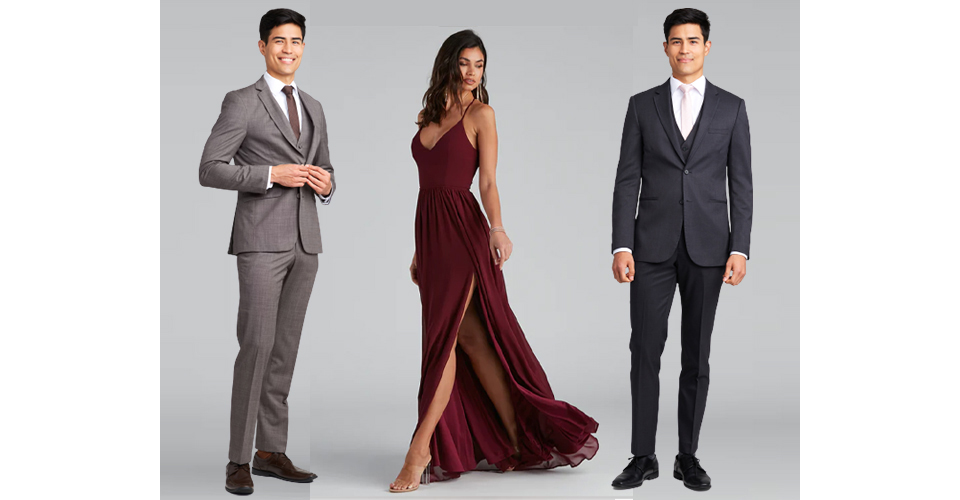 Additional accessories pairings: mix textures and tones like our matte tie collection or our velvet bow tie collection.
Gown by Windsor®: Shailene Lace Back Chiffon Formal Dress in Burgundy
Black Tie Weddings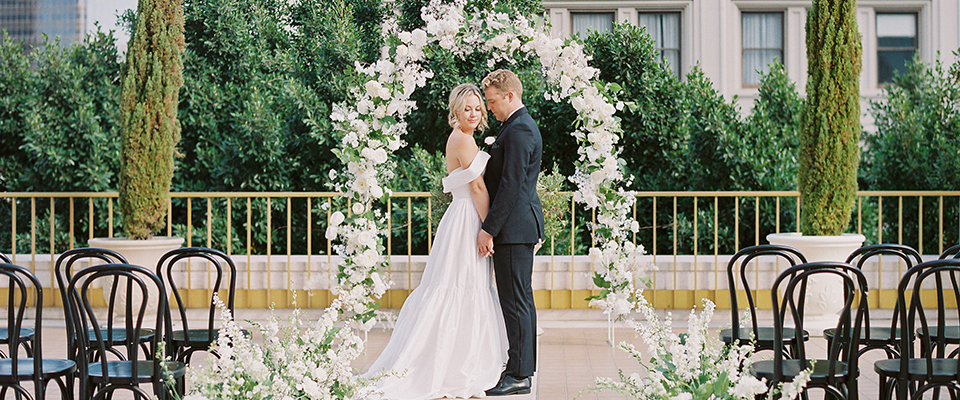 Photography: Erica Steelman Photography
When you get the invite and it says 'black tie' or 'black tie optional' do not fret, it's not as strict as it sounds. You can wear any style of black tuxedo, and depending on how serious the venue is, you could even wear a Navy Shawl Lapel Tuxedo, Charcoal Shawl Lapel Tuxedo or Burgundy Shawl Lapel Tuxedo. If you want to be super comfortable, go for our Michael Kors Performance Collection we talked about earlier comes in a chic black tuxedo style.
In short: 'black tie' means wear a tuxedo, and if you need help with figuring out the difference between a suit and a tuxedo we have you covered here.
And don't be afraid to still make a fashion statement with the black tie style, and check out our Black Velvet Peak Lapel Tuxedo or even our Black Paisley Peak Lapel Tuxedo.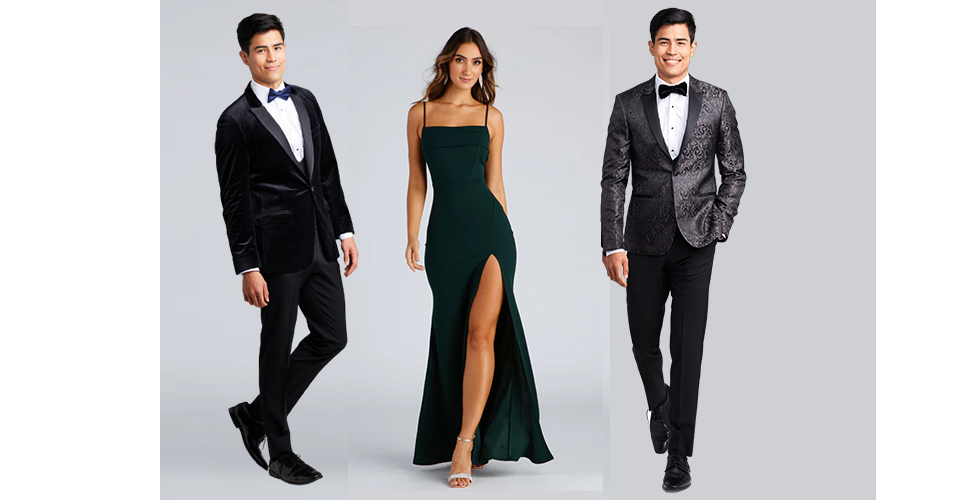 Additional accessories pairings: style with monochromatic patterns for a fun look, or add some suspenders for a Great Gatsby moment.
Gown by Windsor®: Anna Formal High-Slit Mermaid Dress in Hunter 
Hotel or Resort Weddings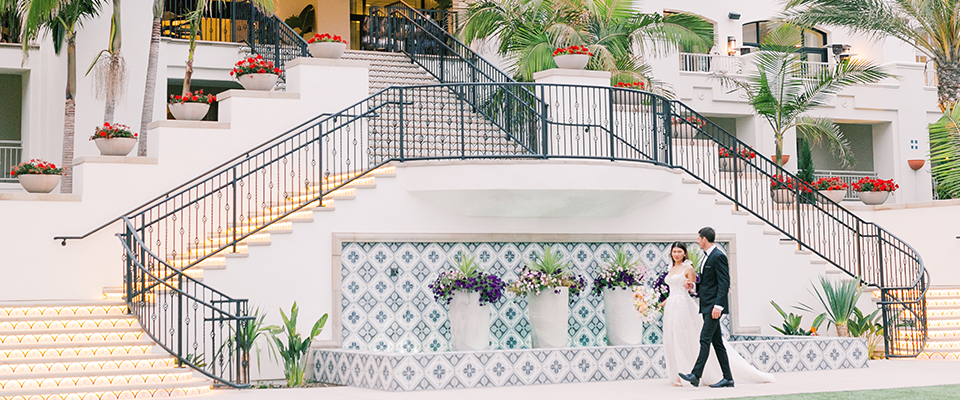 Photography: Mandy Ford Photography
Resort or hotel weddings are a great mix of trendiness and grandeur, so play up your style as much as you'd like!  Keep it classic and neutral like this Heather Grey Notch Lapel Performance Suit by Michael Kors, or make a bold statement with a Cobalt Blue Notch Lapel Performance Suit by Michael Kors. 
Pair your look with a patterned shirt if you like stepping it up a notch.  When paired with a perfectly fitting suit fashion vibe will be fun and classic – just like a resort.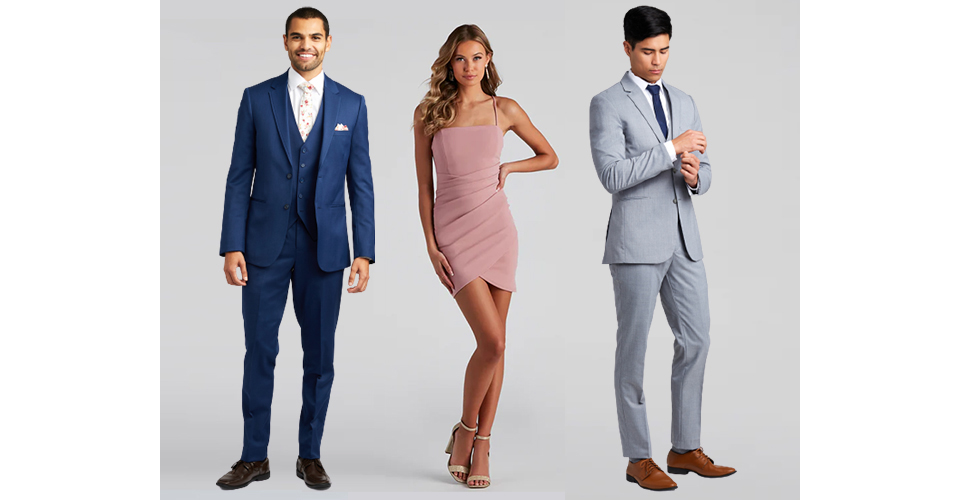 Additional accessories pairings: Why not make your look pop! Add a fun tie or a pop of metallic with a tie bar.   
Gown by Windsor®: Wrapped in Stylish Crepe Mini Dress in mauve   
Barn or Bohemian Venue Weddings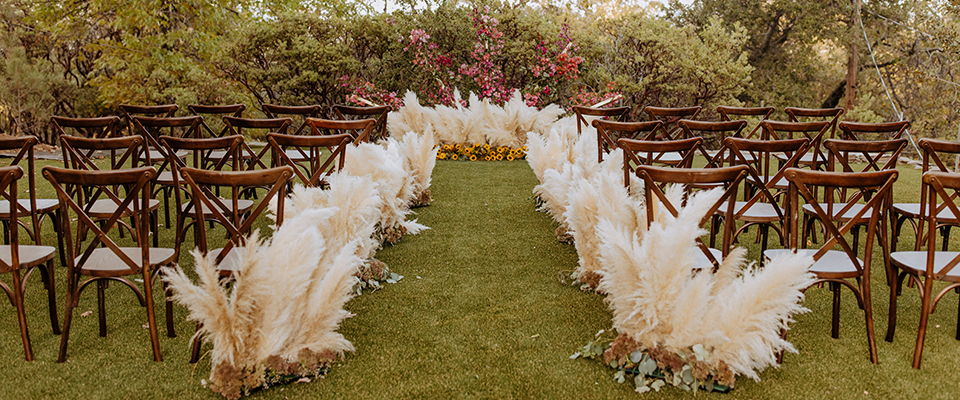 Photography: Parallel 33 Photography
Ahhh barn weddings, a lovely backdrop for I-dos.  And bohemian weddings are all the rage (and we are totally on board with that for the record). So what do you wear to these kinds of weddings?  Simple, neutrals!  Think nature, but with flair as seen with our Caramel Notch Lapel Suit or our Café Brown Notch Lapel Suit.  If you are wanting to keep it darker, go for blue shade like our Dark Blue Notch Lapel Suit or Navy Notch Lapel Suit.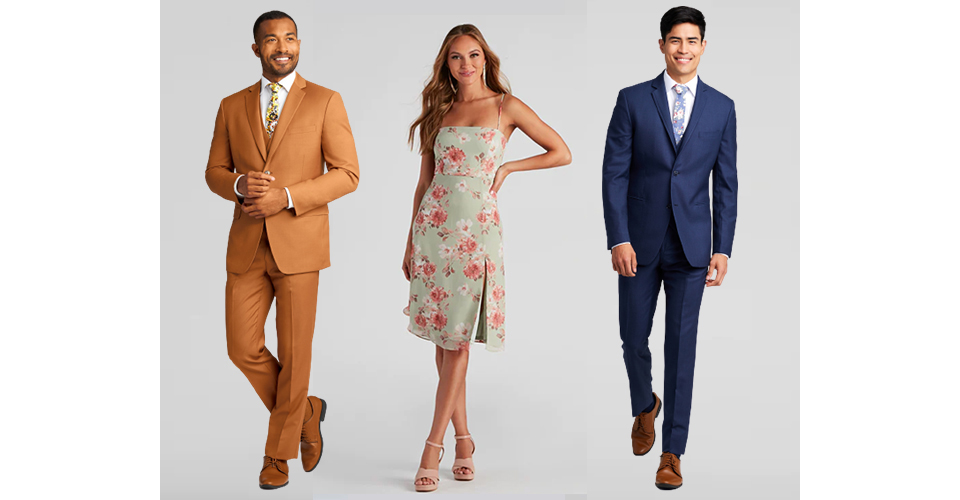 Additional accessories pairings: Keep it earthy like a cinnamon rust tie or go a little more fun with a bolo tie.
Gown by Windsor®: Fall For Floral Chiffon Midi Dress in Sage
Obsessed with these dresses?
So are we!  Our friends at Windsor® have everything you need to style up at a wedding and beyond! Head over to their website and see all the curated Wedding Guest Dresses they have and follow them on Instagram for a daily dose of fancified fashion!