Venue: Ebell of Long Beach
Event Planning + Design: All in Love Design by Anna Lisa
Photography: Scott Sikora Photography
Menswear Style: Navy Shawl Lapel Tuxedo with a black bow tie

Write up from All in Love Design by Anna Lisa:

The inspiration for this shoot was a Hemingway romance set for a modern era. The Ebell Club of Long Beach was a perfect venue based on its historic 1920's architecture and Spanish Revival design. Hemingway wrote from a very masculine outlook of war, bullfights, and adventure but had a very romantic side as well seen in selections of his personal love letters dating back to the 1920's to his love, Mary Walsh. With intentions of celebrating Ernest's real-life passions, I wanted to welcome his masculine interests in the space. Ebell's interior offers exposed brick, open courtyard home to various greenery and Spanish tile, a chocolate show-stopping fireplace framed by lion's heads, Bradbury Grand Piano, and framed artwork such as a hanging typewriter and boxing match painting. A perfect scene for Hemingway and his Muse to come together in marriage with masculine style and feminine taste. (Continued below...)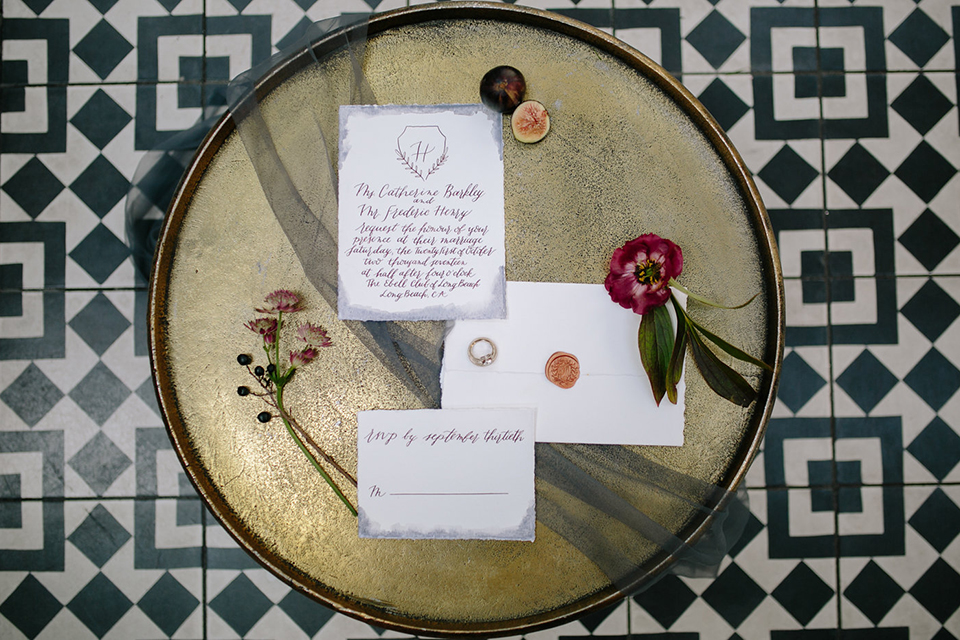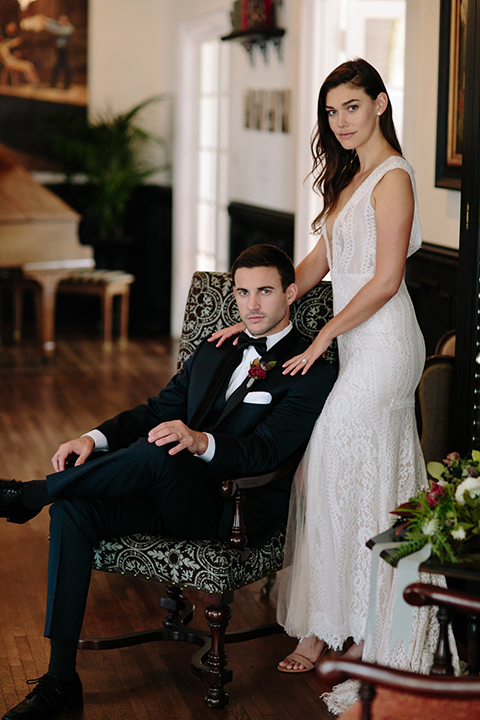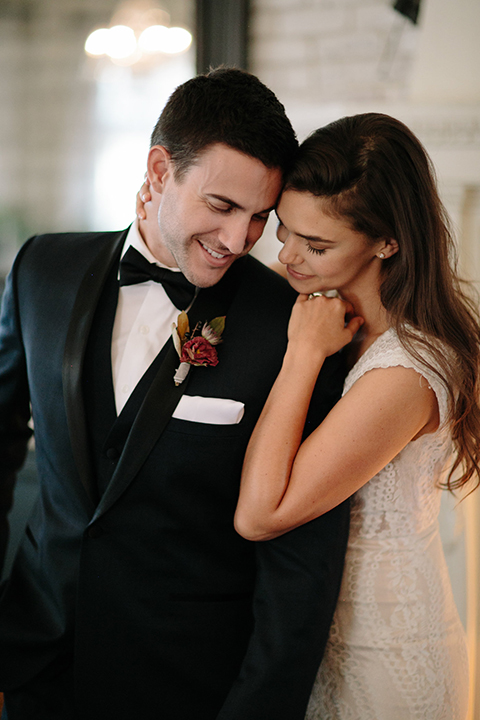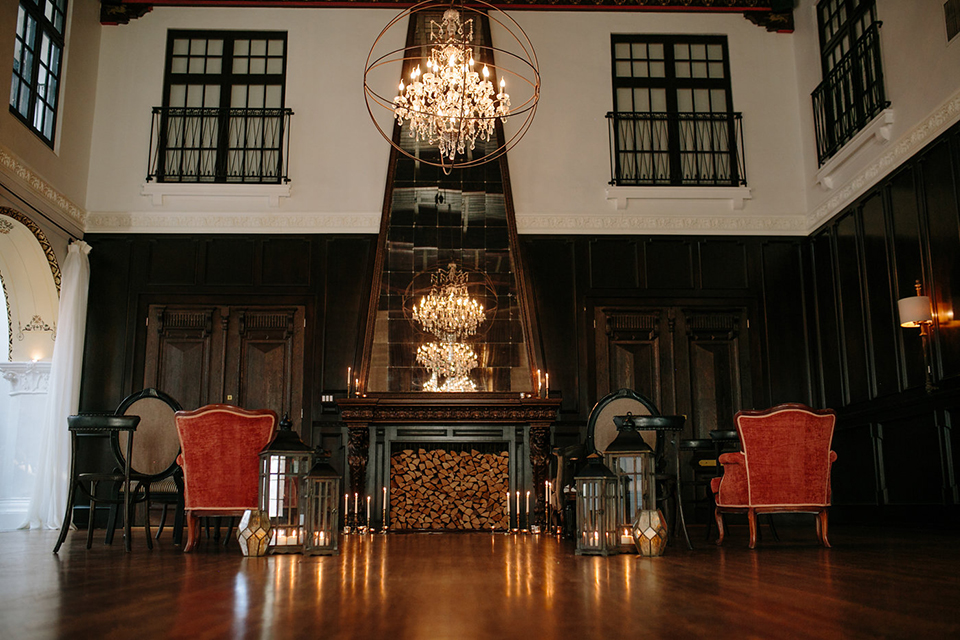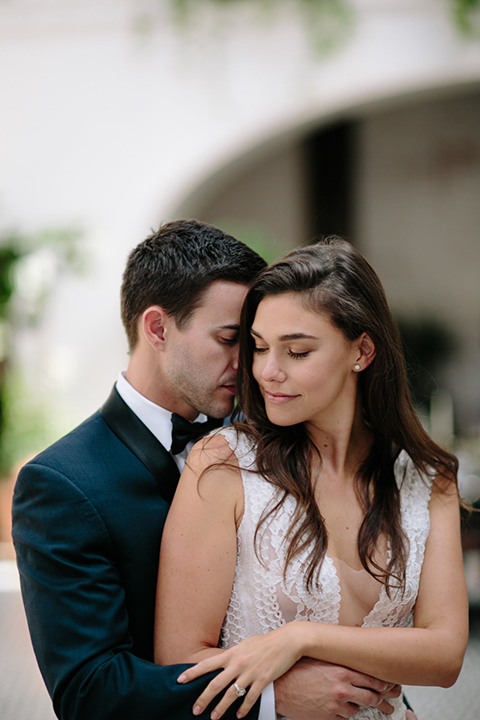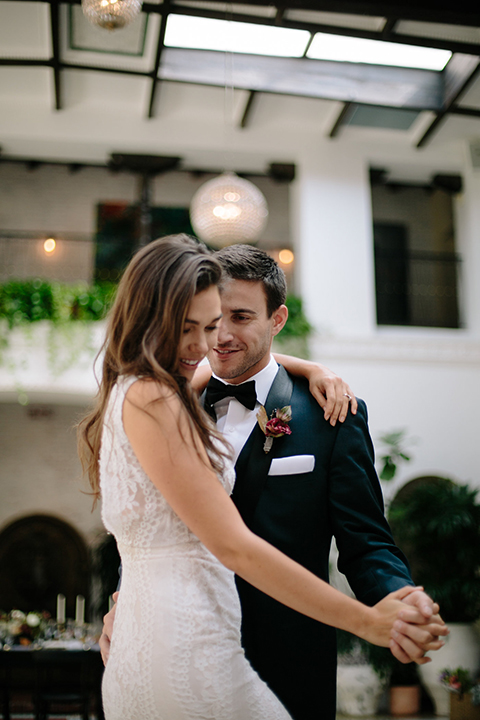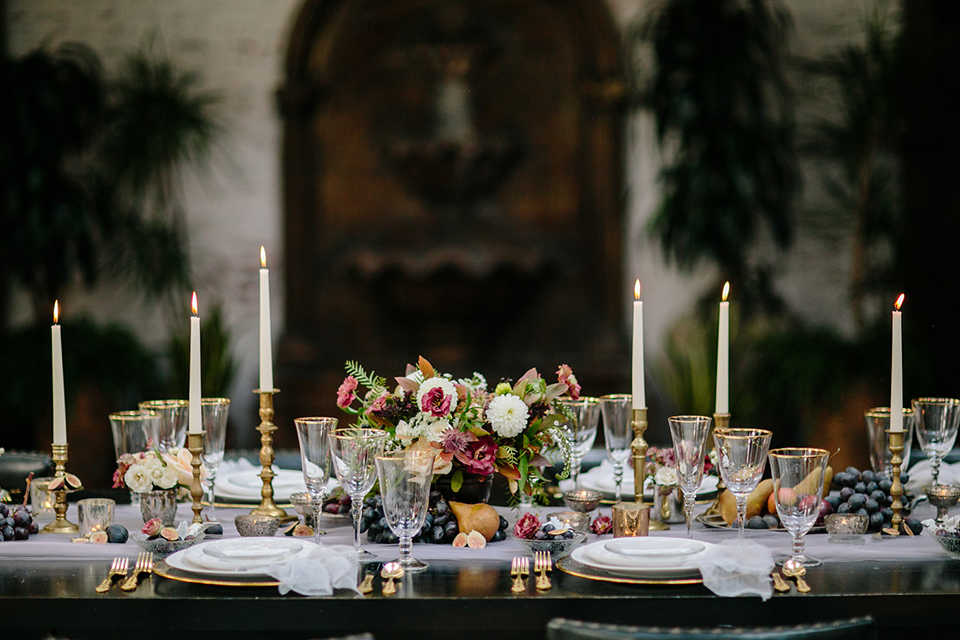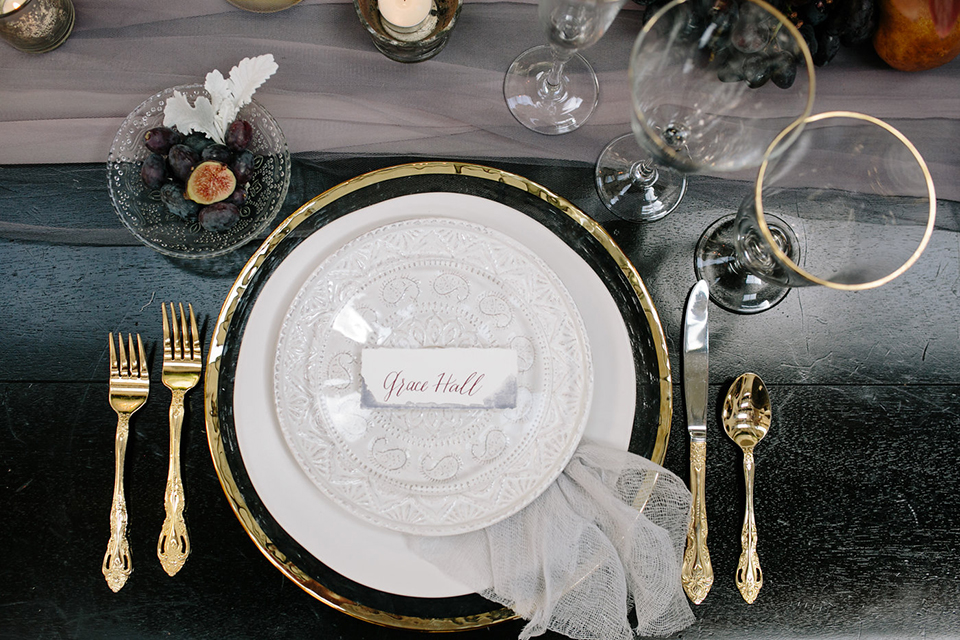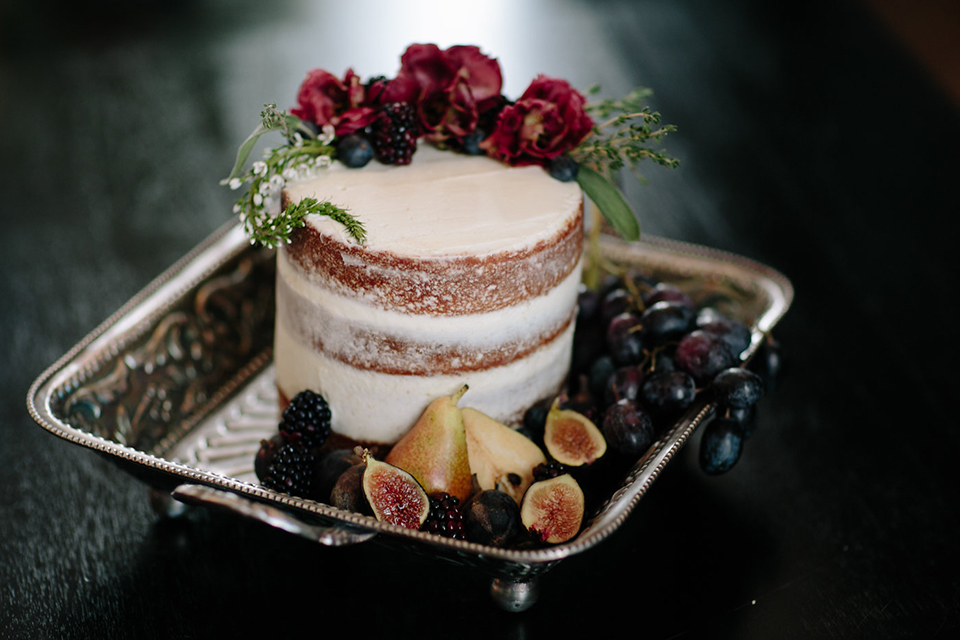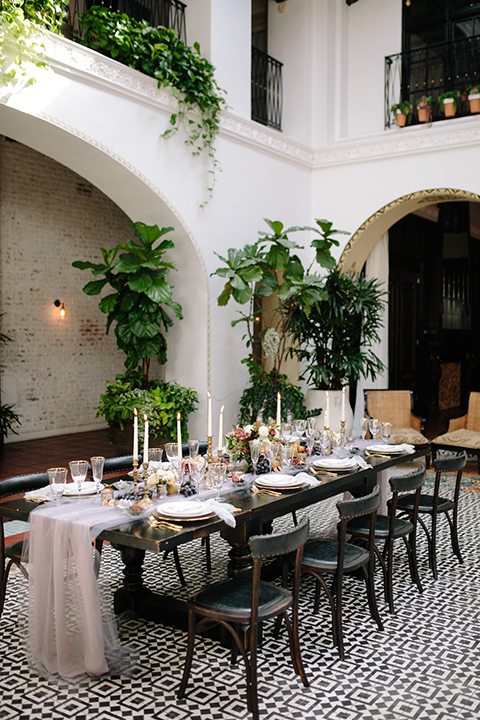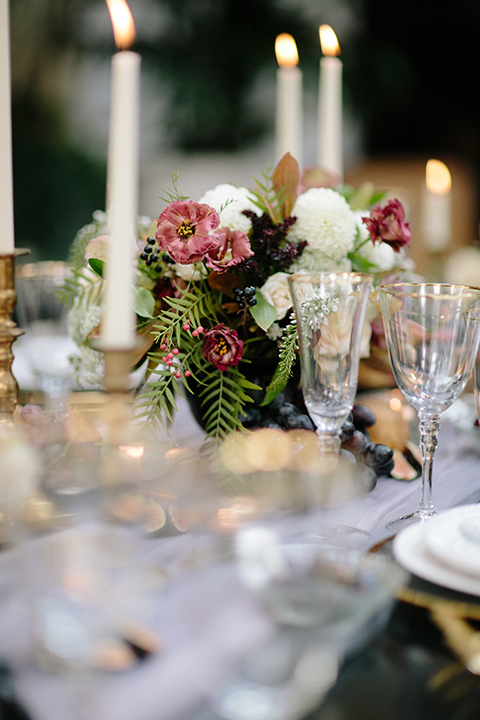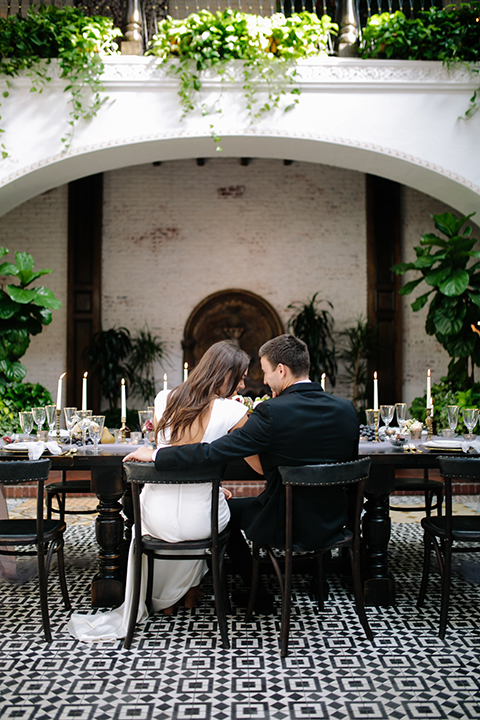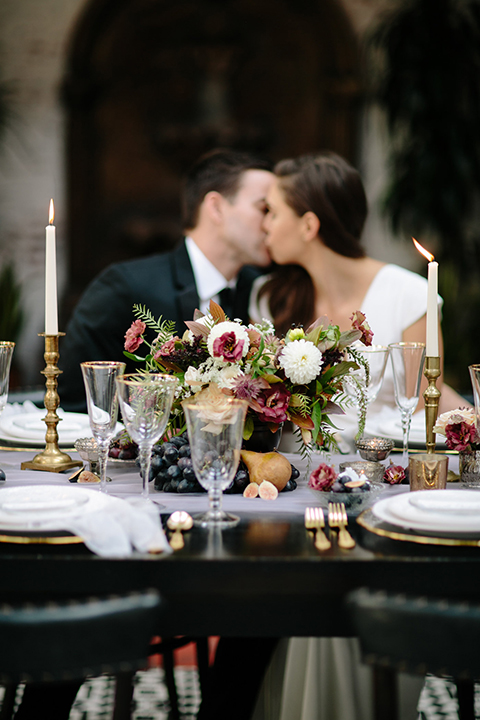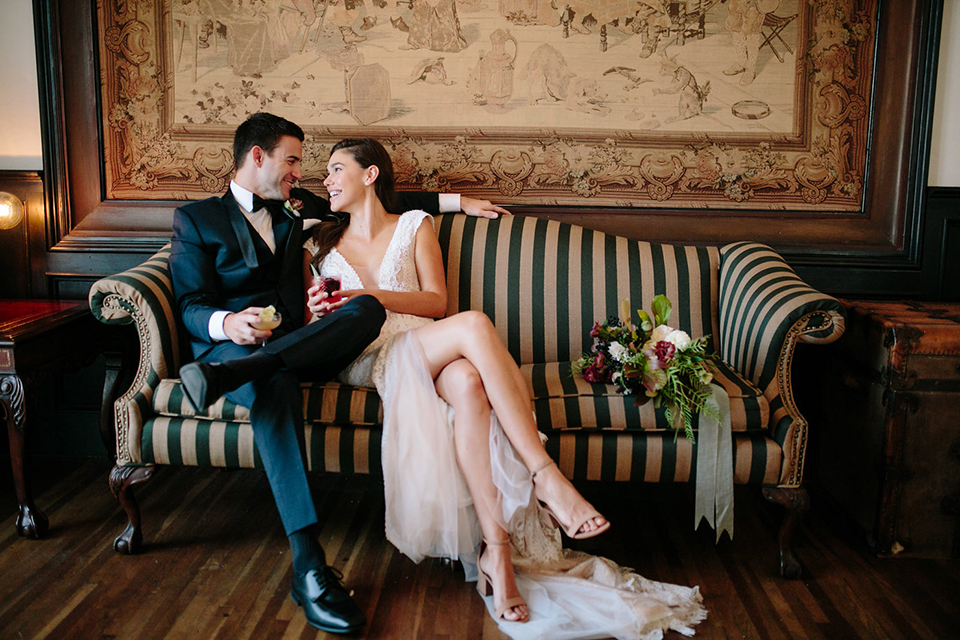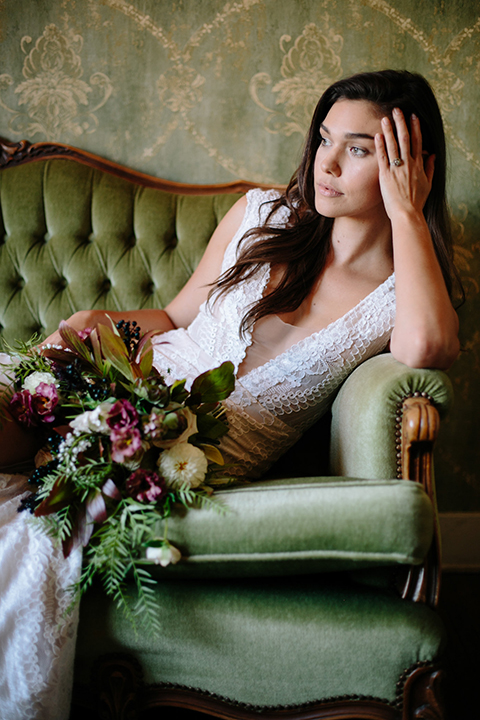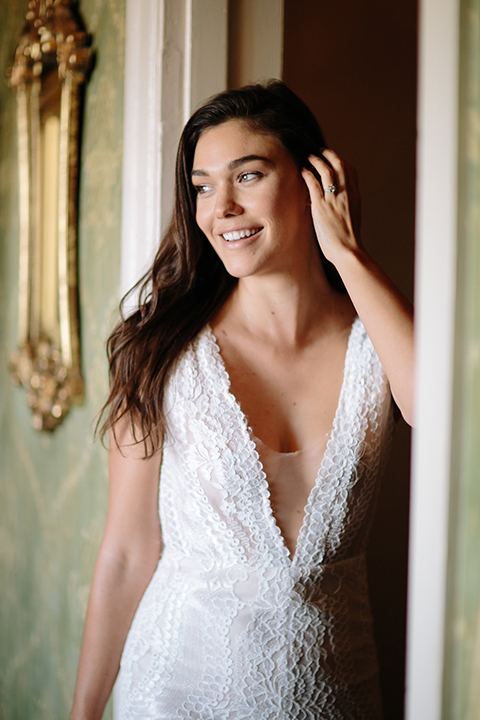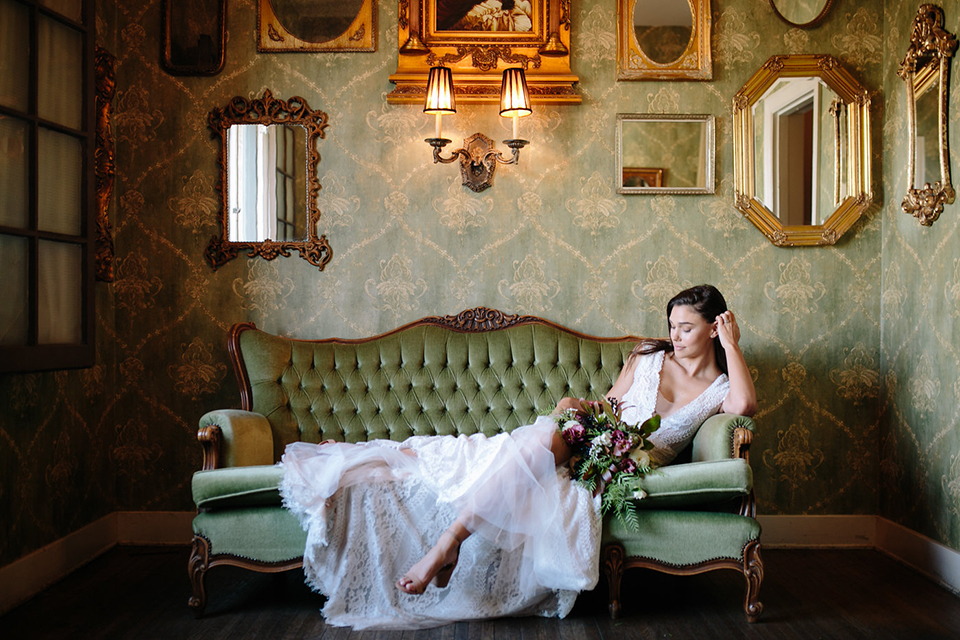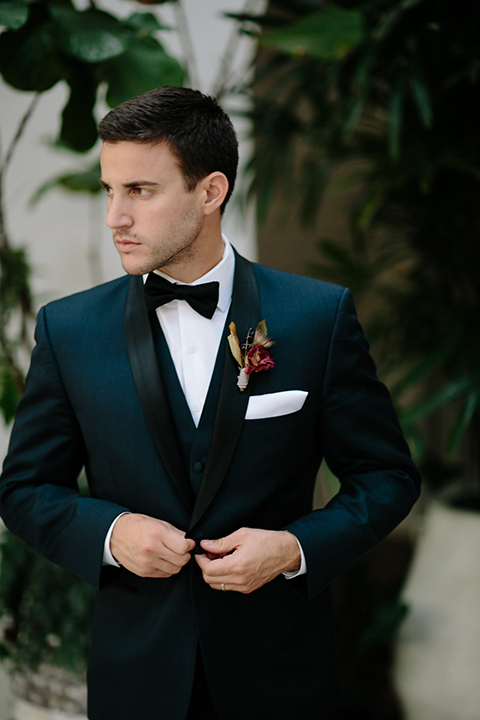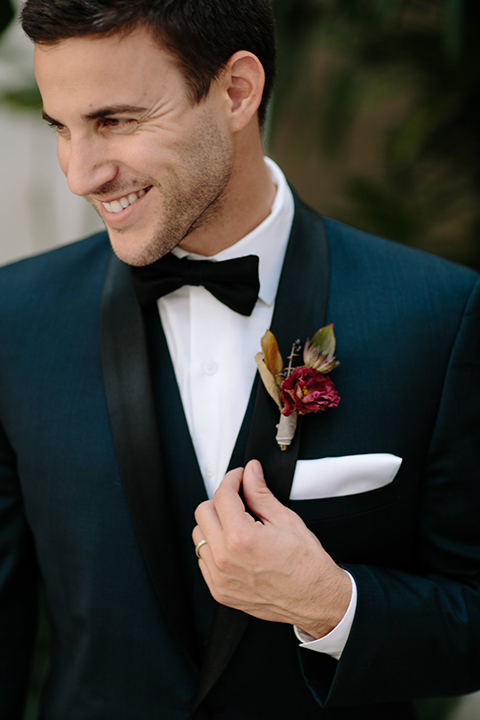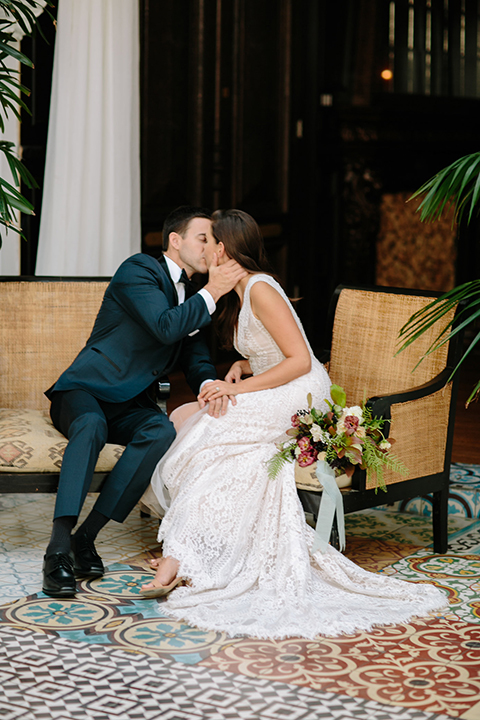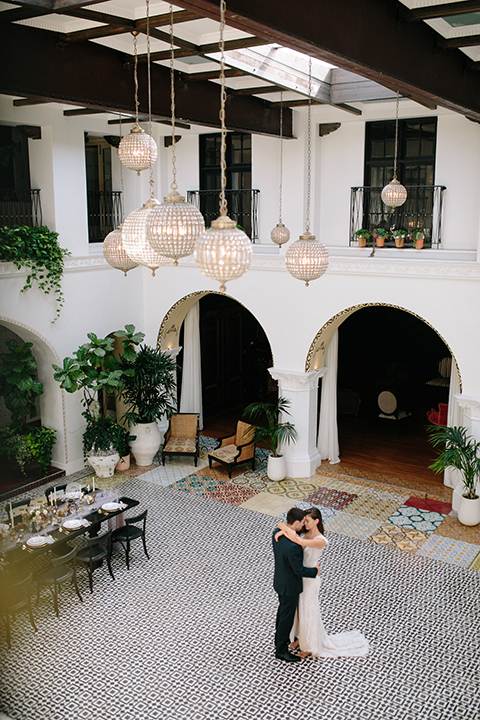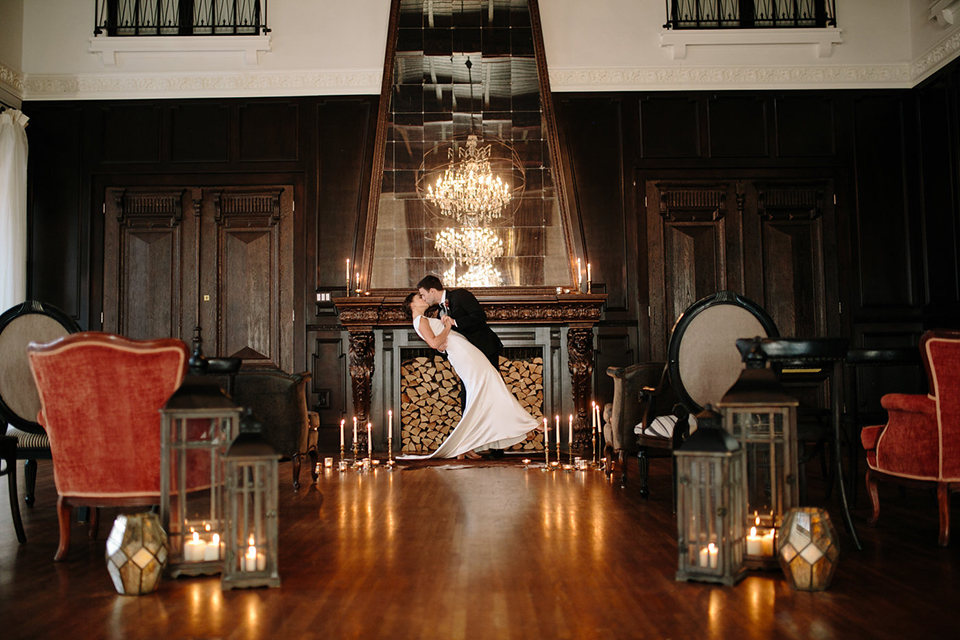 (Continued from above)
For the design of the shoot, I wanted to keep a moody color pallet that still had feminine influence. I envisioned a celebratory feast of a table full of movement and variety, for your eyes to carry you across the table in a dance. I scattered varieties of fruit throughout the table such as plums, pears, grapes, and figs not only to tie in our color scheme but through inspiration in Spanish and Italian spreads. Jessica Yee Calligraphy, did a wonderful job creating a simple, romantic, elegant, look in the stationery suite, with worn pieces of parchment, rough edges and a splash of watercolor to tie in with our color pallet. As a shoutout to characters of Hemingway's 'A Farewell to Arms' I addressed the bride and groom as Catherine Barkley and Fredric Henry. Sarah Siegel with The Flower Method designed a beautifully diverse and eclectic arrangement that fit perfectly with my dreams of a floral piece that was fit for a feast. The type of arrangement you would find in an old framed oil painting: timeless and romantic. The smaller motif florals scattered throughout the table makes each guest feel as though they have their own mini arrangement.
Working with Lovely Bride meant picking a single dress to showcase quite a challenge. With so many beautiful gowns to showcase, we had to pick two looks. One is set for a classic elegant Catherine Barkley (Farewell to Arms) with flattering silk cuts that make a simple gown memorable. The other gown is inspired by the seductive Lady Brett Ashley (The Sun Also Rises) for a flirty bride who still loves the timeless lace and cascading train. We also loved having Mama's Medicine with us to curate cocktails set to Hemingway's taste. A man who loved Havana styled Daiquiri's, Gin and Whiskey. A nod to the tropical choice drinks with garnishes that totally beat the mini umbrella. Scott Sikora captured the day with exactly what we set out for: timelessness and clarity. So when the day passes by right before your eyes and you find yourself wanting to re-live it, a handful of his photographs will recall all of the splendid intricacies and feeling you had in the moment. Sophie Leonard with Sophie Athena Makeup set forth on the exceptionally stunning canvas, Kelly Russo. Sophie is the makeup artist you can forever trust to bring forth your own unique beauty without stepping close to looking overdone. For each dress, she represented two different looks that gave us both playful and classic with effortless mastery.
This shoot was also featured on
Bridal Musings
!

Florals:
The Flower Method
|
Wedding Gown:
Emmy Mae Bridal
+
Savannah Miller
|
Bridal Boutique:
Lovely Bride |

Hair + Makeup:
Sophia Athena Makeup
|

Bride's Jewelry:
Single Stone
|

Cake:
The Book Cookie
|

Cocktails:
Mama's Medicine
|

Invitations + Stationery:
Jessica Yee
|
Rentals:
Party Pleasers Event Rental Co.