Tell those Jordan Almonds goodbye and say hello to the fun new world of unique wedding favors!  No longer do you have to do something "traditional" for your guests, your wedding favors should be a representation of you as a couple.  Do you love a specific candy? Do you both value traveling?  These are things you can incorporate into your wedding favors in fun and trendy ways.
Below we have some amazing wedding favor ideas that not only help small businesses (yay!), but are also truly unique and cool – and bonus, they will not break the bank.  So let's get to it….
Chic Treats
Who doesn't love something yummy to take home from a wedding?  This collection of ideas are for those who love to snack, eat, devour, or savor.
Sometimes what you need more than candy after a wedding is coffee, and we are just so in love with these "The Perfect Blend" Personalized Coffee Bags from Give It Pretty.  They have several eatery-punned bags and more for that foodie couple, and trust us when we say it is all brilliant!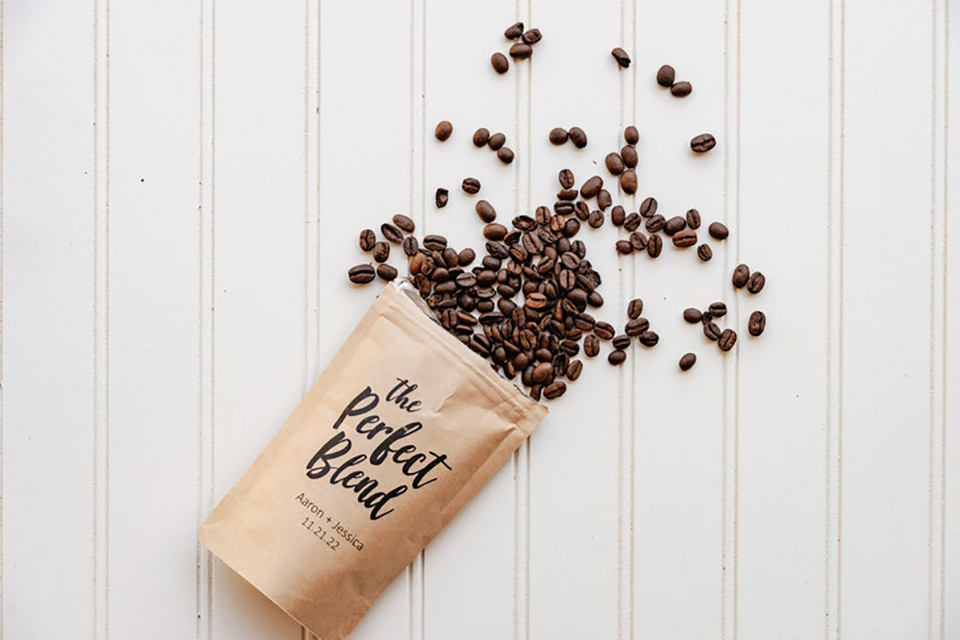 Photography: Give It Pretty.
Okay, how adorable are these Midnight Snack Carrier Boxes by HH Paper Co?  Can you just picture sending your guests home with these after dancing the night away?  Fill with a Coca-Cola® and kettle corn like shown for your guests, or a mini bottle of champagne and macaroons for a fancy party packet option.  The options are endless!
Another BUZZTASTIC idea is to send your guests home with some local honey from you and your honey from Bee Seasonal.  Yes, we are just buzzing with ideas today (okay okay we are done with the bee jokes).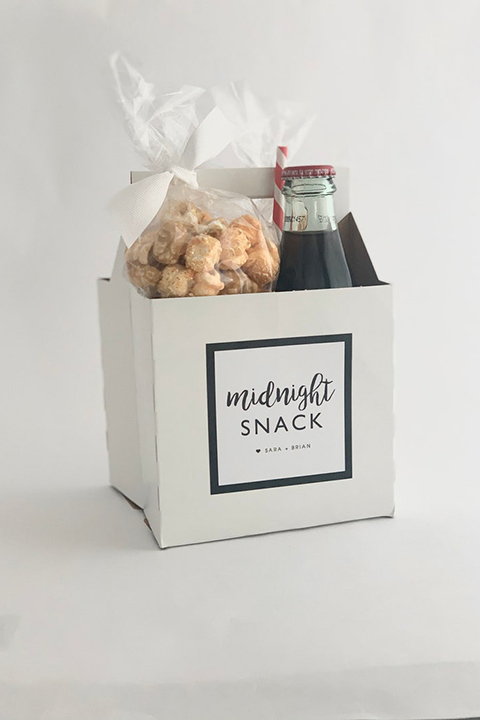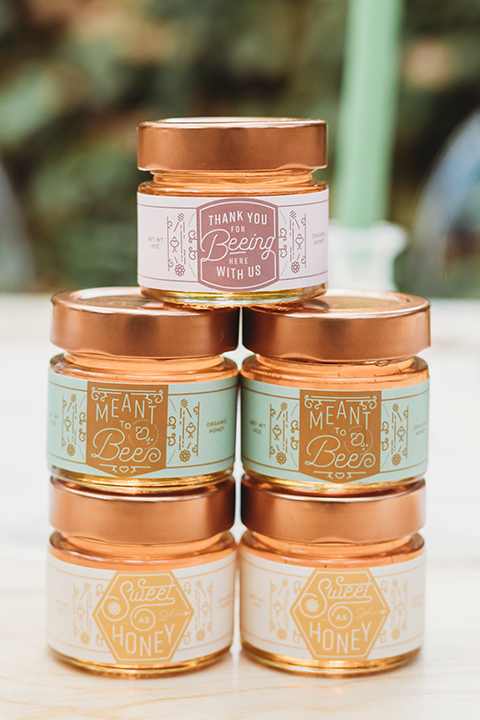 Photography: HH Paper Co + Melissa Fe Chapman Photography
Let's kick it up a bit, for our last stop on our foodie favors tour we want to bring this spicy idea to your attention.  Mini Hot Sauce Bottles personalized by Dearly Beeloved!  Filled with their specialty hot sauce ranging from mild to medium heat profile this favor will take your wedding to the next level ont he Scoville pepper scale.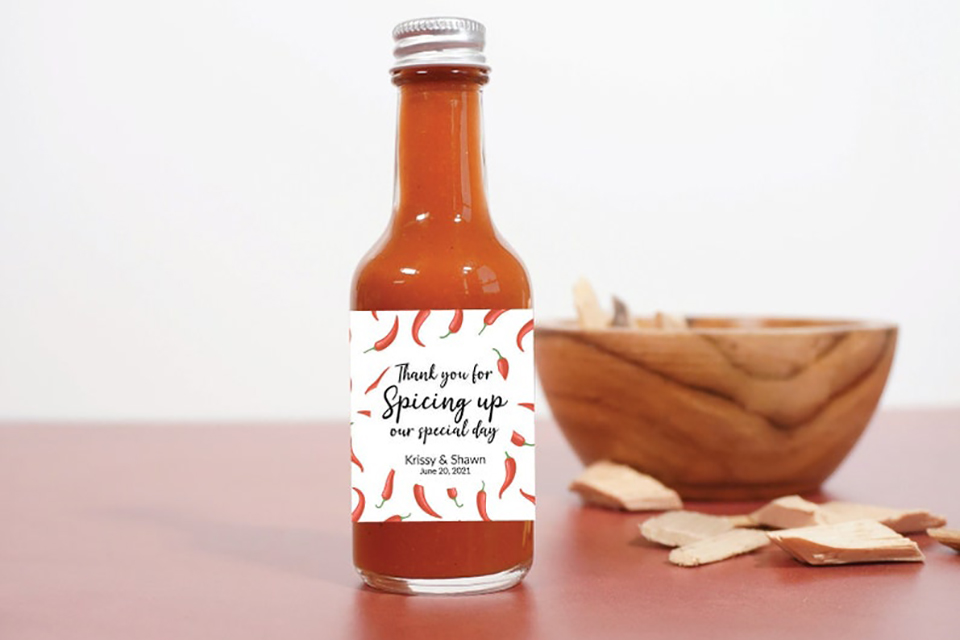 Photography: Dearly Beeloved
For the Home
This section of "For the Home" ranges from new twists on classic ideas, and brand-new trendy moments. 
Starting with this unique idea from one of our real weddings.  Incorporating their glassware and wedding favors into one they created a boho favor idea that is perfect for the unique couple.  Collecting antique glasses, guests were ablet to pick their favorite and use it for the evening and beyond.  How clever is that?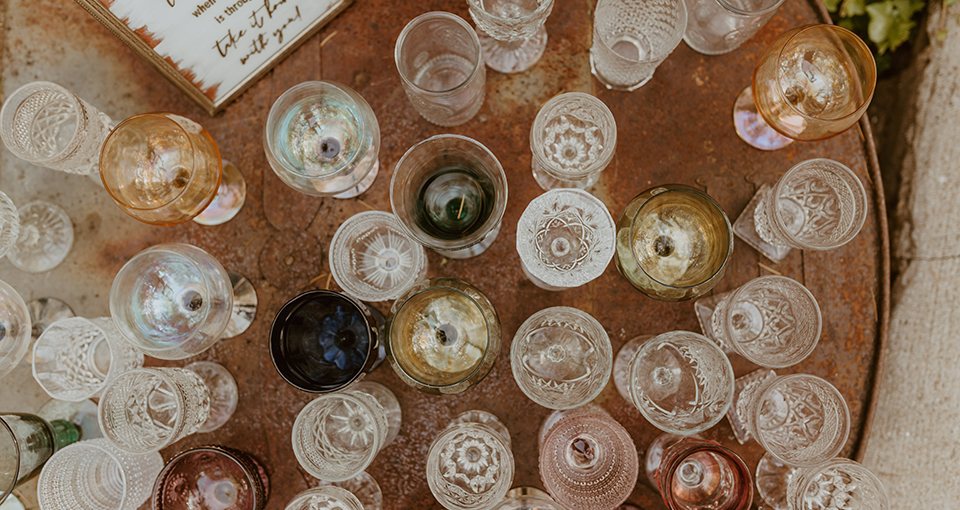 Photography: Cori Taylor Photography
For this couple's rock-n-roll/disco wedding they wanted to keep the party going by gifting their guests disco ball drink tumblers!  Now any time those guests use those tumblers outside the wedding and get compliments they would then say "OMG thank you, our awesome cool super chic friends just got married and that was the favors they gave everyone!"
Okay, they might not say those exact words, but still they can gush about your amazing wedding and favors.  You can find fun tumblers like these on Etsy here.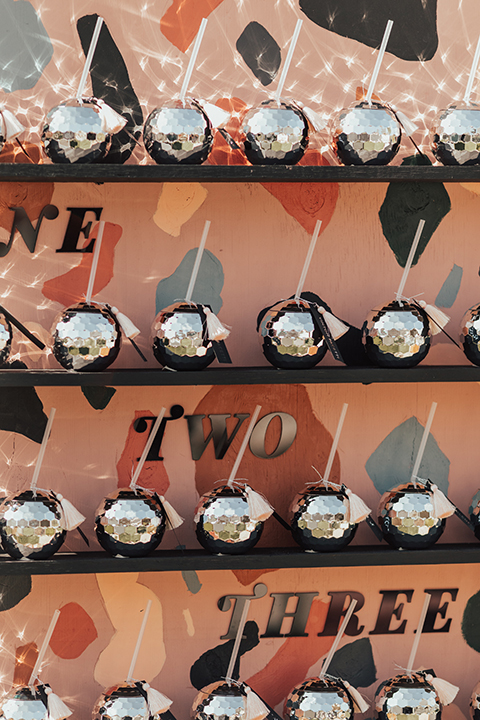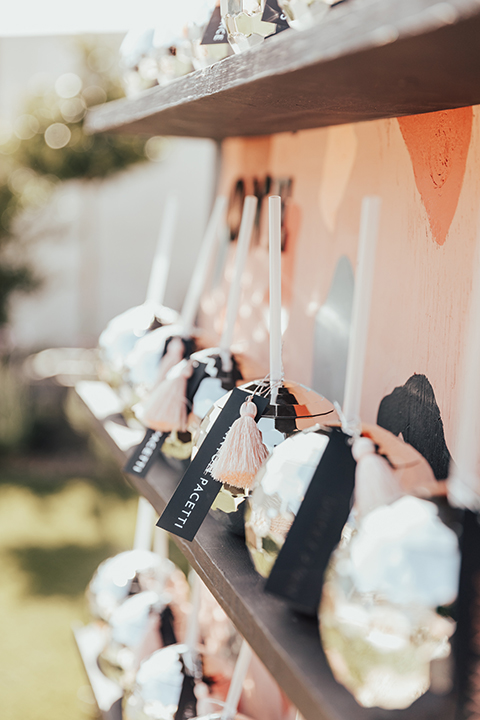 Photography: Borgen Jessup Wedding Photography
Some classics but always a good idea: shot glasses and drink koozies!  Not only do they come in handy but they are always there for when a good time is present – and who doesn't love that for wedding favors?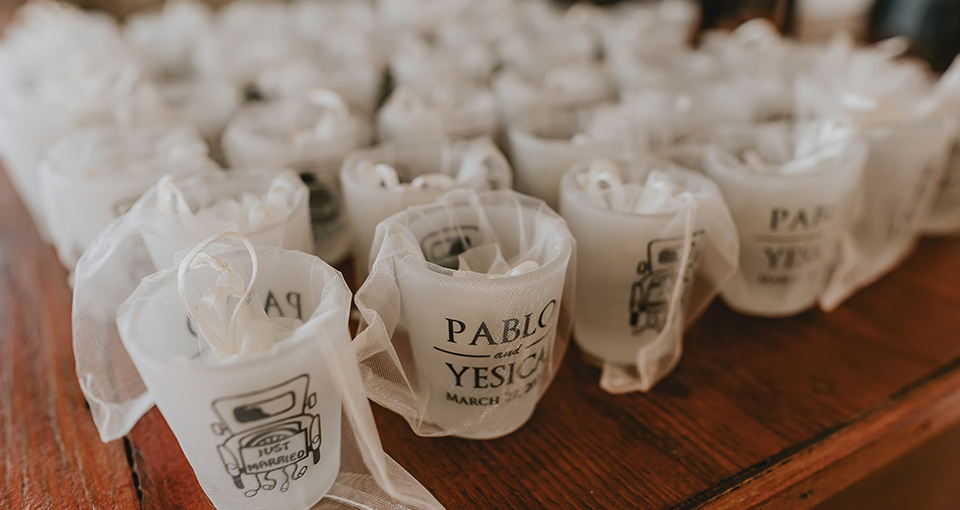 Photography: Vee Taylor Photography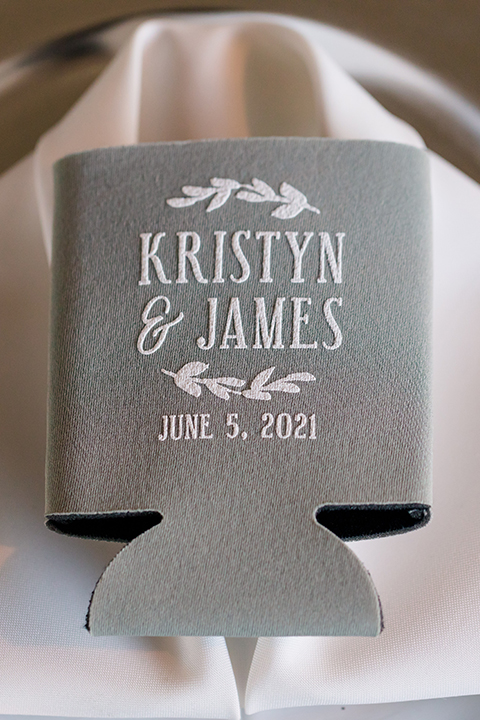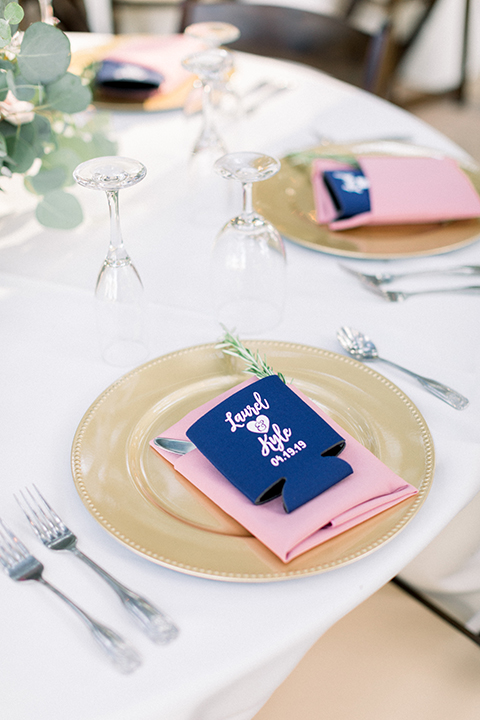 Photography: Melissa Brannon Photography + Jenna Joseph Photography
Can you ever have too many candles? Don't answer that, I just attacked the holiday candle aisle at Target.  Anyway, what we love about having personalized candles as your wedding favors is that it is something your guests will use over and over again.  They are timeless and useful, sophisticated and sweet.  These adorable candle favors from The Hobbyist Box come in several different scents and styles.  See all of their deliciously aromatic designs here.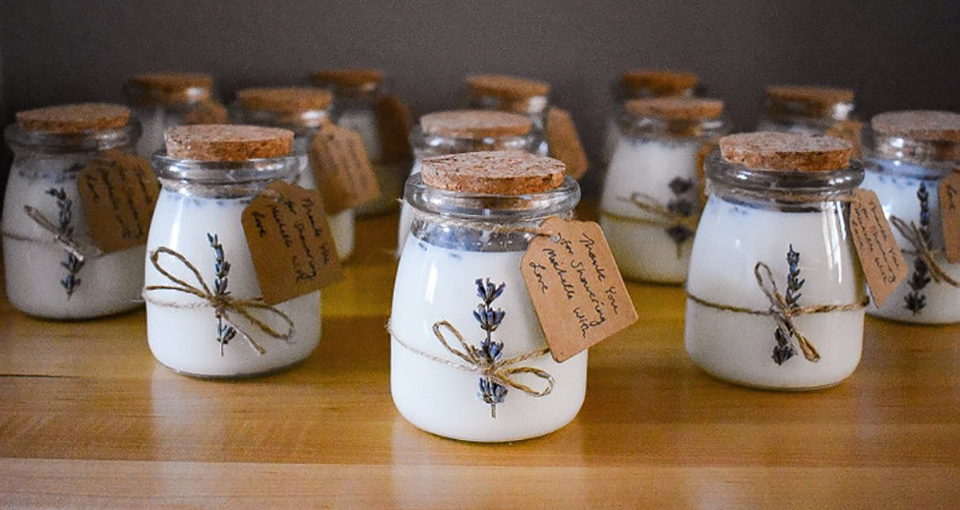 Photography: The Hobbyist Box
Coasters are such a fun idea and can be used in several ways!  As wedding favors, name place cards, or if you get them early enough, they can be used as Save the Dates.  Check out Ethereal Wedding Gift on Etsy, and see not only these cool coasters, but all their amazing custom wood creations.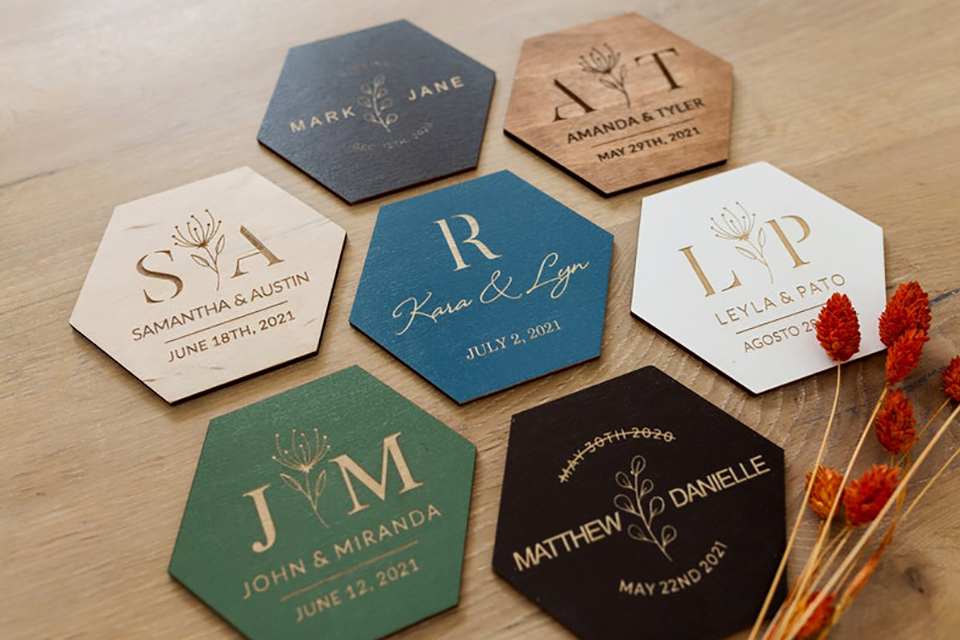 Photography: Ethereal Wedding Gift 
The last one on the home tour we want to bring attention to is the mini potted succulent.  We have seen these in weddings more and more lately and we are just in love!  For those couples who love plants but also for those guests who need a low maintenance green friend – the potted succulent is perfect.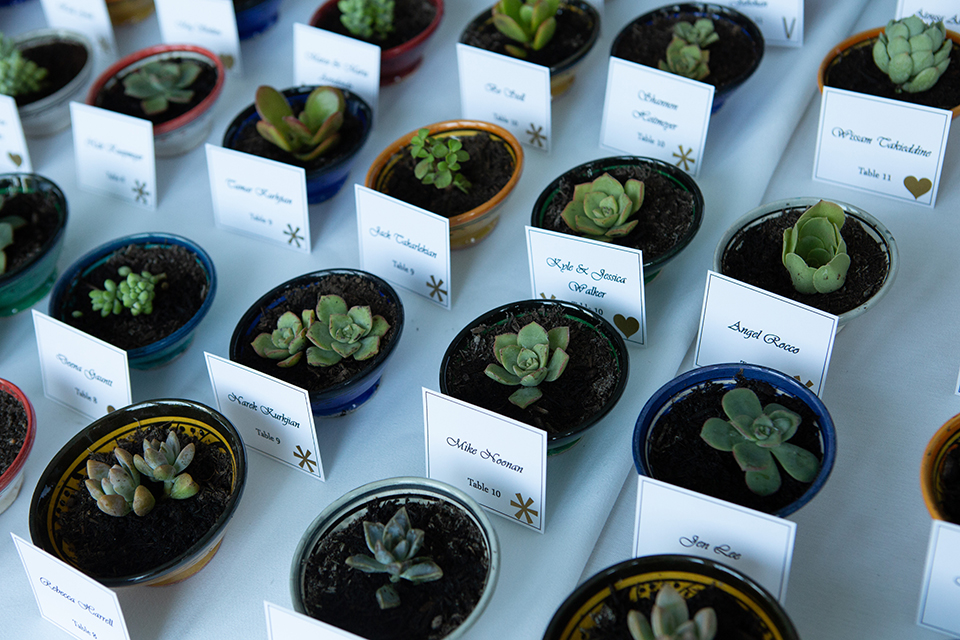 Photography: David England Photography
On The Go + Today's Essentials
For our last grouping of ideas we wanted to bring some unexpected but perfect favors for anyone.
Do you and your significant other love to travel?  Well, why not incorporate it into your favors?  These fun luggage tags by Letter and Leather are perfect!  Don't just keep the fun at wedding favors, get some luggage tags for your bridal party for the bachelor/bachelorette parties, trust me they will love it.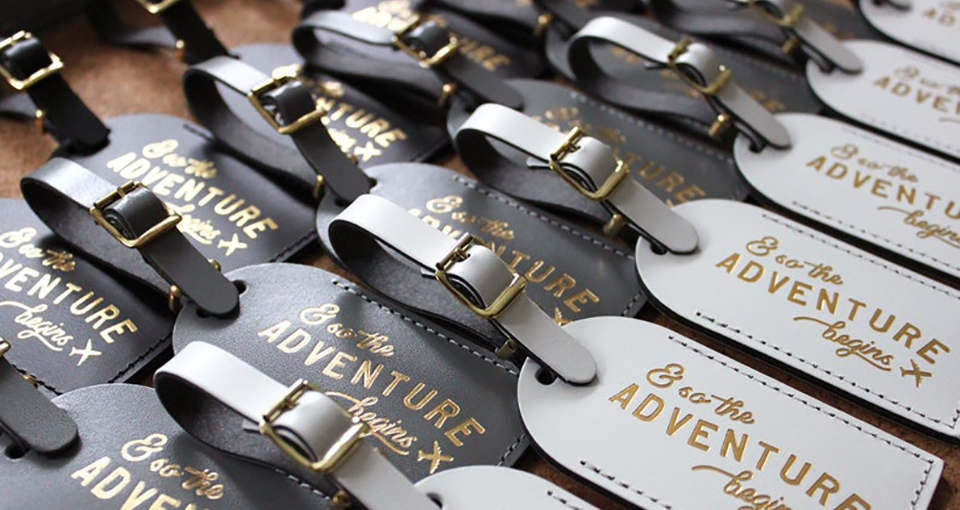 Photography: Letter and Leather
Matchboxes are not only useful, but so cool!  Sadly, these babies are almost considered retro since the lighter came into the picture.  But there is nothing like striking a match and lighting a yummy scented candle to brighten up the house.  Or if you are a couple who loves camping, you know matches always come in handy – and these babies from Picture Perfect Papier are EVERYTHING!  Trust us, when you see all the amazingness they create on their site you will swoon just like we did.  From seasonal to drinkware this shop has all you need!
Another idea that is great are keychains.  These can be simple designs with your names on them, or they can be a symbol that means something to you.  Like your pet, or like one of our all-time favorite couples who had these chic skateboard keychains!  The groom is a professional skateboarder so not only did they mean something to the couple personally, but how fun are they for anyone to carry around! (Speaking to those out there who played with finger boards as a kid in school). Get your keychains and other laser crafted good from Creatie Amme!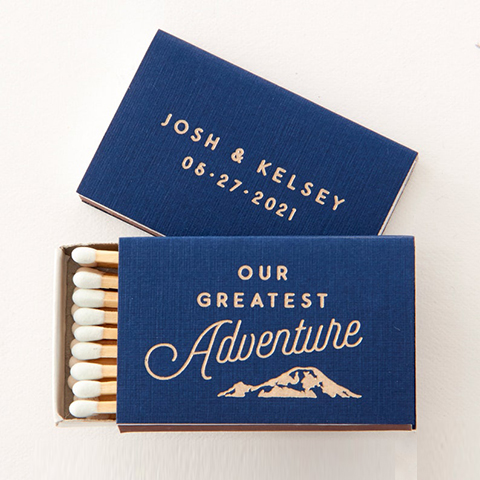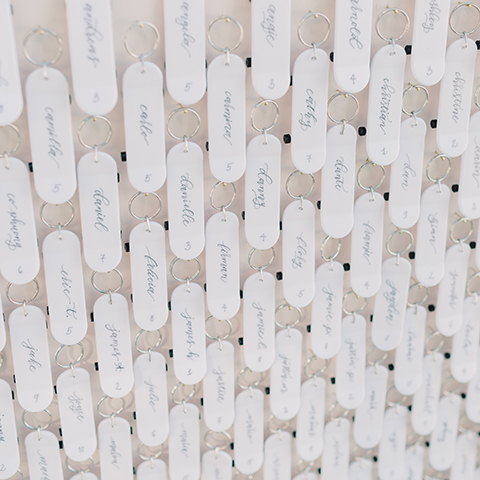 Photography: Picture Perfect Papier + Alexis Ralston Photography
Last but certainly not least personalized masks for your guests to use not only at your wedding but beyond.  Chic and simple, and so useful today.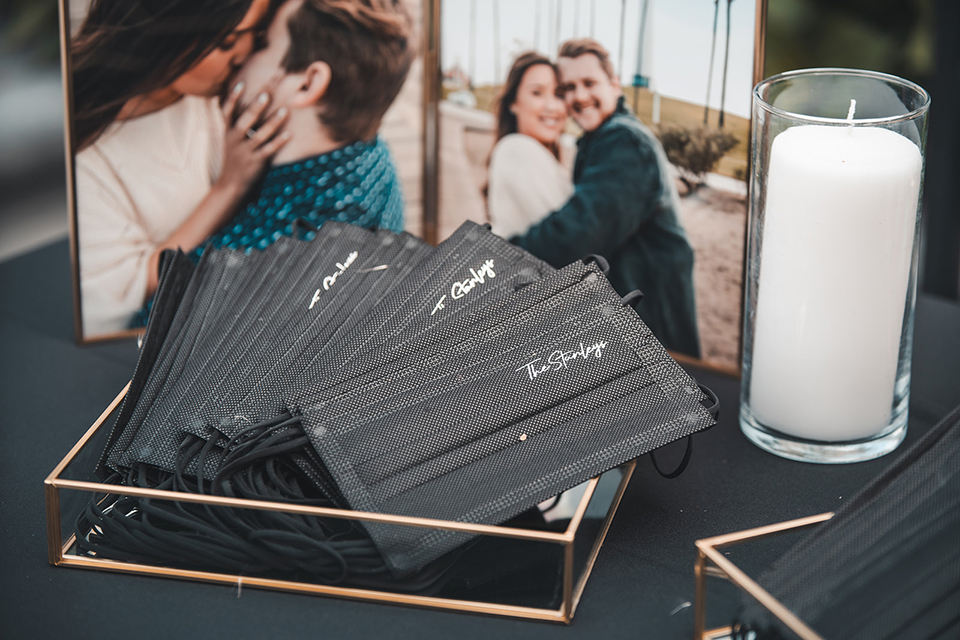 Photography: DNA Visuals
We hope this list of amazing creators and unique gifts have helped you out.  Have other favor ideas? Reach out to us on social media, we always love to hear about what our couple are thinking of!