Photography: Bridgette Ambrose Photography | Amber Garrett Photography | Vanessa Hicks Photography 
Thinking of having a winter wonderland wedding?  Yay! Because we love winter weddings and complied a list of 10 of our favorite details that will take you wedding over the top!
1. Invitations
We love a perfectly themed wedding invitation!  And if your going to have a winter-inspired wedding you need to kick off the festivities with a fun wedding invitation.  Like these amazing creations by The Velvet Knot!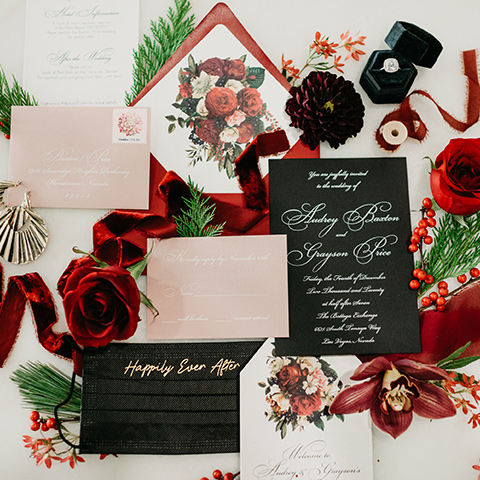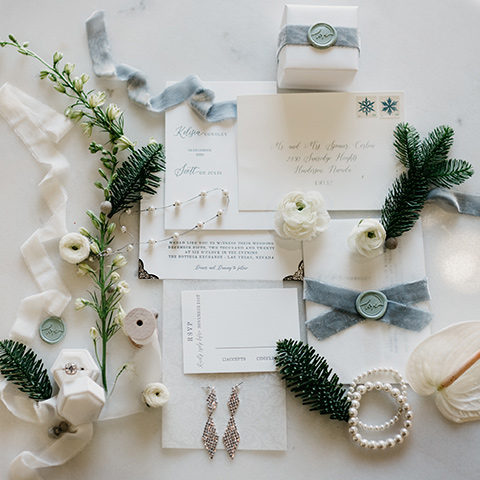 Photography:Amber Garrett Photography
2. Winter/Christmas Inspired Desserts
There is a reason why the holidays are the yummiest of seasons – all the delicious treats! Regardless if you you go big or small the desserts at your wedding can make an adorable impact.  Like having mini-gingerbread houses at the table, scrumption pies + cookies, or a simple "snow" frosted wedding cake.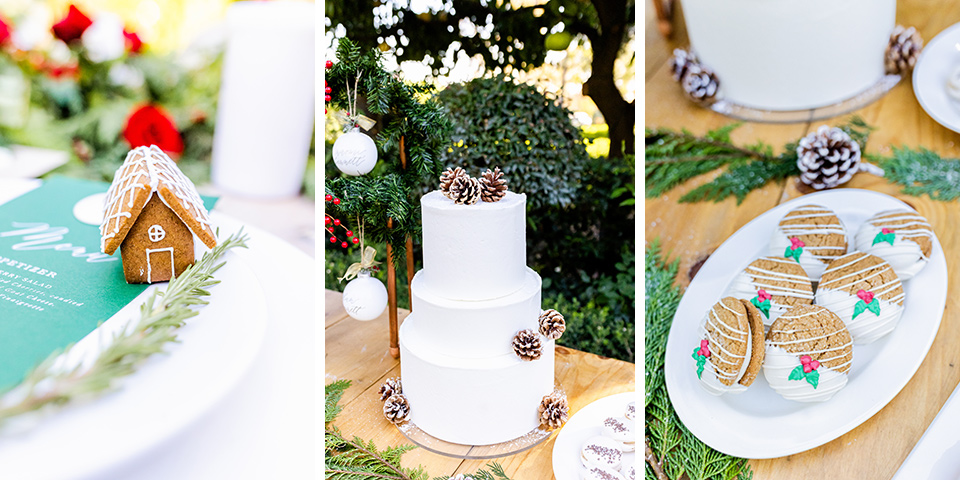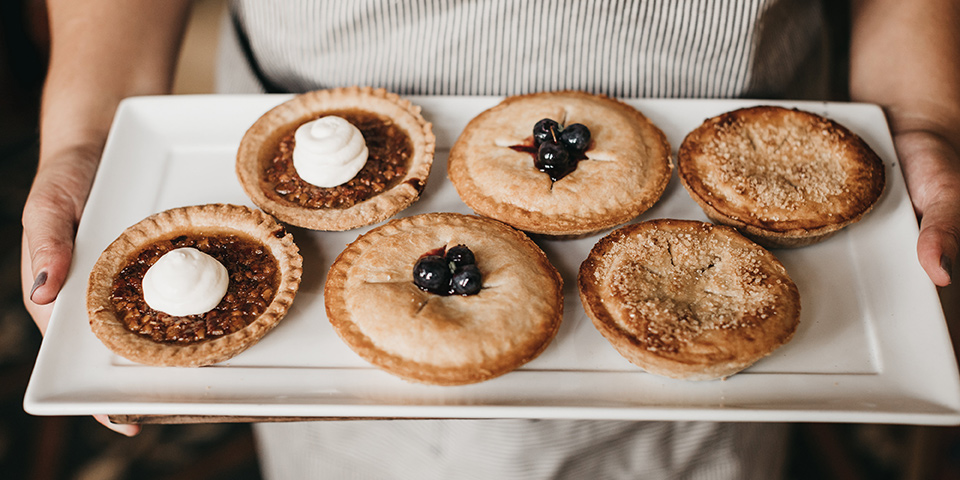 Photography: Vanessa Hicks Photography | Bridgette Ambrose Photography
3. Elopements in the Snow
Who doesn't love elopements in the snow? Having your I-do's surrounded with snow and nature will guarantee that your wedding photos will be ICONIC and timeless.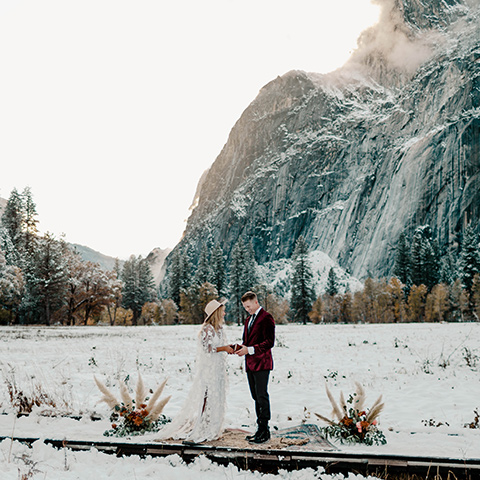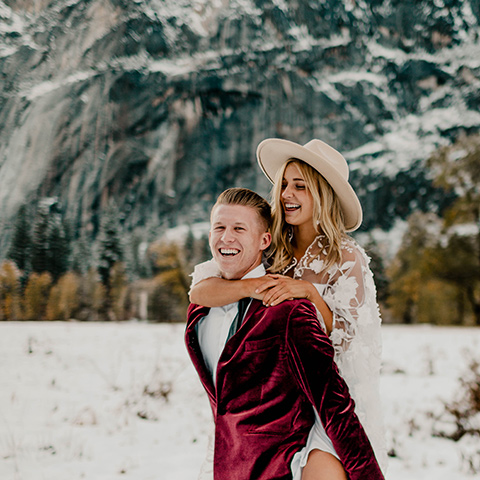 Photography: Alice McLain Photography
4. Winter Cocktails
Okay, obviously if we had winter-inspired desserts on the list, winter-inspired cocktails would be on here too! Your guests will be in awe over this detail, and besides, who doesn't love an aesthetically pleasing cocktail to take a picture of for the Gram?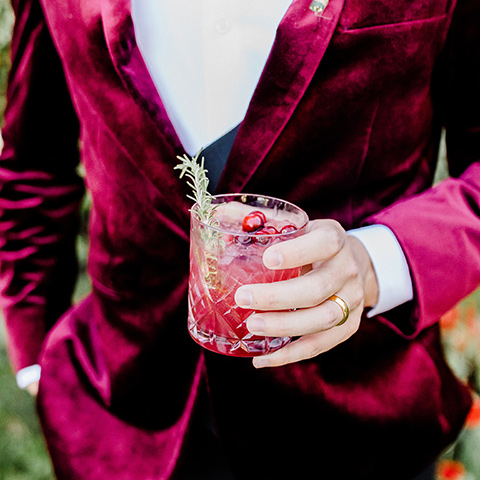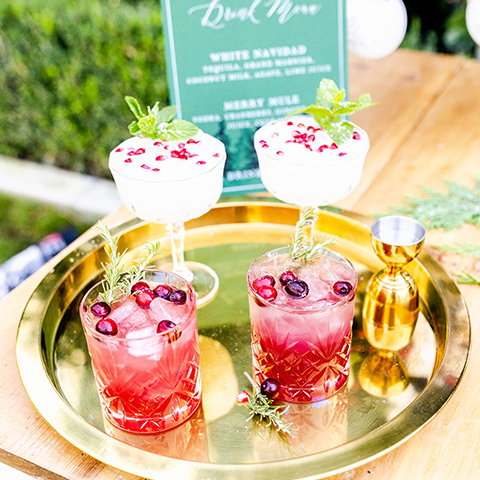 Photography: Vanessa Hicks Photography 
5. Christmas Tree Décor
Oh Christmas Tree, Oh Christmas Tree!
If you want a touch of whimsy and fun adding Christmas tree + presents are the perfect way! And we just love the romance it adds to the overall wedding design.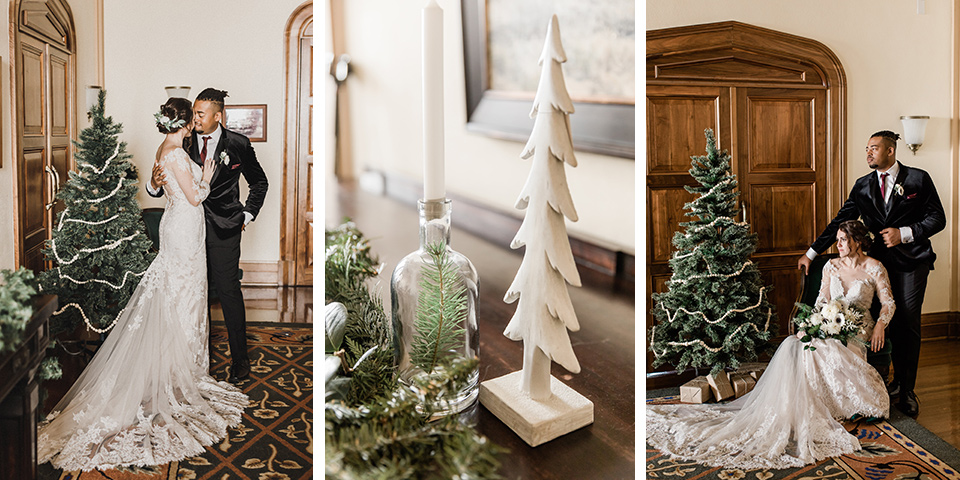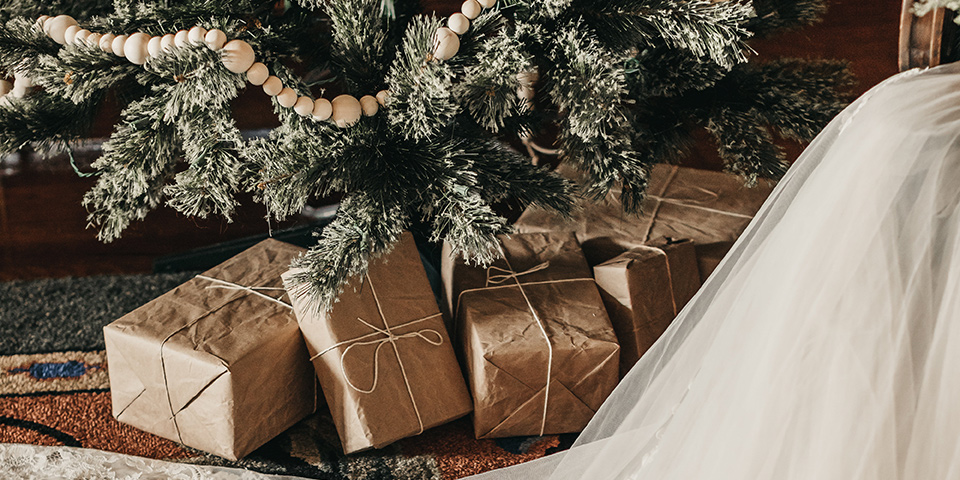 Photography: Bridgette Ambrose Photography
6. Faux Snow Fun
So if you live in a place like sunny SoCal, finding real snow is not always an easy task.  So, add some faux snow to create the magic.  Your pictures will be amazing and it adds a whole extra layer of fun to your wedding day.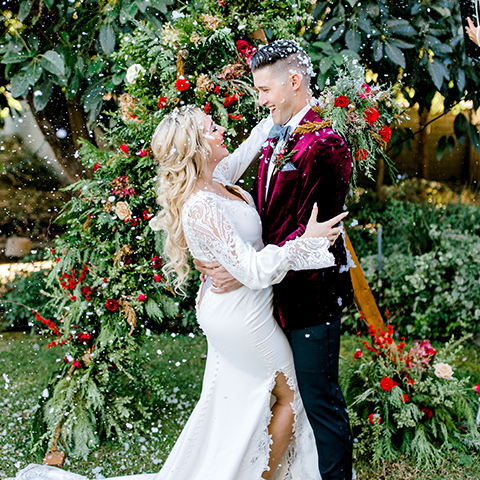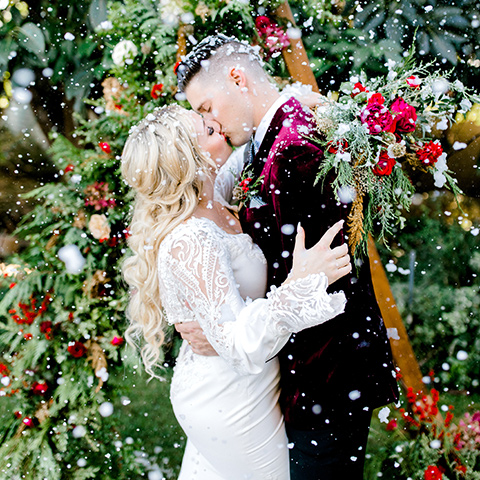 Photography: Vanessa Hicks Photography 
7. Winter + Christmas Décor
Ornaments, nutcrackers, reindeers, Santas…the options for winter wedding décor is endless!  Add them as your table numbers, seating charts, gifts, and more.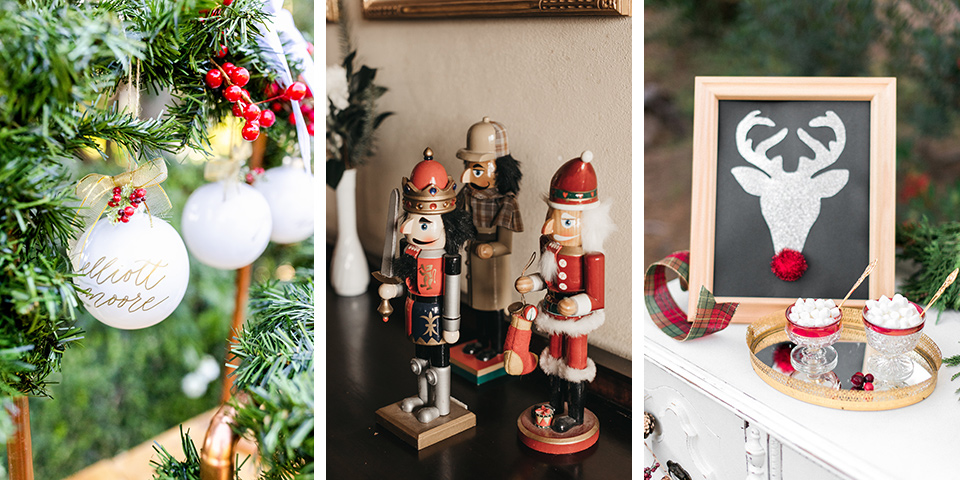 Photography: Vanessa Hicks Photography | Bridgette Ambrose Photography
8. Winter-Inspired Florals
Garlands, wreaths, pinecones, poinsettias….adding these gorgeous florals will make your wedding dreamy and pop!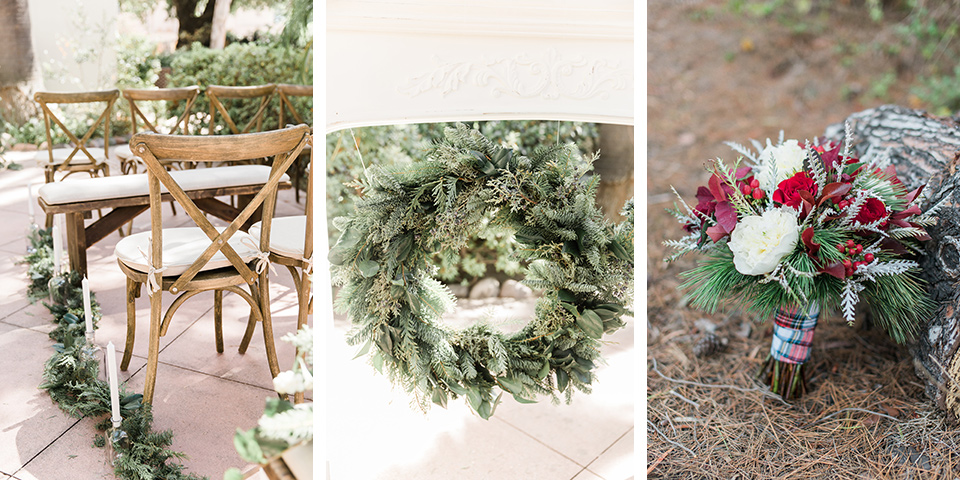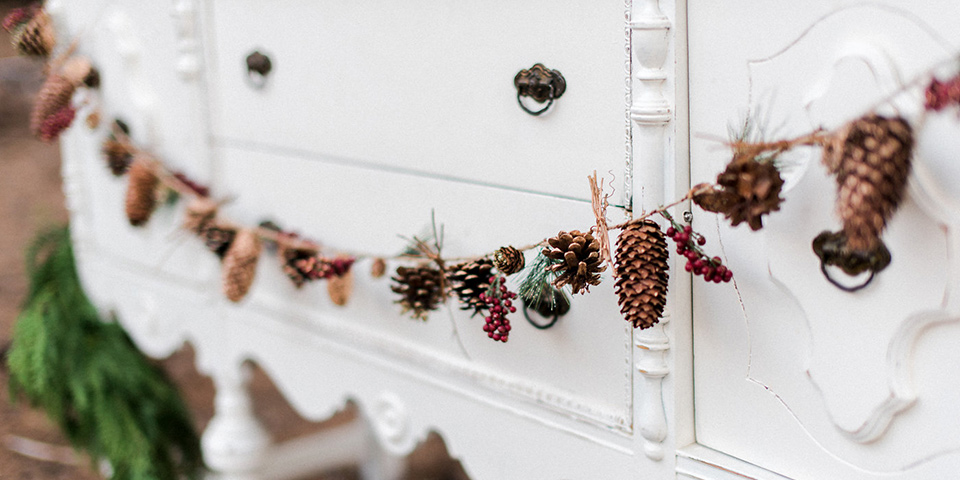 Photography: Bridgette Ambrose Photography
9. Tabletop Designs
When it comes to decorating the tabletops for your winter-themed wedding there are some elements that just freaking work: plaid linens, dreamy red + green details, pine needles + leaves, and cranberry filled vases.  You can add just one or two of these elements or all of them, no matter what you choose it will be stunning!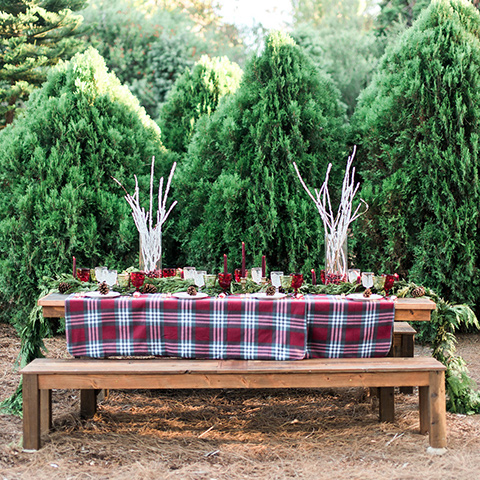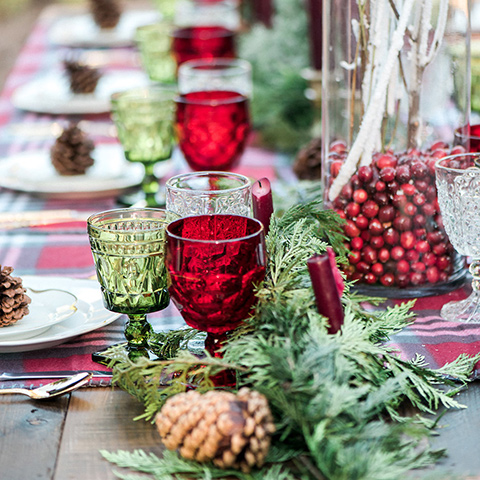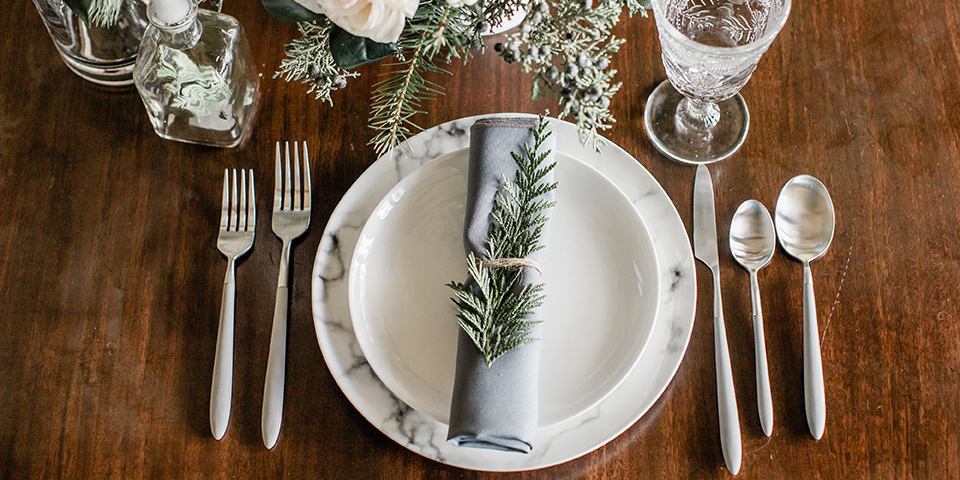 Photography: Bridgette Ambrose Photography
10. Fashion!
There are certain looks that just work for winter weddings: our Black Paisley Tuxedo, Burgundy Shawl Tuxedo, Green Velvet Tuxedo, and the White with Black Shawl Tuxedo are just a few to mention. 
And no matter what style suit or tuxedo you go with, jazz it up with some fun accessories.  Velvet bow ties, cranberry + forest green neckwear, lapel pins…all just make a winter wedding look pop.
Shop our Suits + Tuxedos here.
Shop for accessories here.