Every birthday girl has a vision for their quinceañera and we want to help bring that to life. Maybe you have a theme inspired by a color or season... maybe you have a theme based off of your favorite fairy tale? The concepts for the big day are endless, and with that so are options for the quinceañera boy's attire aka the chambelanes suits. Regardless if you already have a theme and just want some ideas on how to style your court, or have no idea what theme to choose - we are here for you. In this post we go over many popular themes and styles to make your big day amazing! We partnered with Quinceanera.com and Princesa by Ariana Vara to put together several quinceañera gown + tuxedo combinations to inspire your own quince design!
Beauty and the Beast
For a Beauty and the Beast theme, we wanted to focus on the iconic yellow and bright blue color combo. To pair nicely with the bright yellow of our birthday girl's ball gown, we put our chambelan in a bold cobalt blue suit with yellow vest and tie.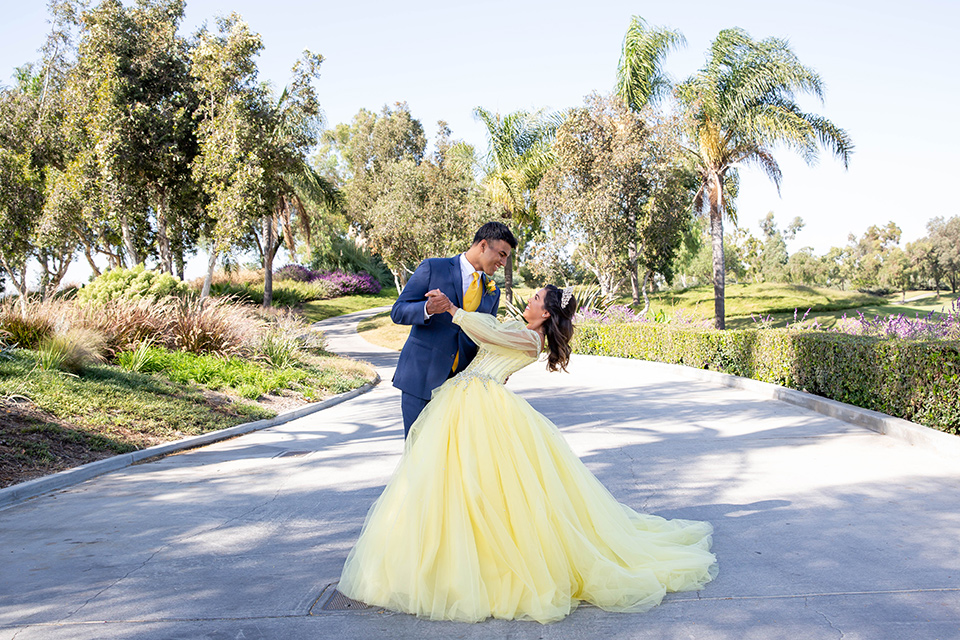 Cinderella
For the Cinderella themed look we had more fun with the chambelan's style, by putting him in a royal blue velvet tuxedo. Making him look like the prince charming he is, next to her stunning Cinderella light blue dress. Have the rest of your court in black to really make your chambelan's style stand out.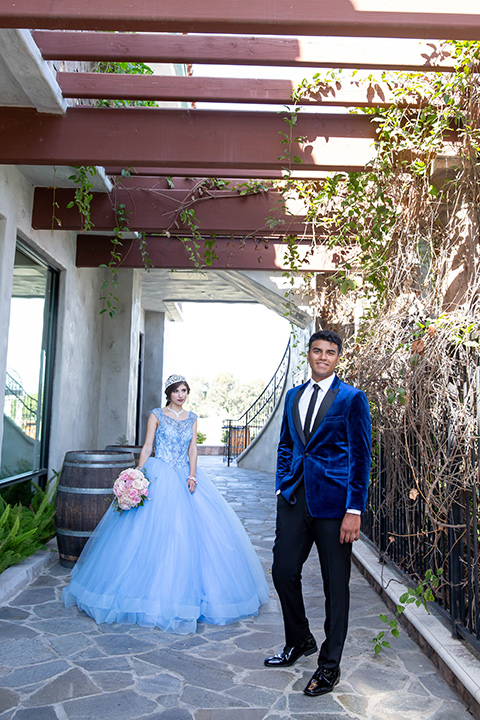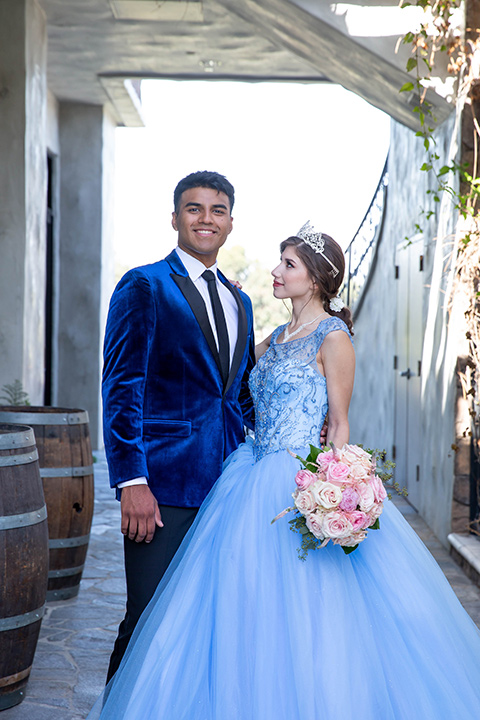 Royalty
Royalty is a fun theme when it comes to style. You can go in so many directions, and in almost any color! For this look we wanted to show two different options for you. One is pulling different variations of the color scheme to create a truly unique look. We did this by putting the chambelan in a burgundy tuxedo with black trim, to complement the quinceañera's burgundy ball gown. We also put our chambelan in a charcoal tuxedo with black trim and burgundy accessories, this look allows him to complement with his accessories rather than with his entire tuxedo.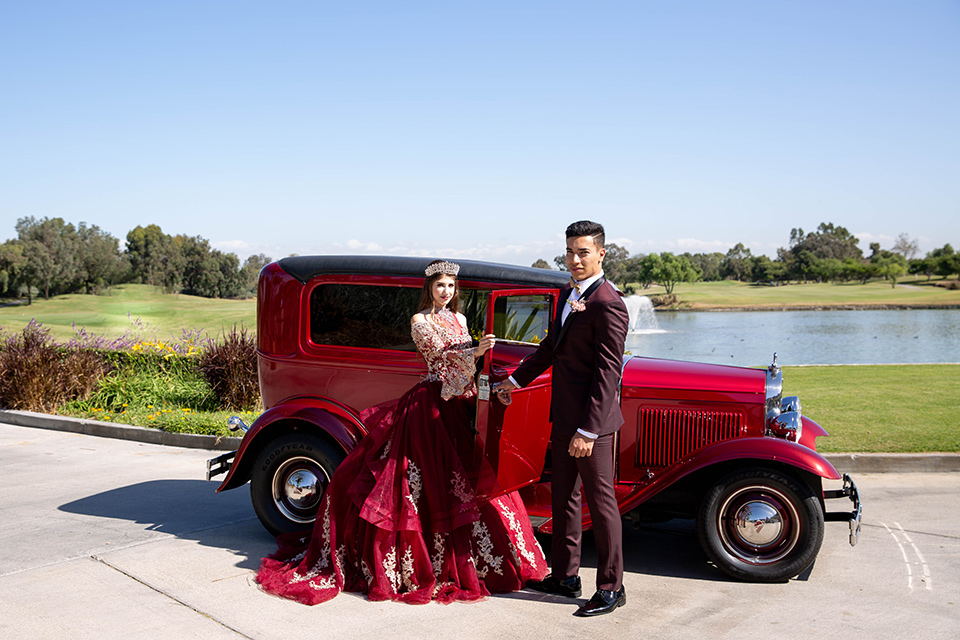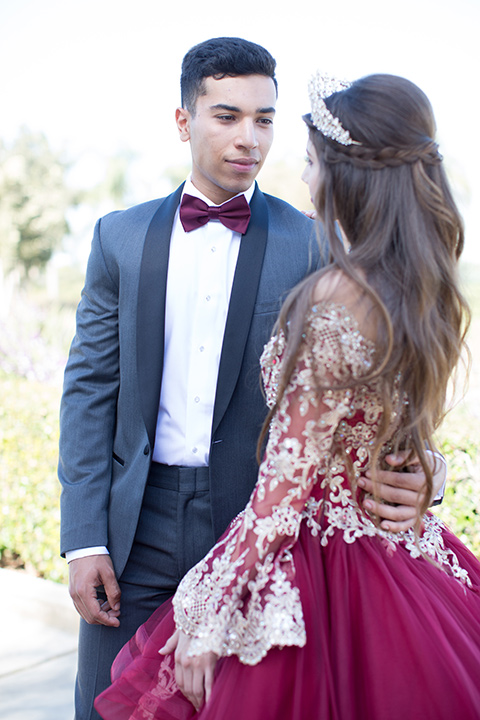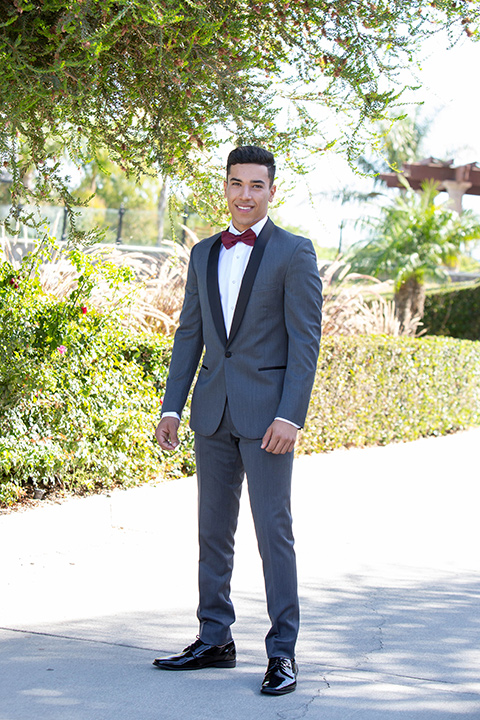 Enchanted Garden
Just the word 'enchanted' makes for a dreamy feel to any party, and for this theme you should not let your attire be left behind. For this luxurious garden theme we wanted to play with color, by putting our leading man in a dark green suit. Next to her bright sunflower-yellow gown the two look like they should be dancing in an enchanted garden setting.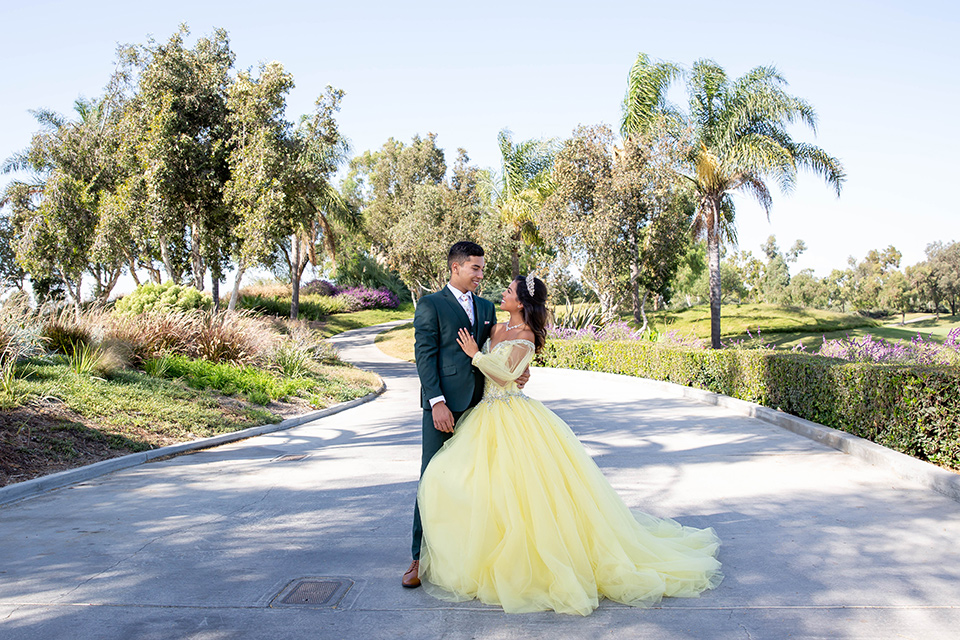 FT list of Popular Quinceañera Themes:
Winter Wonderland Quinceañera
Alice in Wonderland Quinceañera
Princess Themed Quinceañera
Royalty Themed Quinceañera
Flower Garden Quinceañera
Circus Themed Quinceañera
Cinderella Themed Quinceañera
Barbie Themed Quinceañera
Hollywood Themed Quinceañera
Under the Sea Quinceañera
Candyland Quinceañera
Fairytale Quinceañera
Masquerade Themed Quinceañera
Tropical Luau Quinceañera
Paris Themed Quinceañera
We understand that this is a lot of information, and deciding what to wear to a quinceañera can be stressful. Allow us to help! At all our locations are certified stylists ready to help you pick out the perfect style for your court!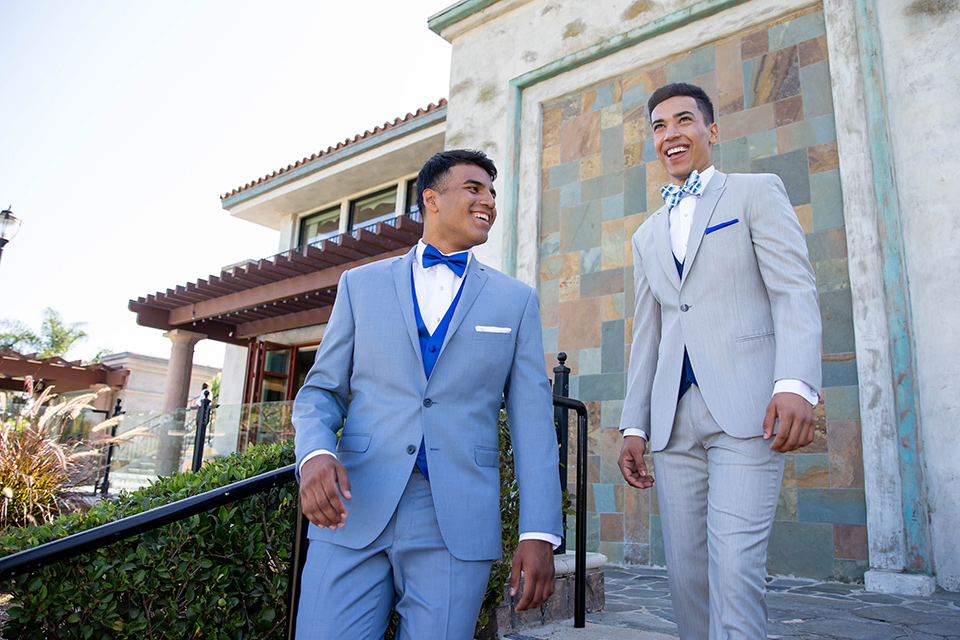 One of the main things you will obsess over when doing your quinceañera planning is the chambelan tuxedos and how they will match the damas dresses and your overall design and quinceañera color combinations. There are lots of ways to mix colors for your quince, some of our favorites are: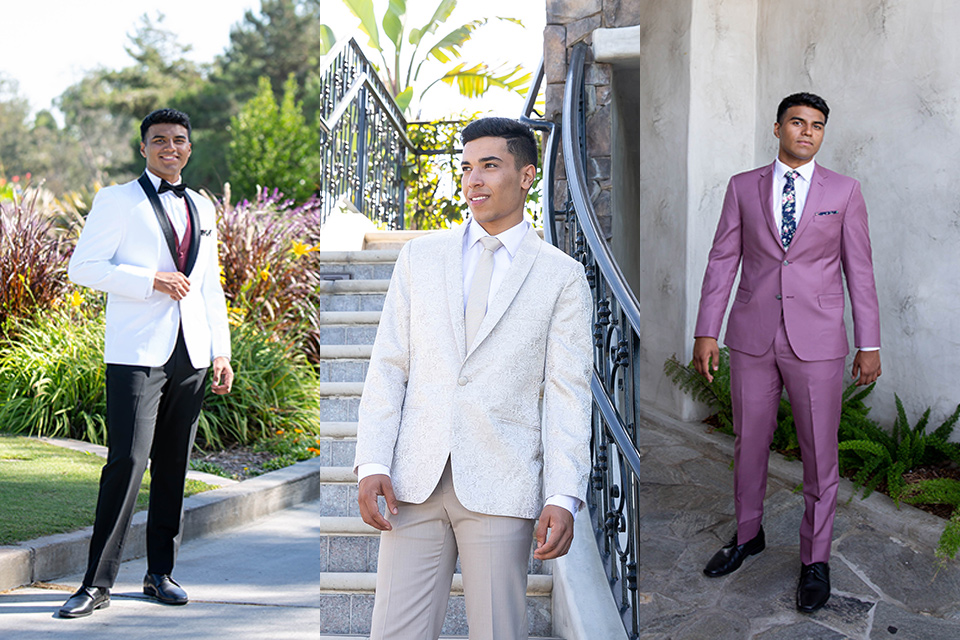 FT Favorite Quinceañera Color Combinations:
Gold, pink and whitel
Teal, purple and silver
Multiple shades of pink: magenta, pink and blush
Lavender and dark grey
Black, burgundy and gold
Gold and emerald
Burgundy, blush and ivory
Royal blue, light blue and white
Jewel tones: royal blue, emerald green, burgundy, plum and silver or gold
Metallics: gold, silver, copper and white
Pastels: pink, light blue, yellow and lilac
Your favorite color with black, white and silver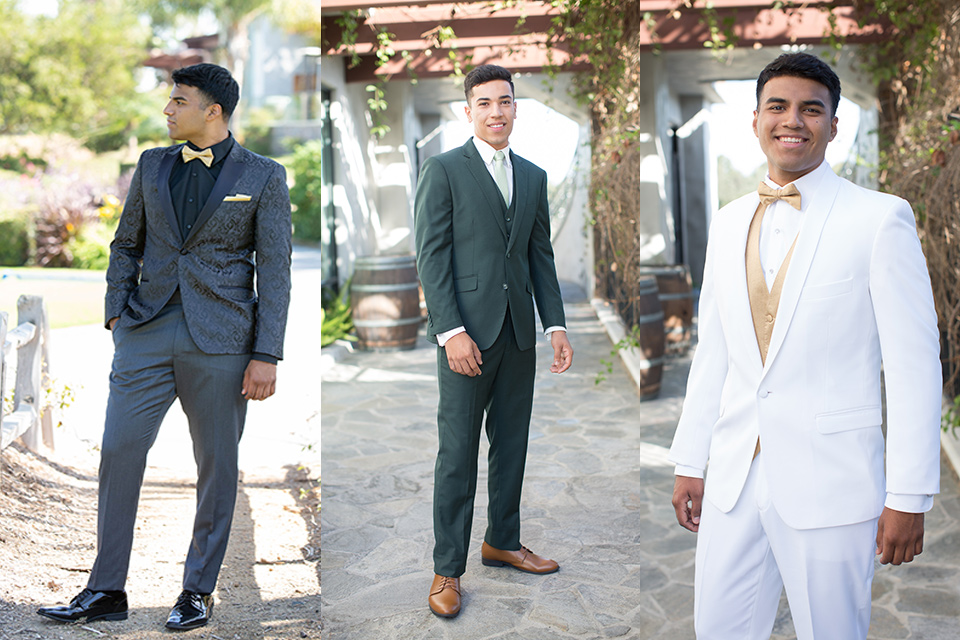 Playing with color schemes can be fun when thinking of your party attire. Here are some of our favorite gown-and-suit combos:
Pastel: Tan + Light Blue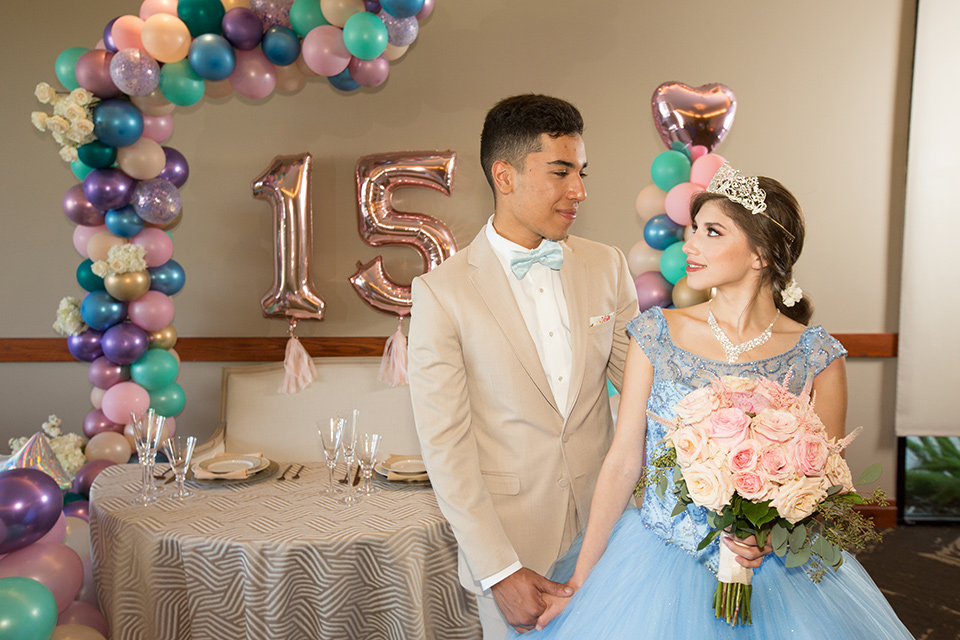 Blue + Grey VS. Blue + Blue!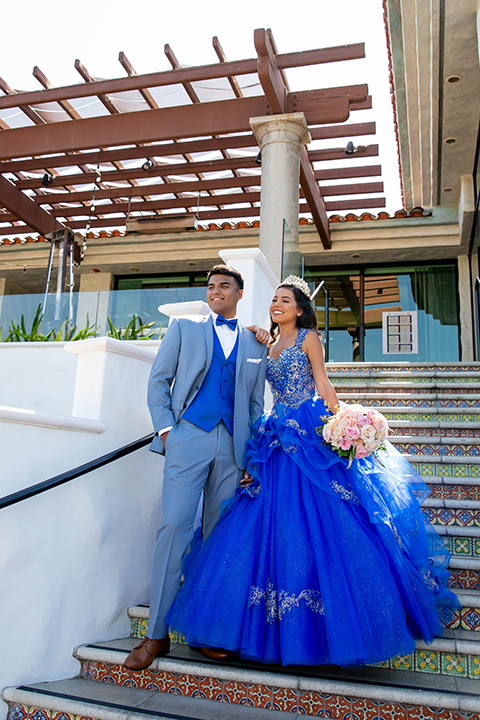 Burgundy, Black + White
At Friar Tux, we specialize in quinceañera tuxedo and suit rentals. We make shopping easy because we have all the accessories you need and we adjust the sizes for every person in your court.

Venue: Old Ranch Country Club | Gown: Mon Cheri Bridals | Photographer: Chloe Atnip Photography | Videography: Pacific Video Weddings | Hair + Makeup: Diamond Beauty Hair & Makeup | Video Games: Super Arcade | Balloons: Balloonzilla