Venue: Waterman's Harbor
Photography: Lisette Gatliff Photography
Menswear: Dark Blue Notch Lapel Suit with a ligh blue vest and floral long tie
Okay, the amount of personal touches in this wedding is BEYOND amazing!  We love when couples make their I-do-day their own and Christy & Eric did just that for their bayside wedding. 
The custom watercolor invitations, signature cocktails, colorful flowers, and more…it is safe to say we are obsessed with the amazing day they created.  And better yet, we got the inside scoop from the bride herself!
"We really wanted our day to be a fun, low-key event that everyone would enjoy.  Our micro-wedding and brunch in Dana Point, CA was attended by just our closest family and friends.  Eric's Stepfather even officiated our ceremony!"
We love asking our couples about the inspiration behind their wedding day décor or theme and are always excited to hear what they say. "We had a bit of a music theme going on.  We asked a few friends of ours to help with some non-traditional wedding readings.  My 3 best friends read the lyrics to "You Make My Dreams Come True" by Hall & Oats and choreographed a little movement to go along with it.  (We were all dance majors together at the University of Arizona.)  Two of Eric's good friends read the lyrics to "Do You Believe in Love" by Huey Lewis & The News.  Our guests got the biggest kick out of both renditions!  My vows were all Taylor Swift lyrics that I pieced together in a way that would have special meaning for us.  (Taylor is a favorite of the ladies in our house.)  Eric "Rick-rolled" me prior to reading his vows which got a huge laugh from our guests and kids who love "Never Gonna Give You Up" by Rick Astley."
And if you fell in love with their unique watercolor invitations and paper goods, so did we!  And once you hear the meaning behind the design, we bet you will love them even more:
"We also tried to incorporate some other cute, personal touches.  Foxes are near and dear to me.  When I had Connor and saw that he was also going to have red hair, I started calling him my little red-headed fox.  From that point on I started collecting orange foxes.  Similarly, Eric's family loves hummingbirds.  It's a nod to his late Mother.  We asked Alison of Alison Pennline Designs to incorporate hummingbirds and foxes to symbolize each of us and the kids in our save the date.  She was an incredible partner and created the most beautiful watercolor art for us!  Our save the dates included special moments from when and where we met, our first trip together, when we moved into together, the proposal and our wedding date/location.  Our invitations highlighted our love for California poppies and our super sweet fox and hummingbird made another appearance to tie both cards together.  Our day of stationary & signage was another highlight for us.  Alison also put together a program with our order of events, seating chart and menu on it along with a gorgeous signatures drinks sign for the bar.  Eric and his family are HUGE San Francisco Giants baseball fans.  I surprised him with some fun SF Giants baseball and fox macarons to go along with our doughnut cake.  We decided on a doughnut cake from the get-go since we wanted a morning ceremony followed by "bubbles & brunch."  Who doesn't love brunch, right!?!  We thought it would be the perfect sweet note to end the festivities on."
Okay, now to our favorite part…the fashion! (Yes, we know we are biased with it comes to this, but can you really blame us – fashion is in our blood).  The bride wore a romantic ivory and white gown with the most beautiful lace detailing ever! She paired her look with a side swept braid and gorgeous bridal bouquet! The junior bridesmaid matched the garden-beach theme by wearing a floral dressed that looked perfect with her fun spring-time bouquet.  "We are a blended family and share three awesome kids.  Eric has two daughters from a previous marriage, Rachel (15) and Melissa (12) and I have one son from a previous marriage, Connor (12).  Rachel decided she wanted to dress like Dad for the special day, so she and Connor both got to look super dapper in their dark blue Broadway suits with light blue Verona vests alongside Eric." And let us just say, the navy blue and light blue combo was perfection! This bridal party is serving up so much style, our suit-loving hearts are obsessed!
The love of this couple and their family glows through the photos and we could not be more honored to share them with you.  And come on, the vibes of this wedding just can't be beat!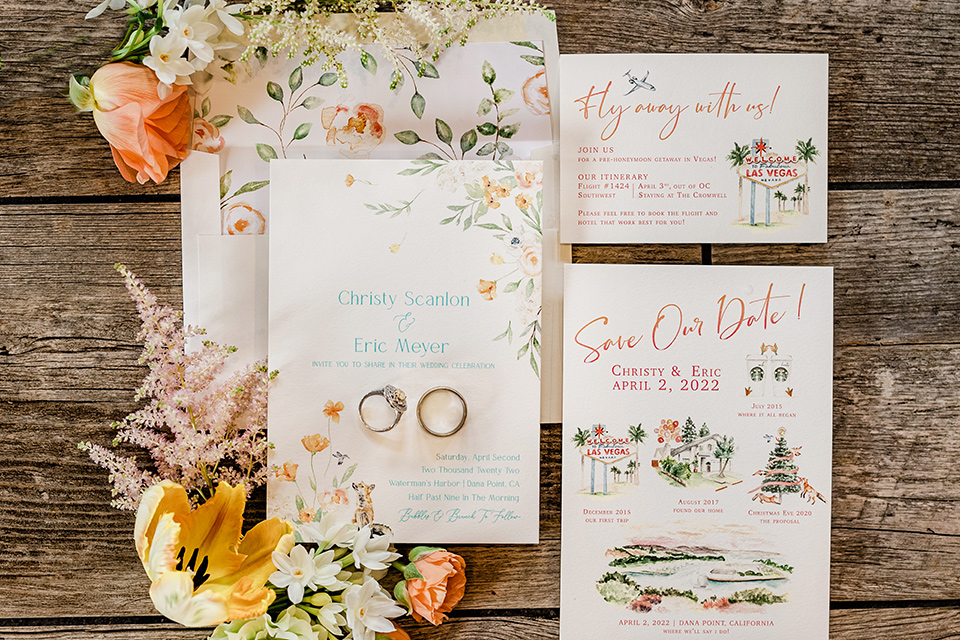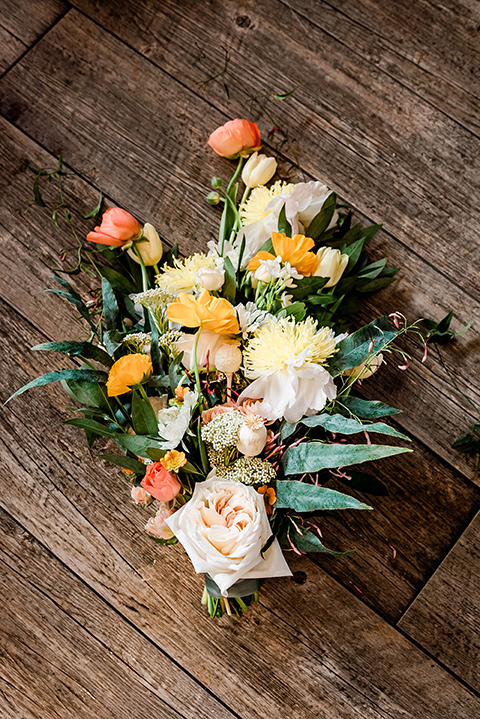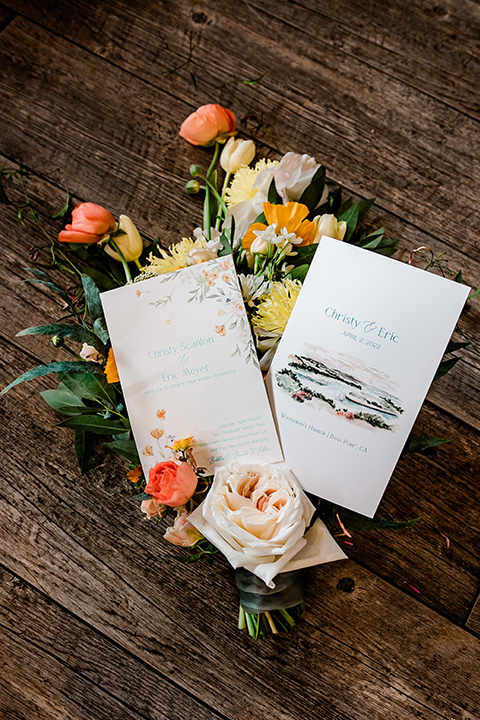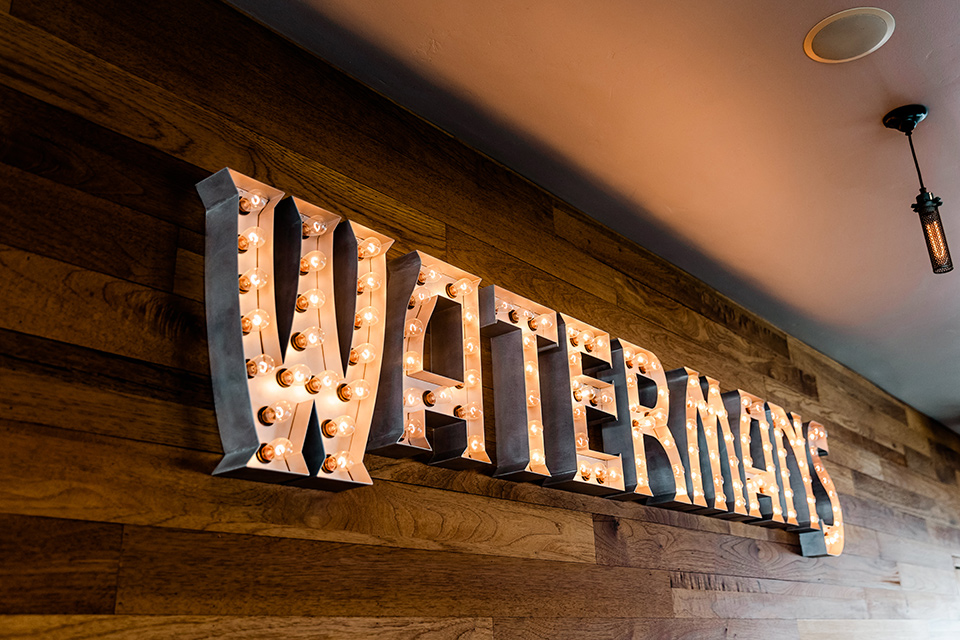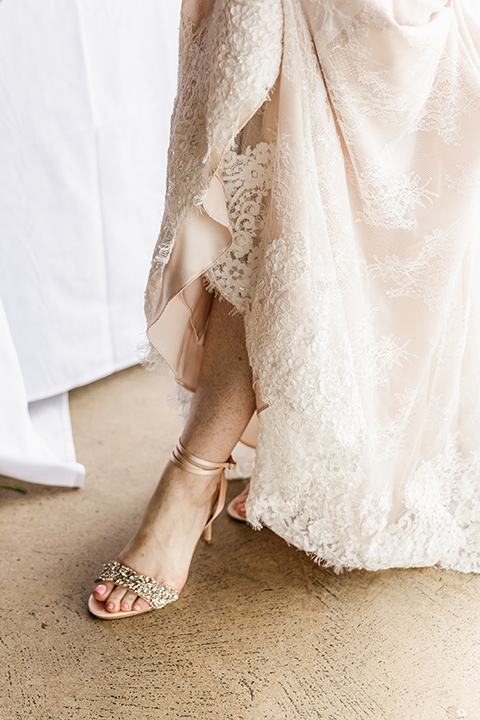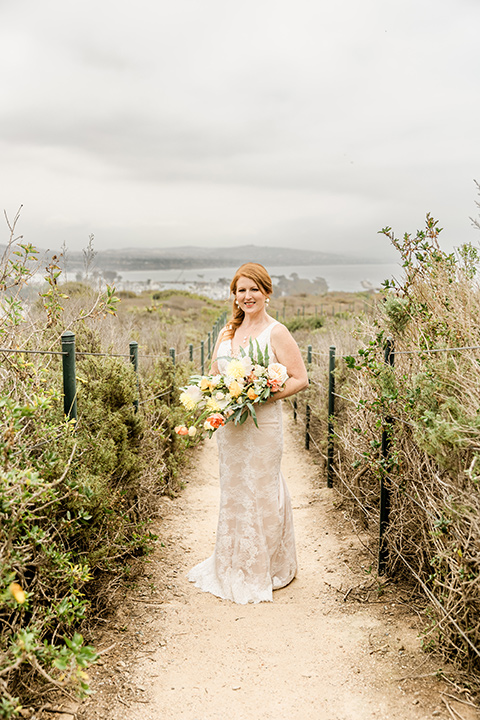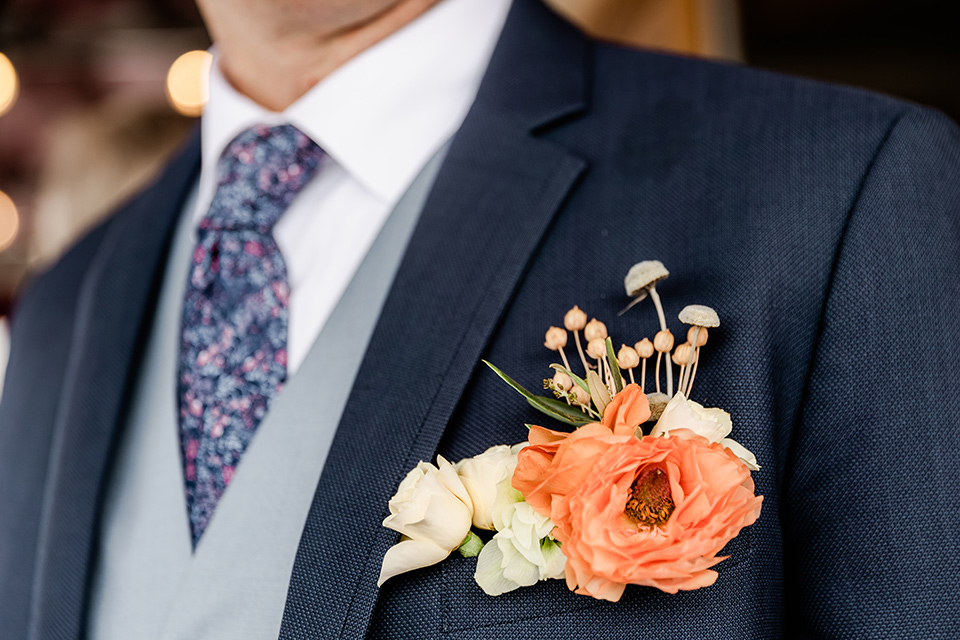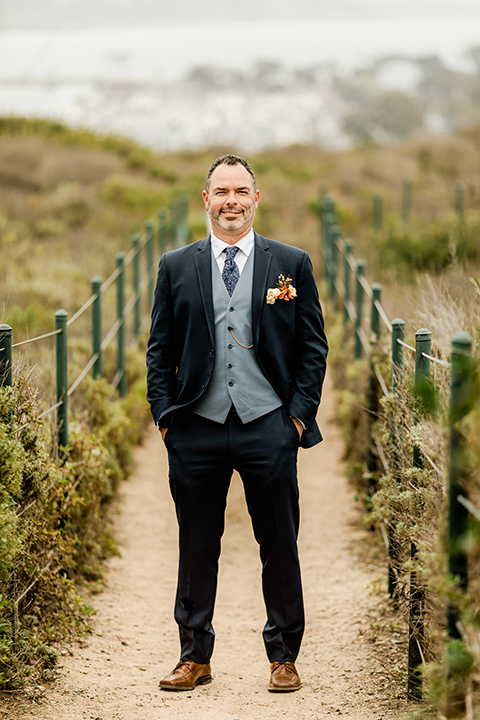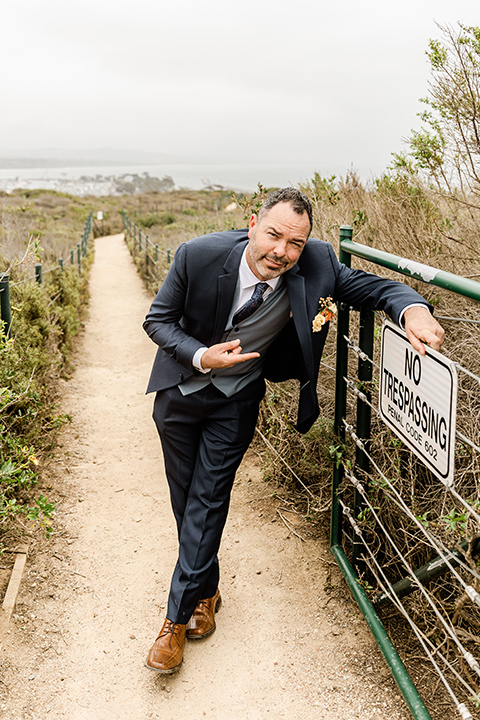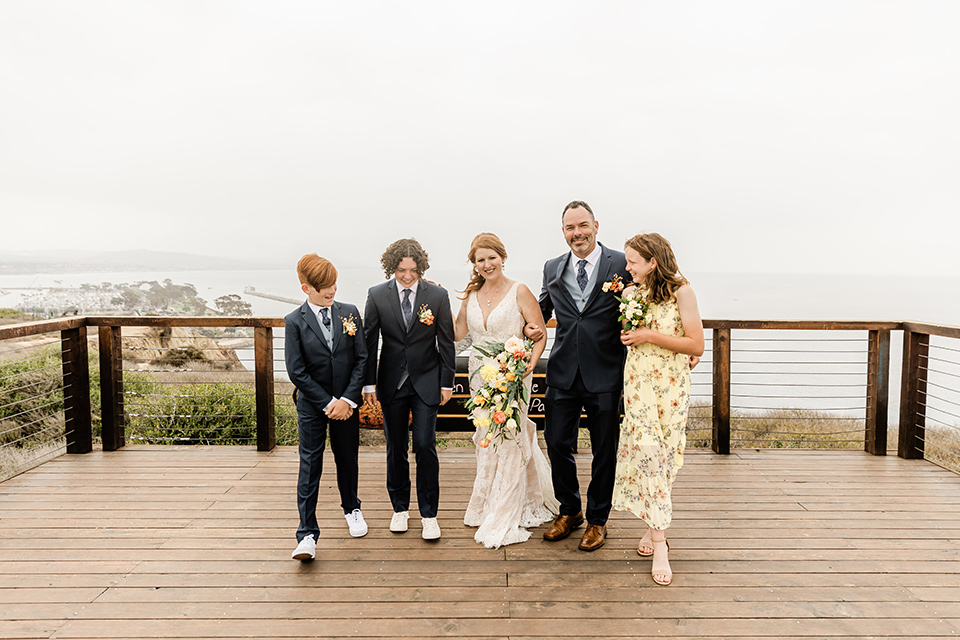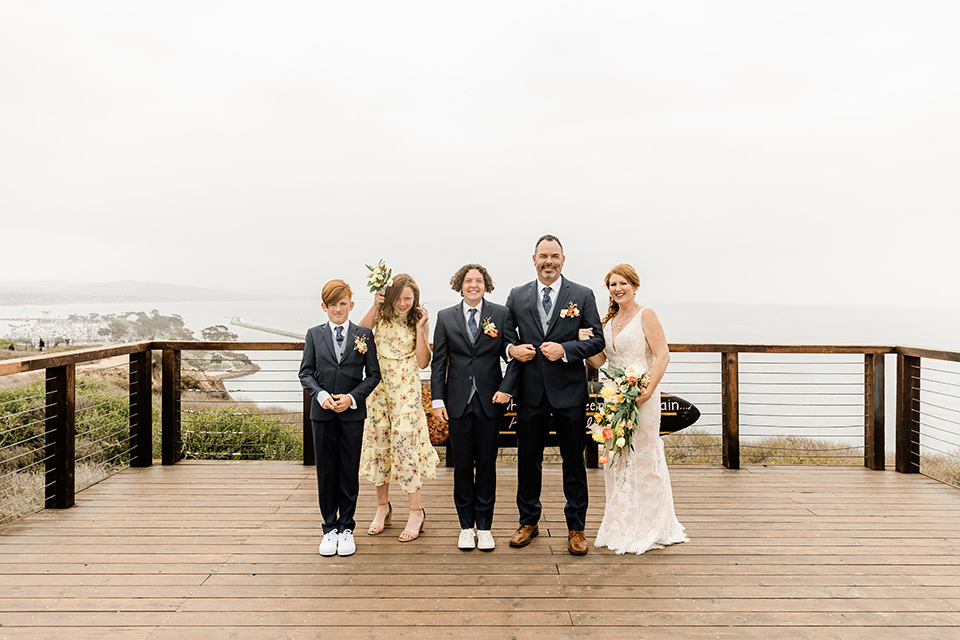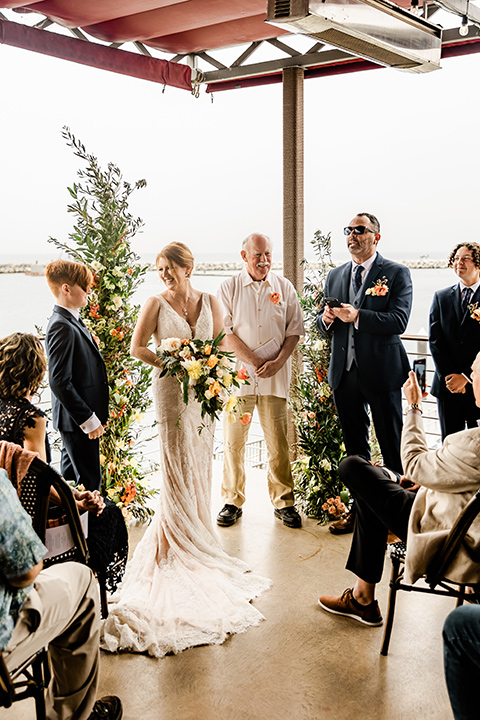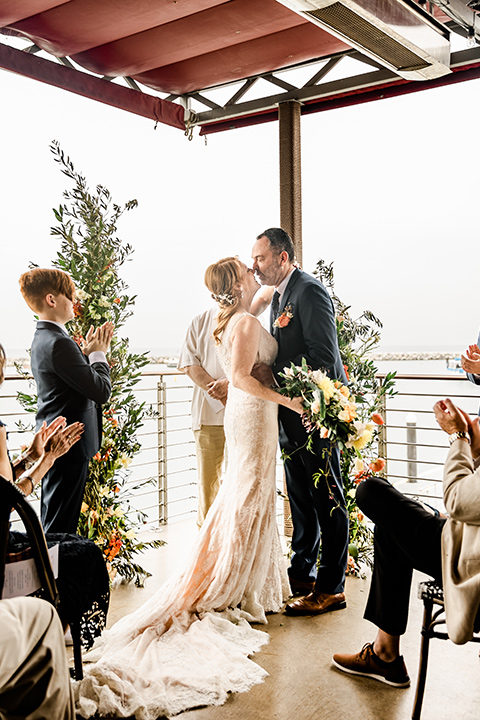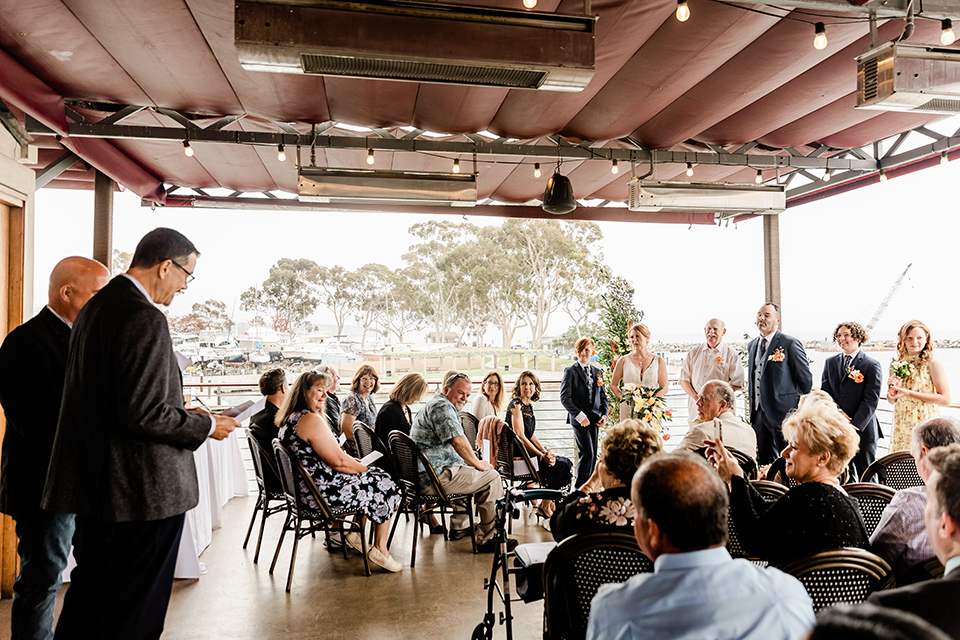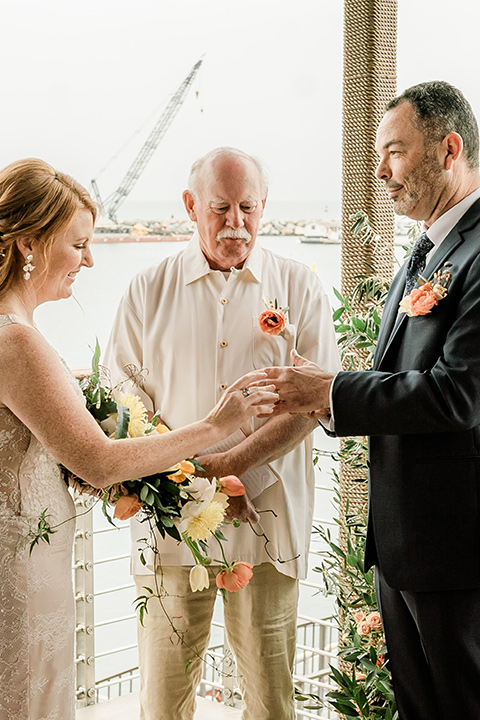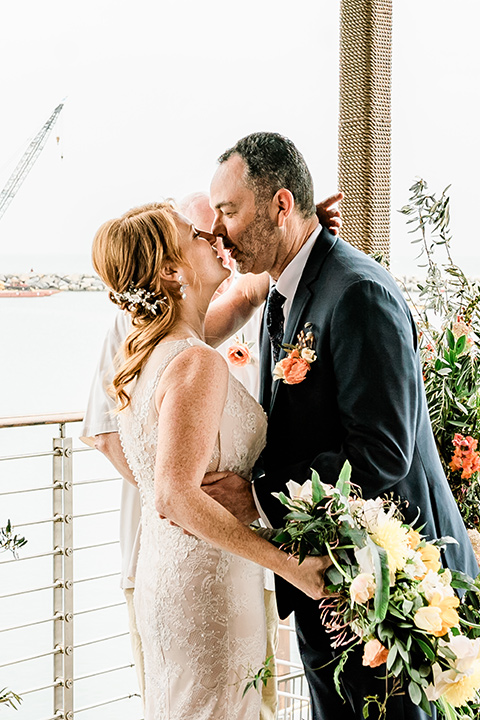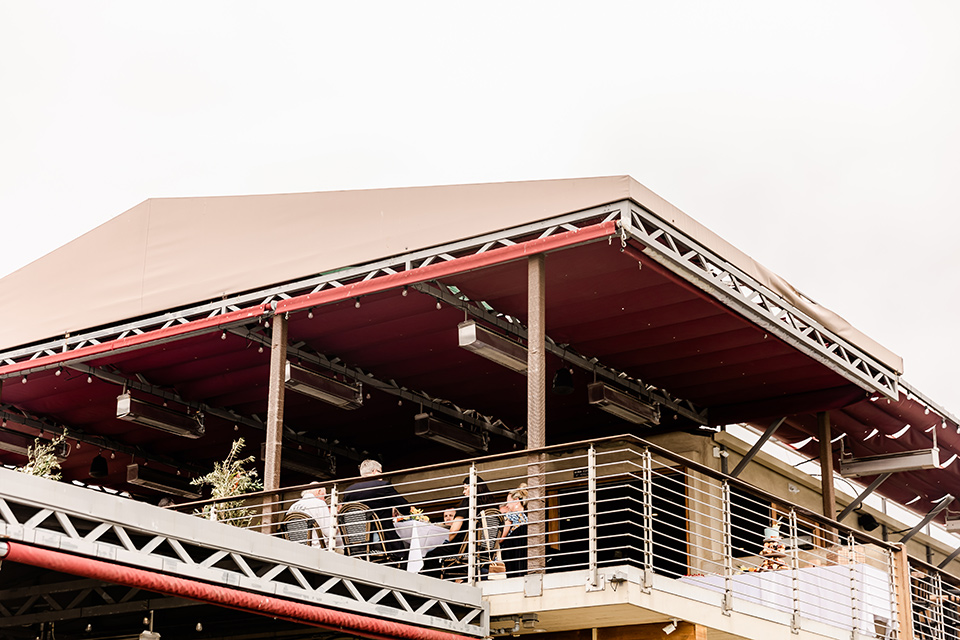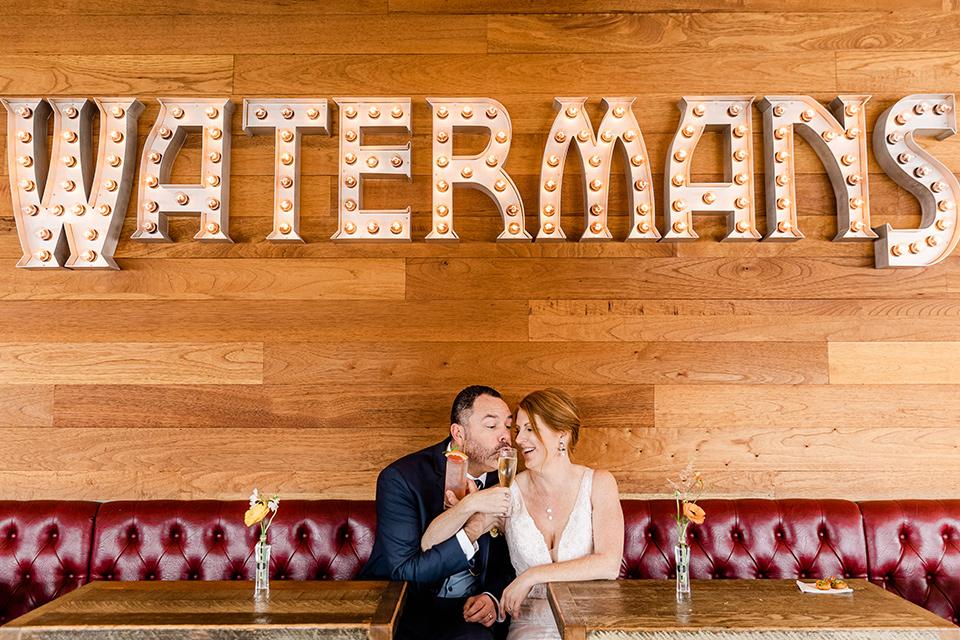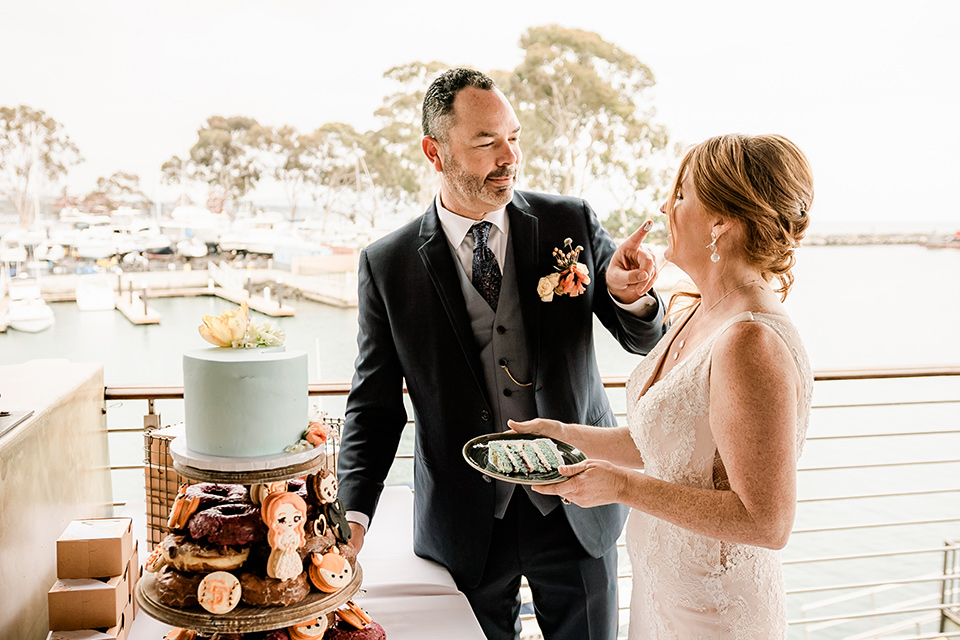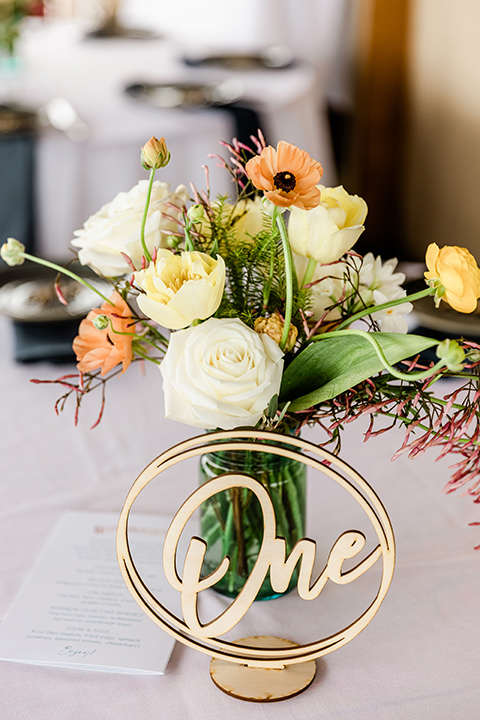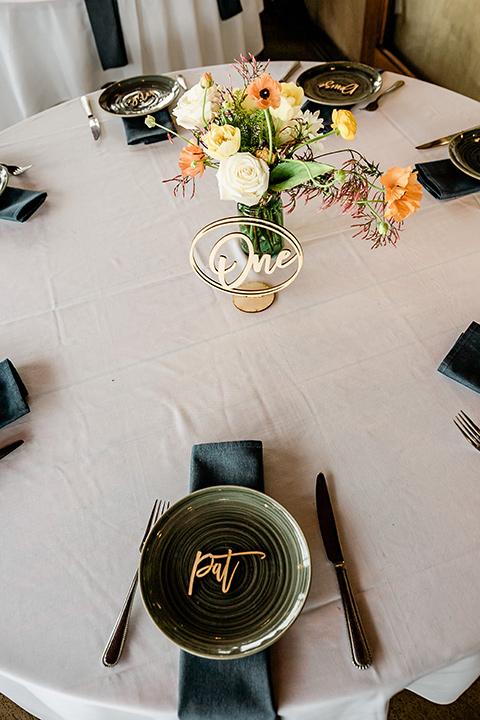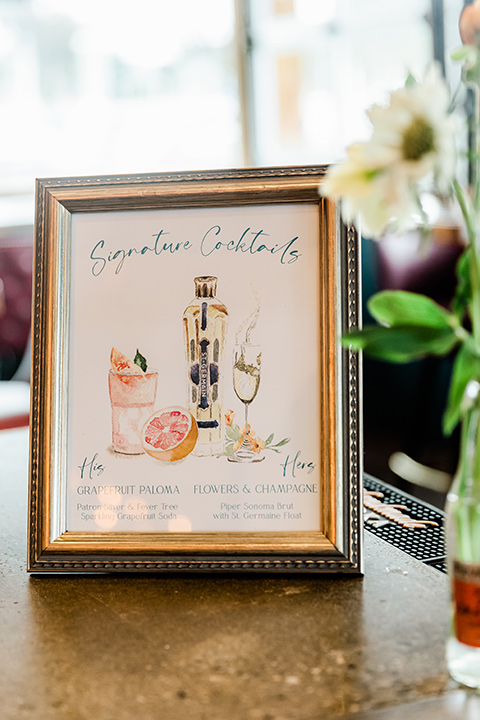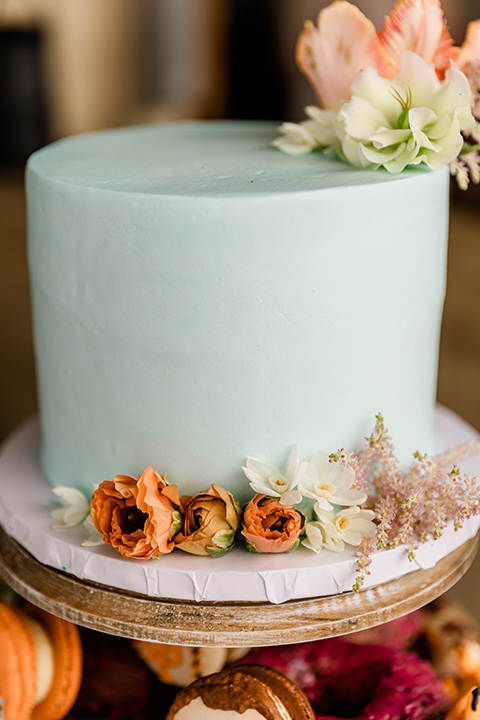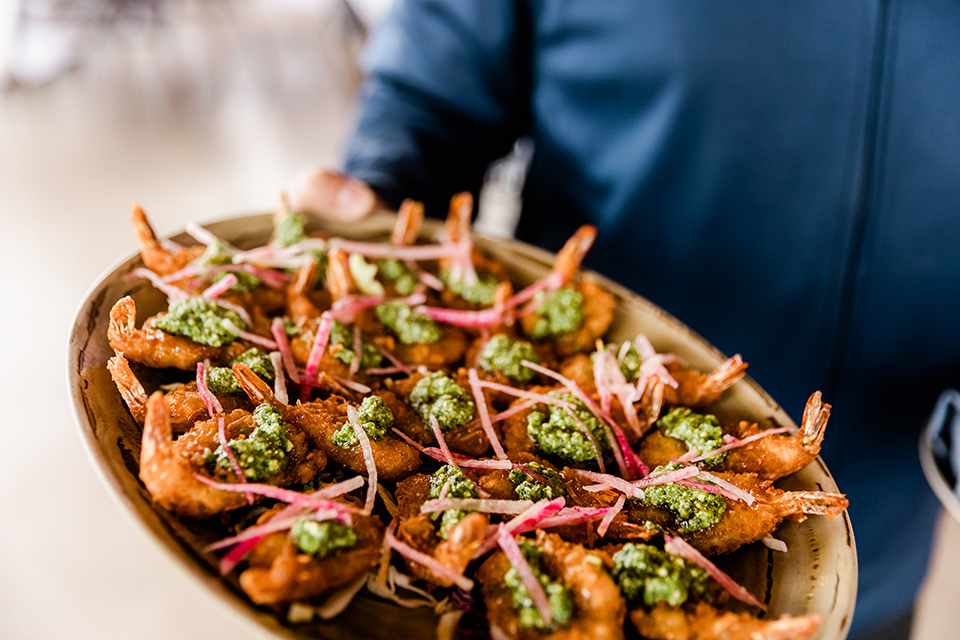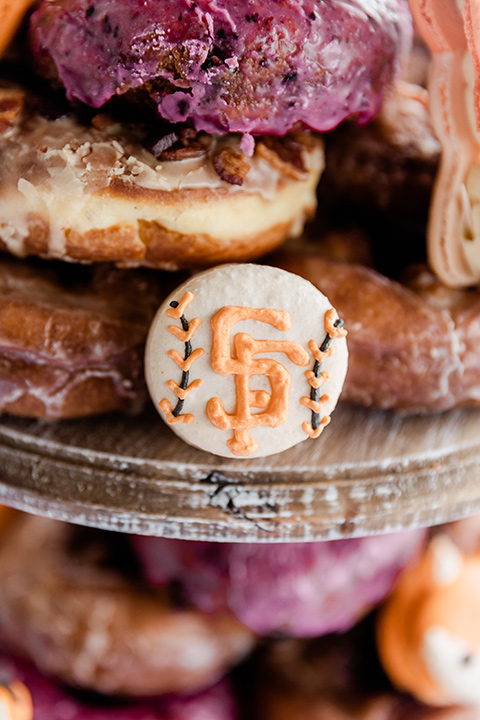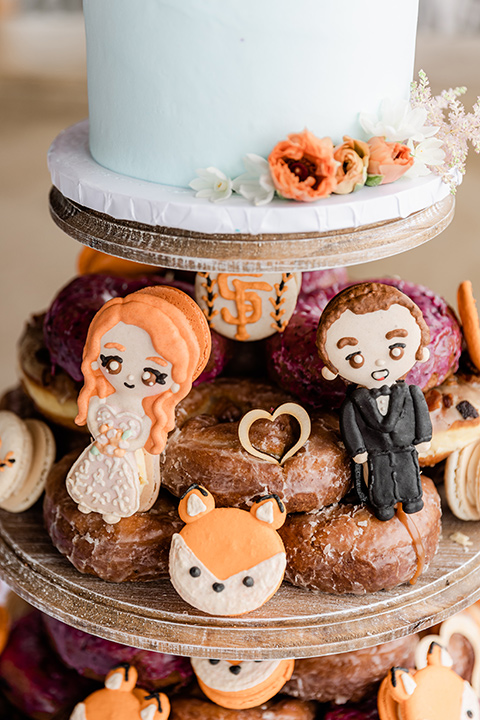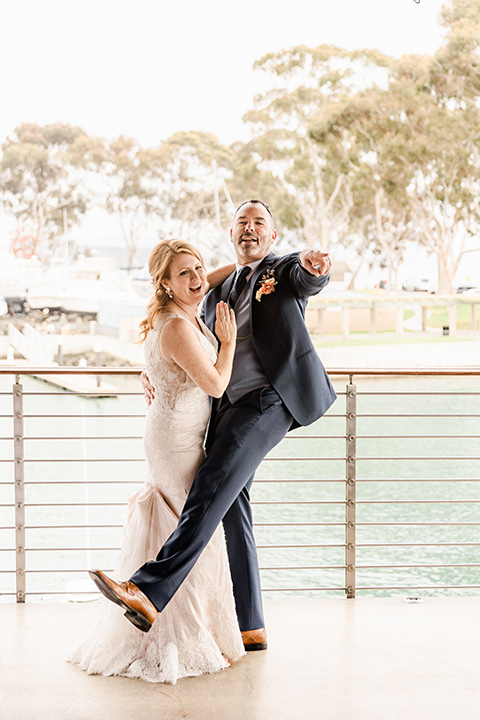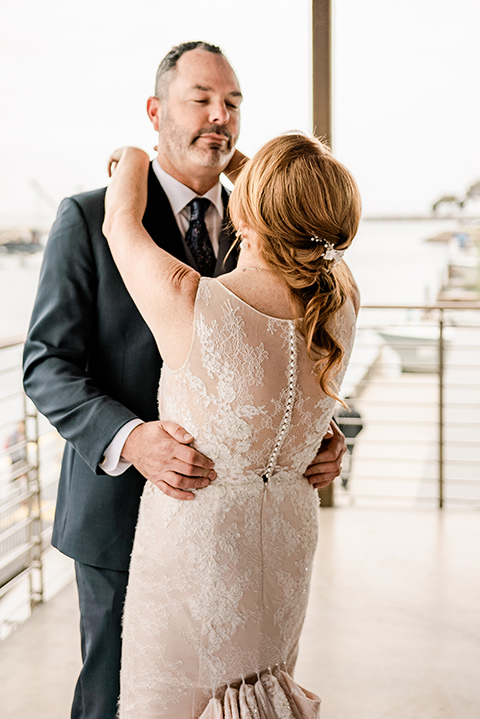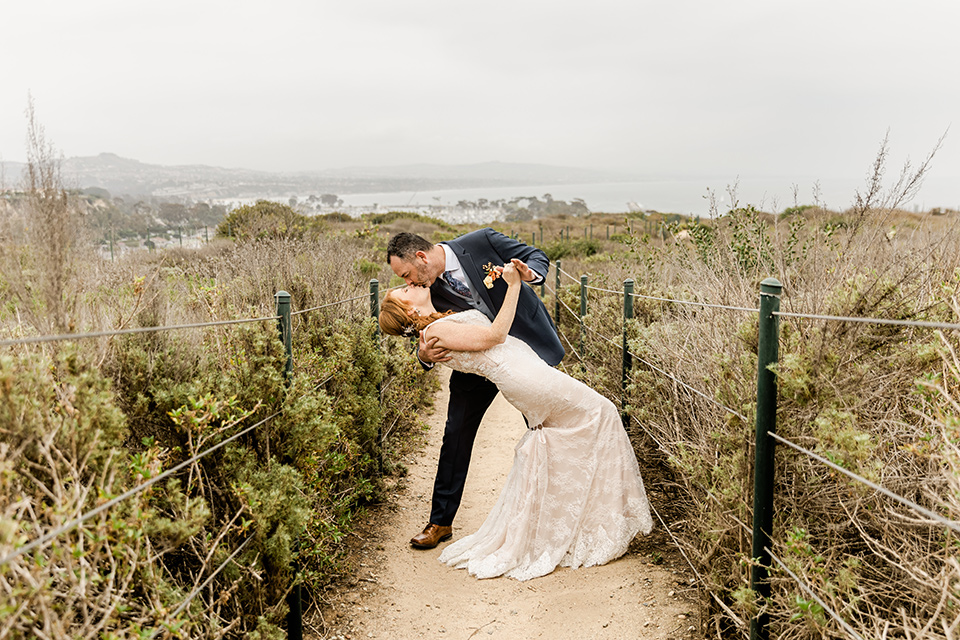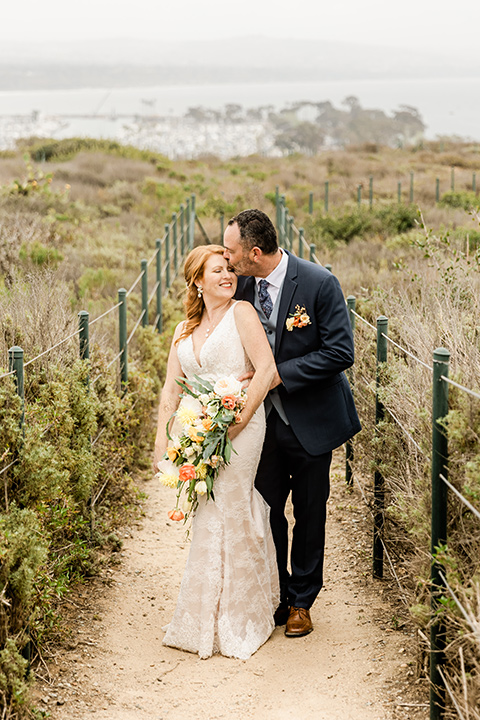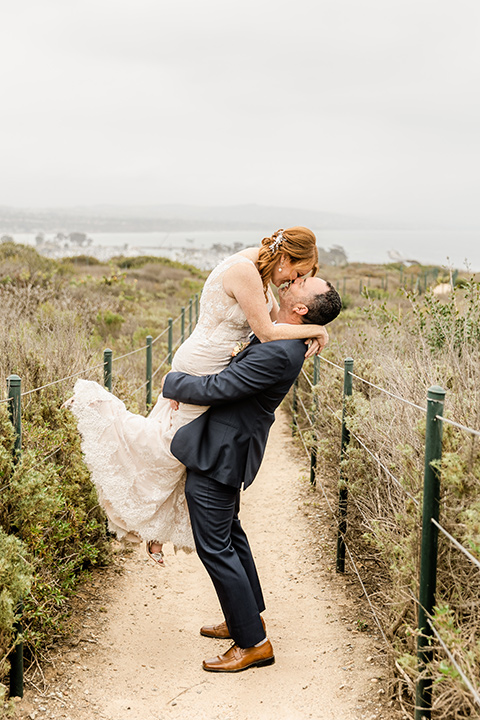 Bride: Christy Scanlon Meyer | Groom: Eric Meyer | Scenic Photo Location: Harbor Point Conservation Park | Florals: Wildflower Flowers + Gifts | Beauty: Salon Maison | Invitations: Alison Pennline | Gown Designer: Casablanca Bridal | Gown Style: Style 2330 Chloe | Cake: Butter + Cream Bakery | Donuts: Sidecar Doughnuts & Coffee | Macarons: Bonjour Bakery | Earrings: Maison Sabben | Necklace: Angkor Moon | Bride's Denim Jacket: Porch Swing Apparel