Couple Photographer: Britney Moore Photography
Oh doggos.  Aren't they the freaking best?!
Many of our couples have their furry family members in their wedding and we are all about it.  But what if your venue does not allow dogs?  Or what if you might not trust your best friend to behave on the big day?  We have 5 different categories that you can totally incorporate your dog into the day of – to make it shine and still feel like they are there.
1. Paper Goods
We love the idea of showing off your four-legged friends from the very first wedding moment with your invitations.  Like these fun custom created invites by Draw Me Please Shop.  Another way you can have fun with paper goods is by creating a custom napkin with your pupper on it.  This can be used at the bar with cocktails or at the dessert table.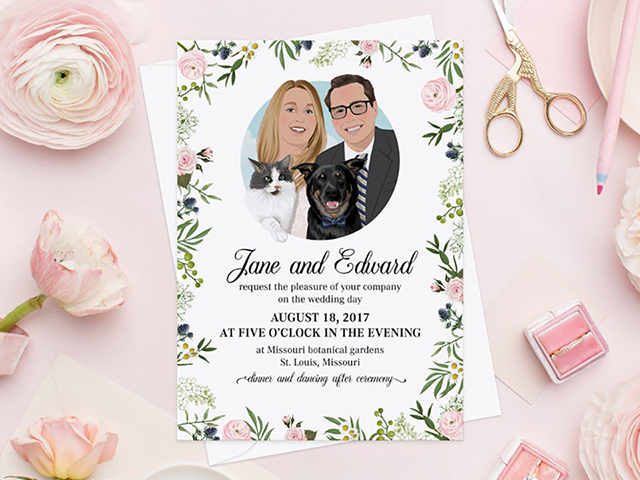 Shop: Draw Me Please Shop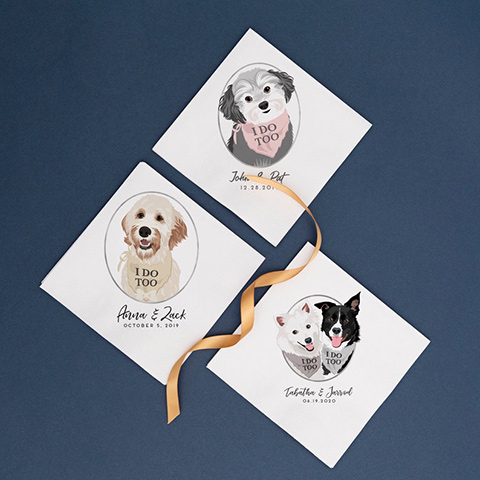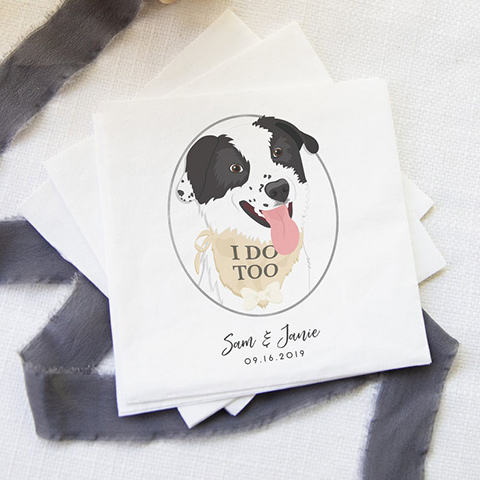 Shop: Miss Design Berry
2. Desserts + Drinks
Now this might be our favorite category, only because we are pretty big fans of fun cocktails and yummy desserts.  Some ideas for adding your dog to this is by having custom cookies like our couple did below (adorable right?).  Or creating a custom cocktail named after your pet, and as an added bonus why not have drink stirs with their face on them?  How cool are these from Occasional Paper Cuts? They also have a wooden style if you are wanting a different vibe, but the same cool idea.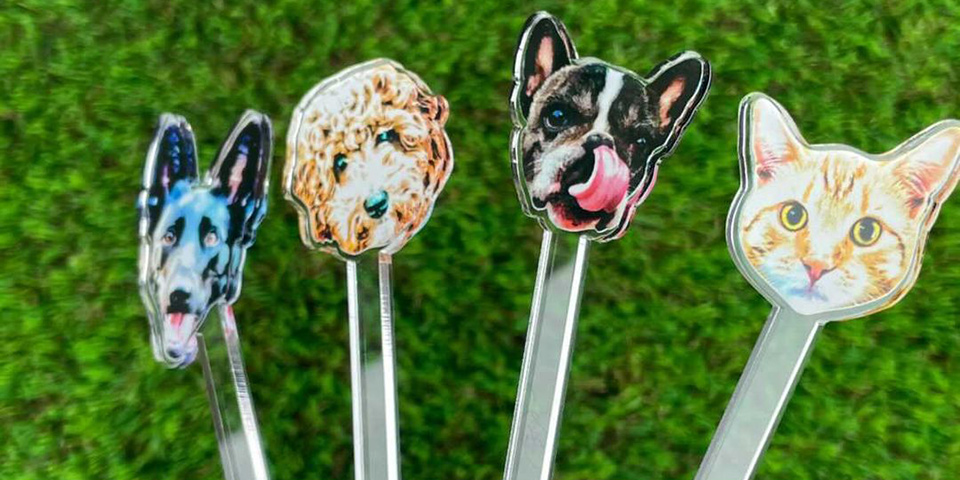 Shop: Occasional Paper Cuts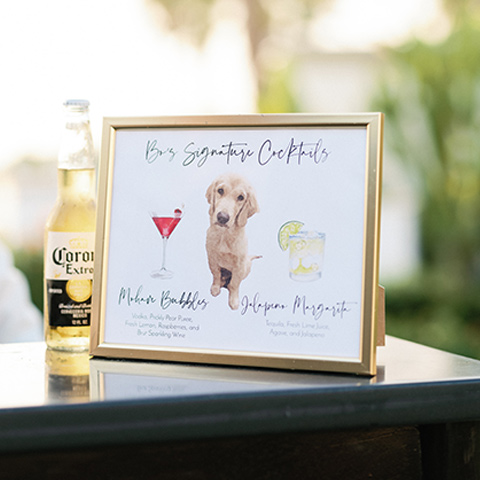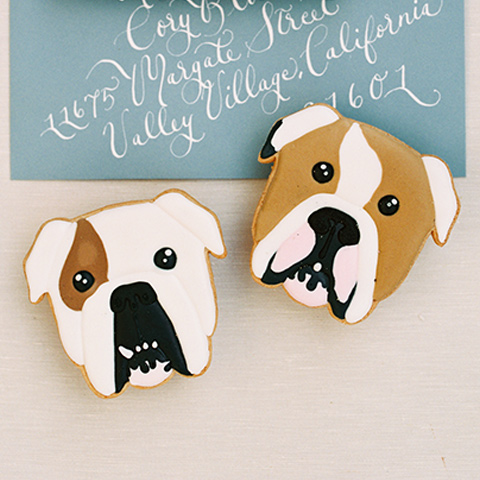 Shop: Heidi Davidson Calligraphy + Design 
3. Gifts + Fun
We have seen couples do a lot of awesome things in the category: Christmas ornaments, keychains, stickers, ect. Or like these fun ideas, a custom drink koozie with this sweet puppy's face on it.  Or a really great idea we are obsessing over is the "doggie" bag for your guests to take home.  You can have these filled with candy or fun desserts for your guests.  Or fill them up with dog treats for your guests to take home for their own dogs!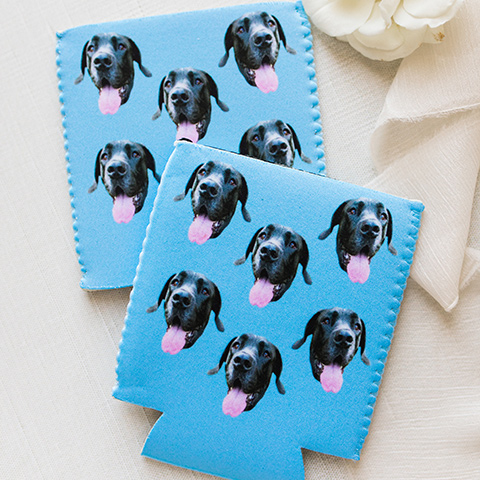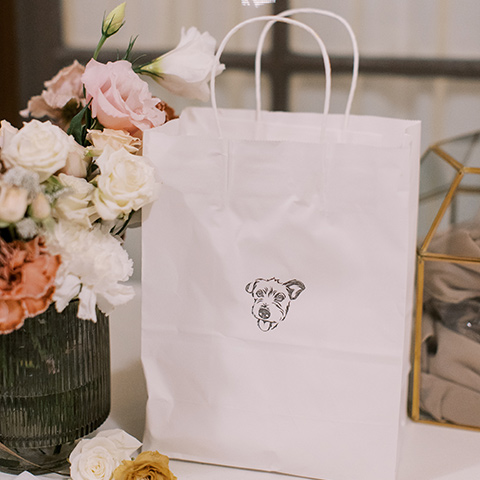 4. Décor + Style
When it comes to planning your wedding there is a lot that goes into the décor.  Flowers, napkin rings, card holders, ect.  Those big things you know you need, to those little things you didn't realize you needed.  Why not incorporate your dog into that?
Like with these fun ideas: a seating chart with your dog's face on it.  Or custom drink/cocktail glasses – that can double down as a gifts for your guests to take home.  Or add your dog to the table numbers for another pop of puppy décor!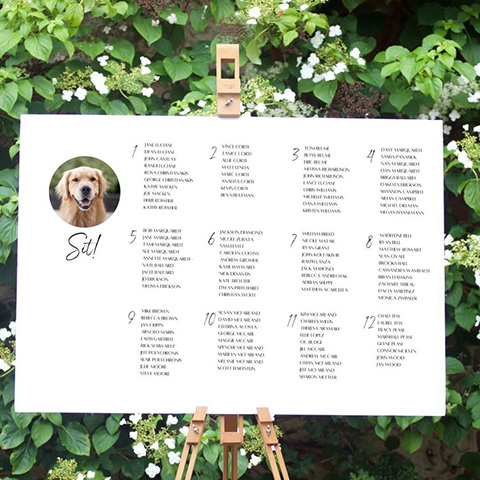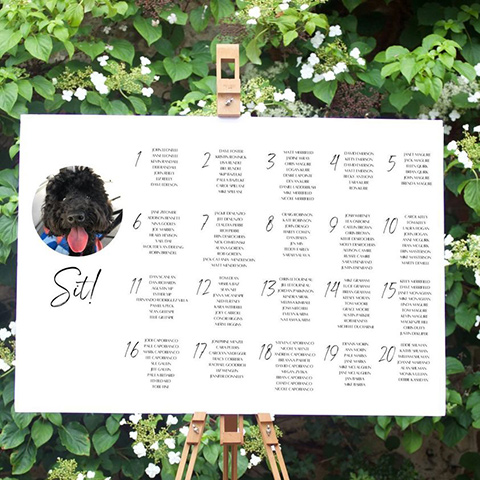 Shop: Events by Sonya Mo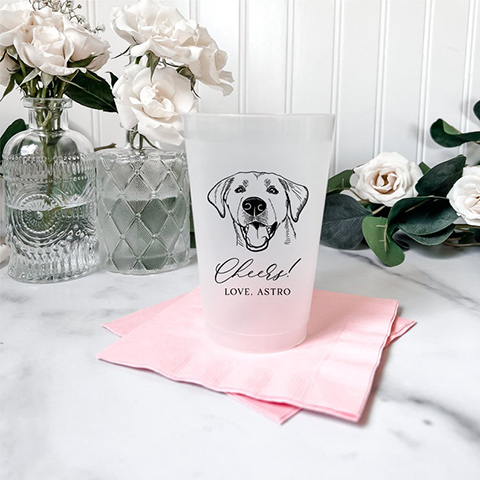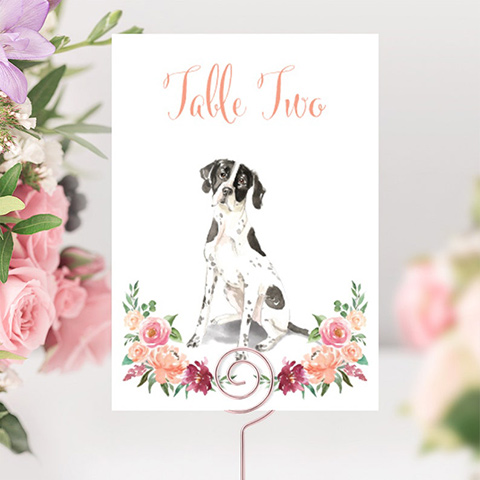 Shop: Rubi and Lib | Splendid Swan
5. Fashion + Attire
Fashion is always going to be a category we believe in.  And it is easy to add your dog into your I-do attire like the cufflinks below from Heartbeat Handicrafts.  Other ideas are: custom socks, handkerchief, pocket square, lapel pin, and more! The options are endless.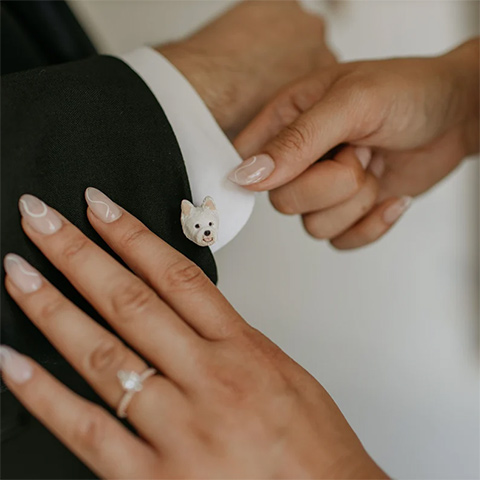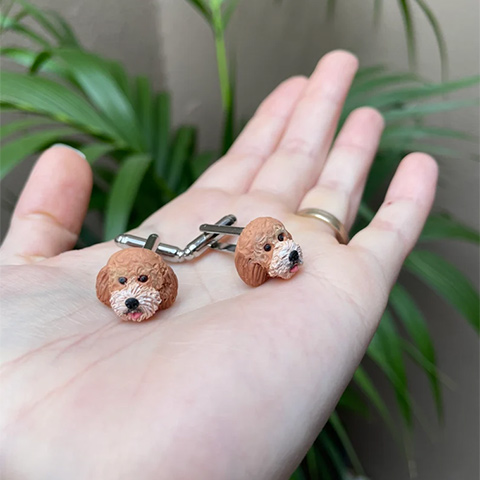 Shop: Heartbeat Handicrafts
We hope you got some dog-day inspiration from our blog today.  We always suggest going to Etsy for customizable options, or talk to your other vendors.  Chances are they know someone who makes these cool creations from either past weddings or through other vendors. 
If you incorporated your pup in your wedding, either with them there on the day or in décor spirit let us know! We would love to see!
And for your viewing pleasure below are some of our favorite couples and their furry family members!