Happy International Women's Day! On this day we wanted to serve you some women's tuxedo fashions that we are obsessing over! Here at Friar Tux our mission is to be there for all of life's special moments, whether you are a bride, a fashionista, a risk-taker, going to a black-tie event, in a wedding as a groomswoman, or going to prom we want to help you style your best look! Here are some of our favorite looks from photo shoots and from our real customers for some serious tuxedo inspiration!
"After trying 10 or so dresses…I saw an oversized Marc Jacobs suit buried quietly in the corner…In this suit, I felt like me today. In this suit, I felt the truth of who I am well up in my gut. And then wondering what I wanted to say tonight become very clear to me…I decided today I wanted to take the power back. Today I wear the pants." -Lady Gaga
Check out our women's tuxedo to rent in-store or online. Or visit our full rental suit and tuxedo gallery because we have sizes for everyone and there are endless ways to mix and match your look!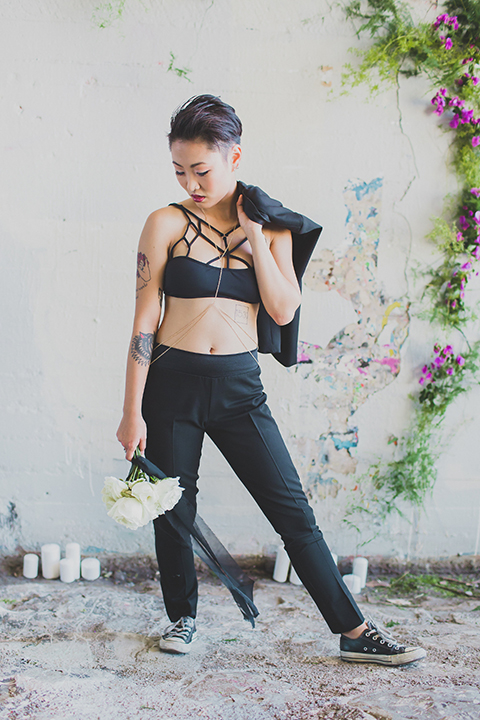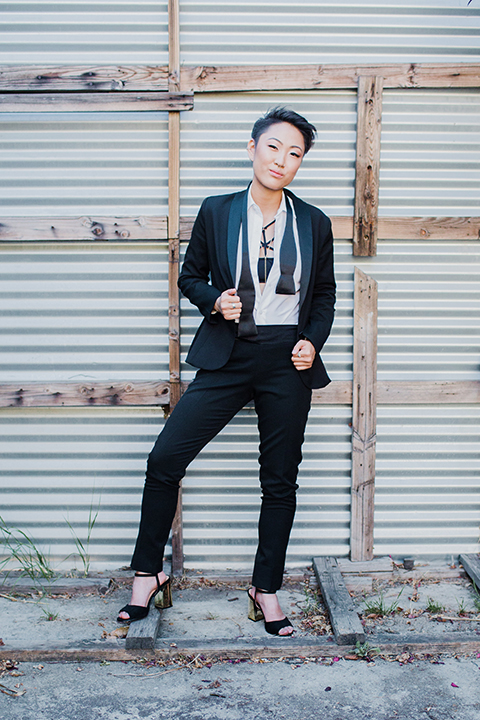 We love when a woman takes a simple tuxedo and turns up the edge factor! In this city styled shoot our bride wore her black shawl lapel tuxedo with a geometric detailed crop top, a gold body chain, and converse for a reception party look. Also pairing her look with a white tuxedo shirt and undone bow tie, for more ceremony covered style.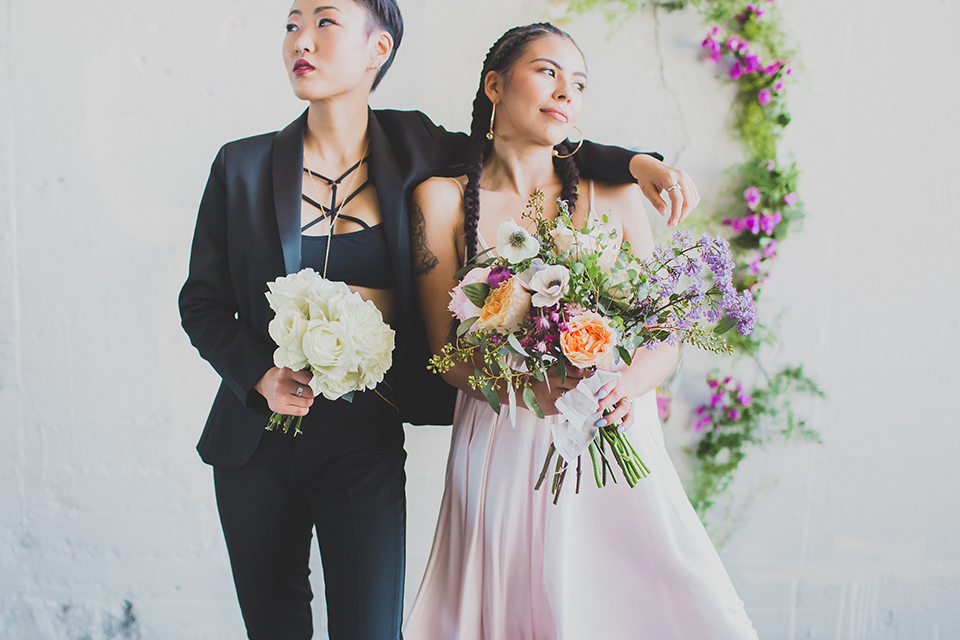 Photography: Simply Adri Photography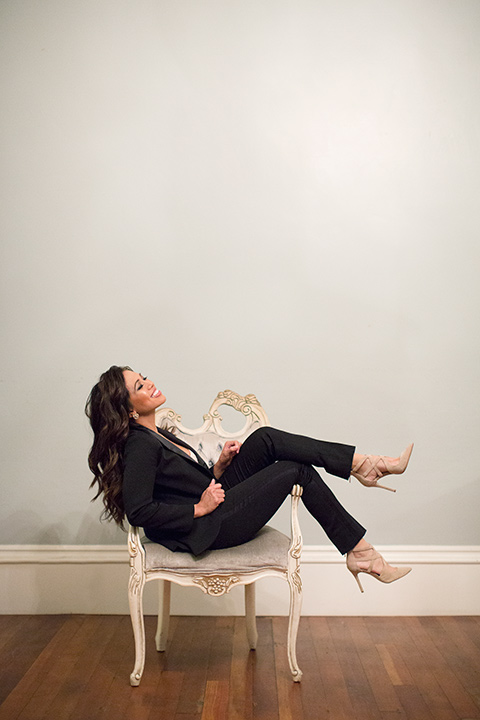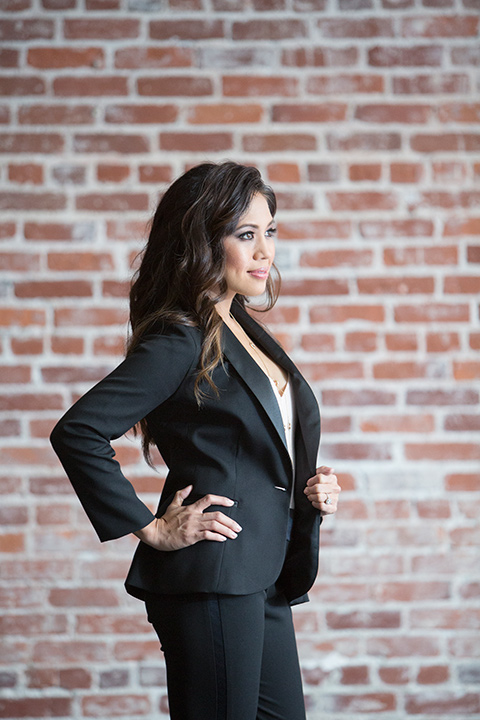 You can never go wrong with simplicity. We love how this woman paired her look with a nude tank top and fun strappy heels. This look can easily work for any business event or night out.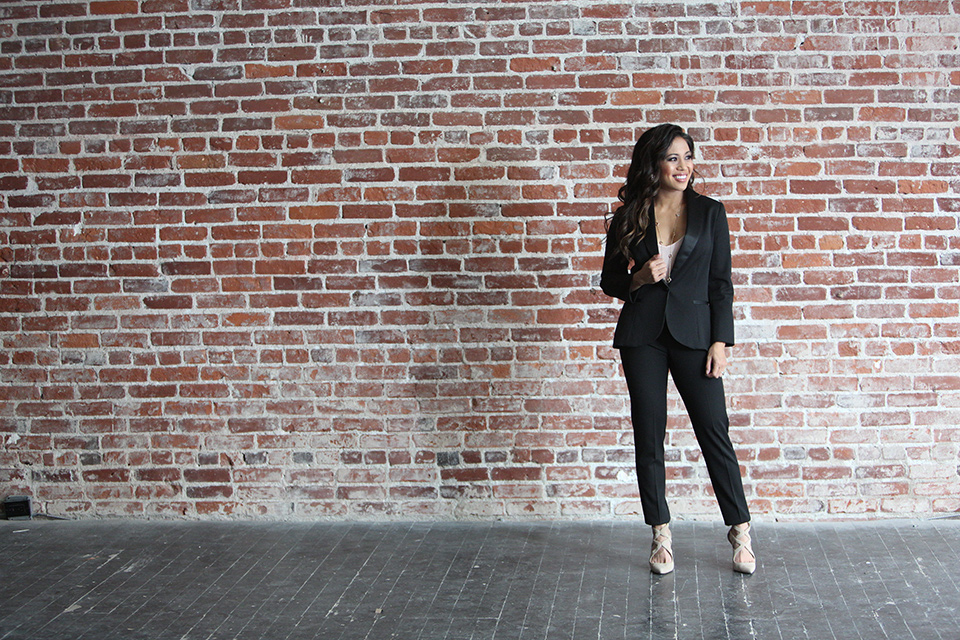 Photography: Christine Bentley Photography


For Bobbi + Sarah's wedding, Bobbi paired her black notch lapel tuxedo with a grey textured vest and black bow tie. Still making the look neutral yet with an added layer of flare.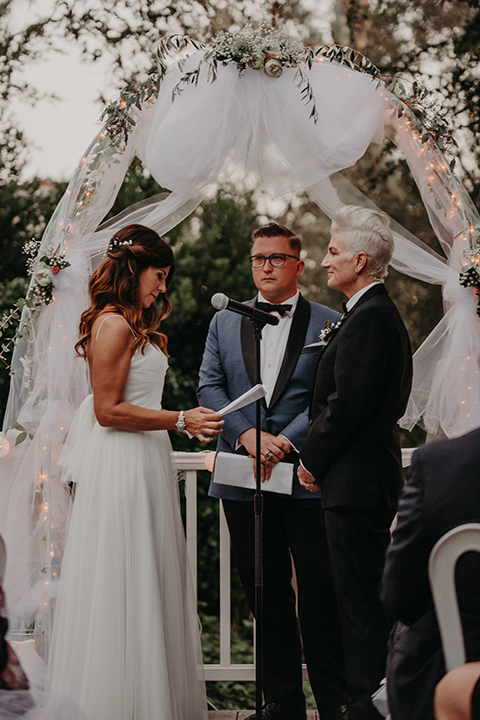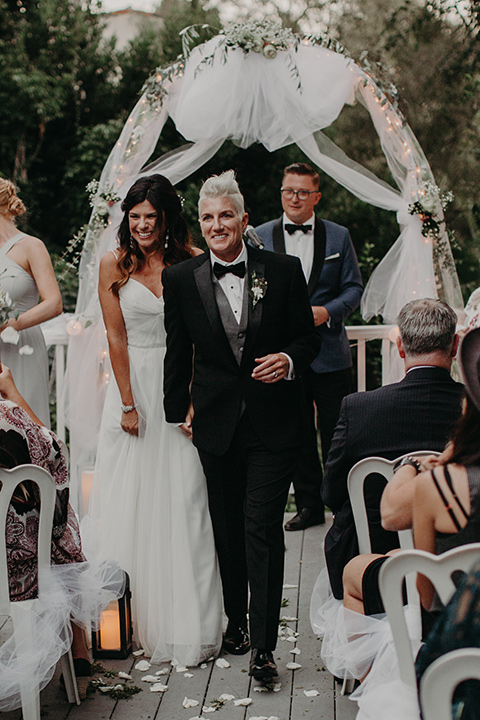 Photography: Kelly Balch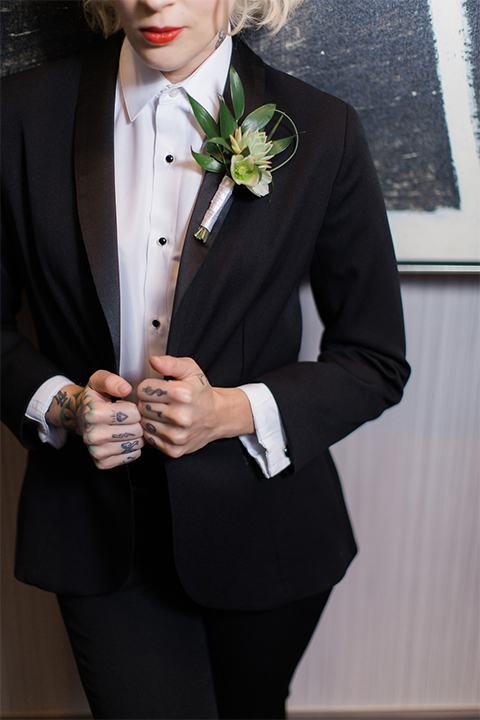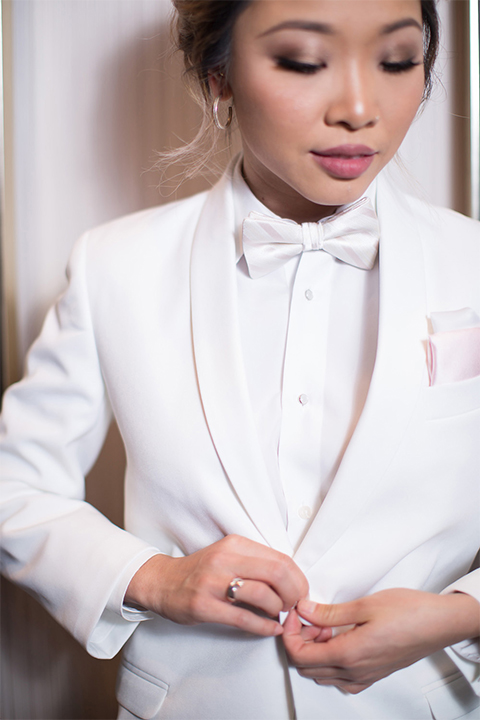 Black + White will always be a classic wedding look for couples. For this shoot we wanted to do a modern twist on that tradition. One of our gorgeous brides wore her shawl lapel women's tuxedo with a white shirt, back studs + cufflinks, and a fun red lip color. While our other bride wore a more monochrome look: pairing her white shawl lapel tuxedo with a white shirt and white bow tie.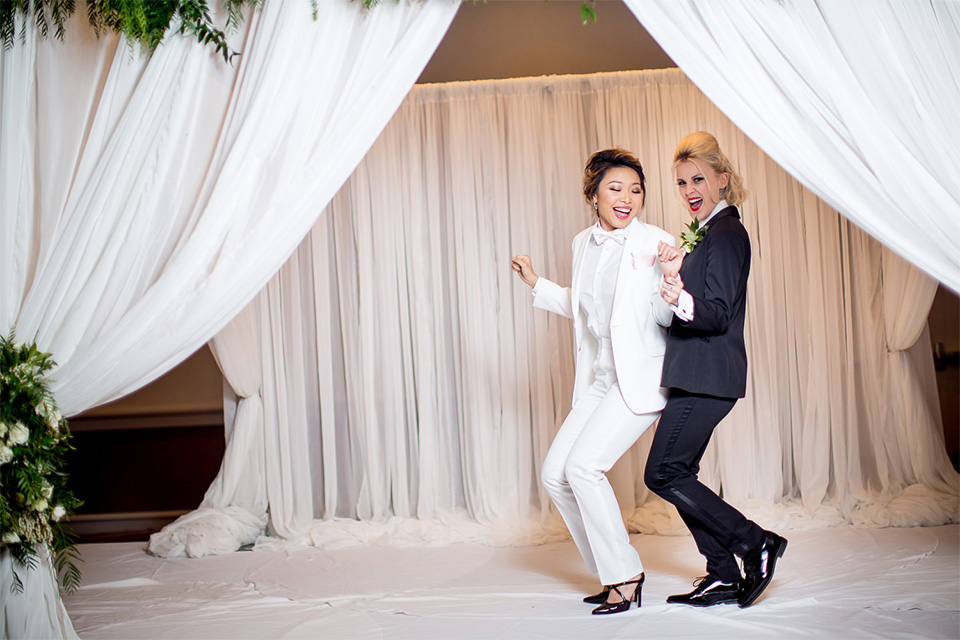 Photography: Alexander Mo Photography


One of our favorite styles is a two-toned jacket, and for this amazing wedding our bride paired her white and black shawl tuxedo with black pants and black bow tie. This perfectly complimented her stunning bride's white tulle ballgown.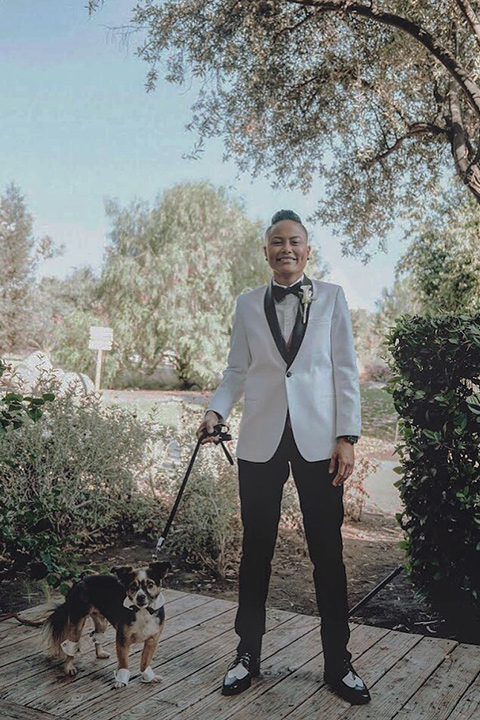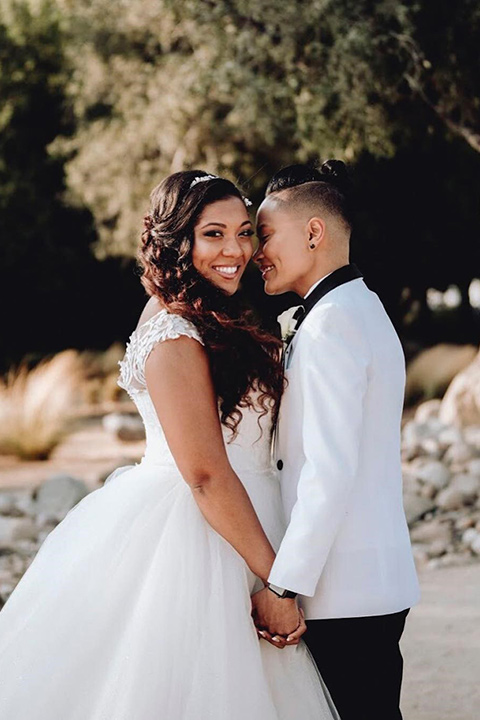 Photography: Ruff Media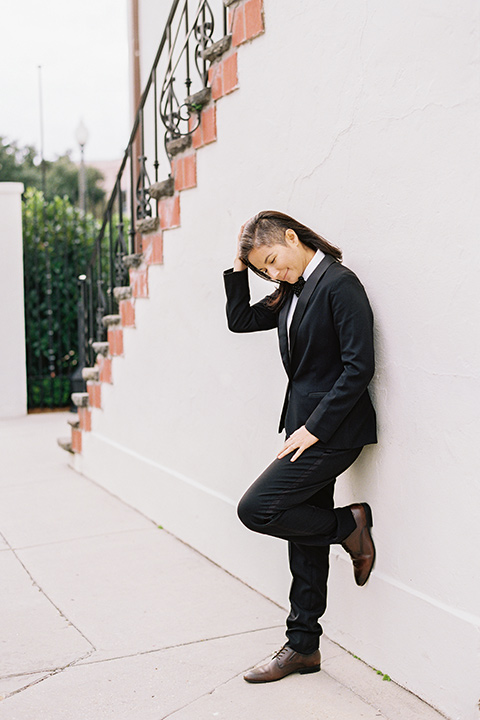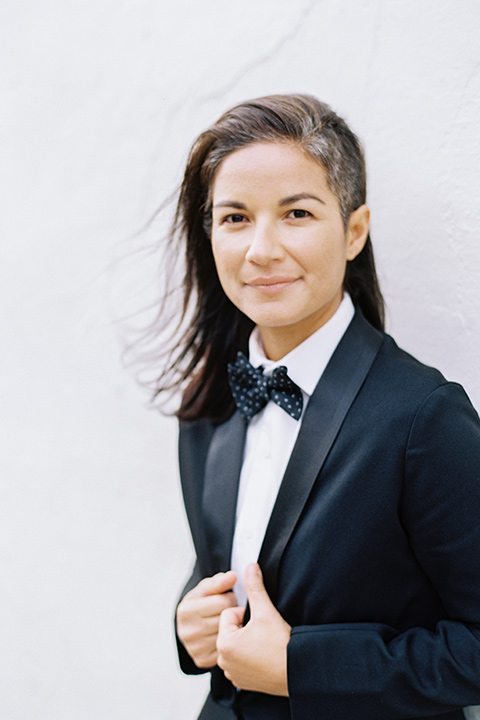 Feel free to have fun with your accessories, you can do this in a simple way like this shoot: pairing the black tuxedo with a small pattered bow tie. It creates a unique look, without going over the top.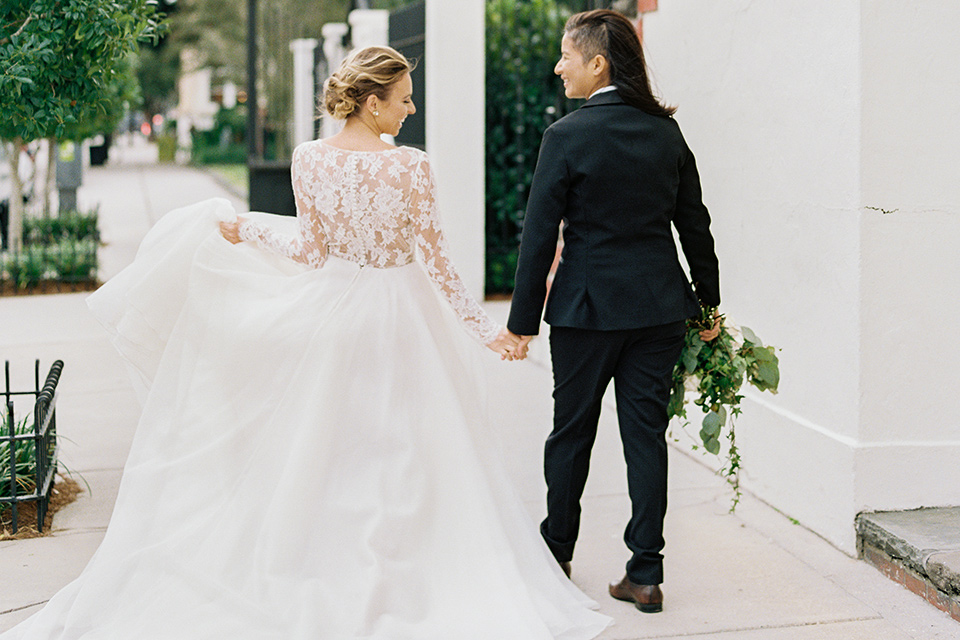 Photography: Mon Soleil


We love how Beatrice wore the female tuxedo as a "groomswoman" in her brother's wedding. Pairing her look with a burgundy bow tie and matching burgundy shoes that perfectly compliment her burgundy dipped hair color and cool metal glasses.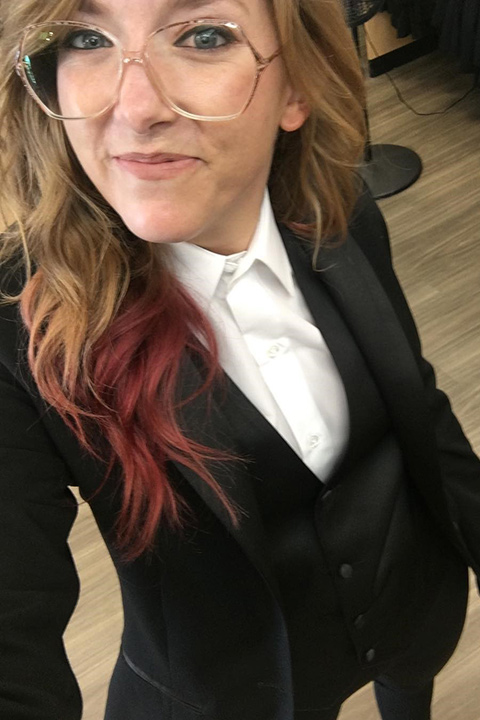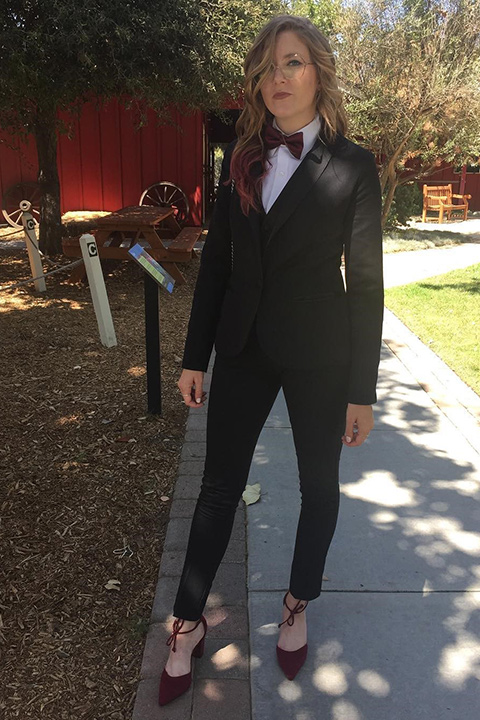 Don't be afraid of color! Olivia wore our fun blush shawl lapel tuxedo for this colorful prom shoot! Pairing her look with the trendy over-sized bow tie and black studs + cufflinks. This look is perfectly feminine and strong with its color and design.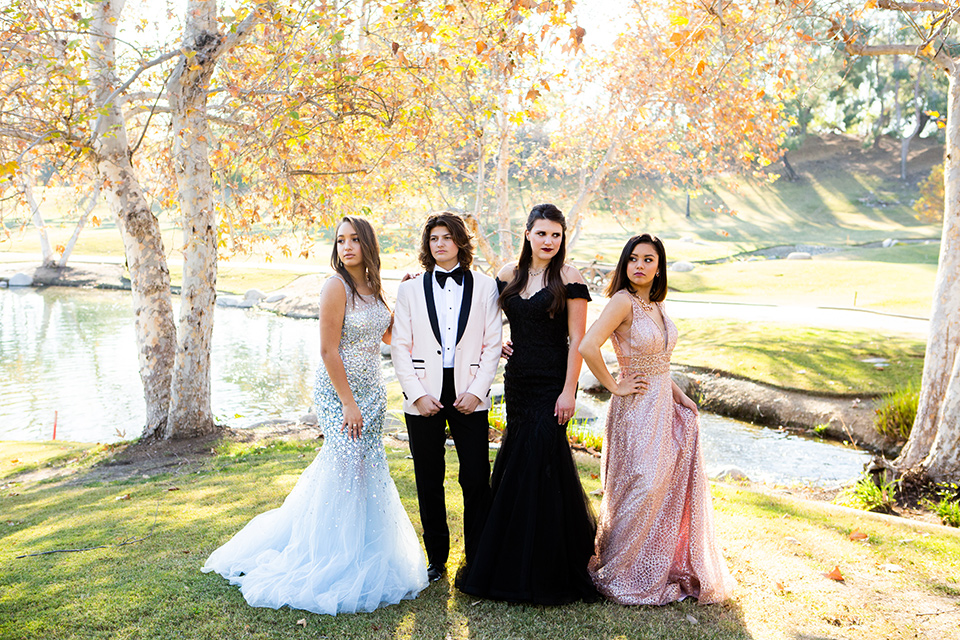 Photography:
Michelle Lacson Photography


Celebrities always give us so much inspiration on different ways to wear a women's tuxedo, here are some of our faves styled their looks! Dakota Johnson wore this double-breasted tuxedo with a small choker necklace and pointed toe strappy heels. Zendaya wore her suit with a masculine inspired box short with elegant heels and jewelry. Charlize Theron wore her white tuxedo with a white sheer collared top and metallic good heels. Rihanna wore her oversized shoulder tux with a cropped pant, black bow tie, and black heels. Each woman gave us trendy, chic, sophisticated, and elegant style in their looks.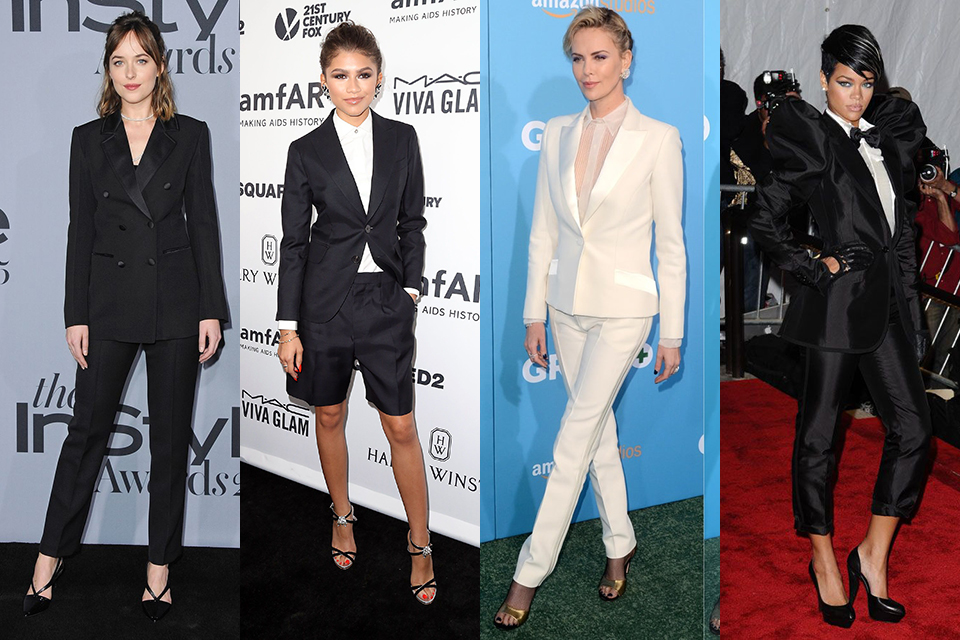 Getty Images