Ahhh boutonnières…or what many people refer to as "that flower thingy on the jacket". Well, we are here to talk about all things boutonnières, and all the different styles, fashions, and tips that go with them. A boutonnière is way more than just a flower thingy on a jacket, but a necessary accessory that should be thought of when wedding planning.
Now suits, tuxedos, and all things in between are our specialty. We knew when starting this blog that we wanted to go straight to the professionals for help, to make sure we were able to get our readers the best information. We were able to sit down and chat about all things boutonnières with the ever talented Alex Telson of Alex Telson Designs who gave us amazing tips and inspiration for her own amazing creations!
"In the past most grooms don't think about the style they want to express on their wedding day, but I think we are moving in a different direction with boutonnières now. Grooms are allowed to add more style on their special day too, from the color of their suit, to the style of their flowers." -Alex Telson

In this blog we will cover several styles of boutonnières:
           -Minimal + Classic
           -Monochromatic
           -Pop of Color
           -Unique and Unconventional
Plus, styling + placement tips

Minimal + Classic
For those who are just wanting something not too big, loud, or over the top a minimal + classic design is the one for you.  Usually made up of a traditional flower such as a rose, with a small amount of greenery to round out the design.  Though this look may be on the simpler side, it is always a great way to go.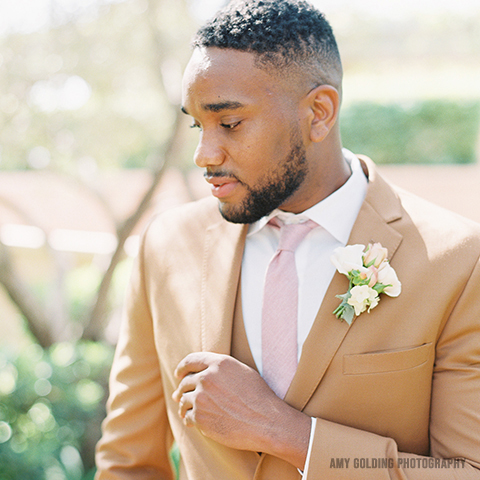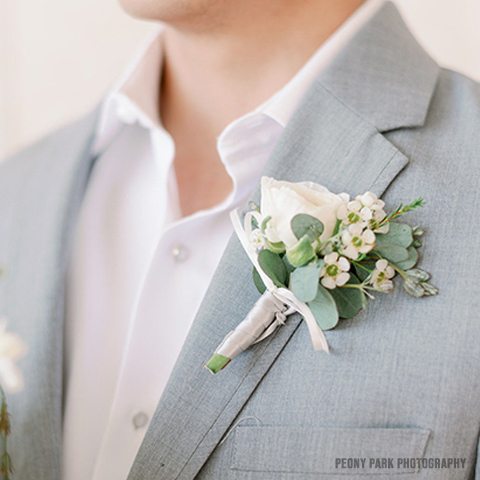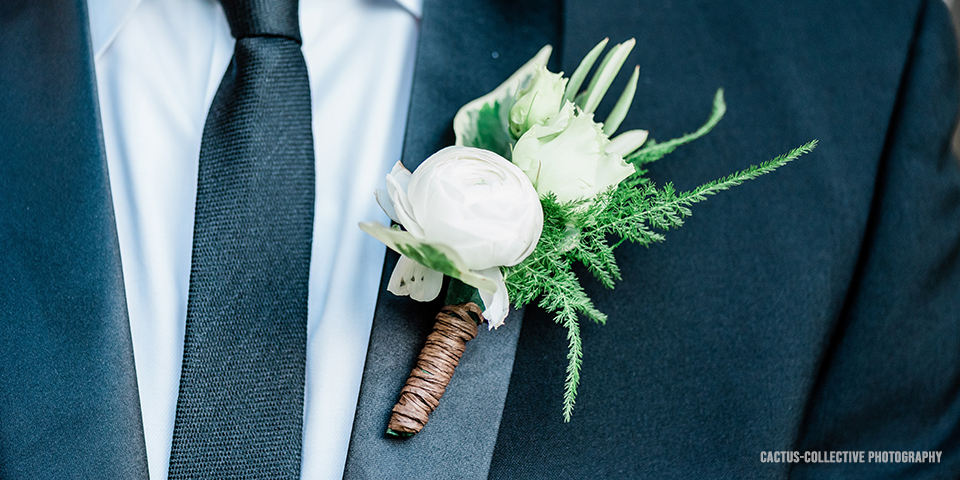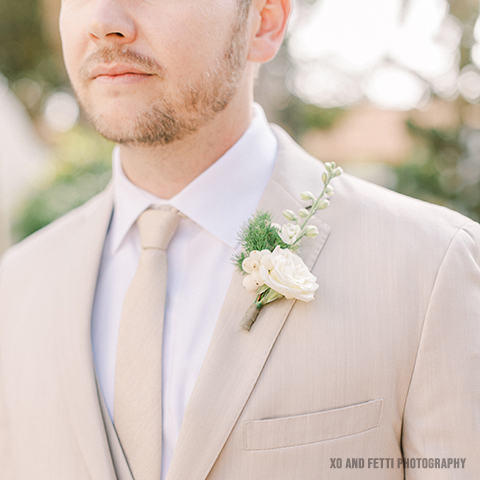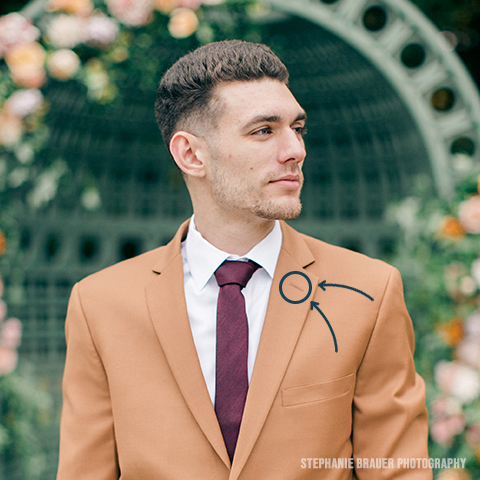 Floral designers from left to right: Moonlight Floral Co. | Hanadai Florist | Gaia Flowers LV | Floraltique | The Heirloom Table
Monochromatic
What do we mean by monochromatic boutonnières? The flower and details match the color scheme of the suit or tuxedo.  Take this non-traditional black rose boutonnières paired with the Black Paisley Tuxedo and black shirt.  Or the romantic deep red boutonnière that perfectly complements the Burgundy Shawl Tuxedo.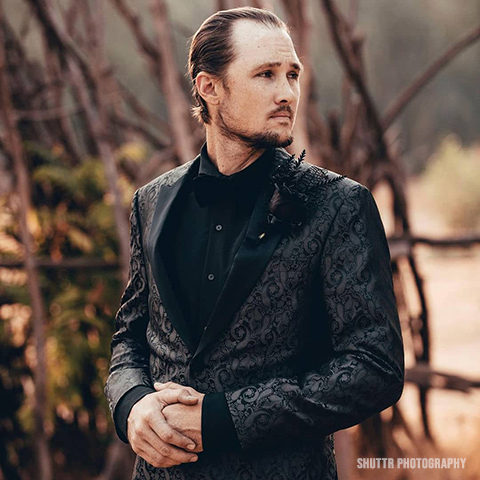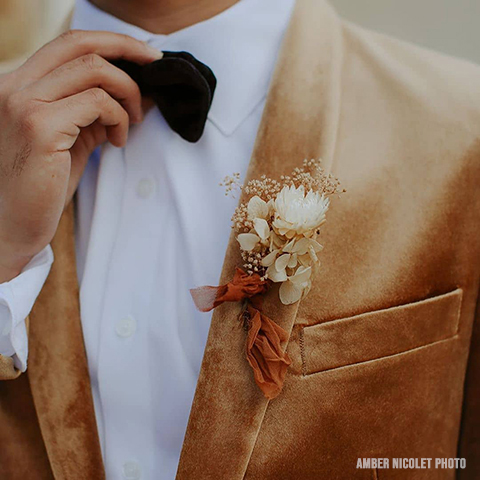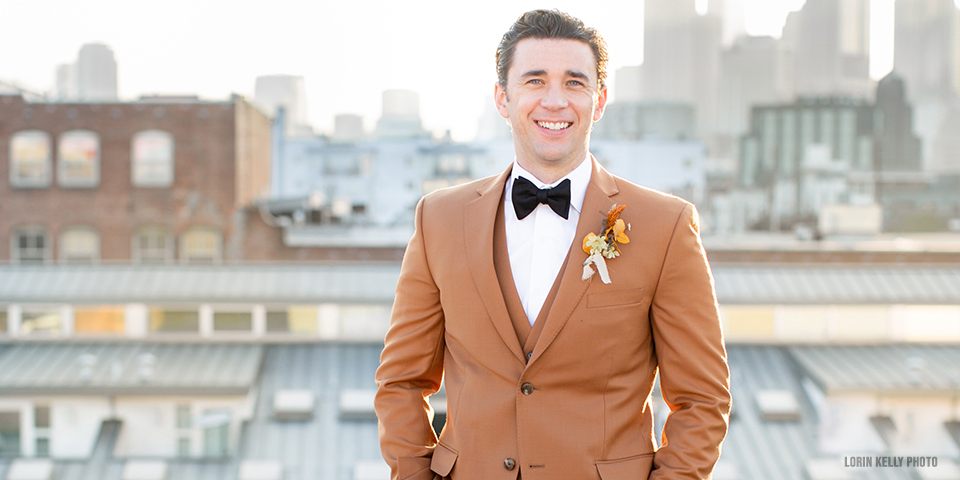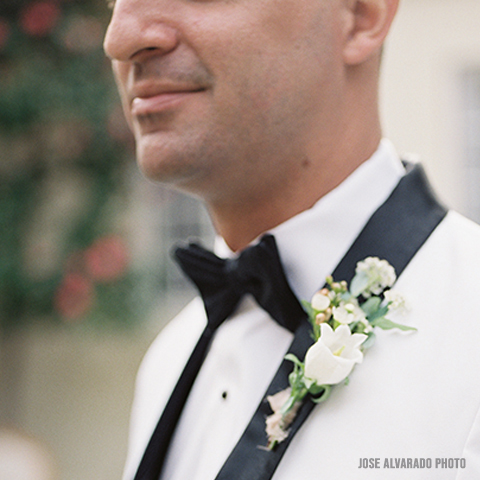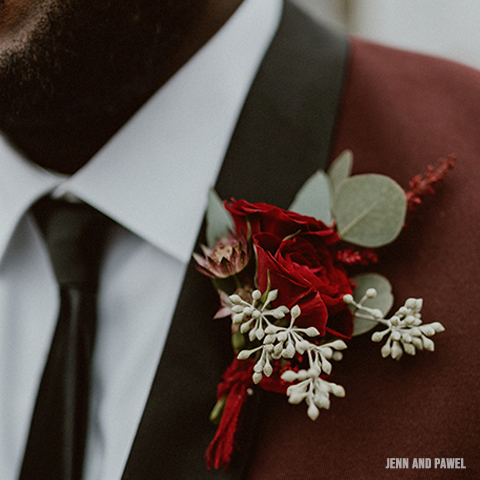 Floral designers from left to right: Areli Event Design | Cultivated by Faith | Kenia Z. Florals | Blue Pansy Floral | Tre_Fiori_Floral_Studio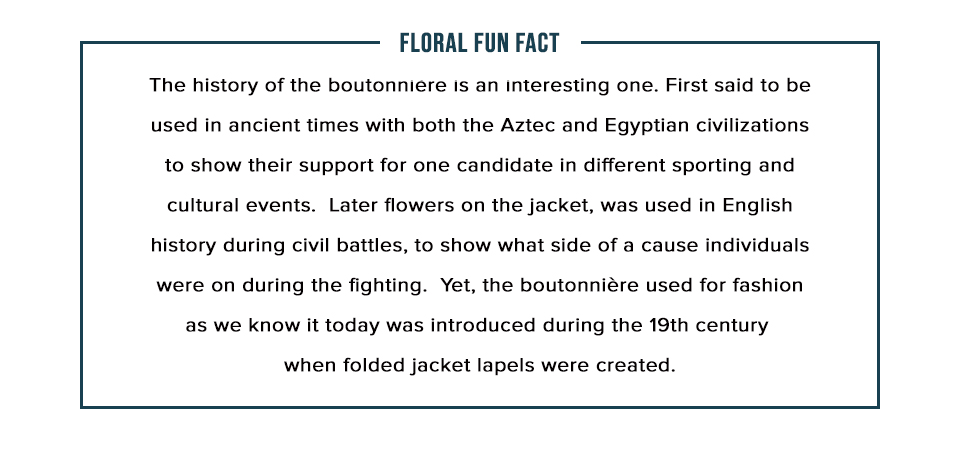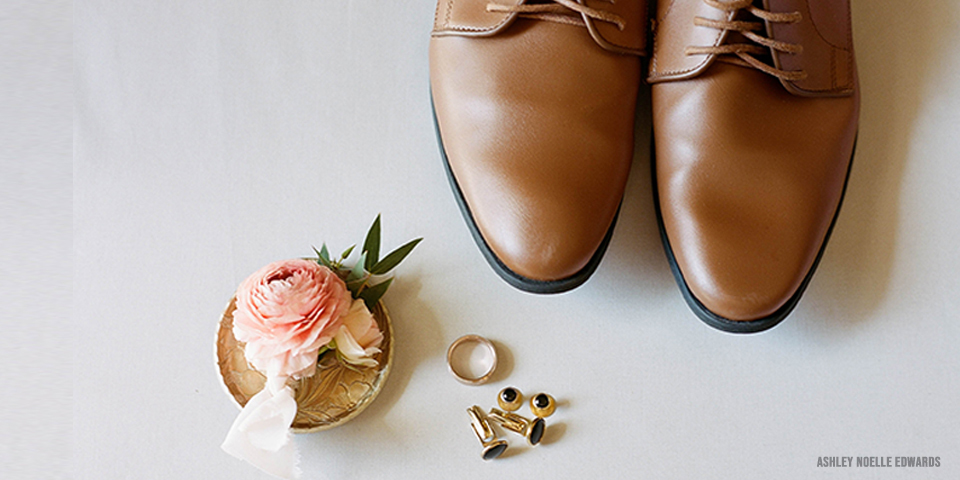 Floral Designer: The Petal Exchange
Pop of Color
For those brides and grooms who want to make a statement, a pop of color is the way to go!  You can pull from other colors in the wedding or colors in your other accessories.  We personally love the bright yellow boutonnière paired with the Rose Pink Suit and floral tie accessories.  It brings a level of whimsy to the overall style.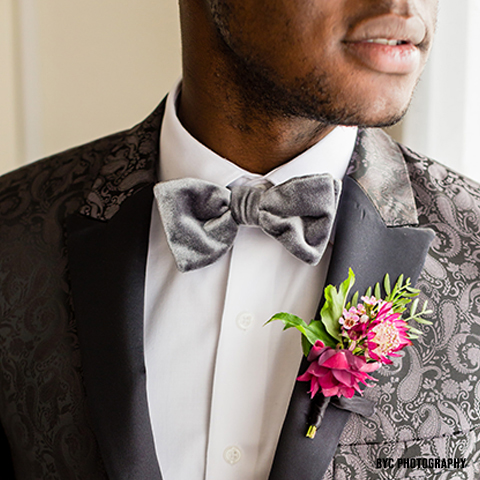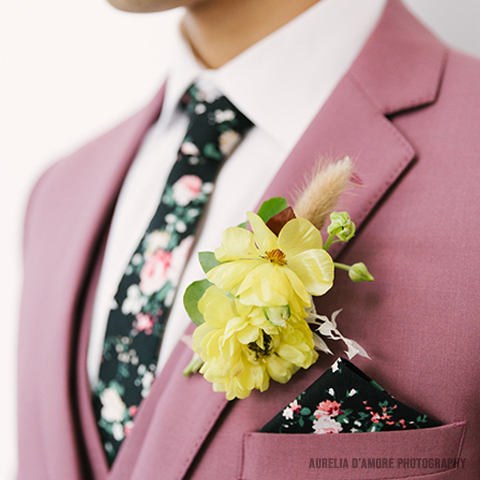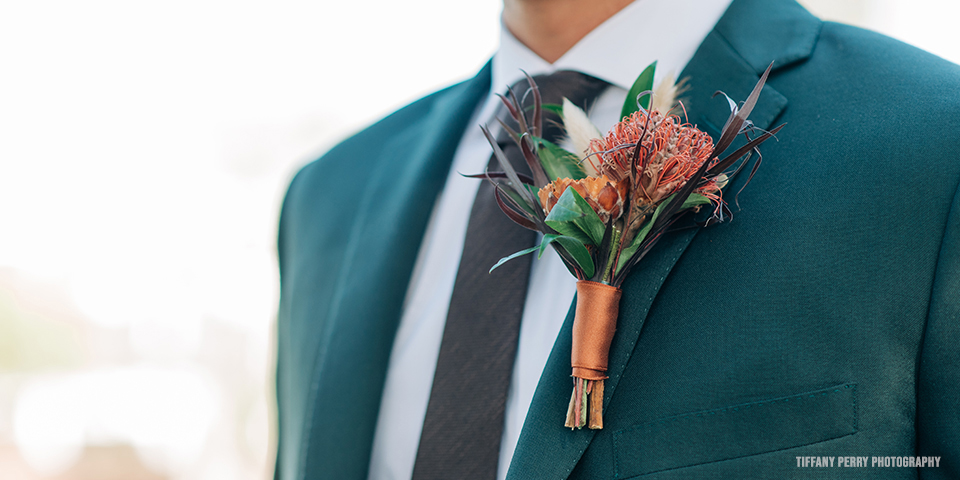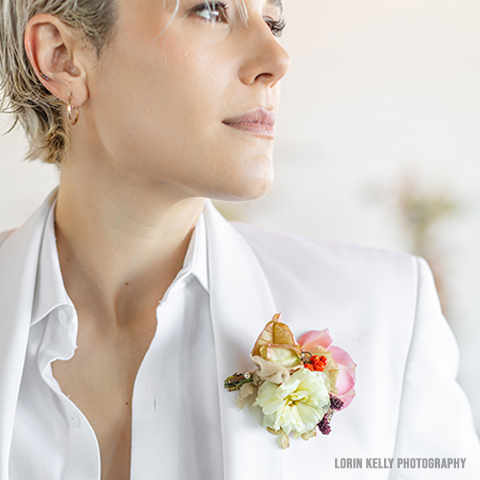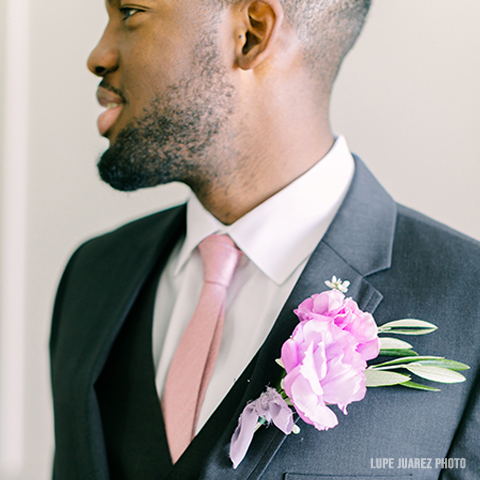 Floral designers from left to right: Leta Verbena Floral Design | Foxgloves & Folly | White Sakuras | Café au Love | The Petal Exchange
Unique Perfection
These fabulous days we are living in, boutonnières can be created in so many different ways out of many different things.  Here are just a few of our favorite ones from throughout the years:
Feather + Disco Balls
Who doesn't love feather or disco ball accessories?!  Is that even a question, these amazing boutonnières really show off personal style, as well as the wedding day colors and themes.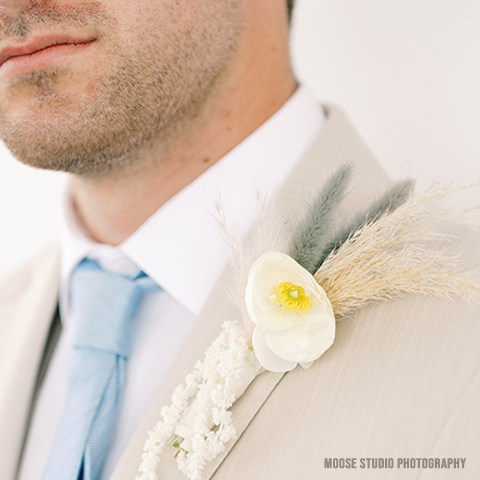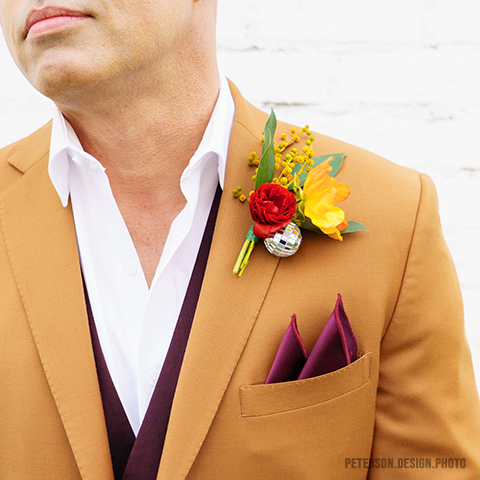 Floral designers from left to right: Midsummer Mother | Flower by Lady Buggs
Pocket Chic
A major new way to wear your flowers is a full living pocket square!  Take these amazing creations below for example, including the stunning green moment on the right made by our friend Alex Telson of Alex Telson Designs
"Most grooms like to add a pocket square on their wedding day, but I thought a lovely way to add more color would be to make a pocket square out of flowers. Using one solid color for this design forced me to make sure to incorporate tons of textures, so that each flower I used stood out. From the Mums, to the hanging amaranthus, it turned out amazing."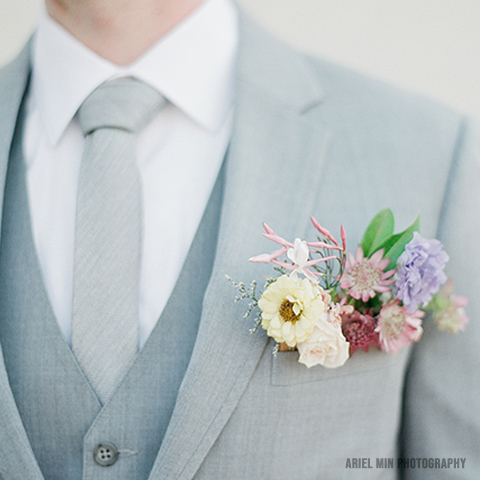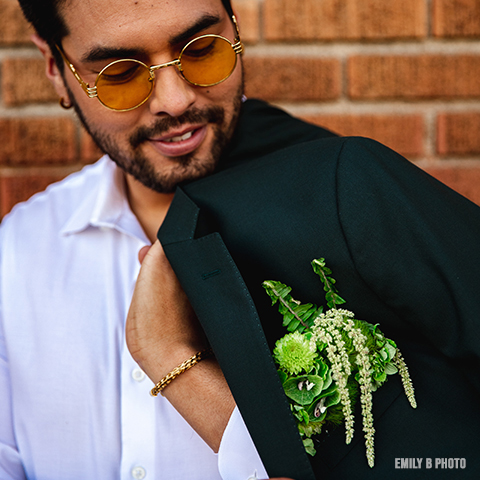 Floral designers from left to right: Moonlight Floral Co. | Alex Telson Designs
Lapel Moments
This design is for that special bride or groom who are not afraid to make a fashion statement, who like to push style boundaries (in the most amazing way in our opinion).  These not only complement our suits and tuxedos in a special way, but they also are amazing works of art by these two floral designers.
"The collar flower was my favorite to design. To be able to add gorgeous flowers over a larger area than just a pocket, I knew the whole look with be special. Plus, ranunculus flowers are my favorite with their soft petals and beautiful ombré colors."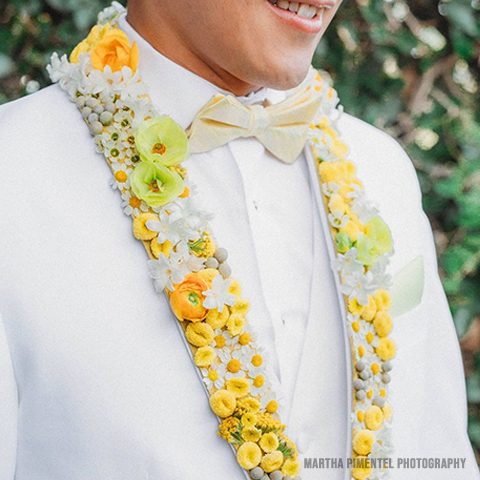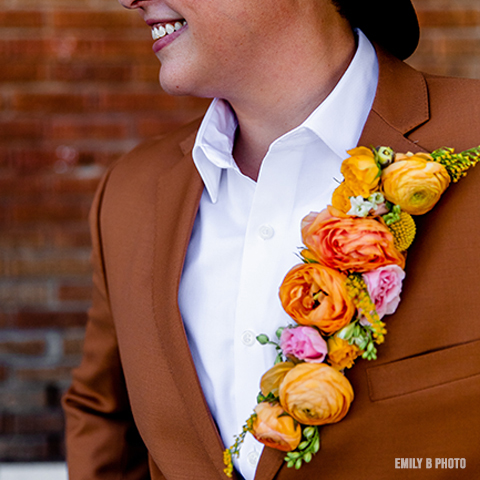 Floral designers from left to right: Tularosa Flowers | Alex Telson Designs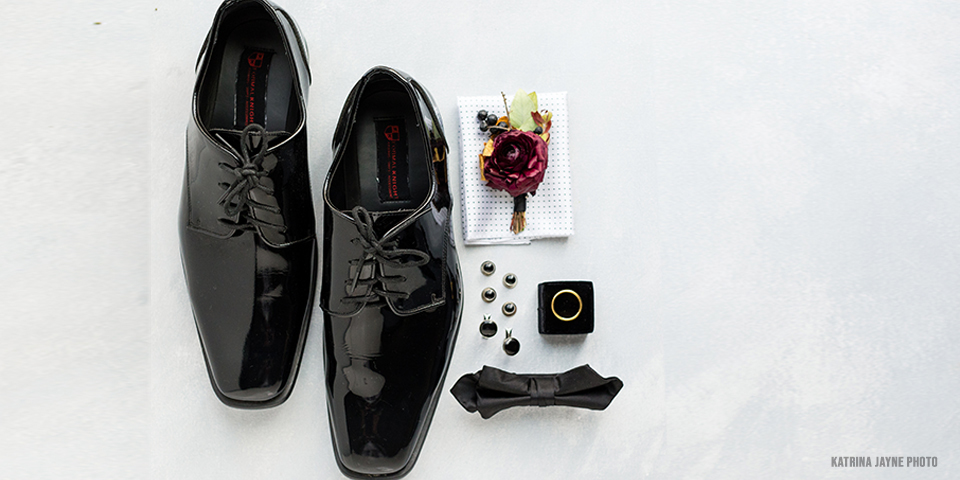 Floral Designer: Royal Bee Floral Co.
Boutonnière + Pocket Squares
We constantly are asked "can you wear a pocket square and a boutonnière at the same time?"  And we are happy to answer it.  In short, ABSOLUTELY YES!  We love the combination, and together they can really round out an entire look.  You just need to make sure that the two do not clash in pattern or size. 
Allow them to complement each other and enhance the look, not compete for the same space.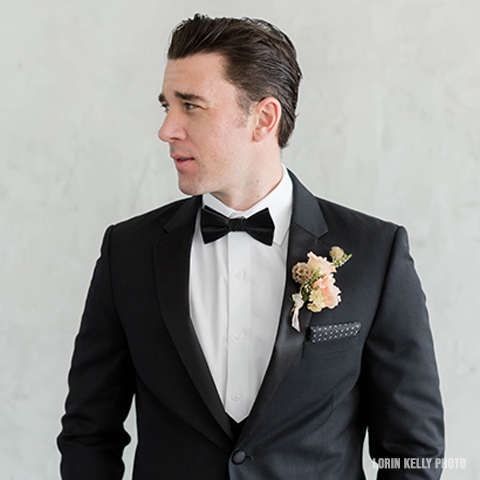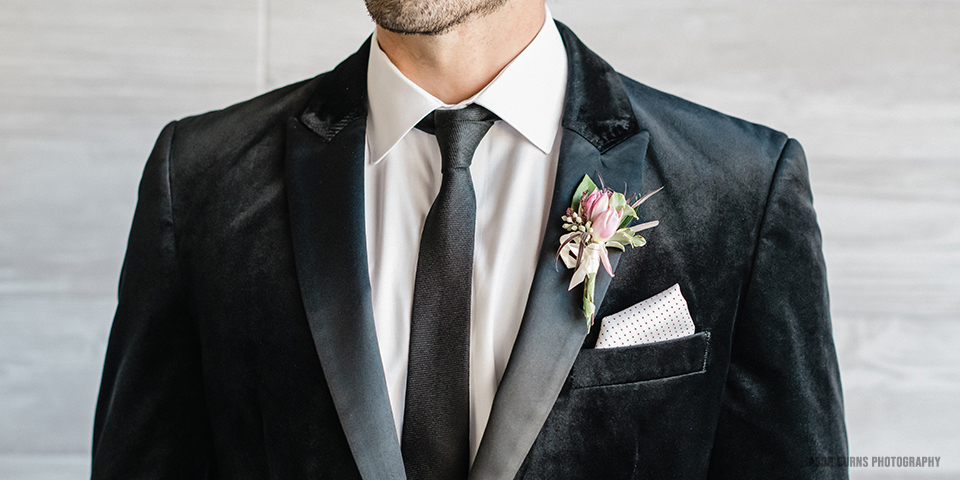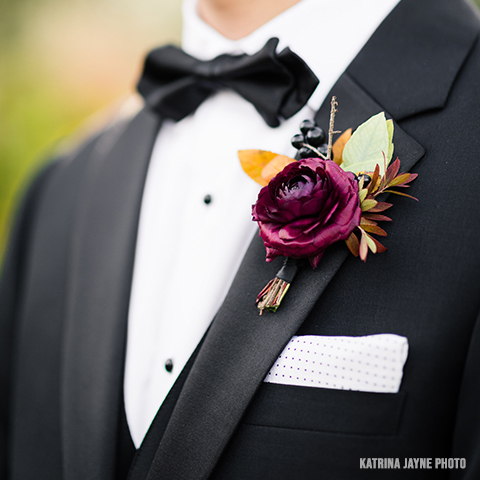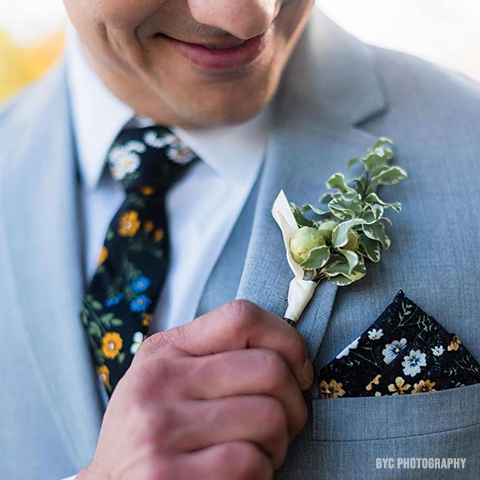 Floral designer from left to right: Solstice Bloom | Not Just in Novels | The Pink Daffodil | Royal Bee Floral Co. | Irises designs
"The most important thing to remember about picking out a boutonnière is, always go with something that makes you feel special, something that represents who you are as an individual and as a couple. Your wedding day is all about you and your loved one. So live it up! Wear the flowers, drink the champagne and dance the night away with the people who care about you the most."
Boutonnière Placement
When it comes to placement, it is pretty simple…cover the buttonhole that is on the left side of the lapel.  Most coats have a small, closed buttonhole on the lapel, as circled in the picture on the left.  Pin the boutonnière through that seam, and voilà you have the perfect placement. 
Yet, some people like theirs a little lower.  That is just fine, just as long as the buttonhole is covered by part of the boutonnière.  By keeping the buttonhole uncovered it can come across as unfinished.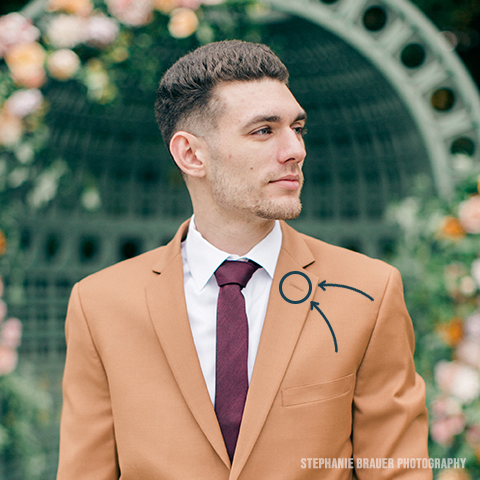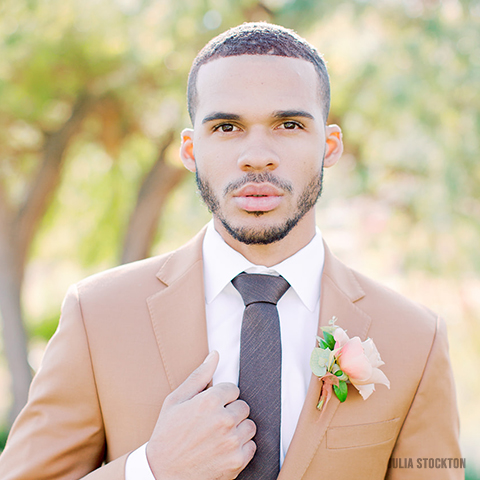 Floral designer: City Blossoms
Securing a B
outonnière
There is the simple way to secure a boutonnière and then there is the Friar Tux special way to secure a boutonnière.
The simple way: place the pin through the buttonhole and fasten. This works perfectly fine and the lapel sits where it needs to.
The Friar Tux way: slide the pin though the lapel, then weave it through the back layer of fabric to add extra security. That way the boutonnière doesn't start sliding to the side after dancing and fun.
For more help, check out our informational video below.