Did you know that there are over 22,000 conventions held in Las Vegas every year? Or that there are over 150 marriages PER DAY, and it is called "The Marriage Capital of the World"?
Vegas is a place of wonder and fun, excitement and love…and most importantly (in our very biased opinion) fashion!
Why Rent a Tuxedo?
Rentals allow for a fun, stress-free, fashionable options.  If you do not wear suits or tuxedos in your daily life, and do not want to commit to buying them then renting is perfect.  Maybe you came to Las Vegas and are in need of a last-minute look, we can help with that as well. 
The reasonings for renting a suit or tuxedo can range from necessity to just wanting to try a new look.  All are great and all we can do!  
Photography: Kara Nixon Photography | Wear the look: Navy Shawl Lapel Tuxedo
Where To Wear a Tuxedo In Las Vegas?
Night/Day Clubs
Weddings - for your own or as a guest
Conventions
Fancy Dinners
Shows or Concerts
Casinos
And most importantly, wherever you freaking want!  Tuxedos are the tangible expression of a feeling.  Tuxedos exude suave, sophistication, and luxe.  And where better to have those feelings than Las Vegas! You want to wear one, you wear one.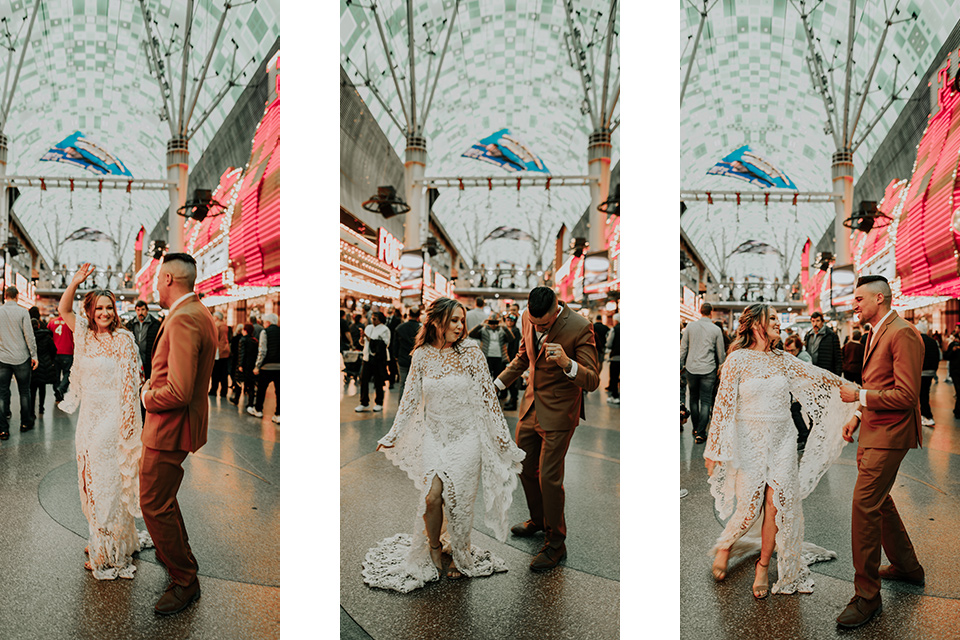 Photography: Jekalo Photography | Wear the look: Caramel Notch Lapel Suit
Whether you are planning ahead or need something last minute, we have you covered.
Plan In Advance
If you are coming to Las Vegas for a special event and know your date in advance, then we suggest making an appointment.  You can do this in-store or virtually, but if possible the earlier you make the appointment to get all the details hashed-out the better.  We recommend about 4-6 weeks in advance for weddings, just to make sure we can confidently get the style and sizes you are wanting/needing.
We do accept walk-ins, but making an appointment will also help cut down on your wait time.
Same Day Rentals
Needing something more last-minute?  Well, lucky for you we also do same-day rentals!  Depending on what we have in stock that day, we can pick out a style, get measured, and have something for you to take home in an hour!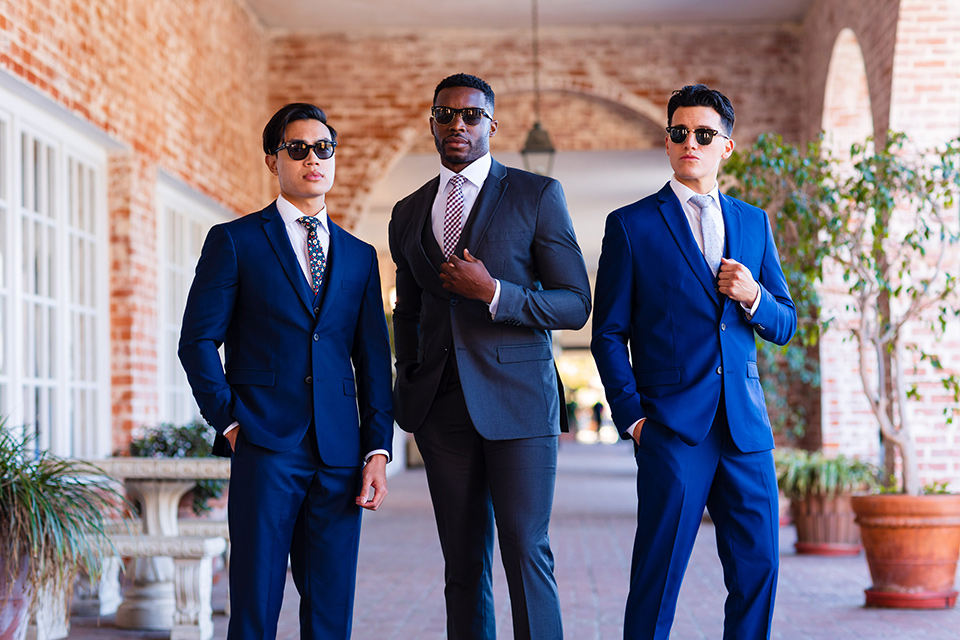 Photography: Visuals by Arpit | Wear the look: Blue Suits from the For Purchase Collection 
Rent a Full Look Or Just a Coat
Renting gives you the option to create the look of your dreams.  We offer full flexibility with our packages and al la carte items, allowing you to only take what you need.
Full packages come with:
Coat, pants, shirt, vest, neckwear (bow ite or long tie), studs + cufflinks, and shoes. *upgrade your look by adding socks and a pocket square.
Or rent any of the above separately.  Want to wear jeans or your own pants, just rent a coat.  Just need accessories or already have shoes?  We can help with that.
Want to take stuff home?  Check out our For Purchase Collection for fun lapel pins, neckwear, shoes, bonus accessories, and more!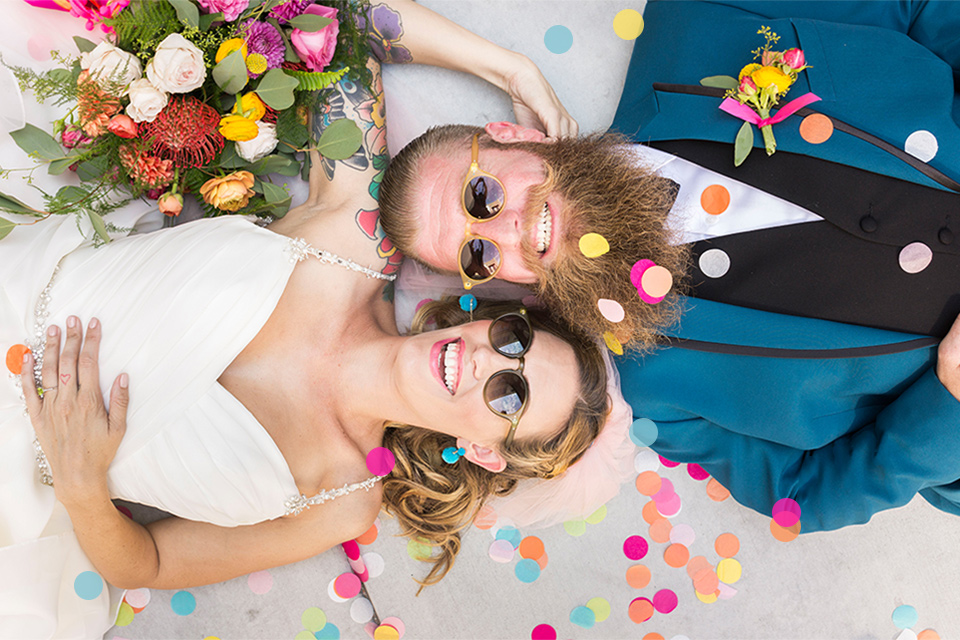 Photography: Peterson Design & Photography | Wear the look: Teal Peak Lapel Tuxedo
How It Works: 
- Speak to one of our Stylist (either in-store, online, or by phone)
- Pick out a style and accessories that speak to you (See our suits and tuxedos online here)
- Get measured/send in your measurements
- Pick a day that you would like to pick up or dop off your look
- Rock your look out on the town!
Pick Up/Drop Off At Hotels
Can't get to our store location?  No problem!  We deliver and pickup to/from all the hotels on the Strip and in Old Town for $20 fee (for each way).  
Leaving town before the store opens?  No problem, just leave the garments at the bell desk and we can grab it for you.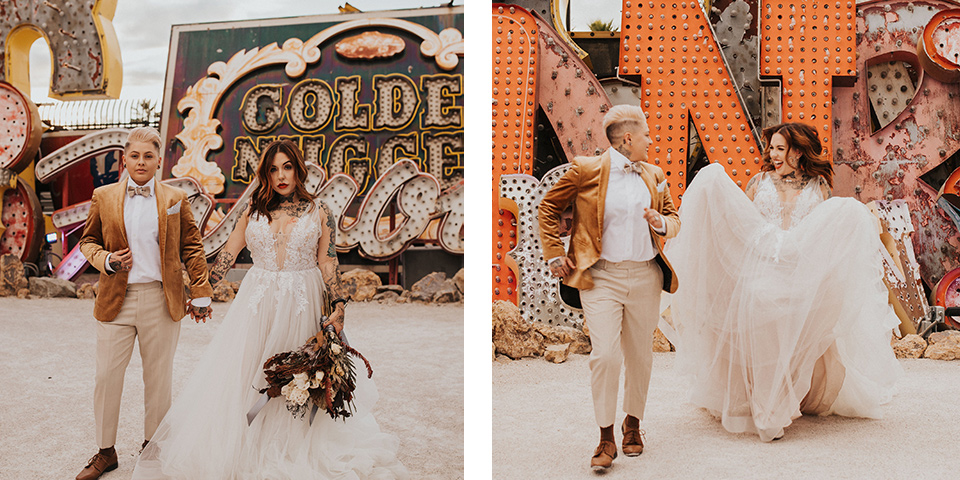 Photography: Tnisha Dawson Photography | Wear the look: Gold Velvet Shawl Tuxedo
Store Location + Hours:
Address: 
3540 W Sahara Ave E3, Las Vegas, NV 89102
*Only 10 minutes from the strip!
Store Hours:
Monday - Saturday 10am - 6pm
Sunday 10am - 5pm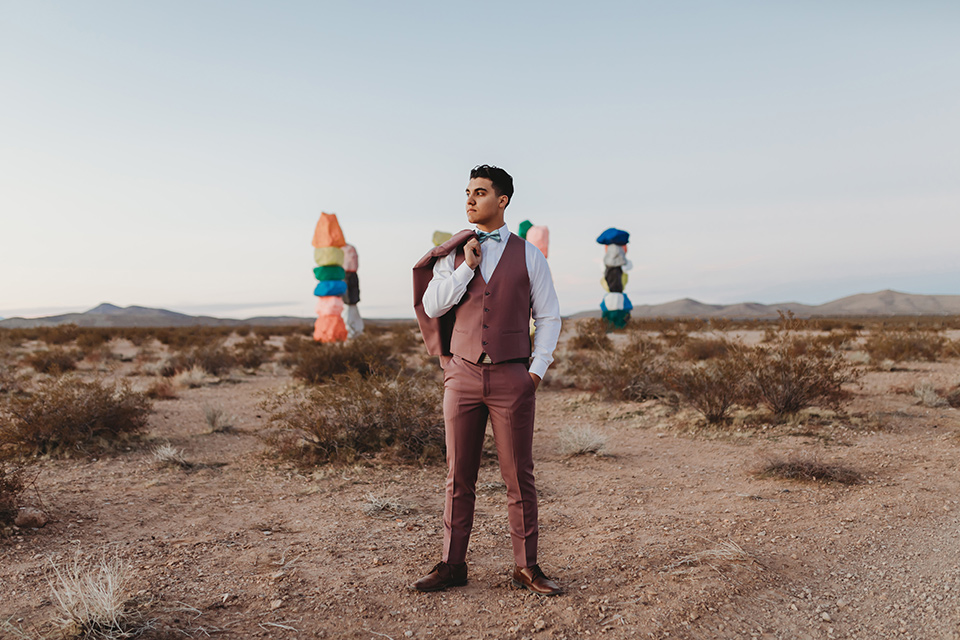 Photography: Melissa Fe Chapman | Wear the look: Rose Pink Notch Lapel Suit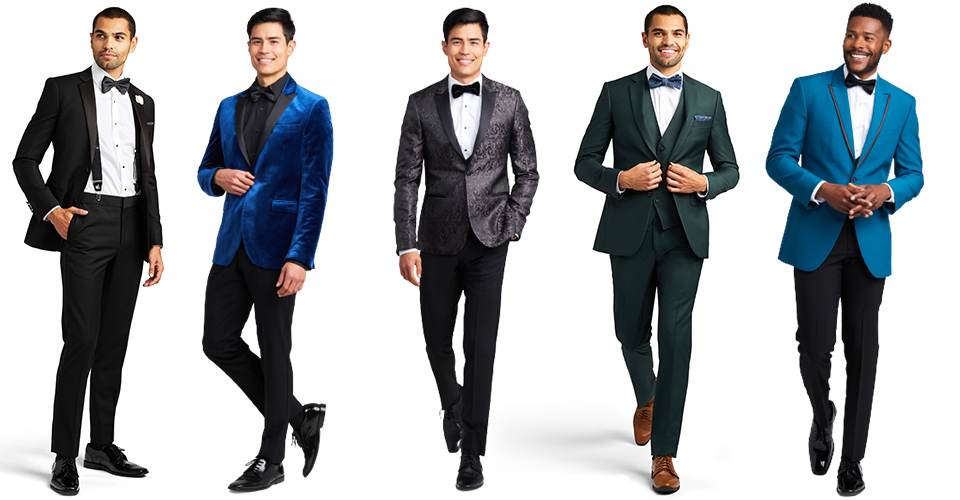 The Friar Tux Difference
Now why come to us and not one of the many stores on the strip?  Well, that's easy – because we are Friar Tux.  Yes, that sounds like a ridiculous answer, but let us explain:
We are not just a fashion company, we are in the business of helping people look and feel confident for life's most important moments.  No matter how big or small.  We go above and beyond for our customers because regardless if you're getting married at the Chapel of Flowers or going to the latest Cirque Du Soleil we want to help you look and feel your best.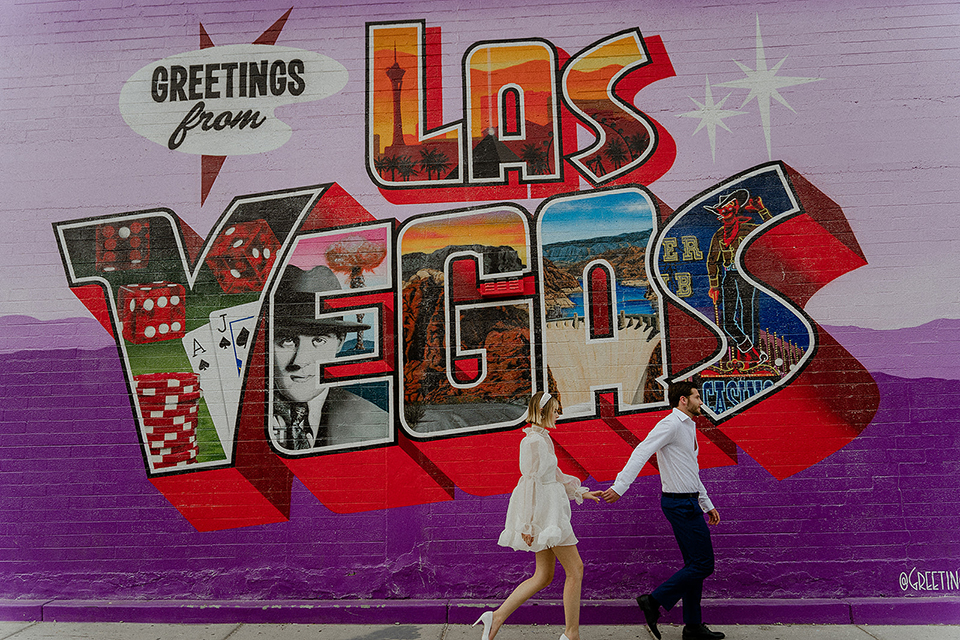 Photography: The Combs Creative