Venue: The Colony House
Photography: BYC Photography
Prom Dresses: Windsor
Building a look for prom (and beyond), it really is simple and can be accomplished with just 3 easy steps.
Step 1 - the coat 
Step 2 - the pants
Step 3 - the accessories
Come with us as we break down each step so that you can create your own perfect look for prom!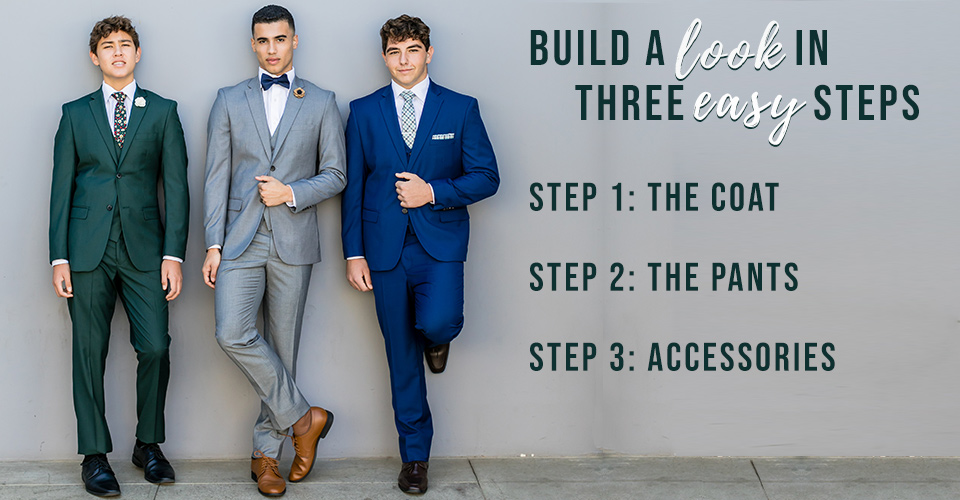 Before We Get Started...
There are some very specific questions to ask yourself:
Do I want to rent my look or own it?
Do I want to go classic or trendy?
(If you are going with a date) What color is my date wearing?
Now, don't worry - if you are unsure the answers to these questions we are here to help.  But they are questions to think about before coming in, to help your style session go perfectly.

Picking out a jacket is fun.  Here you get to really decide the base of the style you want to have at prom.  Do you want to be in a classic neutral like a black or navy tuxedo?  How about a traditionally cool grey suit? Or you can go bold with your coat fashion choice, with a fun patterned coat like our Black Paisley Tuxedo. Or our personal favorite fashion choice: the velvet collection!  
*Isn't the Green Velvet Tuxedo below just dreamy?

Shop our rental suits + tuxedos here, and our for-purchase collection here.

Now the second step might seem simple, but there are a few more options than you think.  When it comes to picking out the pants for your look, you have 2 choices.
Picking pants the same color as your coat.  
Or you can do something a more fun like a mix-and-match look.  (This when you have a different color coat and pant – like a paisley coat and burgundy pants.) 
For more ideas on this style, see our blog: The Modern Mix & match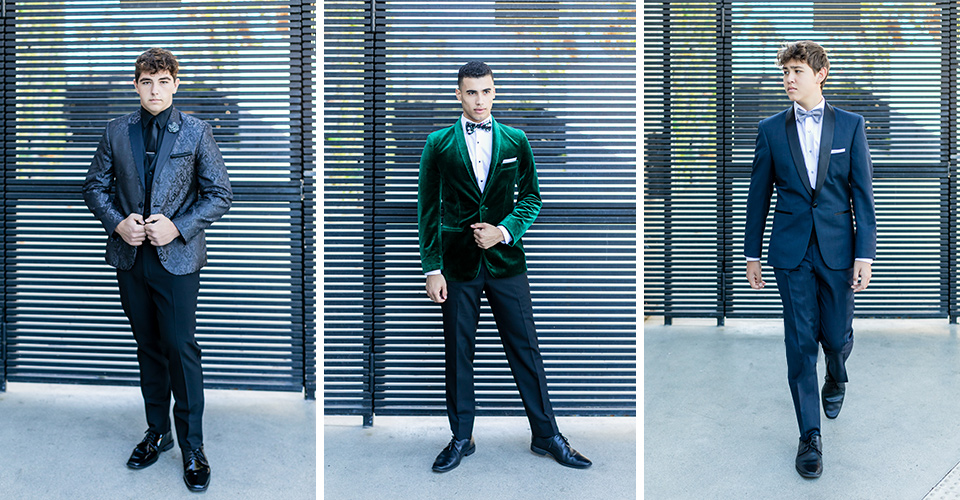 Like we always say, the fashion is in the details!  And the accessories is where you can have the most fun.
Neckwear
Lapel Pins
Belts
Shoes
Pocket Squares
Tie Clips
Suspenders
The list of fashion accessories are endless - these small details can make a big impact.  For all the inside scoop about accessories check out our other latest prom blog: All You Need To Know About Prom Accessories.
Shop all our fun accessories from our For Purchase collection here.

Head to friartuxdance.com to see our latest prom discounts and fashion lookbook for all your dance-perfect savings and style!