Asian American and Pacific Islander Heritage Month is a time to recognize and celebrate the contributions and impact of Asian Americans and Pacific Islander Americans to history, culture, and achievements across the United States. At Friar Tux we believe love is the answer, not hate. And that this is the perfect time to embrace the beauty of love and family carried out in the marriage ceremonies of all Asian and Pacific Island cultures.
With this month of celebration, we wanted to celebrate in the best way we know how…by showcasing different Asian wedding traditions throughout time. We are very fortunate with having many different vendors, photoshoots, and real customers who have taught us about the different customs in different cultures.
Come with us, as we break down just some of the traditions we have been able to be a part of.
Chinese Wedding Traditions
Chinese weddings are lavish gorgeous events rich with color and tradition, that is just as much about bringing together the families as it is the bride and groom. With this stunning shoot at the AV Irvine from the brilliant planning and photography minds of Jen So from Campfire Events and Carissa Woo Photography, we are taken into a fun stylish moment in time inspired by the movie Crazy Rich Asians:
"For this shoot, we wanted to incorporate the rich colors, Chinese attire, themes and found modern ways of giving a nod to tradition as well." -Carissa Woo's Blog
The bride wore a Cheongsam in the Chinese lucky color, red. A Cheongsam, also known as a qipao, is a form-fitting gown typically made from a silk fabric and decorated with embroidery. Traditionally the embroidery will feature a phoenix and/or a dragon to symbolize good luck in the marriage. The gown will also feature a Mandarin collar and a diagonally shaped chest area.
Why the color red? Red symbolizes happiness, prosperity, and good luck.
Many weddings and events, like shown below, will also incorporate the Traditional Lion Dance. The dance is performed at weddings to bless the couple and their happy marriage and many other things for the couple.
Want to see more of this Modern Chinese Wedding with Gold Details with this chic moden Ivory Paisley Tuxedo?  See it all on our blog post here.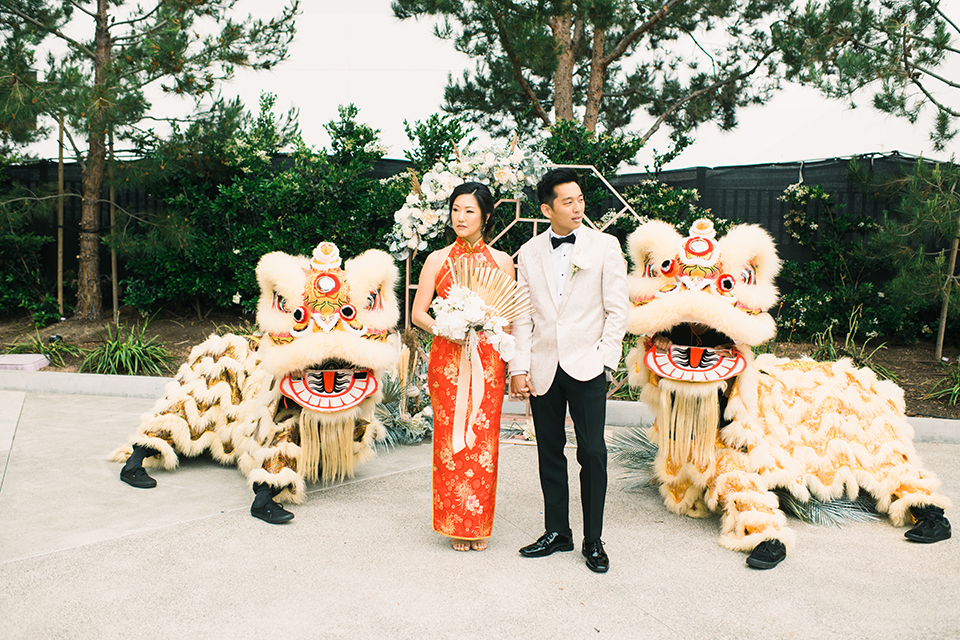 Photography: Carissa Woo Photography
Japanese Wedding Traditions
There are several different ceremony styles in Japan such as: Shinto, Buddhist, Christian, and civil ceremonies. A Shinto wedding is typically one held in a shrine with strict ceremonial rules, given the sacred venue.
This stunning wedding design below was from the brilliant eye of Catherine Chuang of Peony Park Photography (that you can also see on Style Me Pretty).  Wanting to highlight more weddings that feature traditional attire from various Asian cultures, we were honored to be a part of such an amazing photoshoot with her team of mostly Japanese and Taiwanese American team members. Through this shoot and blog, Catherine was able to connect us with Kachou-kimono, who specializes in Asian formal attire, who gave us some great insight on the clothing you see below.
The bride is wearing a white ceremonial gown called a shiromuku. 
"The 'white' color has been regarded by Japanese people as a symbol of pureness...and has also been regarded as a sacred color for many years. The red-colored wedding kimono is called Irouchikake, decorated with cranes, tortoiseshells, and other auspicious objects that symbolize longevity and prosperity."
For the groom, they will wear formal kimonos that are typically in a black and white scale of color.
"I feel many people believe wedding kimono is only for Japanese people. In fact, kimono makers are very happy to see non-Japanese people wearing them and admire how beautiful they look in them. Kimono makers and Japanese people really appreciate that many people in the world love kimonos. As we, Asians wear western wedding gowns for our wedding, wedding kimono would be so appropriate for anyone who likes it." - Kachou-kimono
(See all of Kachou-kimono stunning attire on their Instagram page today!)
One of the most stunning and meaningful traditions is the San san ku do. At the ceremony, it is customary that instead of exchanging vows, the couple drinks sake, three times from three different cups called sakazuki. Next, both sets of parents will drink three times from the three cups, each representing a different meaning. Literally translated, the San san ku do means: three-three-nine-times. Odd numbers are very important in Japan, especially three and nine. This ceremonial ritual has several meanings/translations. Some say it represents heaven, earth, and humankind. While others believe it represents the three human flaws: hatred, passion, and ignorance.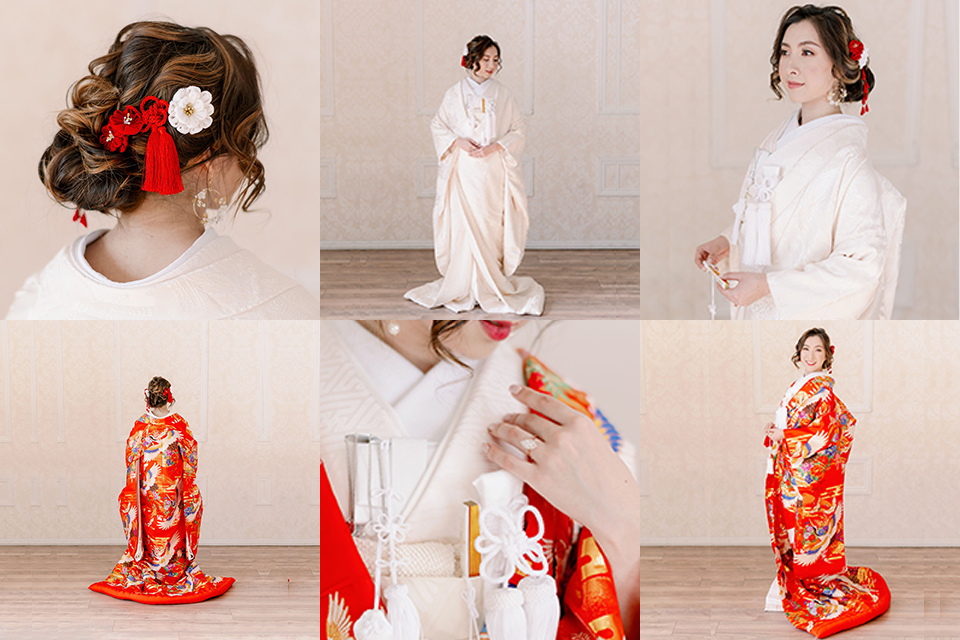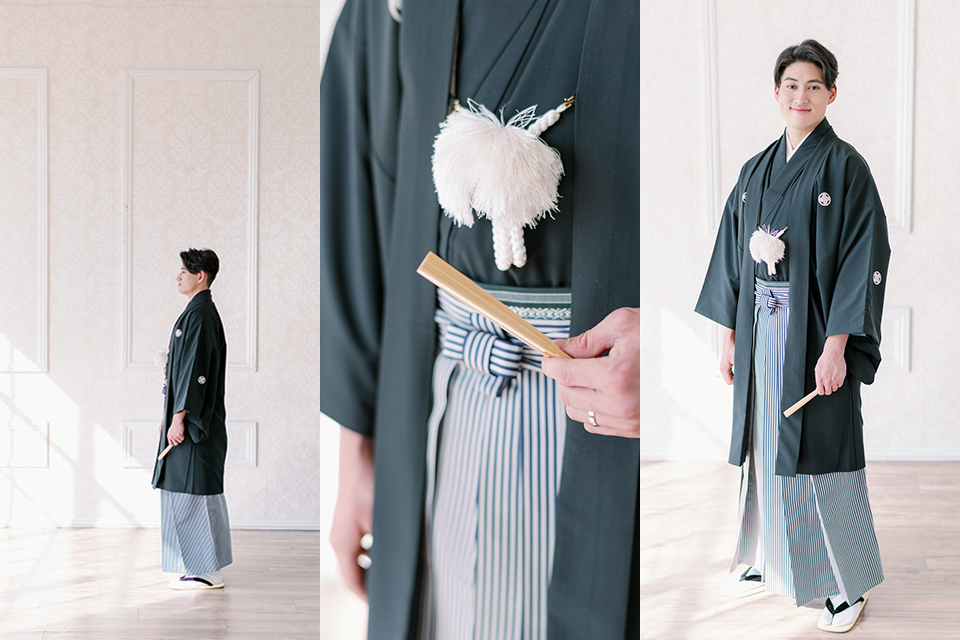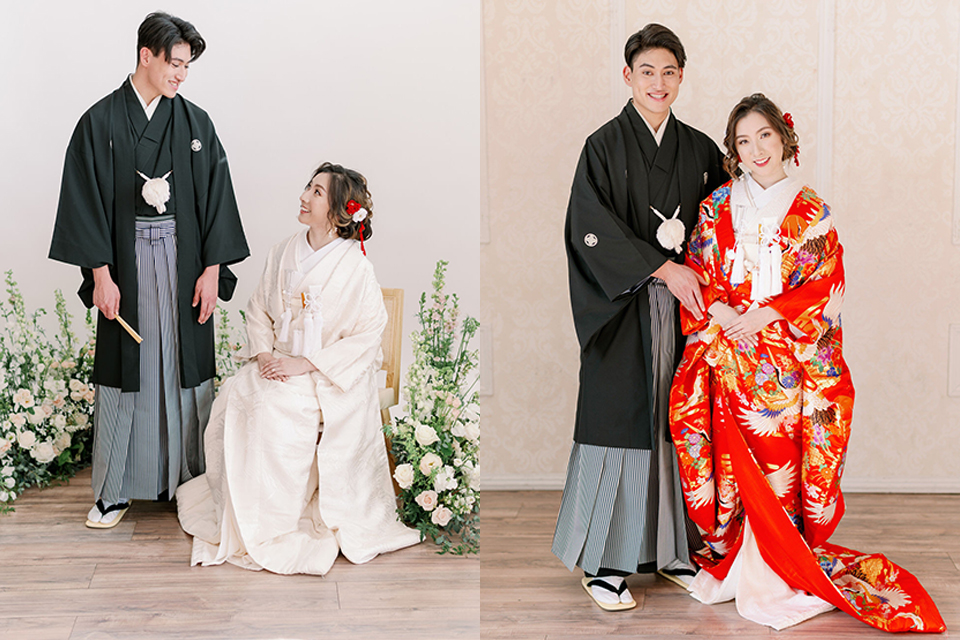 A different style approach:
Many couples today, choose to express their styles in different ways.  Wearing more modern or trendy look for either their ceremony or reception, like this bride and groom.  The bride changed out of her ceremonial gown and into a stunning pink gown with floral apliques, while the groom went with our chic Heather Grey Performance Suit by Michael Kors.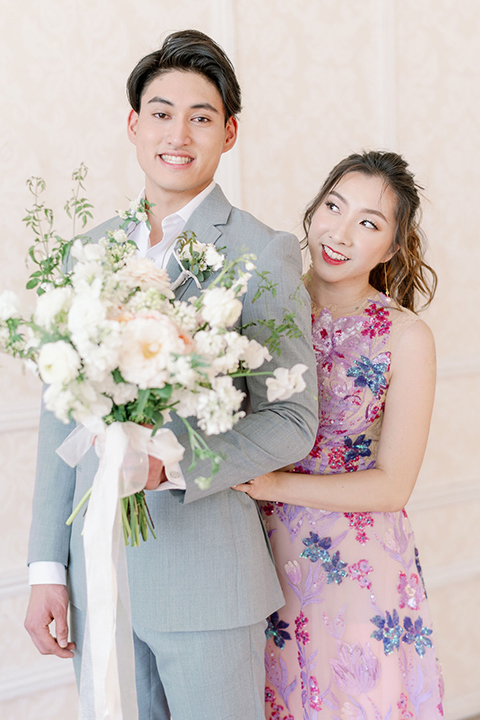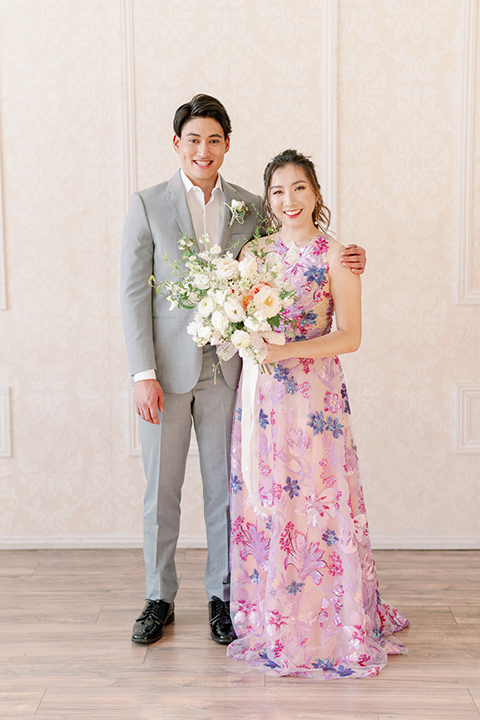 Photography: Peony Park Photography
Korean Wedding Traditions
Korean weddings are rich in intimate customs and full of stunning color, yet do not be surprised if you go to a Korean wedding and there are 500 people, not even joking. In the Korean culture, the bride and groom's parents are entitled to invite whomever they would like, so it is typical that the weddings are very large affairs.
The main requirement when attending a Korean wedding is to bring a white envelope with money to give to the bride and groom. The amount you bring depends on how close you are to the couple.
There are a few variations of wedding attire for brides and grooms to wear, this groom paired his traditional baji pants with a jeogori jacket. While the bride wore a traditional Chima, which is a type of skirt worn with her own jeogori jacket.
During the reception dates and chestnuts are served, and sometimes thrown, to symbolize wish the couple many children in their future.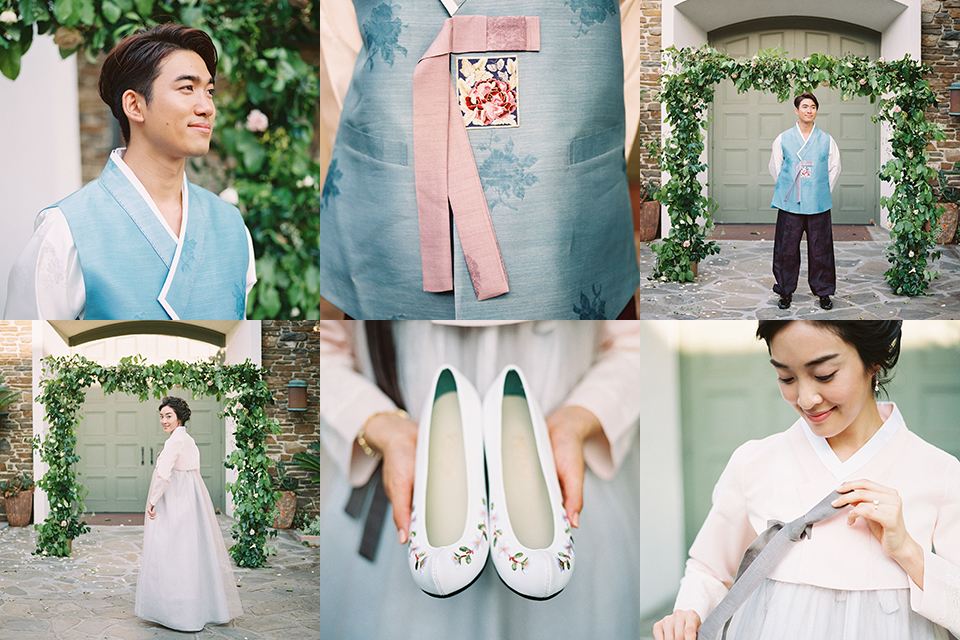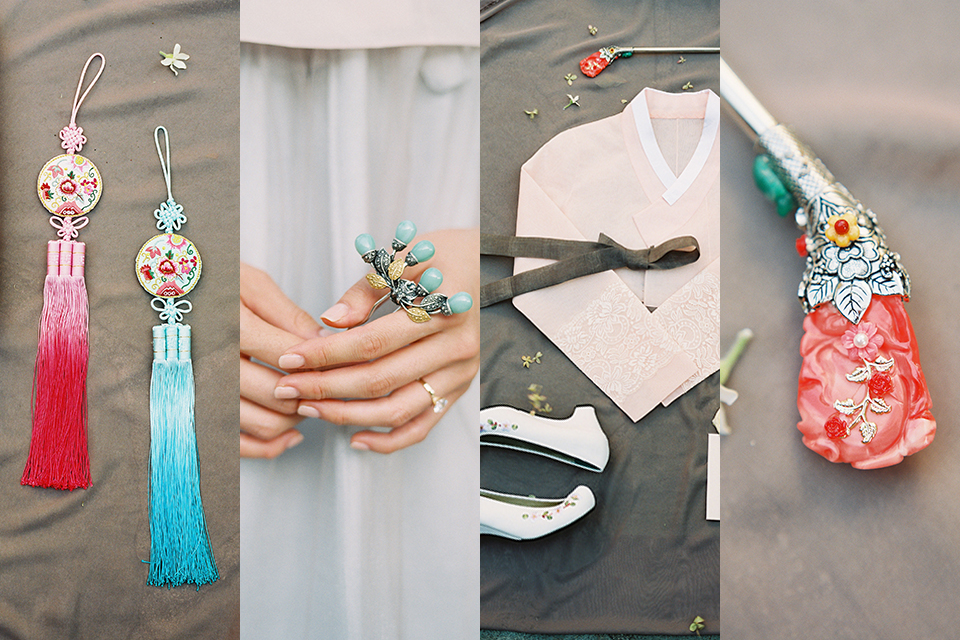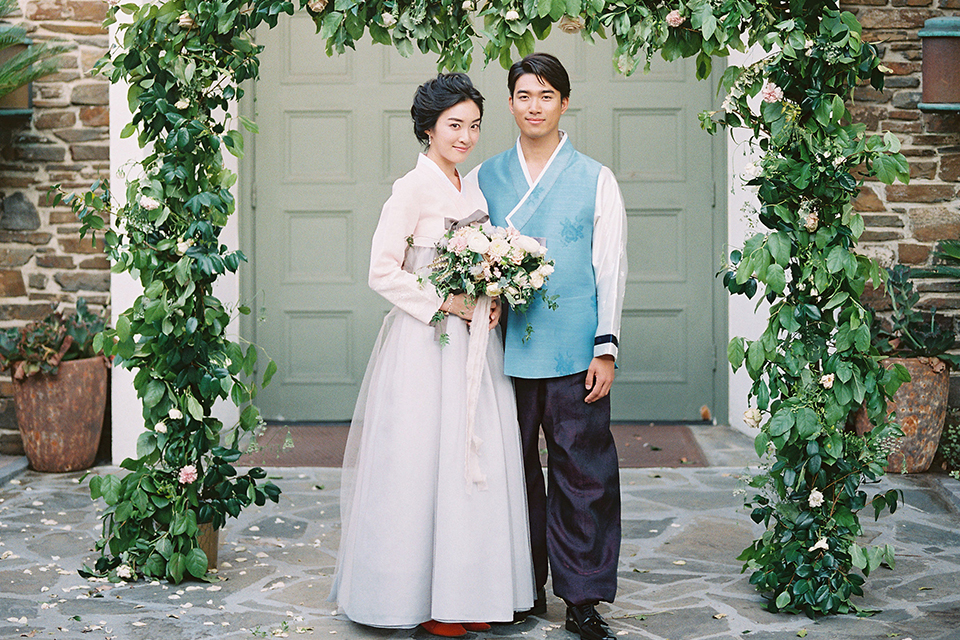 A different style approach:
This bride exchanged her traditional chima and jeogori jacket for a elegant white gown with a high neckline and long cathedral veil. And the groom went with a simple, yet always in style, black tie look. With a Black Notch Lapel Tuxedo by Midnight Blue and a black bow tie.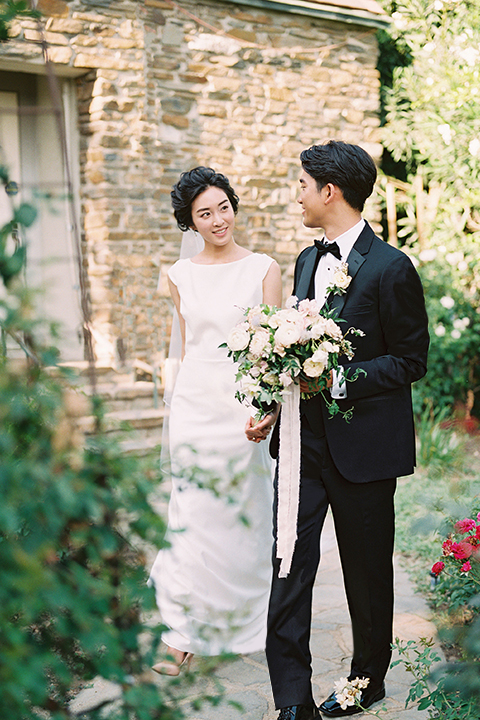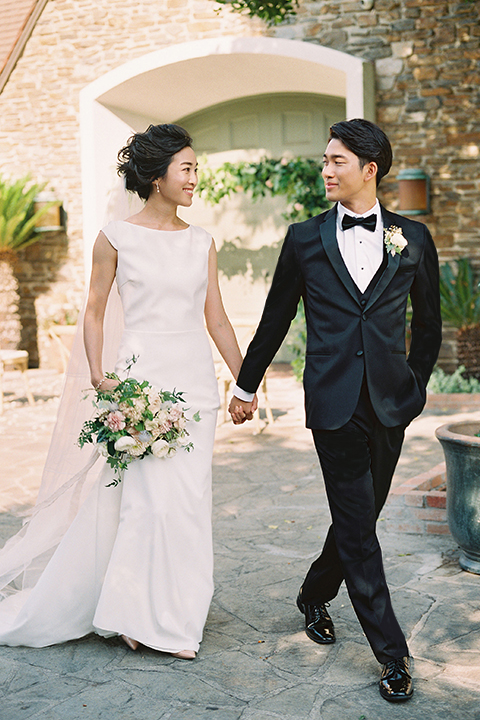 Photography: Katrina Kim Photography
The Korean Tea Ceremony
Many cultures on this list and more have a tradition of a tea ceremony before or during their wedding day. The Korean Tea Ceremony, also known as The Paebaek Ceremony, is an event emphasizing the importance of family in the Korean culture.
The Paebaek takes place after the initial wedding ceremony/vows, and is where the groom's family formally accepts the bride into their family. During the ceremony the bride and groom wear traditional Korean outfits called a Hanbok. The bride's Hanbok is red, while the groom's is blue, to symbolize the Confucian idea of yin and yang of their female and male energy.
To see more of Jeanie and Daniel's chic wedding head over to our blog post here.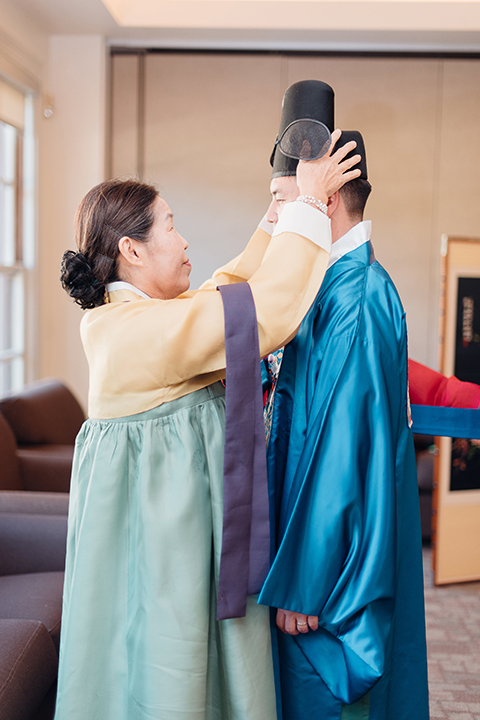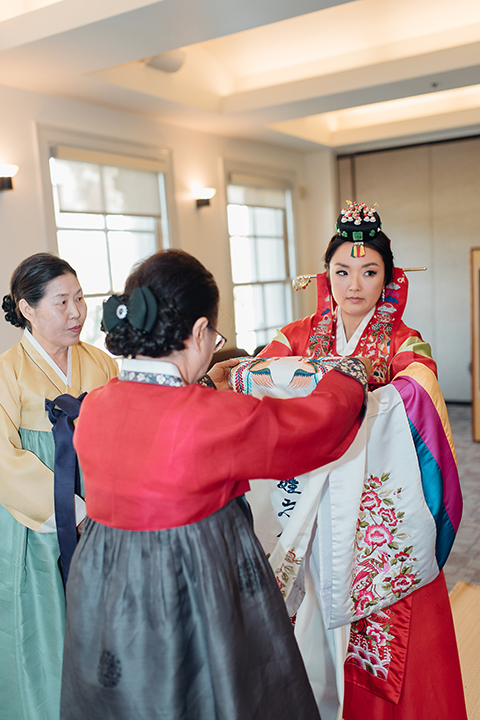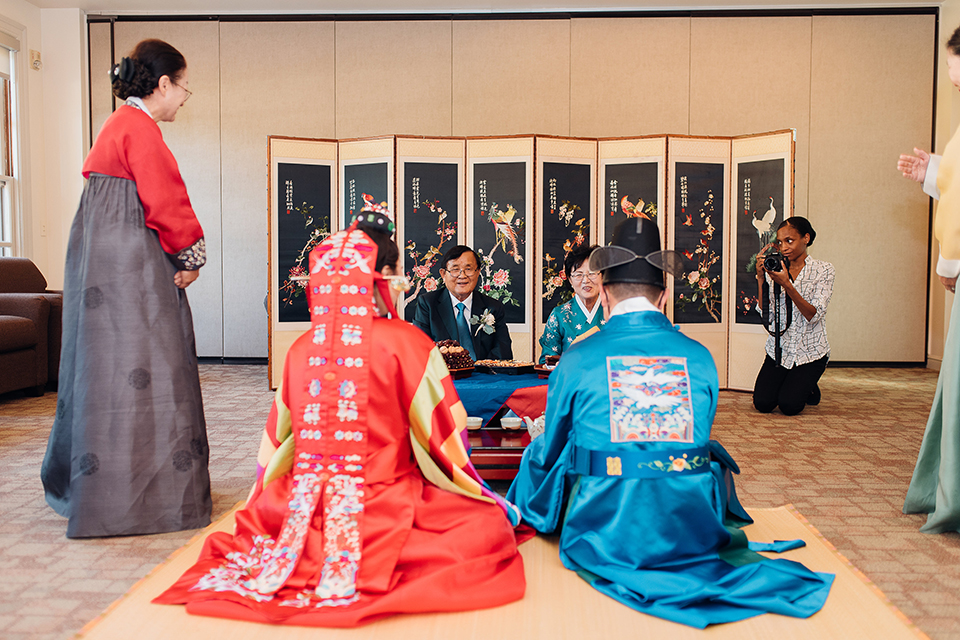 Photography: XO & Fetti
Buddhist Burmese Wedding Traditions
We got to talk to one of our all-time favorite brides, Marylinn Visconti, about how she incorporated her Buddhist Burmese culture into her wedding.
(Republic of the Union of Myanmar, a country in Southeast Asia with 135 distinct ethnic groups. Our bride specifically brings us into her family's traditions of the Buddhist Burmese culture. But note, not all people from the Republic of the Union of Myanmar are Burmese.)
"My gown is Burmese traditional wedding gown. Weddings are considered a big milestone in the culture, so they're usually embellished and made to order. Traditionally, they are either pink or yellow (gold) as those are the colors that signify luck and prosperity in a marriage. I wanted a more modern and neutral palette, so I had mine made in champagne to stay in the gold family. In modern weddings, pink/gold are still popular but I've seen many opt for white to fit a more western aesthetic or use their favorite color. I moved to US when I was 6 years old, so wearing a traditional gown was my way to incorporate my culture into a typical American wedding and a way to signify to my parents that I still hold many traditions close to my heart."
Marylinn also explained to us that many Burmese people are also Buddhists, so weddings are typically blessed by monks.
"The word for marriage means 'joining palms' or 'palms together.' In a traditional wedding, the couple's hand is tied together palm to palm with a silk ribbon and dipped into perfumed water in a silver bowl during the blessing."
You can see more of Marylinn + Wylie's Burgundy Tropical 'Minimony' where the groom wore our Burgundy Shawl Tuxedo from our for-purchase collection here!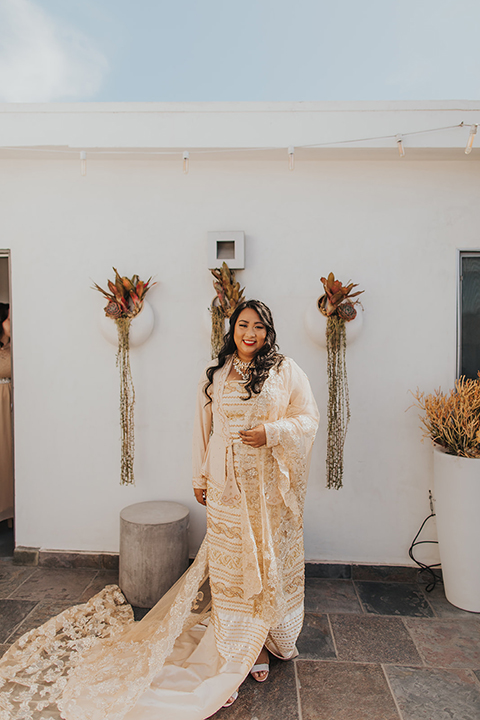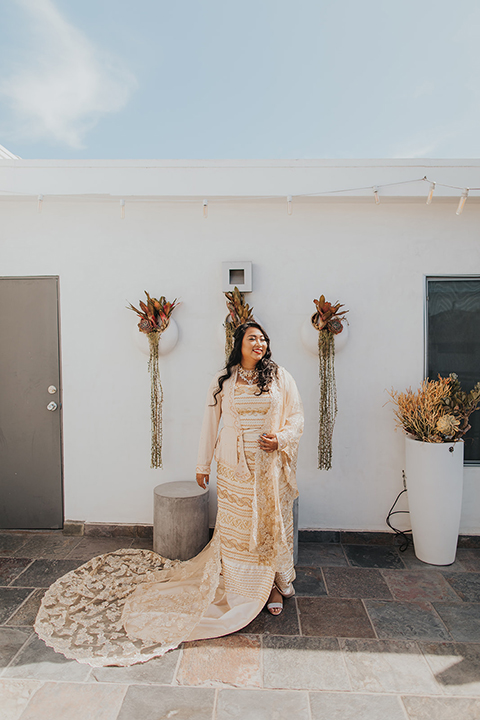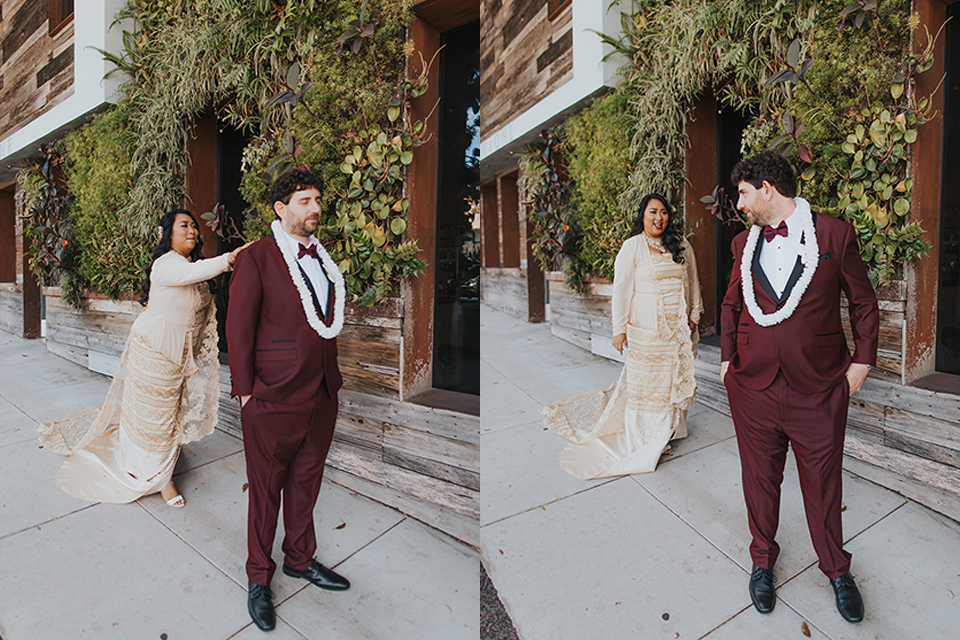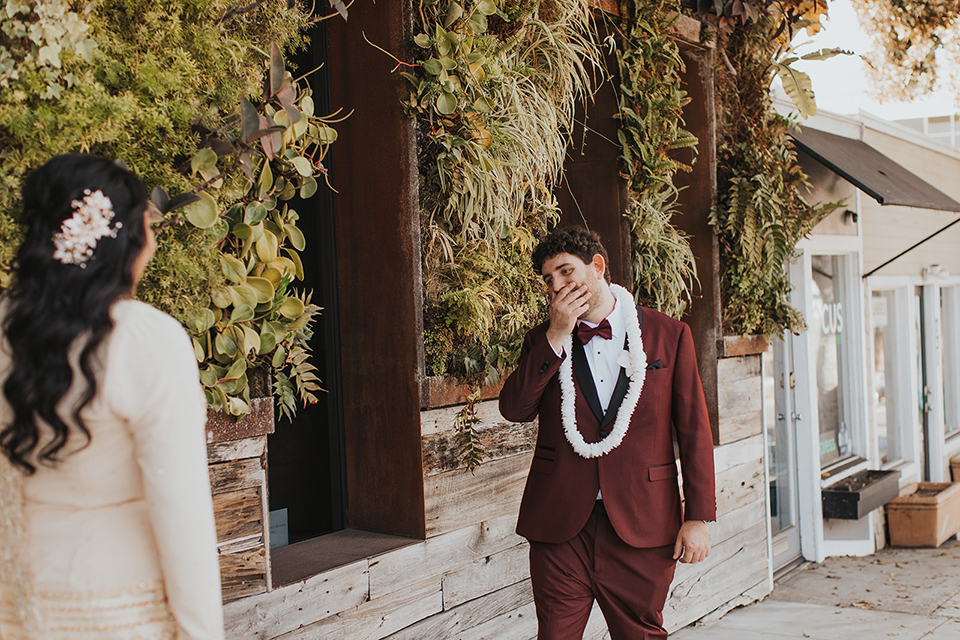 Photography: Maze Creates 
We hope you loved this beautiful journey through different culture's wedding traditions and customs. We love all our of amazing couples, and wish everyone a very happy, healthy, and fun Asian American and Pacific Islander Heritage Month!